WATERTOWN — Rain or shine, 365 days a year — barring any natural disasters like the ice storm that hit the area years ago — residents in need of food in Watertown and a five-mile radius around the city can count on Meals on Wheels to deliver.
Meals on Wheels delivered its first meal in the area on May 13, 1968, and since then has only cancelled deliveries a total of maybe four times, according to Food Programs Director Donna White, due to extreme circumstances.
Ms. White, director of 37 years, gets to Samaritan Keep, a long-term care facility connected with Samaritan Medical Center, at 8:30 a.m. each day to make sure everything is lined up for the day's deliveries.
Ms. White took over as director of the program from her late mother-in-law Irene E. Orloff, who started the program at Mercy Hospital in Watertown in 1968.
"I kind of just morphed into the position and never left," she said. "We started in Samaritan Keep in September of 2008 and have been there ever since."
Now, hundreds of meals prepared in the nursing home at 133 Pratt St., go out to residents in need each week.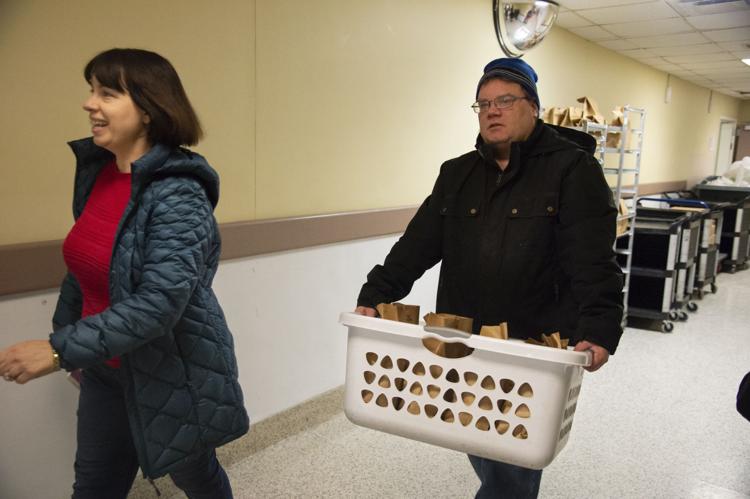 With warm and bagged meal deliveries, along with daily visits, the volunteer drivers and runners make a direct impact on the lives of residents in need.
The cost for a weekday delivery plan of meals is $33.25, and $24.50 for a partial plan. Weekend meals, delivered on Friday with that day's meals, are an extra $10; however, no one is turned away from the program for an inability to pay.
Bagged meals consist of a cold sandwich, along with a drink and snacks, and the warm meals consist of whatever is on the menu for the residents of Samaritan Keep nursing home that day.
On Thursday, the hot meal was spaghetti and meatballs.
Beginning shortly after 10 a.m., vegetables are chopped, sandwiches are assembled, and everything is packaged in either paper bags or Styrofoam containers before being packed into coolers and loaded into drivers' vehicles, ready for the day's deliveries.
According to Ms. White, so long as there is a need, there isn't a lot of red tape to go through to start receiving meals from the program. If recipients have special dietary needs, their names are marked in red ink and their meals are prepared accordingly with oversight from staff dieticians at Samaritan Keep.
"I just think it's nutritionally and socially beneficial," Ms. White said of the program. "I just think it's the cat's [meow]."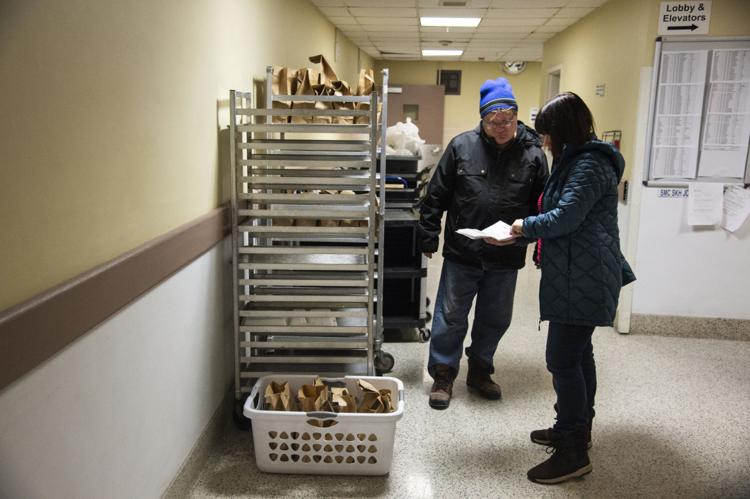 The key to the success of the program, in Ms. White's opinion, is the volunteers, who come religiously each week to volunteer their time, services and vehicles, and who aren't paid a cent in return.
"I could get all the funding in the world and I could get all the food in the world, but unless you can get that food into the people's homes, this program cannot work," she said. "There's just no way we could carry out what we do without the volunteers, they're invaluable."
On Thursday morning, two such volunteers, Christopher O'Leary, who prefers to go by Chris, and driver Michele Victoria, set out in Mrs. Victoria's Honda Odyssey on Delivery Route Four, which starts on Jefferson Street and ends with a delivery on Franklin Street.
Mr. O'Leary, born and raised in Watertown, has been volunteering with the program since 1996.
"I wanted to help out my community and that's why I volunteer," he said. "To give people food who need it and to make new friends."
Because he has been with the program for so long, Mr. O'Leary has been on every delivery route the program has and has met so many people during his time with Meals on Wheels.
"I like volunteering, I like the people, and I think we're doing pretty good for the community," he said.
Wearing a blue hat along with his other winter gear, Mr. O'Leary, known as a runner, hops out of the van, heads to the back to grab the meals, and walks over to the recipients' front doors. After making sure that everything seems in order and his recipient has received their food, Mr. O'Leary wishes them a good day and heads back to the van to repeat the process at the next stop.
"They're very happy, very happy to see me, that makes me feel pretty good," he said.
Aside from volunteering every Tuesday and Thursday, Mr. O'Leary loves to read, especially anything to do with history, and likes to share what he has learned with others.
After he completed his delivery route Thursday, he went to sit in Ms. White's office to write her a note about something he had read in one of his books, a regular occurrence when he returns to Samaritan Keep.
"I feel pretty good, like I accomplished something," he said of the route he had just finished.
According to Mrs. Victoria, Mr. O'Leary is so devoted to his volunteer work he will walk from his home near North Elementary in nearly all weather.
"It's a very helpful program, and I think it's all over the whole entire county, it's a very good program to belong to — I think everybody should help out," he said. "I'll be coming back for a long time, probably until I get old."
Mrs. Victoria said she and Mr. O'Leary were teamed up very close to when she started, which was very helpful due to his many years of experience.
Mrs. Victoria, a stay at home mom who volunteers on Thursdays, has lived in Watertown for the past 20 years, and started volunteering for Meals on Wheels this past November.
"I have an aunt and she used to do this years ago and she always would tell me about it and how much she enjoyed it," she said. "She passed away years ago and kind of in her honor and her memory it's something that I always wanted to try."
So far, Mrs. Victoria has delivered on three different routes, but Delivery Route Four is her usual path each week, and she said she looks forward to the experience each week to see the recipients and make sure everything is alright with them.
"The people I deliver with are very kind, caring and compassionate, and the people we deliver to I like to learn about them and the different things they're doing in their lives," she said. "I would say there's always a positive reaction, I think they enjoy seeing us as much as we enjoy seeing them."
Through this experience that meant so much to her aunt, Mrs. Victoria said she hopes she is making her proud and believes she is, a thought that makes her smile.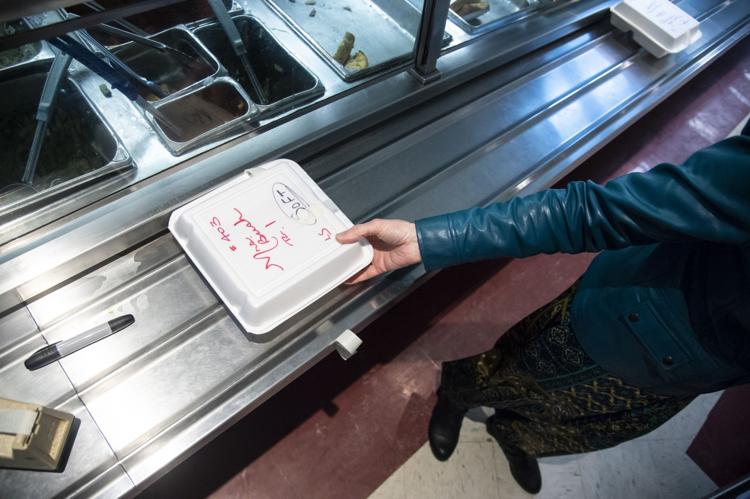 "It really is a good feeling when you finish the route because you've had some conversation and people have their meals," Mrs. Victoria said. "We know that, as best we could, we've taken care of the people on our route and made sure they had something good to eat today."
In an effort to make sure all meals are delivered in a timely fashion, routes are generally kept to smaller geographical areas and take about an hour or so to complete, so volunteers are back and recipients have their meals by noon.
According to Ms. White, about 68 people are served per day, which works out to 136 meals delivered each day. The Meals on Wheels program delivered nearly 34,000 meals in 2019.
With the option to have food delivered to last the weekend, recipients can basically be fed by the Meals on Wheels program for 365 days if they need it.
Aside from the food delivery aspect, Ms. White said the important thing about the program is the safety net involved for the people it delivers to. If somebody is normally always at the door and they're not answering or if the newspaper from the morning is still laying there, the volunteers will tell Ms. White about it when they get back from their route.
"Many a time we have saved a life or we have called an ambulance for someone," Ms. White said. "I always have an emergency contact number for everyone, so if someone doesn't answer the door, I call the emergency contact number."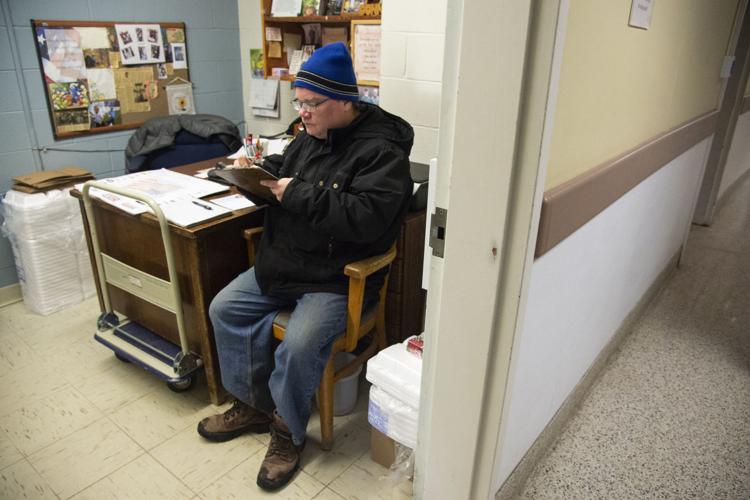 Ms. White explained that she prefers to take this approach rather than call 911 right away because sometimes someone might be in the bathroom or otherwise unable to answer the door in time, but they're still perfectly safe, so she doesn't want to go overboard — instead making a call to the family member to let them try to sort it out before the sirens start blaring.
"So many times, a family will tell me that the peace of mind that they have just knowing that their loved one has Meals on Wheels, they can't even explain how much that means to them," she said.
Referrals for the Meals on Wheels program come from recipients themselves, family members, Social Services, health care providers, neighbors, and Jefferson County Public Health. To obtain meals, call (315) 782-5555.