COPENHAGEN — Sophia L. O'Connor entered the hospital and immediately became the sickest child there, coming into Syracuse intubated and having roughly 30 seizures every hour.
"Are we going to lose her?" her mother wondered. "For the first few days that was constantly what I was thinking about."
On the 25th consecutive day of being with their daughter at Upstate Golisano Children's Hospital in Syracuse, Michelle L. McIntosh and her fiancé, Dylan P. O'Connor, were alongside their 3-year-old giggling and making faces at each other.
Sophia had come a long way after more than two weeks on a ventilator. She hadn't spoken for the first two days coming off of it, but now she had said a few words, like "bye bye" or "rawwr," like a lion.
But on day 25, as her parents laid there having not left the hospital since day one, wanting with everything for Sophia to be back to her sweet and strawberry-haired sassy self they love, tears flowed down her cheeks before she said one of the hardest sentences any parent could hear: "Daddy, I can't see you."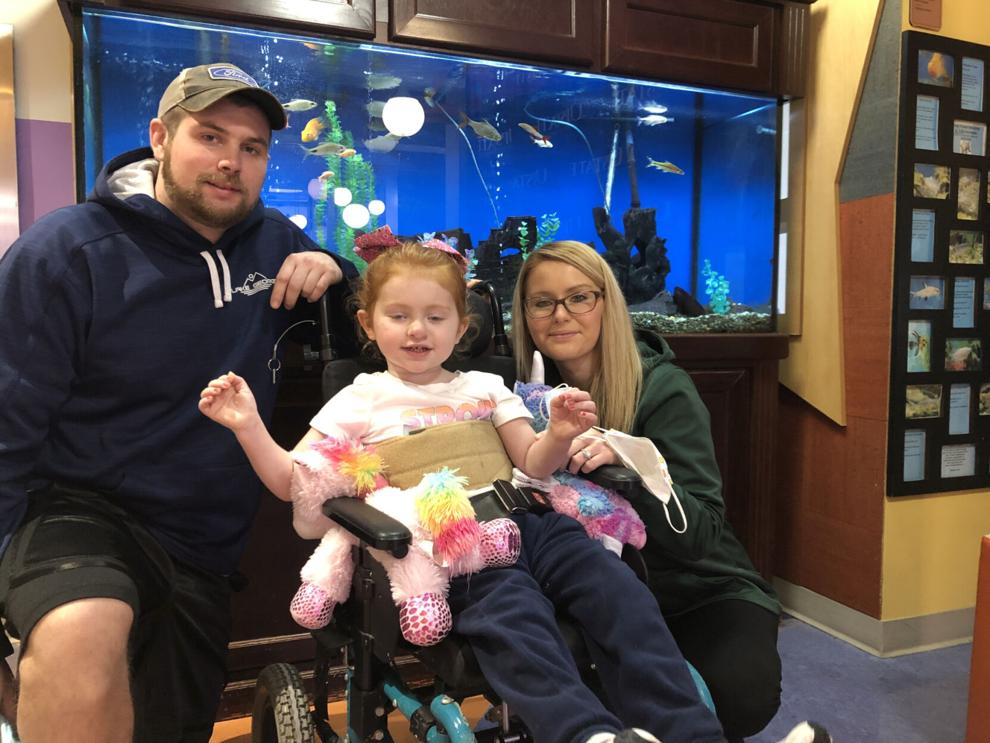 Day one: The morning they started
COVID-19 affected Ms. McIntosh and Mr. O'Connor's holiday just like any other couple, so they decided to have a small get-together with some family Jan. 2.
Afterward, their daughter, Sophia, stayed the night with her grandmother, Melinda Goutremout. These types of sleepovers weren't uncommon considering how involved Mrs. Goutremout, Mr. O'Connor's mother, was. Sophia went to bed earlier that night and would end up awake at about 1 a.m.
She and her grandmother stayed up playing until about 4 a.m. before Sophia went back to bed. The seizures, it appears, began sometime between 6 and 8 a.m.
Mrs. Goutremout would check on her at some point, but it appeared Sophia was asleep, underscoring the haunting subtlety in the types of seizures she was having. She wasn't trembling or shaking, but over the next five hours, Sophia would suffer about 150 seizures.
It was about 8:30 a.m. when Mrs. Goutremout realized Sophia wasn't waking up. She dialed 911, then called Ms. McIntosh, who was at home in Copenhagen. Ms. McIntosh sped to her mother-in-law's house in Carthage, where her fiancé met her.
Sophia was not awake, but was somewhat stable in an ambulance and ready to be taken to Carthage Area Hospital. They did a CT scan, X-rays and other tests, but no one knew why she was seizing. The feeling of helplessness began to take hold as Sophia was placed in a helicopter, intubated and flown to Syracuse, where a team of nearly 15 doctors and nurses were waiting.
"They came to us and said she is very sick," Ms. McIntosh said. "'She's the sickest little girl here.'"
Day 11: Some factors, but no clear answer

 
Ms. McIntosh and Mr. O'Connor met at a bonfire nearly nine years ago. They're both from Carthage, but now live together in Copenhagen. About four years ago, Ms. McIntosh thought she had the flu, but then found out it was a pregnancy. They were excited to have kids, and they got engaged about five months ago.
Sophia was born with a hemangioma on her nose, which is sort of a birthmark and should fade over time. The family saw a specialist in Syracuse about it and Sophia would end up being prescribed medication. She was on it for the first few months of her life before it would end up causing a bad reaction. She had seizure-like activity on the first medication. But the second medication worked. Sophia would go on it for more than two years before the Jan. 2 party.
But again, the thing that was supposed to help her appears to be a factor in hurting her. Sophia had suffered from constipation for which her parents were taking her to see specialists — even throughout COVID-19 and video appointments.
It appears the constipation made it so enough of the second medication had built in her system to cause her to have hypoglycemia, which is significantly low blood sugar. It caused the initial seizure that morning and damage occurred, causing the persistent seizures.
But given the high number of seizures she had — which were consistent for 12 hours at least — it appears the second medication was a factor but not the absolute cause. Even after more than a month in the hospital, they said they still haven't gotten a clear answer.
They aren't placing blame, but it appears this isn't the first instance of this happening to a child, and as a parent, Ms. McIntosh wonders if it could have been prevented.
"There's not a lot of research," she said. "But it's still frustrating for us."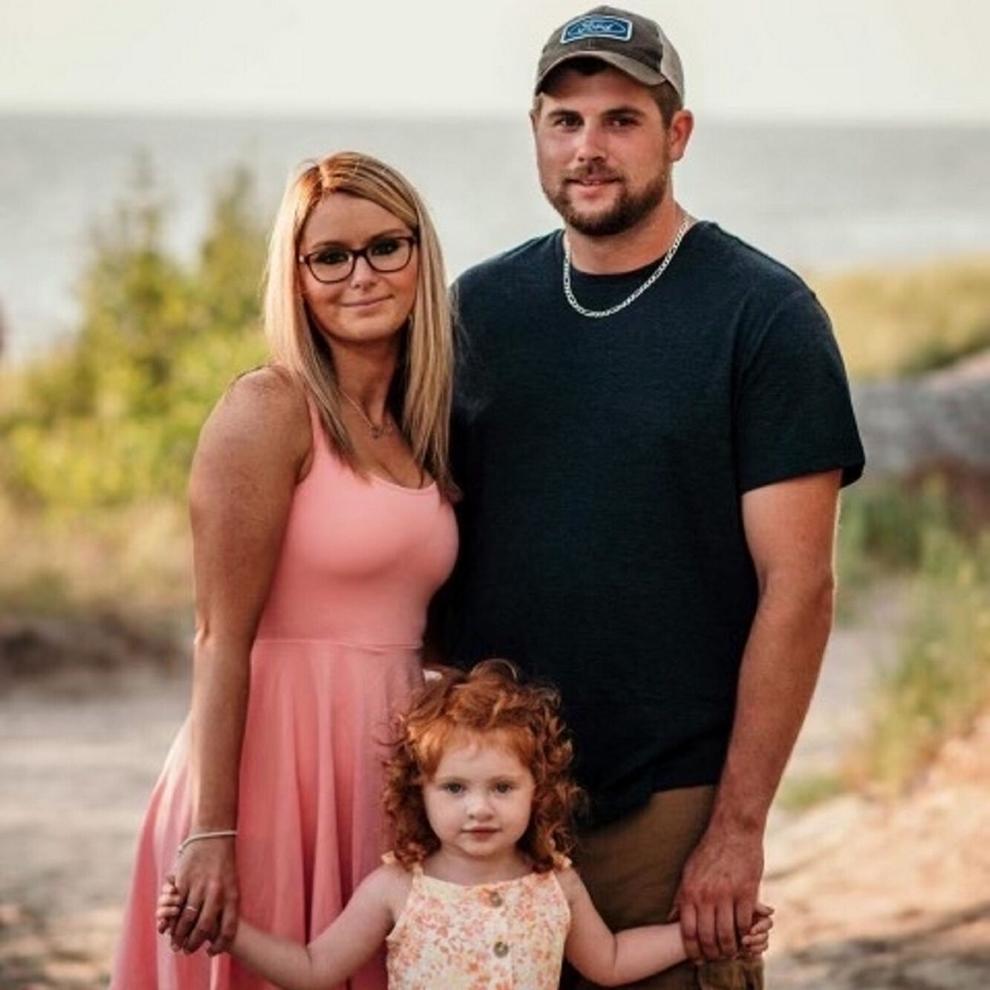 Day 13: Not leaving the hospital

COVID-19 restrictions have placed a daunting task on loved ones in the hospital.
Ms. McIntosh and Mr. O'Connor hadn't left the room on the pediatric intensive care unit floor in the hospital, where children receive the highest level of care. They wouldn't have been allowed back if they left the hospital.
A support system almost depends on those moments to go outside and take a breath, and — while they understand — they were missing it. It was 12 days straight of sleeping two hours a night on a pull-out chair and recliner in Sophia's room. Family left changes of clothes at the front desk for them to pick up. There were family accommodation rooms with beds and a shower, but they hadn't used them.
"It's very hard," Ms. McIntosh said. "You're in that room, so you're watching her every minute. There are times tears just sneak up on you."
On the 13th day, staff noticed and decided to say something, which came as no surprise considering how close they have become to the family.
"They said, 'When she wakes up, she's going to need you guys,'" Ms. McIntosh said, "and, 'If you don't take care of yourself, it's going to be very hard to take care of her.'"
Sophia was still on a ventilator, but it couldn't be considered an actual medically induced coma since Sophia would occasionally take a breath on her own, highlighting her inspiring fight throughout that resulted in the name "Sophia Strong" being circulated throughout the community.
The parents decided to use the room around the corner to get some extended sleep.
"We got between three and five hours of sleep," she said. "It did feel good to get a constant sleep."
Yet, they only used the family room twice in the first 30 days.
Day 22: 'Tiny Hero'

Ms. McIntosh has been updating her friends and family on social media as much as she can. The result was a wave of support for Sophia.
"Not only do we have family, friends and our employees and our community," Ms. Mcintosh said, "we have several communities behind us and several states."
Sophia would go on to become a "Tiny Hero," a foundation that raises money for research. Friends, family and strangers raised at least $150 for Sophia, which earned her a hero's cape and monthly gifts. But since the community raised far more than $150 for Sophia, she will be able to sponsor about seven more kids.
"They'll be getting their capes, too, and not waiting," Ms. McIntosh said. "We greatly appreciate everyone for that. We're very thankful."
Day 25: 'I can't see'
Eye doctors examined Sophia after she told her parents she couldn't see.
"It's not the end of the world if she can't see, but it hurts when your child says that," Ms. McIntosh said. "You want to take all their pain away."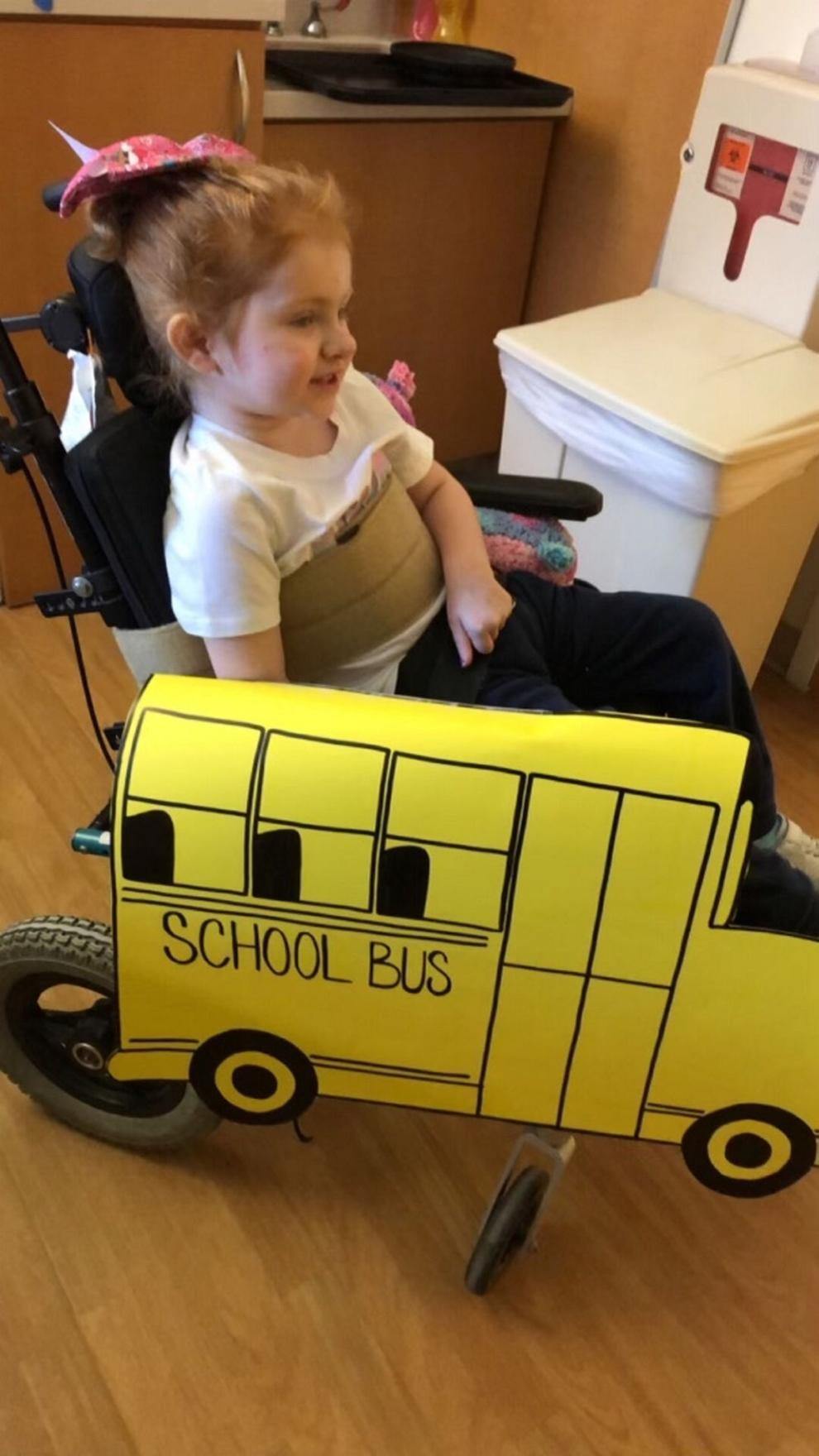 Sophia has been awake for more than a week, but Ms. McIntosh said they don't ask her if she can't see because it makes her upset. They might show her a ball instead and ask her what it is. She might still get somewhat upset and say she can't see.
The eyes themselves looked good, further indicating that the seizures targeted the part of the brain that controls vision. The hope is doctors find inflammation on the brain and not scar tissue, which could indicate long-term damage. Still, it could take up to a year to know if she is permanently blind. Point is, Sophia is alive and breathing, which is better than what her mother was constantly thinking might happen when her daughter was having 30 seizures an hour. Blind or not, they have faith that she'll always be the girl they know.
"She's got the red hair, she's got the sass," Ms. McIntosh said. "But, you know, we love it. That's what makes Sophia." They know her as the sweet yet sometimes take-charge type of girl. Sophia might act like a mother to the other kids at day care, but she'll ask her mom to not forget snacks for her friends while they're at the store.
"She is so sweet and she is so kind," Ms. McIntosh said, "and she definitely has a big heart."
In the meantime, Sophia is continuing the fight. She has been eating some food on her own after the feeding tube came out. She's talking more and standing with just a little support. Even when she moves her legs in bed it's a great moment for her parents.
Ms. McIntosh and Mr. O'Connor won't stop fighting either. They are prepared to stay another 30 days in the hospital if they have to, especially since the timetable for when Sophia could leave is still unclear.
She's on three seizure medications, which appear to be working, and they hope to whittle that down to one before she goes home. An MRI was scheduled for Wednesday afternoon. But above all, the fight has been something to behold.
"I remember a doctor told me she goes, 'Michelle, when she first came in here she was the sickest little girl, and that's not the case anymore,'" Ms. McIntosh said. "She's making improvements and progress, so I truly think she is going to surprise us all."