CANTON — Preparation for the annual Giving Tree, facilitated by the Canton Church and Community Program and dozens of volunteers, is underway this month.
The familiar trees stationed at churches and businesses will be adorned with different requests this year, as the Giving Tree advisory board has adjusted the high-contact system of holiday gift and clothing pick-up amid the ongoing global health crisis.
Typically, trees are tagged with specific gift and clothing wishlists from families in Canton and surrounding communities, and community members "adopt" families in need. More than 100 families and hundreds of children and teenagers receive toys, clothes, and handmade hats and scarves every December.
To mitigate COVID-19 exposure and limit volunteer contact with families, board members decided to forgo in-person sorting and distribution events at the Canton Fire Department and instead request monetary donations.
Giving trees will be dispersed by Oct. 1, decorated with donation envelopes, and participants can note whether they prefer their donation to support food, clothing or gift vouchers.
"The need is greater," Giving Tree co-director Frances Weller Bailey said, adding that the COVID-19 pandemic has further stressed families already in need. "But the sense of fear, fear of mingling with other people, is also greater."
The voucher system, she said, safeguards the project "no matter what happens with the virus." Should Canton or St. Lawrence County see a surge in cases, for instance, a planned distribution event may be compromised.
Applications are now available for families and are due by Oct. 31. Voucher values will be determined based on the number of family responses and accumulated donations.
Ms. Bailey said the board anticipates being able to provide one clothing and one gift voucher for each child, infant to 18 years old, as well as a food voucher for each family unit.
Giving Tree began offering Save-A-Lot food vouchers as part of its distribution in 2017, an initiative that will continue this year.
Clothing and gift vouchers will be redeemable only at the Potsdam Walmart, 7494 Route 11. Families can choose when they shop for clothing and gifts, though the vouchers must be used within the same day before Dec. 31. Clothing and gift vouchers cannot be used to purchase food, tobacco, alcohol, firearms or ammunition.
Voucher distribution will take place by appointment the weekend of Dec. 5.
As of this week, Giving Tree co-director Cheryl Glidden said 389 hats have already been made. In 2019, Giving Tree served 411 children and 167 families, Ms. Bailey said, despite about $4,000 worth of clothing and gifts being stolen from the CCP's former Main Street location. The program saw record numbers in 2018, with 430 children served.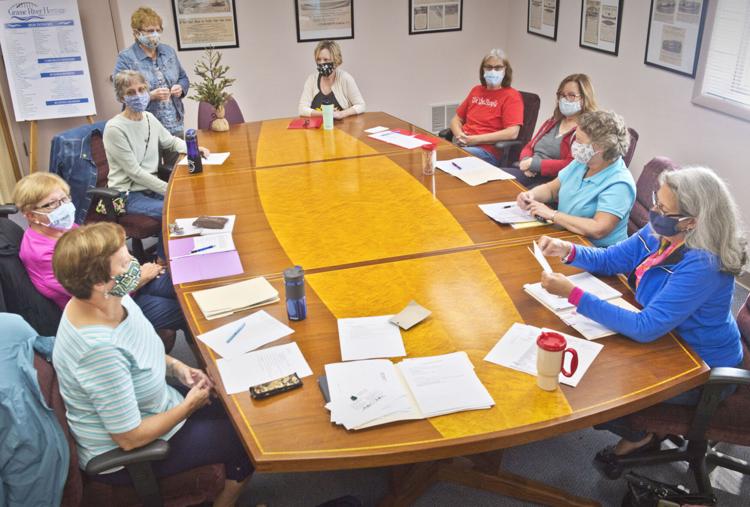 Ms. Glidden said a former gift recipient, now a senior at SUNY Canton, approached Giving Tree last year wanting to adopt a family himself and recalling a car full of gifts once stopping by his house.
"People remember," Ms. Glidden said.
A need-based program, Giving Tree serves families residing in Canton, Rensselaer Falls, Hermon, Clare, DeKalb and Russell, with children enrolled in Canton schools or the Hermon-DeKalb and Edwards-Knox districts. A family's income may not exceed 185% of 2020-21 U.S. Poverty Guidelines to be eligible. More information is included on the Giving Tree 2020 application, which is posted to the CCP website, ccpcanton.org.
Giving Tree asks community members to submit cash or check donations by Nov. 15, mailed to P.O. Box 55, Canton. Online donations can also be made through the Giving Tree link, also posted to the CCP website.