CLAYTON — Kenneth M. Brabant is a painter. His medium is water and ice. His canvas is a frozen field across the street from his Webb Street residence.
Since 2003, Mr. Brabant has taken it upon himself to create an ice rink and sled run at Lions Club Field. With cool determination, he is fighting global warming to maintain what he says is the simple joy of skating out in the cool, fresh air with his sled run as a bonus.
"One of the nicest compliments I ever got was from a lady who said, "When I look over there, it reminds me of a Norman Rockwell painting,'" Mr. Brabant said.
For Mr. Brabant, 67, the field he creates reminds him of his youth, when outdoor rinks, skating under the sky and stars, were common in communities.
"I grew up in Clayton and Watertown and they've gotten rid of all the outdoor rinks: Knickerbocker, Sherman Street, all over — all gone," he said.
Community skating is held at the village's arena, but Mr. Brabant said it's not the same as being outdoors.
"It used to be that you could go every evening to the skating rink," he said. "But it got that you had to go up there at certain hours, and it'd be only open for 45 minutes and then you're inside skating around the building. You can't beat outdoor skating compared to an inside arena. An arena is not the same place where you can go play. An outdoor rink is a place you can go play."
The sled run he also creates each year is a bonus, as skaters and sledders intermingle.
"For the sled hill, I keep trying to make it glassier and glassier," he said. "My wife gets mad at me, a little nervous for making it that slippery. The kids get over there and they do learn a lot about ice."
Since his crash course on ice-making nearly two decades ago, Mr. Brabant, who has earned village Citizen of the Year honors, has learned many tricks to creating the ice rink that goes around the football field and the sled run that slips into the field at the rink.
"It's just like painting something with a can of paint," Mr. Brabant said of his sled run. "You have to put water on until it makes a wet shine and stop before it ripples. The water is exactly like painting a car. If you put too much on, you get those ripples, and you're screwed up until you can build up a whole bunch more. There's quite a bit of an art to getting it right."
Mr. Brabant has time to contemplate such matters of the ice in the cool months as he breaks from the job he's had for 35 years as a caretaker for an estate on Wellesley Island. Over the years, warm weather has hexed his carefully laid out plans for the rink and the sled run.
"Global warming — that's beating me right to death," he said. "One year, I rebuilt five times."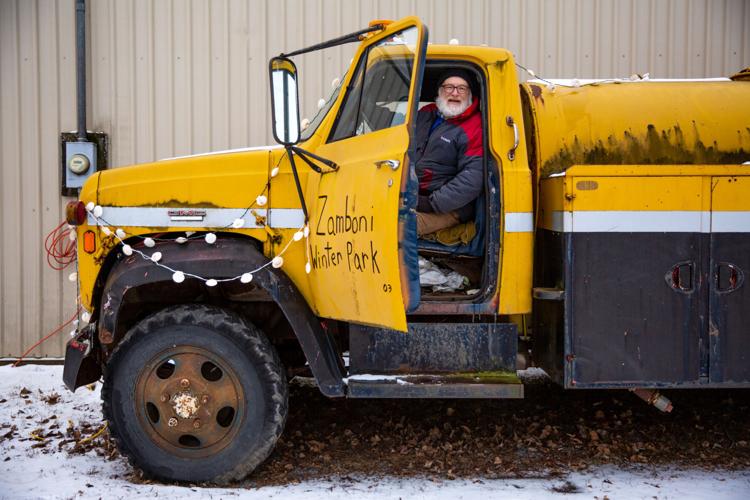 This season, the pandemic will cause notable changes. Mr. Brabant used to put out sleds on the hill and bright yellow and red push-chairs at the rink for the community to use. That has been curtailed this year for the fear of spreading germs, and social distancing is encouraged.
He has a plan, and all he needs now is for the weather to cooperate. Even last week, when temperatures struggled to make it past 20 degrees Fahrenheit during daylight, Mr. Brabant said he wasn't ready to begin his tasks.
"I have to wait for the frost to get down into the ground good," he said.
On Friday, he was in a holding pattern with warm temperatures on the horizon. But he isn't too worried about time lost to the elements.
"A lot of years, it isn't until halfway through January that I begin," he said. "In other years, I've had it down before Christmas."
Mr. Brabant volunteers for the Thousand Islands Land Trust doing land upkeep, and the nonprofit organization lends him a tractor for his winter rink work. He attaches a snow blower with a 6-feet span to a three-point hitch to the back of the tractor. Fuel, he said, is provided by the village.
But something else provided by the village is especially treasured: "Zamboni snow" from the arena. A Zamboni scrapes arena ice and lays down water to create a smoother surface. The scraped "snow" by-product is usually discarded.
Mr. Brabant uses the Zamboni snow for his sled run.
"It's a much richer mixture and it will last through a thaw better," he said."That stuff is like gold to me."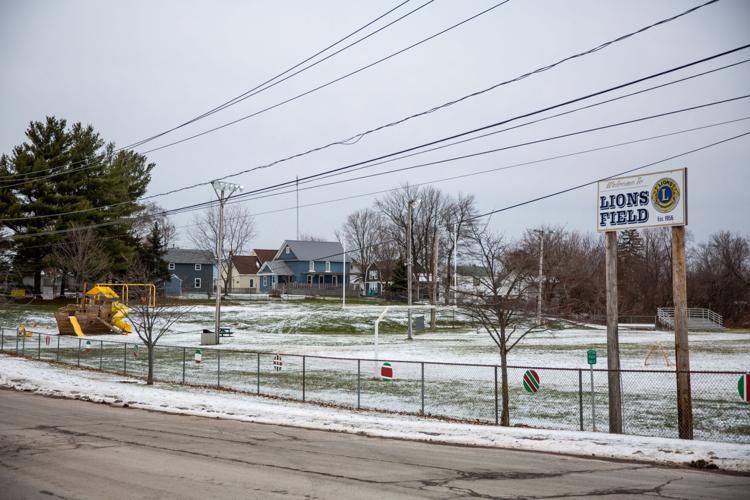 A fire hydrant at the field provides the water. But Mr. Brabant has learned not to use hoses for flooding and creating ice. Instead, he puts a 1,000-gallon water tank in the back of his old Chevrolet pickup truck, backs it up to the hydrant and fills it up. Then slowly, he goes around the perimeter of the football field to create ice. A hose is only used in certain spots.
"It takes me two-and-a-half times around the rink at a certain speed," Mr. Brabant said. "Originally when I did it, I did it with hoses and each layer would take me three hours. With the truck, it takes me 25 minutes. It's much easier — and warmer."
He maintains a speed of between 3 and 5 mph when spreading the water. "It lays the water down just right, but at certain temperatures, you've got to do different speeds," he said. "It's a million little things like that I had to learn."
For example, he's learned not to blow the snow away before creating rink ice.
"That was a complete mistake," he said. "I've learned that you've got to compress the snow that's there and that saves you thousands and thousands of gallons of water and you can make a couple of inches of ice much quicker."
He compresses the snow by driving his pickup truck around the ice rink.
"You add water to that, and bingo! In two days, I can get a rink. It used to be four or five days, or more."
For his sled run, Mr. Brabant has reduced the angle of its banks over the years. There was a time that the height of them increased each year.
"The design I have now is much easier to care for," he said. "I eliminated all the big monster banks. I have to think about safety a lot."
Mr. Brabant provides his service simply to see the joy of people using his rink and sled run.
"It's basically just a thing for the community," he said. "I love getting all the fresh air and being outside. I love meeting all the kids and hollering at them for no hats or whatever. I think we're the in-community."
In the late 1950s, the Clayton Lions Club, organized in 1955, raised funds to develop its Lions Club Field, a former village dump site.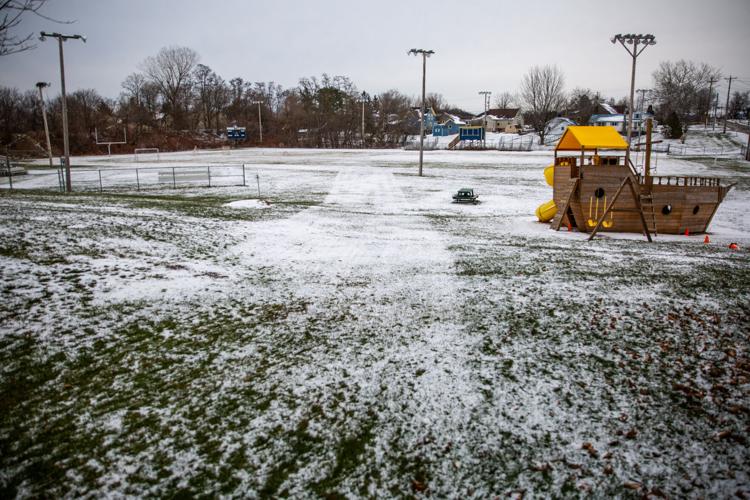 "Ken's dedication to community for this unique sled and ice park is a great addition to our community and kids of all ages enjoy and brings back great memories to all of us when enjoying winter activities were part of our every day life," said village mayor Norma Zimmer. "His efforts are enjoyed by our river neighbors and Kenny is not just Citizen of 'a' Year but every year when you drive by in freezing weather and he is preparing the rink or hill for our pleasure."
And as long as the weather cooperates, Mr. Brabant will continue to be out there in the winter, day and night, making ice, creating an engaging scene and memories for the community.
"When I'm out flooding at night, police cars and different people drive by and they honk, turn their bulbs on and this and that," he said. "That makes me feel really good."
Times archive librarian Kelly Burdick contributed to this report.