NORWOOD — Not even a global pandemic can stop the high spirits of a soon-to-be, 30-year tradition that has brought together members of the village community and all in the name of recycling.
In November, the Norwood Lake Association James H. McFadden Memorial Recycling Center, located on Bernard Street, across from St. Andrew's Church, will celebrate 30 years in operation.
Maintained by an all-volunteer staff, the center is named after former Mayor James McFadden, who spearheaded creation of the center, John Murray, a longtime volunteer at the center, said Saturday morning.
Business picked up between the hours of 9 and 10 a.m. Saturday, at one point with cars lining the street and people, many having donned masks, keeping a distance from each other and in some instances waiting in their cars for less traffic, until they could safely throw bags of plastic in one pile, metal scrap into a Dumpster, and cans into a recycling bin.
The cacophony of clacks, clangs and clunks, were joined by the 10 chimes of the bell at St. Andrew's Church, creating a sudden community orchestra.
The recycling center, deemed an essential service during the pandemic, has remained open, Mr. Murray said.
"As long as I've been here, I've been here seven or eight years, not one time have we ever closed," Mr. Murray said. "We've had two feet of snow and we still opened up here. This place has never closed as long as I can remember."
John and Andy French, another volunteer, welcomed patrons who would drop off money in one of the two donation boxes at the center.
Money collected that is left over goes to the Lake Association and helps pay for the restocking of fish in the Norwood Lake, the milfoil study and a new dock, if needed. Just a general upkeep of the lake itself, Mr. Murray said. It also goes to local charities.
"That's the big picture of why we're here," he said.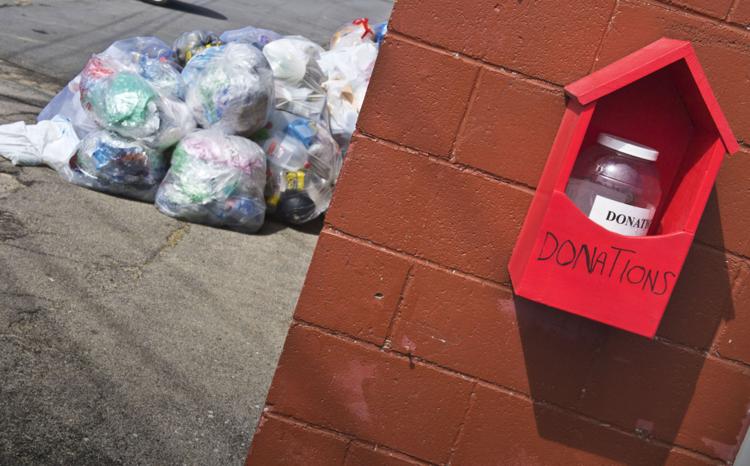 Money received from redeemable cans and bottles also goes toward paying for the transportation of the glass recyclables to the Massena transfer station, Mr. French said.
The MJ&T Trash Removal from Madrid takes the trash and plastics and the cardboard and paper recycling bin is supplied by Jason Conte, Raymondville, who bundles it up and he takes it to the Norfolk Paper Mill.
The pandemic hasn't changed the sense of community the center has provided, only that people have been using more care and caution, Mr. French said.
But the men said there are more than Norwood residents who have continued to use their site. A woman drives in from Waddington, another couple comes from Canton, using what John said was a service many communities don't have.
"They don't have a recycling center. We're it," Mr. Murray said. "A lot of recycling centers have come and gone but we're the only ones that stayed open."
He said he has seen the business remain consistent since the pandemic and that people have been respectful of each other's spaces, wearing masks, even while remaining friendly and keeping with the spirit of the Saturday gathering place.
"They are all complying, they are all wearing masks, they respect us and we respect them and we have not had an issue of people not wearing masks," he said.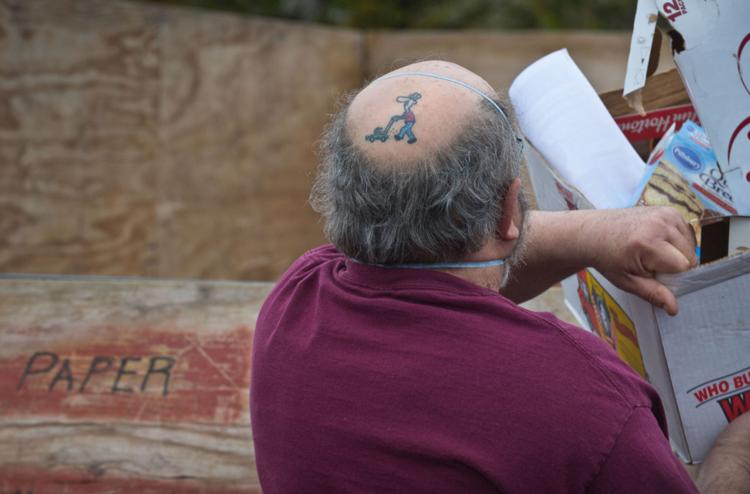 Pulling up to Mr. French and Mr. Murray, Jim Tyler, one of the volunteers from the early days of the center, was greeted with jovial ribbing about being an old-timer from the origins of the center in 1990.
Mr. Tyler has lived in Norwood 54 years. He said he has been coming to the recycling center since it opened and called it "a place to come and have a little camaraderie and learn a lot."
The men busted out laughing and when asked what they learned about that they found so entertaining, they looked to each other mischievously muffling their laughter.
"I'm not gonna go there," Mr. Tyler said, smiling with his eyes, a mask over his mouth, like nearly everyone who arrived at the site.
"This is typical small town and everybody knows everybody and, you know, it's a nice community," he said. "It's a really good community."