ELLISBURG — On a quiet Friday afternoon earlier this month, two young cousins played in their grandmother's house, giggling the hours away as they waited for her famous meatballs to be ready.
Adeline and Penelope, who are the best of friends, talked about their favorite animals — everything from unicorns to puppies — and spent their time enjoying each other's company, paying no mind to Adeline's physical limitations. Penelope Q. Ray, also 7, describes Adeline as "funny, cute and the best person in the whole wide world."
Born with a congenital heart defect, basically five separate heart defects in one diagnosis, Adeline R. Ormsby at just 7 years old has had two open heart surgeries already. With this heart defect, there's also a chromosomal deletion, a micro-deletion of a piece of her 22nd chromosome. It may be tiny, but it could affect more than 200 things throughout her body — every body system. In addition to severe heart problems, Adeline also has issues with her lungs.
There's no one name for what Adeline has. Her mother describes it as "five different defects wrapped in one." Her doctors have said her heart is rare and they've never seen anything quite like her lungs. In her seven years, Adeline has dealt with more health problems than most will in a lifetime.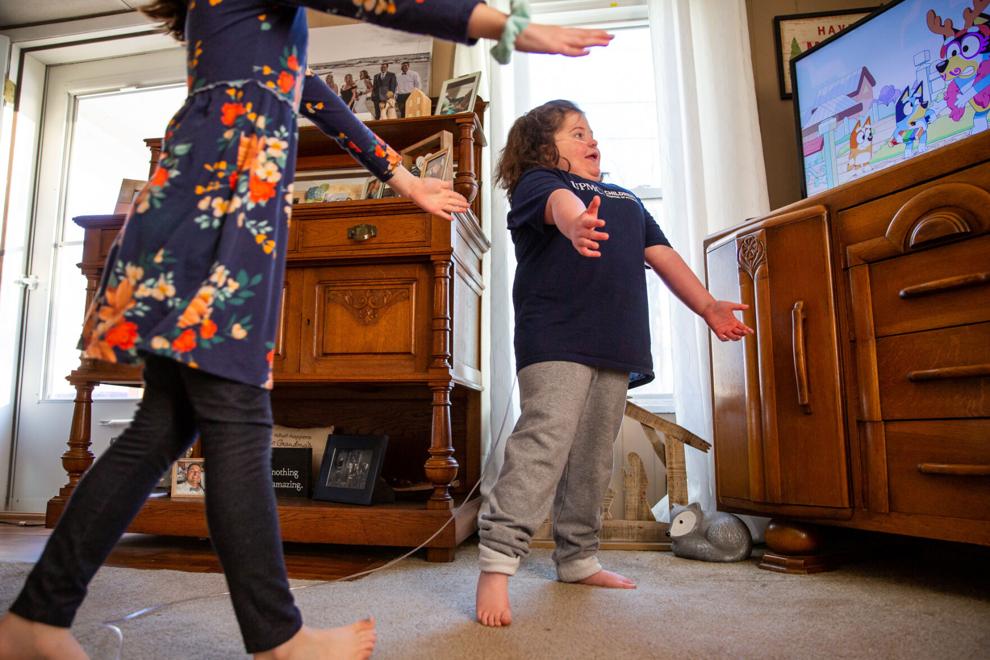 Because her heart is so different, she was never a heart transplant candidate because an anatomically correct heart would not connect to her lungs. This is due to the fact that she has collateral arteries a normal body doesn't have.
Too ill to be a viable transplant candidate, the name of the game for Adeline now is comfort care, as there's nothing more to be done for her medically.
In order to accomplish the goal of making the remainder of Adeline's life as comfortable for her as possible, a GoFundMe campaign has been started in her honor. The money will be used to upgrade her grandmother's house to accommodate Adeline's needs. Adeline's grandmother lives in Woodville, a hamlet in the town of Ellisburg. Adeline and Jada currently live in Adams, but will be moving to Woodville soon.
Next weekend, there will be more opportunity for the community to come out and support Adeline. Two events will be held — a dance-a-thon and spaghetti dinner drive — and all proceeds will go to the family.
Despite all life has thrown her way, Adeline's as much a firecracker as any other kid her age.
According to her mother, Adeline is outgoing and happy about 90 percent of the time. She's more than willing to do anything, and sometimes even gets excited to see certain specialists.
From day one, Adeline has had multiple doctors and appointments — it's all she's ever known. When she has to go to the hospital, she calls them the "big doctors." With each visit, her goal is simple: get in, do what needs to be done, get out and go to Taco Bell — her favorite chain restaurant.
As her lung function has declined over the years, Adeline is currently on four liters of oxygen. She has a biPAP mask she wears at night to make her more comfortable as she sleeps, as well as an airway clearance vest that hooks up to a compressor and vibrates to break up mucus so it doesn't stick around and get infected, causing more sickness.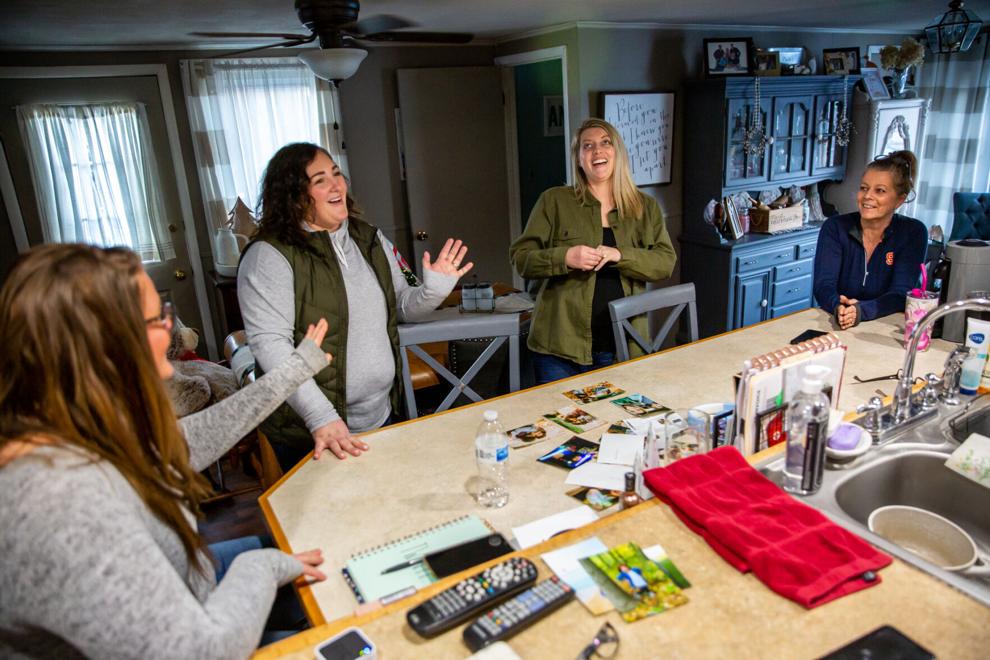 "It was going to be a double lung and heart transplant," her mother Jada R. Ormsby said. "She was too high on the mortality list — extremely high risk for not making it out of the surgery. We know now that it's all about just comfort care.
"Now that we know that," she added, "she's only going to regress from here. She will need two caregivers around the clock eventually, and it'll be a lot easier to have all of that in place already."
To that end, eventually, Adeline and Jada will be living with Jada's mother, Paula M. Burley, and would like to make that move by the spring if possible. In order to make that happen, the house will need to become more handicap-accessible, including a need for a ramp for Adeline's wheelchair, as well as a downstairs bedroom and bathroom update to accommodate all her needs.
According to Paula, the only thing Adeline has asked for in terms of the renovations is a door in between her section of the home and her grandmother's section. She doesn't want to walk outside to come see Paula; she has requested a door that says "to grandma's house" on one side and "to Adeline's house" on the other.
For the handicap-accessible bathroom, someone has already donated a walk-in handicap tub and another has donated tiles. With the addition of the handicap bathroom and the bedroom, and because of the mechanics of it — plumbing, heating, putting in handicap accessories — Paula estimates a cost of $20,000 to $25,000 to do that.
To help cover the costs of the renovations, as well as other expenses that may pop up, the GoFundMe campaign was created Dec. 24 by close family friend Jessica S. Winters, who's been best friends with Penelope's mom and Adeline's aunt, Jordon M. Ray, for more than 20 years. The GoFundMe is ongoing and has already surpassed its set goal of $10,000. "We're just trying to make everything work that she loves," Jessica said. "She loves simple things, she loves the water, the hot tub — it doesn't take much to make her happy."
Fundraising efforts will continue in the form of two events taking place next weekend. Rhonda's FooteWorks will host a dance-a-thon, an online event called "Dance for Adeline," beginning at 10 a.m. next Saturday, and a spaghetti dinner will be held the same day at the Belleville Fire Hall from 4 to 6:30 p.m. Due to the ongoing COVID-19 pandemic, the event will be take-out only, with each dinner costing $10. Each meal comes with spaghetti, meatballs, rolls, garden salad and a prepackaged dessert.
"I don't even realize until people tell me how far Adeline's story, or her herself, has gotten out there, because even people I don't know would just find me on Facebook or something and message me," Jada said.
She said people adore Adeline's videos, "or they'll be like, 'I was having a rough day today, I was kind of having my own pity party and then I see a video of her just smiling and laughing and she's got way more problems than anyone should have, and I think mine aren't that bad.'"
Through the power of social media, people have been able to stay updated on Adeline's journey, and Jada has been able to connect with other parents of children with the same defecting chromosomal deletion. She's even become close with a few mothers in Portland, Ore., and New Jersey.
"I have a huge family with love and support, but at the same time, its extremely isolating to be the mother of a child like her," Jada said. "You can explain till you're blue in the face and no one will get it, and I wouldn't want anyone to understand that firsthand."
Paula said community support for Adeline and the family has been amazing. Though she and Jada aren't usually ones to ask for something like donations, they know, in the end, everything will help Adeline live out the rest of her years with each day being the best it can possibly be.
"I never liked taking from people, but then you think about it and people wouldn't give and wouldn't help if they didn't want to," Jada said. "If I think of it in that light, I feel better about it. I can't be prideful and I can be stubborn because it's about her in the end, and this will only help her be more comfortable. When we get closer to the end and a Hospice-type situation, we'll have everything and Adeline will be comfortable and be able to be home."
Those interested in contributing to the fundraising efforts may do so by visiting wdt.me/Adeline.