CLAYTON — This village is mourning the loss of a youth advocate who made his mark coaching as his teams won championships and he won over the community with "a kind word and smile for everyone he met."
Leonard P. "Obie" O'Brien, 79, died of cancer Monday at River Hospital in Alexandria Bay.
Mr. O'Brien ran the girl's basketball program in Clayton for 25 years, Clayton Minor Hockey for 14 years and the Clayton Youth Commission for four years. He was a communicant of St. Mary's Church, where he was in charge of the congregation's youth basketball team, winning a Watertown city championship.
In 2003, he was named Clayton Citizen of the Year.
"He was the epitome of Citizen of the Year," said Clayton native Bruce T. ("Mac") MacFarlane. "The countless hours he spent coaching every kid in town and raising money for so many good causes, never saying a bad word about any one, having a smile on his face for everyone."
Mr. MacFarlane called Mr. O'Brien, "The true ambassador for the place he loved."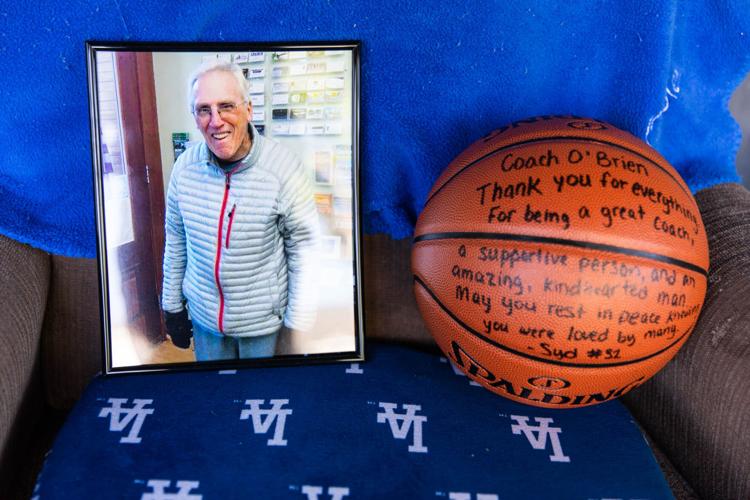 "The man could be our citizen of the year every single year, including 2020," said Robert W. Cantwell, who coached hockey in the village for several years and was coached himself by Mr. O'Brien. "That's how much impact he had on youth, who are now parents, and who are now grandparents. He impacted generations. Most people don't have that opportunity. Leonard is the cornerstone of this community. He's a definition of who Clayton is and what it should continue to be."
A memorial Mass for Mr. O'Brien will be held at St. Mary's Church at a time and date to be announced, with burial in St. Mary's Cemetery.
"He's going to be greatly missed," said Scott N. Johnson, president of the Clayton Youth Commission. "He was a great guy and always had the kids' best interest at heart."
Mr. Johnson first met Mr. O'Brien about 40 years ago when his neighbor's children were coached by Mr. O'Brien. Many of those children coached by "Obie" passed forward what they learned.
"Most of the current coaches that run our organization now had been coached by him in their youth," said Mr. Johnson, who has a 16-year-old son who plays hockey.
"He never had the opportunity to be coached by Leonard, but he definitely had some conversations in the local diner about hockey and skills and some of the things he should be working on," Mr. Johnson said. "He was always a great community advocate for the children, and trying to make sure they had every opportunity afforded to them."
"If you wanted to play hockey, you went to Obie, and Obie got you the stuff," said Keith D. Wood, who retired as the village's recreation supervisor nearly four years ago. "Whether he got you the registration, the skates or whatever, he just was an all-around good guy."
Mr. Wood said Mr. O'Brien would work his connections in the village to support a particular child.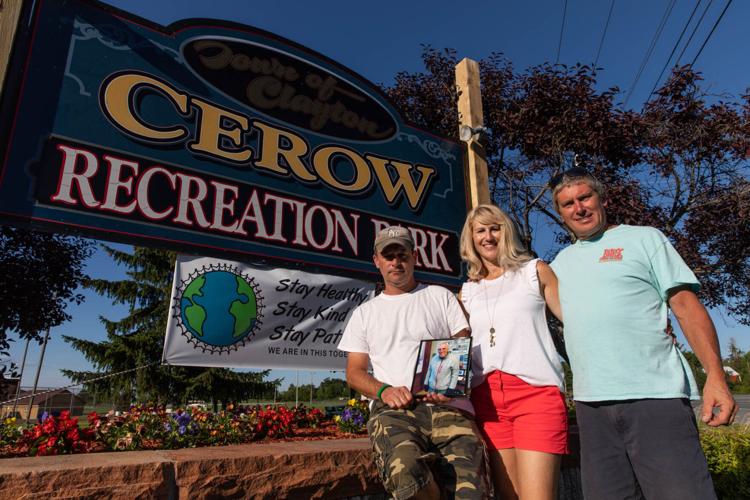 "He had a couple of contacts in town of people who had money, and he had no problem walking up to them, saying, 'Hey, I've got a kid here that needs a pair of skates, whaddya think?' And it was, 'Ya — Ok, I'll buy him a pair of skates. Here's the money. Go get him a pair of skates.'"
Mr. O'Brien was always on the lookout for hockey talent in the village, Mr. Wood said.
"He'd come to public skating, and he'd notice a kid and say, 'How come you don't play hockey?' And they'd say, 'I can't afford it' or 'I don't know.' Obie would say, 'Come to practice tomorrow. I'll have the equipment for you. We'll get your registration taken care of. Don't worry about it. Come and play.' More times than not, it worked. But that was the kind of guy he was. He would go out of his way to keep kids doing stuff."
When Mr. O'Brien coached, he had a way of motivating his team members.
"He had that athleticism entrenched in him — what you should be doing with nutrition and exercise," Mr. Cantwell said. "It was like, 'Get out. Go for a run. Go for a jog. Grab that wheelbarrow and run some firewood for your parents. But get that done on Saturday before you even think about coming to the rink.' It wasn't just hockey stuff. It was life lessons that were taught."
Mr. Cantwell recalls how Mr. O'Brien improved his puck-handling skills after the mantra "Keep two hands on the stick" wasn't sinking in for him as a young player.
"He said, 'You'd better do that, or I'm going to tape your glove to that hockey stick!'" Mr. Cantwell said.
It took Mr. Cantwell's dad a week to get the stubborn white hockey tape removed from the glove and the stick.
"My right glove was literally glued to my stick," Mr. Cantwell said. "It proved a point. Not only for me, but for the other 15 kids who were on the ice with me: he wanted us to have two hands on the stick."
Mr. O'Brien's daughter, Kerry E. Bearup, Redwood, said her dad may have been inspired by some difficult childhood experiences.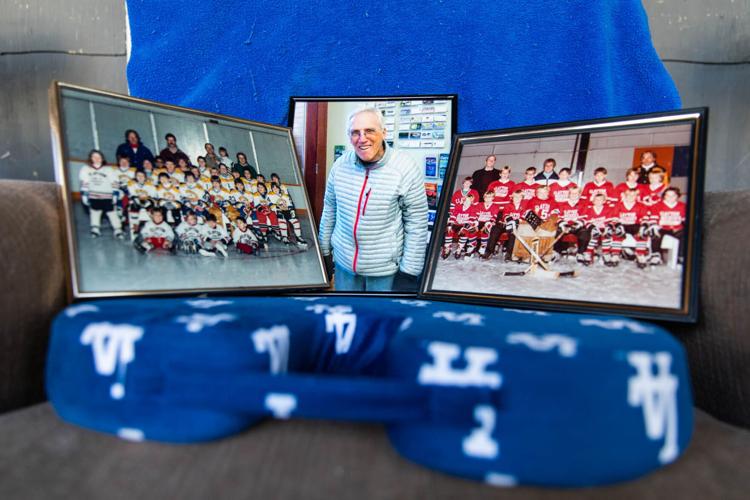 "He was very humble," Mrs. Bearup said. "My dad wanted to do for kids what I think wasn't always done for him. He went through a lot of things. But I think the one thing about my dad, it never got him down — ever. I don't think we've ever seen him without a smile on his face."
He was known around the village as "Hey, Man."
"Everything was like, 'Hey, Man.' He always made everyone he saw feel really special in that moment," Mrs. Bearup said. "That's just the way he was.''
"Obie" was a veteran bartender at O'Brien's Restaurant and Bar, which for decades was owned by his uncle, Jimmy O'Brien. Obie managed the bar for 23 years.
"My father was a good promoter," said his son, Tobias ("Toby") P. O'Brien. "He was a natural. He started happy hour."
Mr. O'Brien said his dad also gave away bar posters and various signs to those who asked for them.
"And he gave away a free drink," he said. "He knew how to keep people coming in. He never wanted to take tips, but I'm sure he did."
Despite his late hours at the bar, Mr. O'Brien said his dad was always willing to get up in the mornings to take him places. Obie didn't drive, but rode a bicycle around town.
"He had this red bike and he would put me on his shoulders, my uncle (Anthony Cipullo) on the handlebars and he'd put another kid on the bar in the center," Mr. O'Brien said. "He'd ride around town with three of us on. I don't know what kind of bike it was, but we still talk about that bike today."
As he recalled those bike rides, Mr. O'Brien remembered another bicycle tale involving a Schwinn Stingray that exemplified his father's spirit of sharing. The classic Stingrays were made in Chicago from 1963 to 1981.
"I used to have one," Mr. O'Brien said. "My dad bought it for me. I remember driving around town when I just turned 16, and this kid was riding around on a bike. I said, 'Wait a second. I think that's my bike!'"
Mr. O'Brien stopped and asked the kid where he got the Stingray.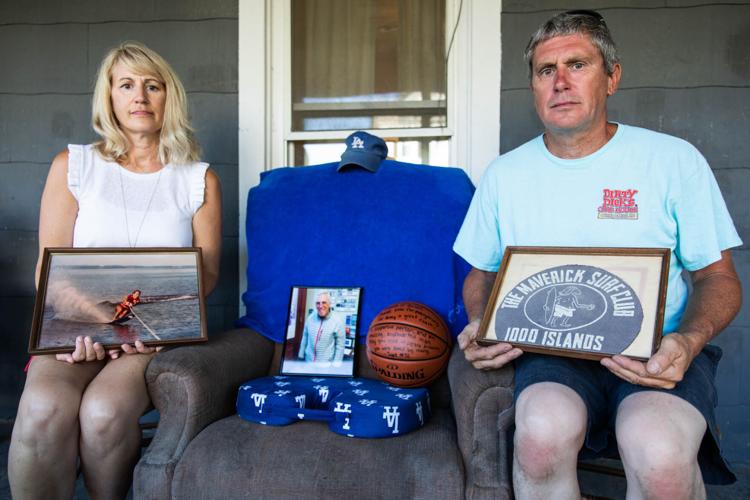 "I thought he stole it out of my barn," he said. "But he said, 'Leonard O'Brien gave it to me!' I go, 'Ain't that something? He gave away my bike.' But how can you argue with that, right?"
Obie also gave away his son's favorite pair of hockey skates one time to a needy child.
"I had them all broken in and they were great," Mr. O'Brien said. "All of a sudden they were gone. He gave them away, but he bought me new ones."
That sense of sharing was in Obie's nature.
"He was a great dad, but we had to share him," Mrs. Bearup said. "We shared him with everybody. He really was the community's dad."
Edward Barlow, who would later become Obie's best man at his wedding to Sheila A. Cipullo in 1967, remembered when Obie moved to Clayton from Watertown in the 1950s.
"The first time he showed up, we were in a vacant lot playing ball," Mr. Barlow said. "Leonard came into the lot and wanted to play. Everybody all said, 'Sure!' And he introduced himself. He and I were on the same team."
Mr. Barlow said Mr. O'Brien excelled at water skiing and founded the Maverick Ski Club. "He was fantastic at the slalom," he said.
"He was there — any sport," Mr. Cantwell said. "You can look at any sport, and if you're passionate about it, it becomes your life sport."
Mr. O'Brien said that the community had been collecting donated items to raffle off to help with his father's cost of cancer treatment. But he said a benefit that will include those items will be scheduled at a later date.
Mr. O'Brien said his family would like to continue his father's legacy of helping needy young athletes in the community.
"We'd like to keep something going for that reason; for kids around here who can't afford a pair of skates, need a glove or sticks," he said.
Like those handed-down skates, gloves and other pieces of sporting equipment, Obie's spirit of helping the needy and welcoming strangers lingers in the Clayton community.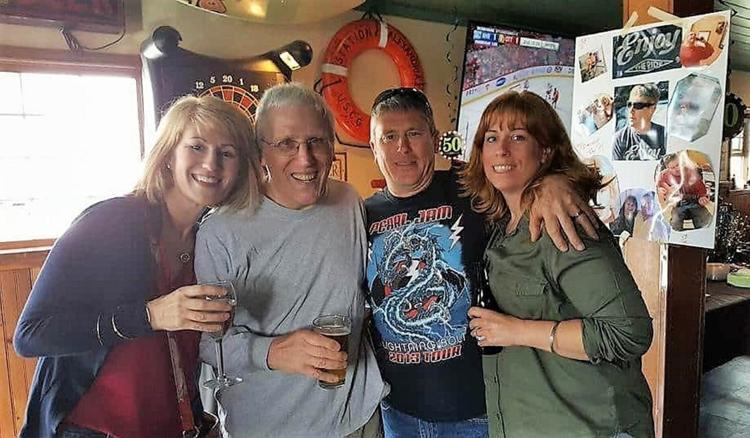 "It's the passion that icons that Leonard O'Brien instilled in you as a young human being," Mr. Cantwell said. "I can still pass that on."
"The biggest thing I always got from him was, 'Always give your time and do for others,'" Mrs. Bearup said. "I'm a school teacher and I try to always make sure that I'm doing things like that."
Mr. Barlow, who became Obie's best friend, said people like Obie O'Brien are rare, but he has faith others will step up to the plate and continue his legacy in the village.
"People are many varied and wonderful and they also do terrible things," Mr. Barlow said. "You get all kinds and you always will. There will be a repeat of him, but I don't know when or where. It's the American way. The boys of summer are built into our society."