Thomas H. Bradley III, who competed in his first dog show as a teenager in 1955 at the Adirondack Kennel Club show in Lake Placid, is still in…
WATERTOWN — It's been about 65 years since Thomas H. Bradley III became one of the original members of the North Country Kennel Club which would become a launching pad for him to go on to elite ranks in the dog show and dog-judging world.
Mr. Bradley, Watertown, is still a member of the North Country Kennel Club, but not actively involved. So he was happy to hear from a kennel club member a few weeks ago who called him.
The call wasn't specifically about the club, but about another organization Mr. Bradley co-founded in 1993 — Take the Lead, based at 215 Washington St.
The nonprofit is dedicated to providing direct services, support and care for qualified participants in the sport of dogs who suffer from the devastating realities of life-threatening or terminal illnesses. Take the Lead especially helps people in the dog world who find themselves without health insurance.
"When they called and said they wanted to present a check to Take the Lead, I said, 'That's great, we'd love to have it,'" Mr. Bradley, CEO of the nonprofit, said. "They've given checks through the years, but more in the area of a thousand to $1,500. When she told me it was for $30,000, I said, 'Whew! That's more than a lot of big clubs give us.'"
But the North Country Kennel Club has a history of donating to local canine-related causes, from purchasing bullet proof vests for police dogs to stocking food pantries with dog food.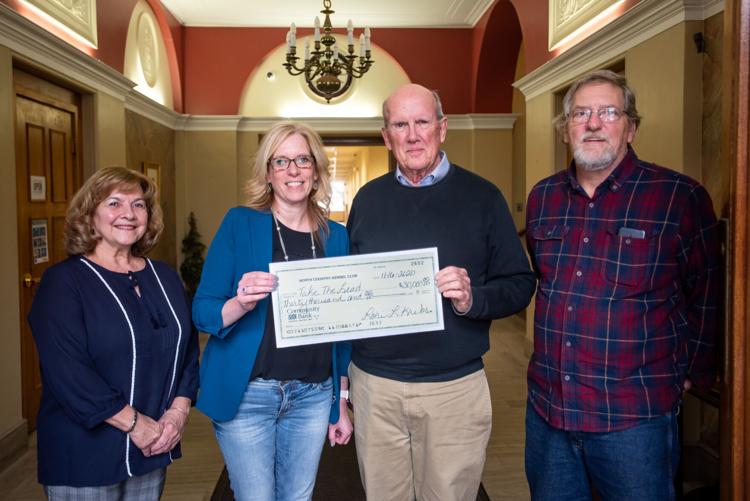 "I think we stay under the radar quite a bit," said club Treasurer Lori L. Krebs, Sandy Creek, who raises Bernese Mountain Dogs. "We're pretty small, but we do what we can do."
Most of the funds from their donations, Mrs. Krebs said, come from entry proceeds from shows, "over and above expenses."
"With COVID, our March show was canceled," Mrs. Krebs said. "There were still monies that came in with that, so we had money that we didn't earn because we weren't able to have a show. We wanted to be able to send it back to exhibitors, but the people who run the dog show weren't able to do that. In lieu of that, we decided to make the donation to Take the Lead, which is an American Kennel Club charity."
"Take the Lead is a very worthy cause," said North Country Kennel Club Vice President Scott Thackston, Dexter. "We do a lot of little things here and there and this happened to be something the board decided to do due to COVID and everything else that's been going on."
Take the Lead has grown over the years to where it now donates between $375,000 and $425,000 a year. But it began in the late 1980s with one patient facing a tough time.
"I had a young man who I knew and was very active in the sport," Mr. Bradley said. "He was a professional handler and he grew up in New Jersey. He had shown a dog for me once and called me and said that he was in a jam."
The young man told Mr. Bradley he couldn't pay for his health insurance.
"He had wonderful clients," Mr. Bradley said. "It was hard for me to believe he couldn't buy health insurance. But he was too young. He graduated from high school and went right into showing dogs."
Mr. Bradley said the young man had a drug problem.
"His money didn't get spent on bills," he added.
He said he doesn't recall how much the person was seeking.
"But when he told me, he said he really needs it because he had AIDS," Mr. Bradley said. "It was the first person who I knew who had AIDS."
Mr. Bradley called two of his friends in the dog-show world who told him they could help out. He then called the young man back and told him to send him the bill.
"We paid the bill and he passed away 10 months later, but in very good care, in a hospital in New Jersey," Mr. Bradley said.
Word got around about what Mr. Bradley and his associates did for the man. The phrase, "We should start something," was tossed about.
Mr. Bradley put the idea on the back burner due to his involvement in the competitive dog world. But 26 years ago, Take the Lead took root.
"There were nine of us who were having these conversations, so we decided to have a fundraiser at Westchester Kennel Club's big fall show in Tarrytown," Mr. Bradley said. "We came away after that night with $35,000. We had our first physical board meeting the next day, elected officers and said, 'We have 35,000 bucks to deal with here.'"
One of the co-founders had a relative who was an accountant; another said he had a lawyer in Delaware who could get Take the Lead incorporated.
"It was one of those wonderful things that happened, Mr. Bradley said. "It just grew."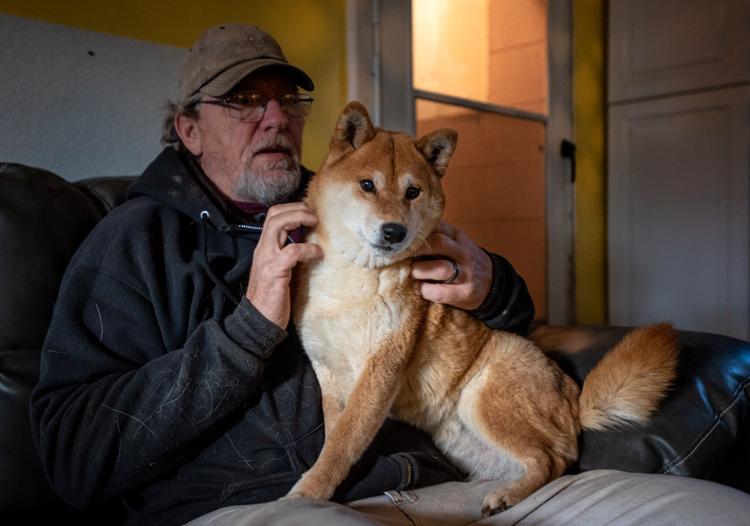 In 1994, Take the Lead received its first applications for assistance and began making distributions. The nonprofit paid medical insurance premiums, transportation costs, funeral expenses, as well as a great variety of non-medical bills.
AKC member clubs have raised money for Take the Lead from simple spaghetti suppers to formal gala dinner dances.
Last year, Take the Lead's mission expanded to assisting those with life-threatening and terminal illnesses and providing emergency assistance to those affected by natural disasters.
Applications for assistance come into the Watertown office from all over the country. In addition to Mr. Bradley, the office is staffed by office worker Lynette Thayer of Clayton.
Applicants must meet stringent guidelines, including being involved in the dog sport world for five years. Other qualifications may include a doctor's letter of diagnosis and prognosis and a copy of the applicant's last tax statement.
"It's about a 10-to-12-page application, quite detailed," Mr. Bradley said.
Also this year, Take the Lead established a new fund to assist those qualified members of the sport who have lost their health insurance due to the COVID-19 virus. The funding has been exhausted for the program.
"We paid about $455,000 in health insurance," Mr. Bradley said.
The Take the Lead organization has about 2,000 members. Membership levels range from individual, at $30, to the platinum level of membership, at $7,500.
The North Country Kennel Club has about 20 members, Mrs. Krebs said.
"You don't have to be a show person," she said. "You just need to have an interest in dogs."
"We have people who don't show," Mr. Thackston said. "They have pets and just want to be part of it."
Membership is through an approval process consisting of an application and voting by NCKC members.
Mrs. Krebs said many people join NCKC to take advantage of the training sessions it hosts.
"With the COVID, we haven't done training, but the club would have obedience training, rally training which is a fun event for dogs, and agility training," Mrs. Krebs said.
Agility training, Mr. Thackston said, has been a tough class to host, even before the pandemic.
"It takes a lot of equipment, a lot of space and a lot of time," he said. "My wife technically has the equipment. We're trying to set up a yard and when we get to that point and get it down, we'll resume some classes."
In the early days of the North Country Kennel Club, dog shows were held in the Watertown area. But eventually, the club became part of a "cluster" of dog clubs in the Central New York area that assembled together for a show.
This year's dog show involving the North Country Kennel Club and its cluster of other clubs was canceled. It was scheduled for March.
"Nine days prior to the show is when the governor shut everything down, so we didn't have it this year," Mr. Thackston said.
The club will try again for a show in March 2021.
"It's all contingent on whether the (COVID) numbers go up and they shut everything down again," Mr. Thackston said.
Dogs will get their traditional day on Thanksgiving when NBC broadcasts the 2020 National Dog Show at noon.
Hosted by the Kennel Club of Philadelphia, the show was founded in 1879 and has been held annually since 1933. The National Dog Show is sanctioned by the American Kennel Club, and only purebred dogs registered with the AKC can compete.
The show, held last weekend, Nov. 14 and 15, was hosted without spectators, vendors, sponsors or media this year due to the pandemic.
NBC has televised the event after the Macy's Thanksgiving Day Parade since 2002. The show is recorded.