OGDENSBURG — One month ago, 19-year-old Connor J. Sibley was knocking "on death's door," as his mother put it.
The Ogdensburg teen was severely injured in a ski accident in Maine last month, and his head took most of the impact. He was in a coma for about a week before he started progressing faster than expected, according to his mother. His swift recovery led to an earlier than expected return home.
The community has rallied around Connor for the last month as he recovered, and they continued to do so Thursday afternoon as about 25 people lined the street leading to his house on Rensselaer Avenue.
He was sent home Thursday after just two weeks in a rehabilitation hospital, walking and talking, but still with some lingering deficits.
The teenager's progress after damaging most of his brain in the crash has amazed doctors, according to his mother.
Connor was in a coma for a week, but then his strength snowballed quickly the second he opened his eyes. He said one word, then two, then "I love you" to his mom. He went into rehabilitation thinking it was going to take at least a month, but then he quickly began walking and identifying people he only recently met.
Connor, a sophomore studying math at SUNY Oswego who grew up in Ogdensburg, was on a ski trip with friends on New Year's Day when he crashed at a high rate of speed. His head took the initial impact, which resulted in serious trauma to the frontal lobe of his brain and both hemispheres.
Connor was at a ski resort in Maine at the time. His mother, Stacy J. Sibley, was back home in Ogdensburg, listening to a ski patrol member say over the phone that her son was in the crash.
"That was when I went into not only shock, but panic mode," she said at the time.
Connor would go on to undergo a cranioplasty, which is a surgery to replace a piece of skull on the side of his head. Stacy recalled the doctors telling her the surgery was a success afterward.
"The doctor said to me that from a young kid being at death's door to where he is now is pretty amazing," she said.
The north country is no slouch when it comes to rallying around its own, but Connor's case seemed as though the community was using performance enhancing drugs.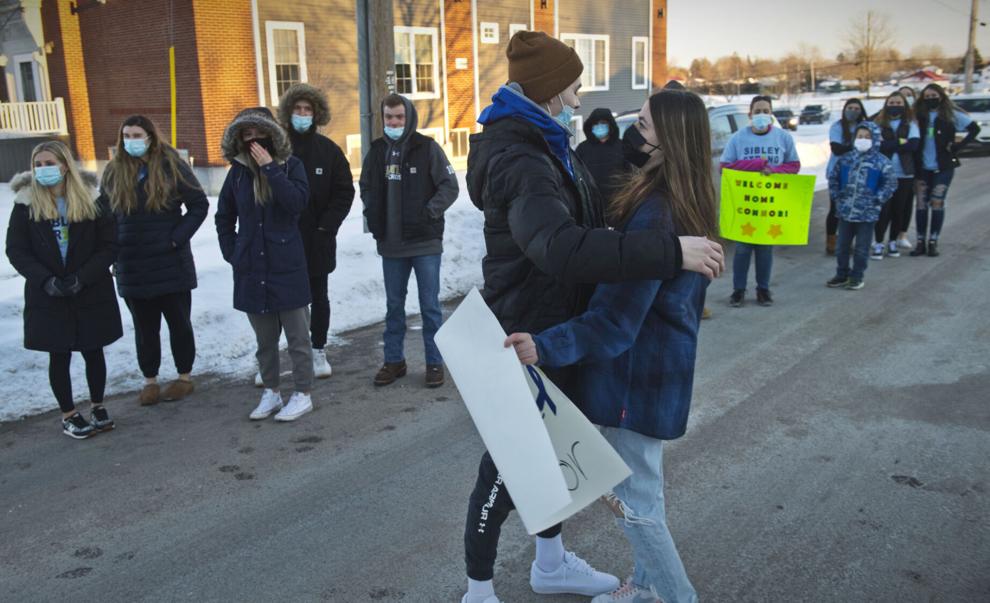 It took some time for Connor to realize its gravity. More than $32,500 was raised on a GoFundMe account. QT Laser and Design in Ogdensburg made nearly 1,000 "Sibley Strong" T-shirts that raised about $7,500. Jack's Diner — in Three Mile Bay — organized a benefit dinner that raised $4,000. Jacqueline James Photography donated money raised from photo shoots. The Casey Powell World Lacrosse Foundation helped share his story since Connor is on the club team at college. There were bracelet sales, raffles, a bottle drive, endless cards and continued support on social media.
"When Connor finally was cognizant, I started to show him everything the community was doing," his mother said. "When he finally understood what was happening, he cried for a good half hour."
Stacy had no idea the support would be this widespread, and neither did her son.
"He was so touched, and so overwhelmed, and so grateful," she said. "It was amazing to see him fully understand what the community was doing for him. That was a beautiful moment for me as a mother."
It's been more than a month since the crash, and Stacy has gained some clarity about what happened.
Her son doesn't even remember going to Sunday River Resort in Newry, Maine, but the three strangers who came upon Connor shortly after the crash have all reached out to her. According to them, it appears her son was on a lower-level trail when he unknowingly began skiing on a rock bed covered in snow. It appears he lost control and landed face-down into the rocks.
He was found unconscious and shaking uncontrollably — the skis previously attached to his feet landed about 30 feet from him. The three good Samaritans then supported his legs, neck and head as they attempted to turn him. Two had CPR experience and Connor would soon begin breathing, but was still unresponsive.
They also praised the ski patrol's response and effort in bringing Connor down the mountain before he was flown to Central Maine Medical Center. His mother would end up making the nearly eight-hour drive to Maine to be with her son.
"I believe their actions did save my son," she said of the good Samaritans. "You don't have minutes when it comes to something like that. They were immediate. I thank these three men for taking care of my son. I think without them I don't believe my son would be here today."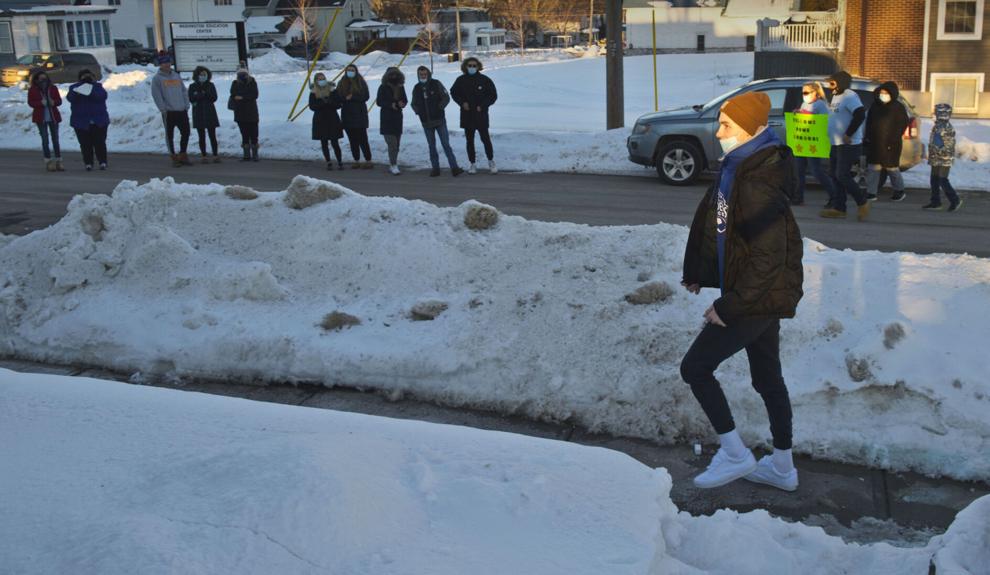 Connor would end up checking into the Sunnyview Rehabilitation Hospital in Schenectady after waking up from his coma in Maine.
His mom said he made a close friend there who was in a serious car accident.
They were already doing higher-level exercises and training in math. His physical skills progressed rapidly, which was really the nexus for why he was able to shatter his expected length of stay.
Stacy said short-term memory is one of her son's deficits. He might ask the same question about his crash that he did the day before, but he's retaining more information every day. He's remembering recent events like Christmas and New Year's Eve, and he's identifying people he met just last year.
The community that's rallied around the teen will have a tall task in watching Connor, whose athletic and active lifestyle will likely make him want to get out and do things, and his brain injury might affect impulsivity and reasoning. His mother said they won't have a clear picture of the injuries for another one to two years.
Nevertheless, the 19-year-old went from possibly never moving or talking again to walking and speaking with his mom and family.
"His progress has been amazing," Stacy said. "I just dropped him off at rehab and was told it could be a month or more, and now I'm going to pick him up."