CANTON — Throughout the day Friday and Saturday, the ice rink at the SUNY Canton Roo's House was playing host to a unique brand of hockey. Rather than gliding along the ice on skates, the participants used sleds as they took part in the eighth annual Mountain Warrior Hockey Tournament.
Seven games were on the calendar on Friday, and eight games were held throughout the day on Saturday. The consolation and championship games are scheduled for Sunday.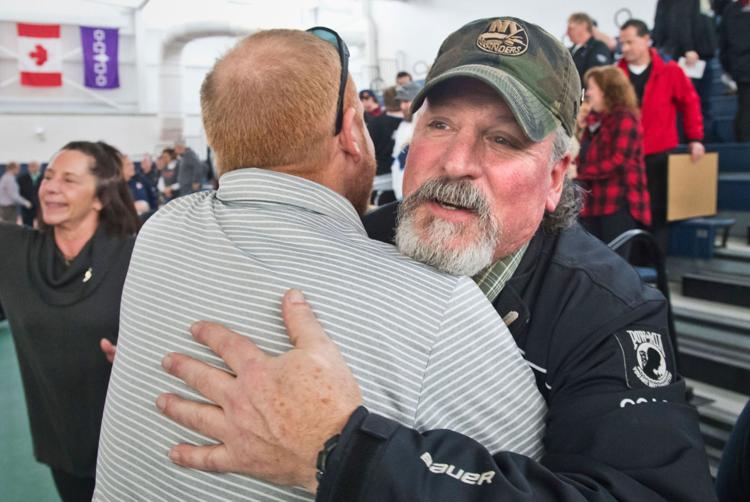 The teams came from near and far, with names like the Buffalo Warrior Sled Vets, Durham Steelhawks, Kingston Knights, Ottawa Senators, Syracuse CNY Flyers and Ft. Drum Mountain Warriors.
Fort Drum was where it all began in 2011 for Canton native Mark McKenna, who brought the game to life in the north country, and who was recognized for his efforts during a ceremony between games on Saturday.
"I was working out at the gym at Fort Drum. A kid came in a wheelchair. He couldn't reach the pull-up bar and he couldn't get over to the dumbbell," recalled Mr. McKenna, who played hockey and coached Pee Wees and Bantams for 35 years.
He soon found out that there was no organized sport for the disabled at Fort Drum, and set out to change that. The idea came to him as he was driving home one day.
"On my way home, I thought why not start a sled hockey team for the Fort Drum disabled," Mr. McKenna said.
He contacted the Warriors in Transition Unit at Fort Drum, and received equipment donations from St. Lawrence University, Clarkson University, SUNY Canton and SUNY Potsdam. He also found sponsors in Watertown and Canton to help pay for sleds.
The interest at Fort Drum was big, Mr. McKenna said. On top of the sleds he had, he needed to have six more made because 24 soldiers, men and women, signed up for a clinic to try their hand at sled hockey.
A scrimmage followed, and then the tournament came to life and has been going strong since.
"This weekend we play 17 games in three days," he said.
Sponsorship has continued to grow. A tournament brochure lists nearly 30 businesses and organizations that have thrown their support behind the annual tournament at SUNY Canton, where the ice has been donated. All of the food has been donated, too, as have the prizes.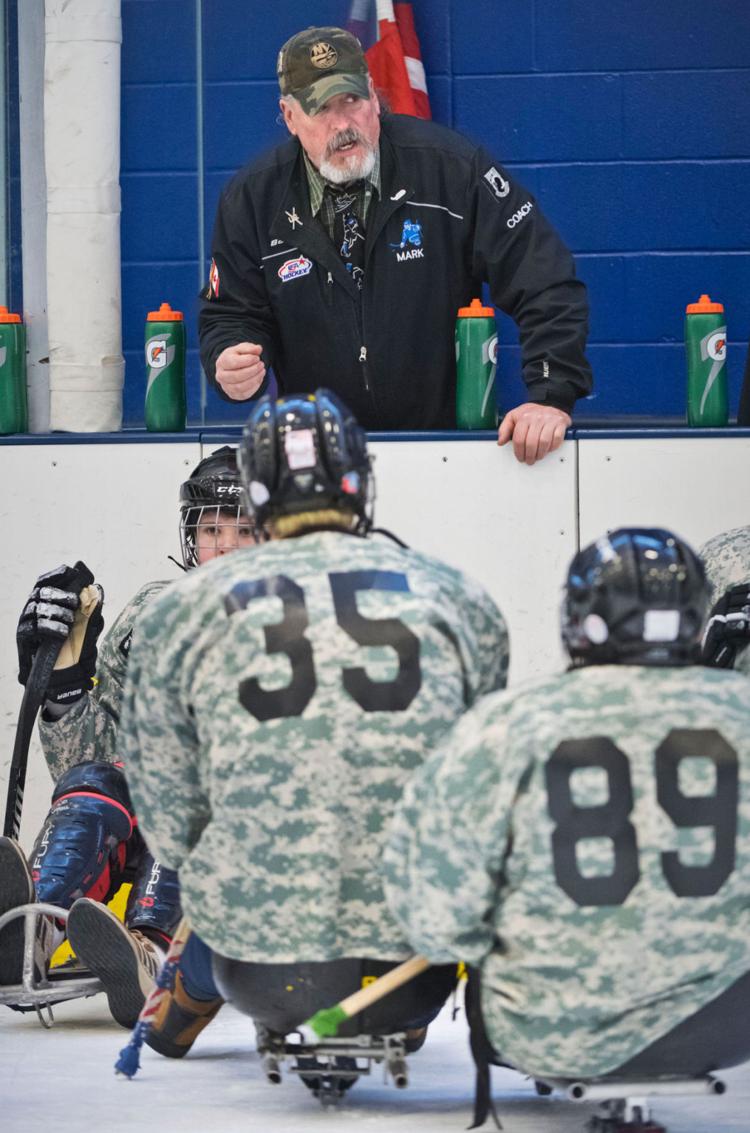 A silent auction includes a USA Hockey jersey autographed by all of the team members, as well as a jersey signed by Mike Eruzione, the captain of the 1980 Winter Olympics U.S. national team that defeated the Soviet Union in the famous "Miracle on Ice" game, in which he scored the game-winning goal.
The sled hockey game itself is a modified version of regular hockey, using sleds powered by the upper body and arm strength of the participants. Body checking is allowed, but "T-boning" isn't. Each team can have up to three able-bodied members, but they must strap their feet in and, like the others, use their upper body and arms to maneuver around the ice.
"In sled hockey you can shoot both right-handed and left-handed. You can pass the puck underneath the sled to your other hand," Mr. McKenna said.
And, when the game is over, the teams shake hands and enjoy a meal and refreshments together.
"The camaraderie and support is just unbelievable," he said. "I had three soldiers tell me that without sled hockey, they would have committed suicide. Plus it gets them out, it gets them meeting other people, and it gives them a chance to have fun, good physical exercise and a team get-together."
A surprise ceremony was held Saturday to recognize Mr. McKenna's contribution to the game, with several speakers applauding his efforts.
"You are a true ambassador to the sport of sled hockey and you are a true hero to this community," said Chad Green, a member of the Mountain Warriors Board of Directors along with Mr. McKenna, Hank Ford, Kellie Hitchman, Joe Marsh, Elaine Scott and Jason Tracy.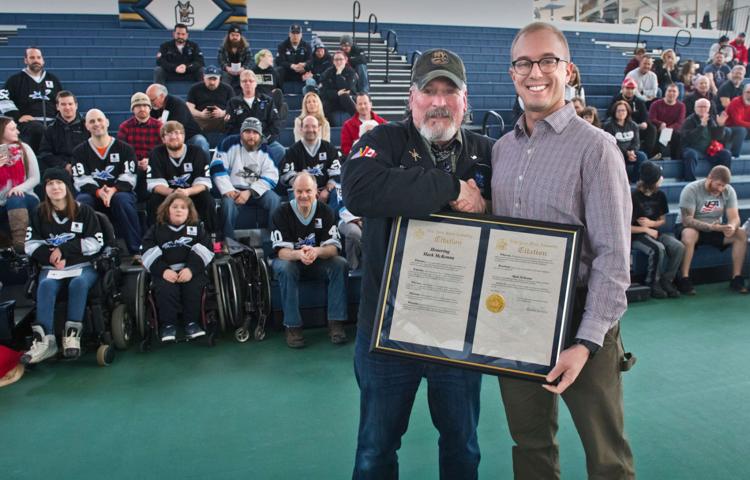 Mr. McKenna received a New York State Senate Resolution from Sen. Patricia Ritchie, who was unable to make the ceremony, and a New York State Assembly Citation from Assemblyman Mark Walczyk. Canton Mayor Michael Dalton said they'll be passing a resolution to honor Mr. McKenna, something his board couldn't do in a previous session because, as an open meeting, it could have been reported in the press, taking away the surprise factor.
"Mark's done so much for this community," Mr. Dalton said, noting Mr. McKenna was dedicated to his family and community.
"We're all very proud of you," he said.