OSWEGO — On Aug. 5, 1944, 982 refugees from World War II were allowed into the United States as guests of President Franklin D. Roosevelt. Now, 75 years later, the Holocaust refugees and their family members returned to their safe haven to remember new beginnings in the port city with a reunion event.
"Fort Ontario stands today as a symbol of hope and resiliency," said Sarah Compo, on behalf of Sen. Patricia R. Ritchie. "Fort Ontario represented a new beginning for those fleeing persecution. For people living in Oswego, the arrival of nearly 1,000 refugees represented an opportunity to welcome with open arms the men, women and children who were fleeing war torn homes."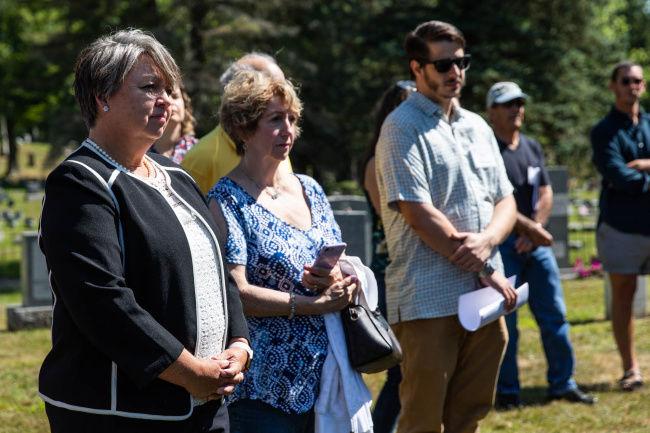 From the Safe Haven Holocaust Refugee Shelter Museum's website: "The Nazi Blitzkrieg (lightning war) created refugees by the millions as it raced across Europe. Jews, because they were Jewish, and any others who ran afoul of the Nazi regime were killed outright or sent by rail to prison camps like Auschwitz to be killed or worked to death. Isolationist America tiptoed around this "European War" until shocked into it by Japan. In 1944, with the tide of the war turning the allies' way, President Roosevelt made a symbolic gesture. His Secretary of the Interior, Harold Ickes, sent Special Assistant Ruth Gruber to Italy to bring back nearly 1,000 war refugees to America."
Paul Lear, superintendent to the Fort Ontario State Historic Site said, "This is where the Holocaust came to America."
The Fort Ontario Emergency Refugee Shelter housed the president's guests from August 1944 until February 1946. It was the only shelter of its kind in the United States, for refugees of the Holocaust. According to the Safe Haven Museum's history, President Roosevelt stated the refugees were to be sent back at the end of the war, but those who wished to stay did so.
Oswego Mayor Billy Barlow addressed attendees of the reunion saying, "Safe Haven makes this community so special. I cannot tell you how much pride I have, and the community has, that we can say we were the only place in the United States of America that was refuge to folks escaping the Holocaust. We will continue to tell the story. Seventy-five years ago, we welcomed you proudly, today we welcome you once again — not as visitors, not as guests, but as family."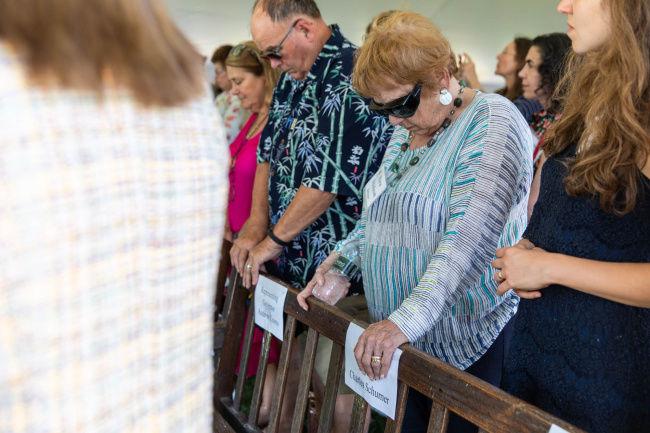 Ambassador Dani Dayan, Consul-General of Israel in New York, also addressed the audience saying, "Thank you from the bottom of our Jewish hearts ... A small light can evade darkness, Oswego was that light."
Focusing on the goodness in the world, Congressman John Katko said, "There's a lot of goodness in the world, this (the refugee shelter) was goodness, people need to know about it."
Refugee Edward J. Levitch, 94, originally from Yugoslavia, arrived when he was 20 years old. He spent his time cutting hair at the camp at Fort Ontario — thanks to an Oswegonian who handed clippers though the fence.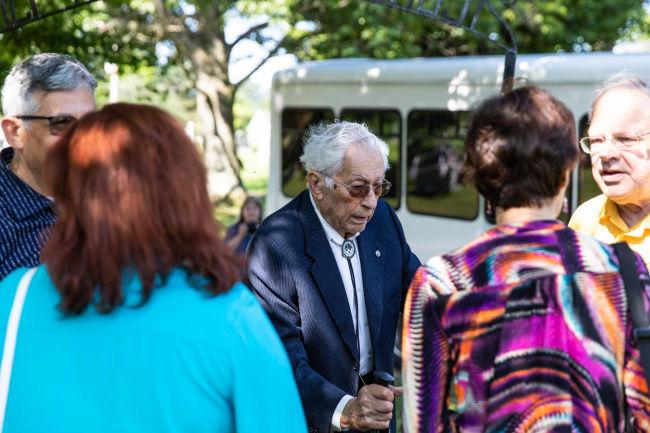 Eventually he relocated to California where he became an architect, family man and author. Today, before the public gathering, he and a handful of refugees, and their family members, boarded a bus to visit the Riverside and St. Paul's cemeteries in Oswego to remember those who died at Fort Ontario.
There, Rabbi Yossi Madvig of Oswego said, "Coming to a cemetery for many is often viewed as a memorial or remembrance, but in Judaism coming to a cemetery is much more. Coming to a cemetery is not just to remember those who we love and who have passed but also we believe that a part of the soul always remains connected to the person after they've been buried."