SACKETS HARBOR — In a recent letter to residents of the Village of Sackets Harbor and the town of Hounsfield, the Sackets Harbor Fire Company requested donations for its 2021 Ambulance Fund Drive.
The Sackets Harbor Fire Company provides emergency medical care and ambulance service to all village and town residents free of charge. Dispatched to hundreds of calls a year, the Sackets Harbor ambulance serves the village, town and surrounding areas. Firefighters and emergency medical personnel are all volunteers.
Comprised of 11 emergency medical technicians and a handful of emergency medical services students, as well as multiple firefighters and medical support personnel, the agency never charges patients for medical aid or transportation.
EMS Lt. Niklas F. Brazie, who has been with the service for roughly four years and has served as lieutenant for the past six months, has seen how the COVID-19 pandemic has affected local ambulance services. While he doesn't know the exact numbers, things like gowns, masks, gloves and cleaning supplies have been costly.
"We'd like to have a cushion because obviously stuff breaks and the equipment is very expensive," he said. "We just bought a new cardiac monitor and that ran us around $18,000, so that's a big hit. And then stretchers, those are another $10,000; it gets very expensive very quickly."
The service, run through the Sackets Harbor Volunteer Fire Department, receives no funding from the town, village or fire department and no tax revenue is used to support the agency. The ongoing COVID-19 pandemic has posed many new challenges for volunteer EMS, bringing a significant financial burden to the agency due to increased purchasing of personal protective equipment and decontamination supplies, as well as a significantly increased call volume.
"Obviously we are still in a pandemic just like last year, and the price of equipment has completely skyrocketed," EMS Coordinator Grayden J. Brunet said. "The availability of equipment has also decreased, so it's definitely a lot harder for a smaller agency that's not contracted out with the village or town for any funding, like ourselves, to be able to afford the equipment that we need to safely provide care to our residents."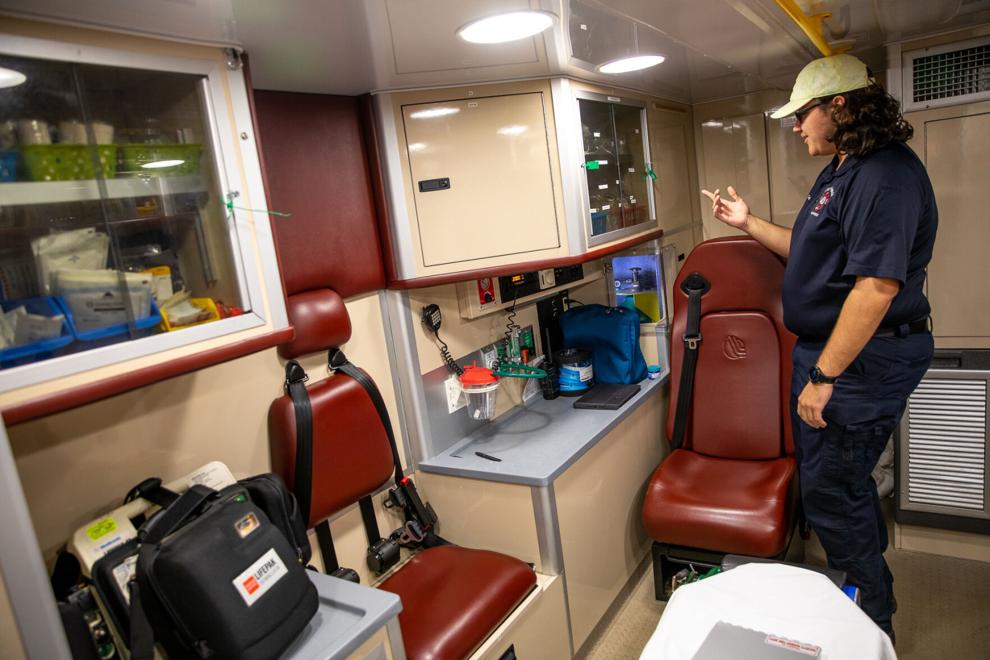 Providing EMS services to the village and town is not written into the fire department budget — it's an added expense the department has just always taken on.
Guilfoyle Ambulance Service responds out of the city of Watertown. But sometimes, if Guilfoyle is unavailable, another ambulance can be 20 minutes away, so it's important that the Sackets Harbor agency is fully prepared to take calls.
Every emergency response comes with a cost to the agency. General operating costs for day-to-day functions such as emergency calls, training and purchasing and restocking equipment still exist during the pandemic, and the agency still has a duty to ensure that it has efficient medical equipment for patients.
The service has already had about 230 calls this year. Last year, the department responded to 257 EMS calls. At the current rate, it expects to exceed that number this year, averaging around 20 to 30 calls a month.
"We just got approval to purchase a $20,000 Lifepak monitoring device," Mr. Brunet said. "It's a big purchase but will definitely impact our community for the better."
In the past, the generosity of the community has helped the agency operate, allowing it to put money aside for future investments into the ambulance service. There are no paid staff members and 100% of the income is derived from donations.
With the shortage of health care providers in the area, and hospitals being on diversion more frequently, the advanced life support services that the agency normally relies on have needed to rely on Sackets more.
"It's kind of a ripple effect," Mr. Brunet said. "Guilfoyle and Town of Watertown Ambulance Service got backtracked at the hospitals because the wait times were so long, and they had to respond to further away hospitals which means that they weren't able to cover their own calls. More and more we've been called mutual aid to cover calls in the surrounding areas outside of our own district."
The department upgraded an ambulance to a newer model in 2018 and is now saving for the next replacement vehicle for when it is needed. The cost for a slightly used ambulance is approximately $100,000. Maintenance and supplies cost about $15,000 annually.
"We're now responding mutual aid to help cover calls in other districts," Mr. Brunet said. "So the tables have kind of turned and it's shed light on how important a small volunteer agency can be."
Those wanting to donate may send to: Sackets Harbor Fire Co. Ambulance Fund at PO Box 171, Sackets Harbor, NY 13685.