WATERTOWN — A year ago, Christopher Stowell's career was sparkling in New York City where he worked as an independent electrician and designer for stage productions. But when the pandemic put that career on hold, he wanted to give back to the organization that originally inspired him to pursue his line of work.
So on Thursday, Mr. Stowell plans to get on his bicycle in Florida to begin a journey he calls "Pedal With a Purpose." He plans to ride from Key West to Calais, Maine, a distance of about 2,500 miles.
Mr. Stowell is raising money for Stage Notes. About a decade ago, Ticia Aumell, artistic director and founder of the organization, had a vision to go with her nonprofit's motto of "Performance With a Purpose": teach kids that they could make a difference. It has produced 14 musicals since 2009 and has donated over $50,000 to local organizations.
Mr. Stowell took piano and voice lessons from Mrs. Aumell beginning at a young age.
The 2009 graduate of Watertown High School, son of Heather F. and Jonathan White of Paddock Street, was involved in the first year of Stage Notes, when it produced the musical "Once on This Island" by Lynn Ahrens and Stephen Flaherty. Mr. Stowell played Tonton Julian, adoptive father of Ti Moune.
"It was during that production that I was able to see everything that takes place to put a show together," said Mr. Stowell.
"He was a remarkable kid, a great person, but he was in a class with really remarkable people," Mrs. Aumell said. "All of his peers were really special too. When they were in high school, I wanted to do more for them because no matter what you threw at them, they just worked really hard and gave it their all. It was because of their drive and energy that I said, 'Let's do a musical and give back to the community' because in the studio I was trying to teach all my students to give back, use your talents."
Through that philosophy, Stage Notes was born.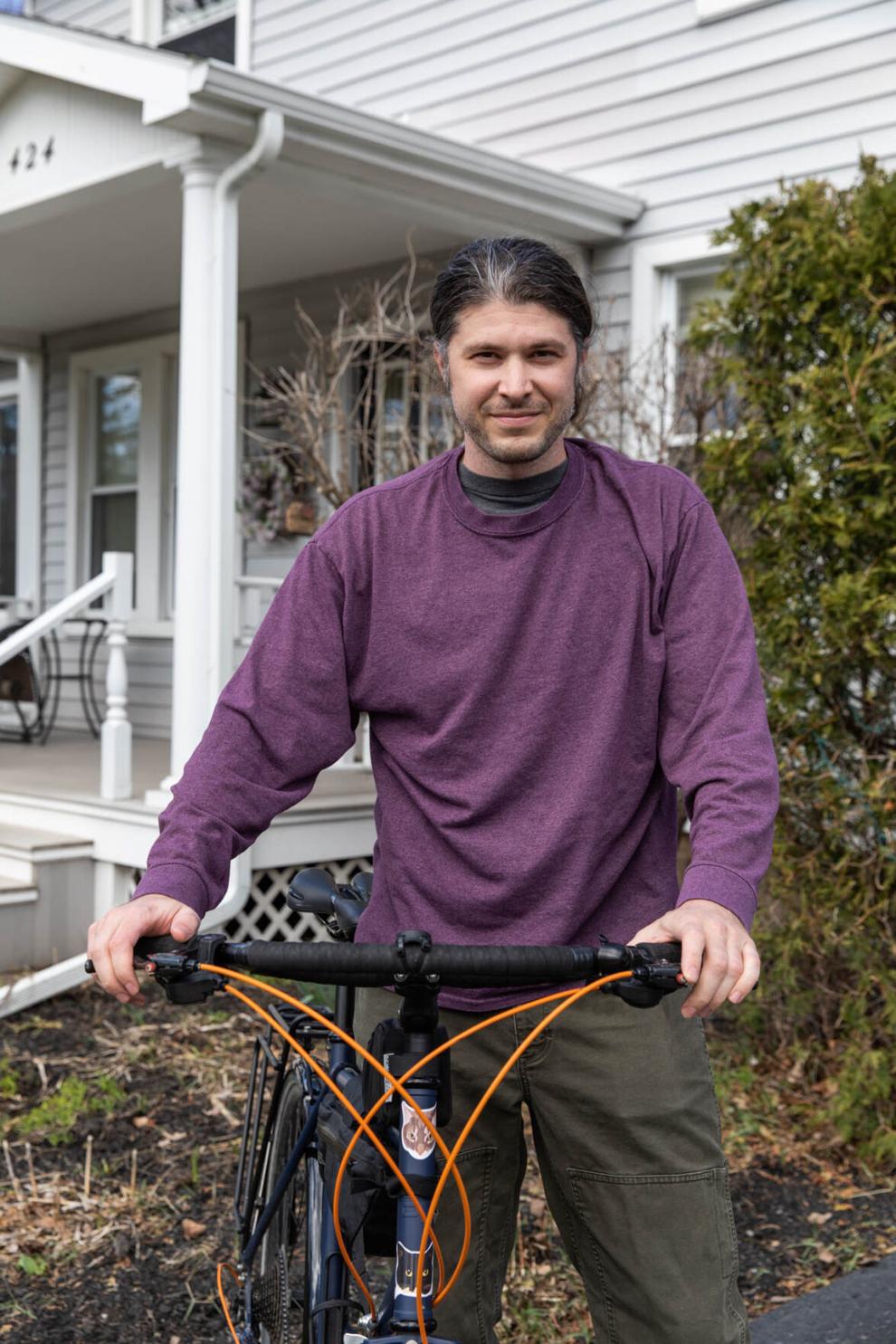 "All I do for Stage Notes kind of came out because of the energy, the talents and the drive of the class of 2009 and the kids who were around that class — 2008 to 2010," Mrs. Aumell said.
Mr. Stowell's Stage Notes experience added to experience also gained as a Select Choir member at WHS, where he also performed shows under the musical direction of Russel Faunce.
"I practically lived in the music wing because I also played saxophone," Mr. Stowell said. "If I wasn't in class, I was eating lunch in the music wing and hanging out with a bunch of other like-minded students."
Stage Notes would only add to his musical and stage experience.
"It wasn't just the acting, dancing and singing," Mr. Stowell said. "We got to watch how they put the box office together, watch the set come up and stuff like that. That's what made me realize I wanted to go to school for theater, and inevitably fell in to being a lighting designer and electrician."
Mr. Stowell, 30, received a bachelor's degree in technical theater from the University at Buffalo. He later earned a full scholarship to Michigan State University, where he earned a master of fine arts degree in design.
During summer breaks while in college, Mr. Stowell returned to Stage Notes, where he worked as technical director at shows. He was also a summer intern at the Clayton Opera House and Sackets Harbor Playhouse.
Beginning in 2017 and up until a year ago, he was putting his skills to full use in New York City, where he rented an apartment with his girlfriend, Kenzie Carpenter, whom he had met at Michigan State and who also worked as an stage electrician and designer.
Among gigs Mr. Stowell had were for student productions at Columbia University and for the popular summer Shakespeare in the Park shows.
"I was working as a freelance electrician, meeting people, making all the connections you've got to meet and a year ago, everything stopped," he said.
"Around that time, in the two weeks leading up to the pandemic, I was probably in four or five different venues, working every day, six days a week, a minimum of 10 hours usually," Mr. Stowell said. "It's a lot of long hours and long days but you got to work in a lot of cool theaters and meet some very interesting people."
He recalled March 22, 2020, when Gov. Andrew Cuomo announced the New York State on PAUSE executive order that shut down all non-essential businesses statewide to help deal with the COVID-19 pandemic.
"My girlfriend is an electrician as well and we were working in the same theater that day by lunch we had finished the day a little early," Mr. Stowell said. "We were taking a show down and we all got emails saying everything is closed down."
Mr. Stowell and friends went out to dinner that evening.
"That was when everyone was saying, 'Oh, it's going to be two weeks.' So we holed up in our tiny apartment with our two cats and slowly watched the dates get pushed further and further back — every week, and then every month. And now, here we are, still waiting for a solid response from those in charge of making sure everybody is safe in the city and that venues can open back up."
'transitional period'
When the theater world went dark, Mr. Stowell wanted to find a way to give back to Stage Notes and decided upon his "Pedal With a Purpose."
"When everything shut down, I realized I could use this opportunity through a website and social media to raise money for Stage Notes and to show people Stage Notes is still in the community," Mr. Stowell said. "They've been doing some really good work in the past year, but they're going through a transitional period just like everybody else is and they're trying to figure out how to help their students and give them the experience that they deserve and to be able to give back to the community as much as possible."
Earlier this year, Mr. Stowell moved back to Watertown. On Tuesday, he and his packed bicycle flew to Florida, where he will begin his trip north Thursday. He plans to ride a minimum of 50 miles a day.
"It'll end up being more than that once I get into the groove of things," Mr. Stowell said. "But it will be fully self-supported, living out of my tent and only staying in hotels when I need to."
He'll also be using a network of bicycle tourists and those who support them, www.warmshowers.org. The platform provides the technology for reciprocal hospitality for cyclists and hosts.
"There's a good network along the East Coast I'm able to tap into," Mr. Stowell said.
He'll be riding an REI Coop 1.1 bike, with modifications.
"It's touring specific," Mr. Stowell said. "It came with your typical drop handle bars, but I bought Jones H-Bars to allow my back to be a little more straight and not be in such a dramatic angle. It's much more comfortable for me." The touring bike unloaded, is 34 pounds. Its rider stands 6 feet, 3 inches.
"I'll be carrying quite a bit of weight with me as well, considering I'm trying to be as self-supported as possible so I don't have to go into populated areas as often."
He also added hydraulic brake system.
"My bike and my whole loaded kit is so heavy, it just made more sense for me to be able to have a little easier topping power," Mr. Stowell said.
He put on lots of practice miles, fully loaded, before heading out on "Pedal With a Purpose."
"A lot of it is a balancing act when you have all these bags strapped to the side of your bike," he said. "I'm very comfortable with camping, but it's a different story when you're dealing with all the potential mechanical issues you can run into with using your bike as your sole mode of transportation."
He doesn't have a finish date in mind for his trip.
"It's about 45 days of riding, but that's subject to change," he said. "That's not including off days."
He's not sure the direction his career or his girlfriend's career will take after his "Pedal With a Purpose."
"It's so tough to figure out what's next when we don't have a real promise of work, considering that we're freelancers and if they have to cancel a show because of safety reasons. We aren't guaranteed money unless we actually work. It's tough. A lot of my friends in the industry are in the same position."
So for now, he's putting on the miles, looking forward, with an occasional look back as to how he got there — with the help of Stage Notes.
"I can't even explain the feeling of joy and love that I have for alumni that still support this organization and remember what it meant for them," Mrs. Aumell said. "Not only remember, but want to make sure that the students now are getting that same sort of experience. I wish Chris the best of luck on his ride. We're just thrilled he would think to do this for us. We're very proud of him."
The details:
— WHAT: Stage Notes alumni Chris Stowell plans to bike the East Coast, from Florida to Maine, during his "Pedal With a Purpose" to support the nonprofit youth theater organization Stage Notes, founded in Watertown in 2009 by Ticia Aumell.
— WHEN: Mr. Stowell plans to begin his trip today and finish about 45 days later.
— FOLLOW AND DONATE: Mr. Stowell has a website, www. chrisonbiketour.com, where people can donate directly to Stage Notes, support him on his journey and follow his progress.
— OF NOTE: On July 30 and 31, Stage Notes will present "The Theory of Relativity." It will be presented virtually as a content stream. This school year, Stage Notes consists of 19 students representing Watertown High, Indian River High, LaFargeville Central School, Carthage High and Sackets Harbor Central School. "We tried to set ourselves up for success as opposed to setting ourselves up for failure," Mrs. Aumell said. "In the best case scenario, we'll all be together somewhere, record it, and then show it."