WATERTOWN — While their daughter had been having issues since August, complaining of pain in her back and lower stomach and general discomfort, Kimberly R. Schuldt and Jefferson County Sheriff's Deputy Jamie M. Taylor never imagined she could have cancer.
They thought she was getting her menstrual cycle for the first time, so the symptoms were written off initially.
When it became apparent that the pain was not subsiding, Callie Jeanne Taylor, 12, had blood work done and underwent ultrasounds of her kidney area, but nothing came up. Constantly in pain, there wasn't much her parents could do for her aside from giving her over-the-counter pain medication like Tylenol.
Callie started taking a lot of baths because they helped relieve the pressure and made her feel better. Deputy Taylor recalled coming home some days to Callie upside down on the couch with her legs in the air because that's how she was most comfortable.
"After a while, I think she just kind of learned to live with the pain and we just didn't really think much of it," he said.
Fast forward to October and Callie was unable to continue to overlook what was going on. She was in class at South Jefferson Central School on Monday, Oct. 4, when she felt nauseous and went to the nurse's office. She was sent home and, due to the pandemic, would need to test negative for COVID-19 before returning to school.
Her mother took her to her primary physician's office, where they weighed her and noticed she'd lost about 10 pounds since the last time she'd been there, which hadn't been all that long ago.
The doctor started feeling around, pushing on Callie's stomach. The doctor could feel the tumor that had been growing inside her. She was immediately sent for another ultrasound that confirmed the tumor's presence. She went straight to Upstate Golisano Children's Hospital in Syracuse the same night.
"That's the last thing you think about when your kid doesn't feel good," Mrs. Schuldt said. "She never wanted to go to school and here I'm thinking she was just trying to get out of going. She's the only one that knows her body and how she really feels, so I was proud of her for listening to that and going to the nurse. I was actually grateful for COVID for this reason, because otherwise I wouldn't have taken her to the doctor that day and they wouldn't have found the tumor."
As Deputy Taylor describes it, the first week they were at Golisano was basically "hell week."
Callie got there and tested positive for COVID that night, so she was placed in complete isolation. Because her parents were there with her, they too were placed in isolation and not allowed to leave the room for 10 days. If they did, they would not have been allowed back in.
Next, a biopsy was done on the tumor to find that it was malignant, so a port was put into Callie's chest to get started with chemotherapy. After that, Callie started having some complications, especially when it came to pain. She was essentially on morphine around the clock. The tumor had grown since she'd arrived at Golisano, and it had started pushing on her bladder and her urethra and blocking kidney function.
To counteract this, doctors started pumping Callie full of fluid to help get her ready for the chemo, but the next day she woke up and couldn't move her legs. When she lifted up her gown, they saw that she had gained 30 pounds in just her legs because the fluids couldn't go through the kidneys and had diverted down into her body.
The fluid regime was immediately pulled, and Callie's doctors put a nephrostomy tube — a catheter — in her kidneys to allow them to drain properly.
"After I got those, it helped out a lot," she said.
While they knew the tumor was malignant before this, Callie was officially diagnosed on Friday, Oct. 8 with Ewing sarcoma, a rare bone cancer.
"It was scary — hearing the C-word was a big deal," Deputy Taylor said, to which Mrs. Schuldt replied that it was like an out-of-body experience.
According to St. Jude Children's Research Hospital, Ewing sarcoma is a cancerous tumor that grows in the bones or in the soft tissue around bones. While Ewing sarcoma is the second most common type of bone cancer in children, it is still very rare. Only about 200 children and young adults are found to have Ewing sarcoma each year in the United States.
After the catheter was placed, Callie was taken off the morphine. About six weeks later, she had the tubes removed because she no longer needed them.
Her chemo schedule is now a five-day round, then a week off. She'll have a two-day round and a week off, then go back to the five-day round in a continuous rotation.
"With the chemo, my stomach, it doesn't really hurt like a pain but it's just kind of off and I lose a little bit of my appetite sometimes," Callie said. "On the five-day treatment, it's a lot so I just kind of feel like crap that whole time. The chemo kills any fast moving cells, which also kills hair, which is why I lost my hair — all the nurses are so impressed that I remembered that."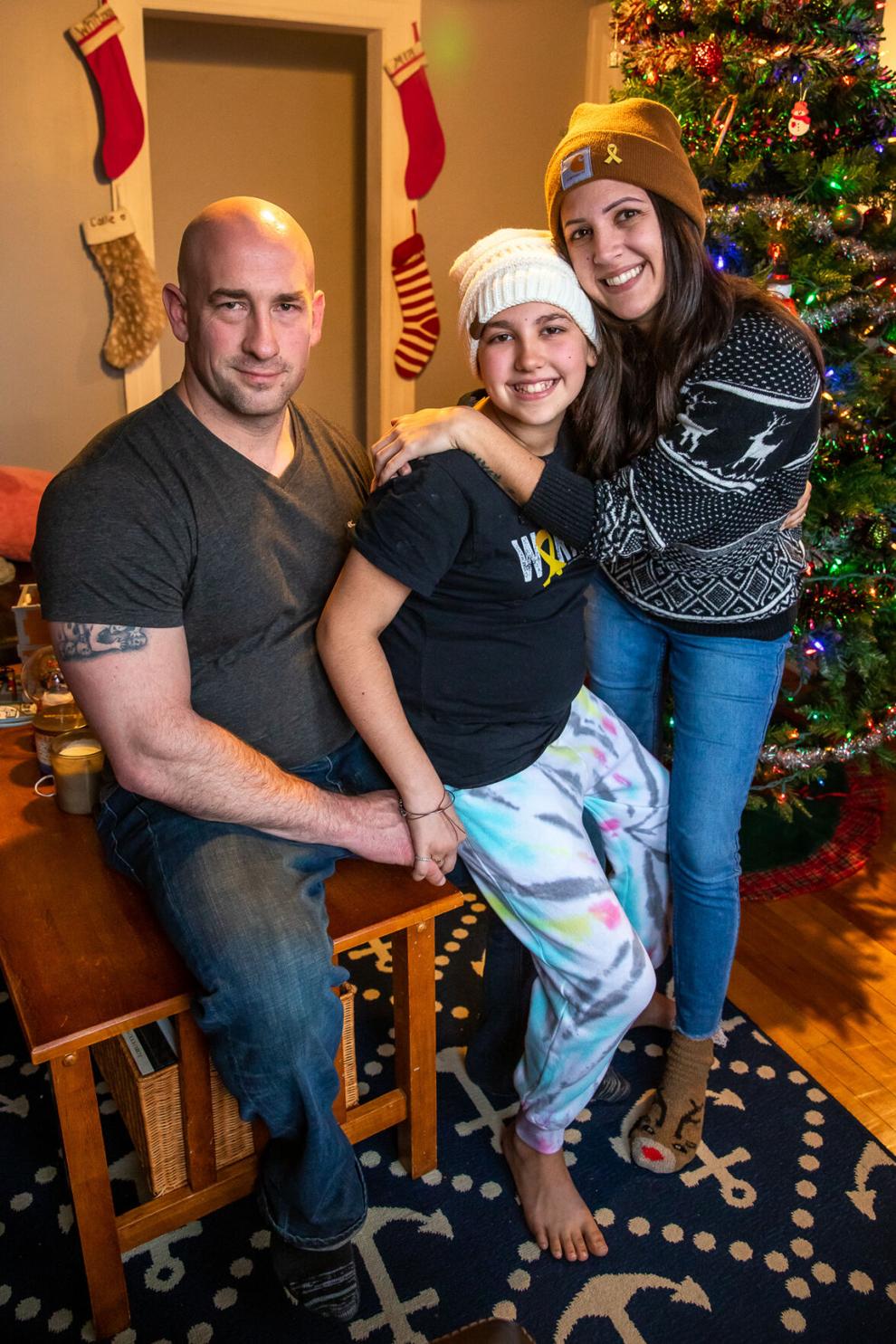 While the first week at Golisano felt like punch after punch, Callie took a turn for the better and, according to Deputy Taylor, chemo treatment has been very good to her. Callie's tumor, when it was checked a couple weeks ago, was over 80% smaller than when everything started. She'll have another chemo treatment on Monday and is scheduled for scans to measure progress. Next steps include radiation.
Though diagnosed with cancer just a few months ago, the seventh grader has not let the diagnosis get the better of her; maintaining her positivity and strength.
"My first reaction, I was sad and scared because just hearing you have cancer, I was like, 'Am I gonna die?'" Callie said. "I knew that keeping a high spirit was not the only thing, but probably one of the biggest things that's gonna get me through."
She's handled everything so well that it is sometimes hard for her parents to remember that she has cancer in the first place. Aside from low energy as a result of treatments, she's still got her spark and is a typical kid.
Callie enjoys cheerleading, hanging out and watching TV, and swimming, except when she has to do it for gym class. The South Jefferson swim team held a Swim-A-Thon to raise money for Callie and her family to help cover added expenses, which she said was pretty cool.
The Swim-A-Thon was not an isolated instance of the community rallying behind Callie through her journey with cancer. Mrs. Schuldt said last weekend there was a Christmas Makers Market at the Lincoln Loft on Public Square, and money from photos with Santa also went to Callie. In early January, there will be a spaghetti dinner fundraiser in Henderson in Callie's honor.
The second Battle of the Badges will be held on Jan. 29 at the Jefferson Community College gymnasium. This year, Watertown Area Boxing Club is helping raise money in support of Callie and Northern New York K-9s through the event.
"Overall, community wise, we've had a lot of outreach and support," Deputy Taylor said. "We've had numerous opportunities and people just reaching out to us to help us out, help Callie out. They've supplied her with games and toys, an iPad and Nintendo Switch given that she's laid up in bed for so long needing something to do."
Callie was recently cleared to go back to school, and she tried to go back last Monday. She made it a couple of hours as a full school day is still a lot for her right now. She said she struggles with being worried about what people think.
For example, Callie said she thinks others may judge her for needing to go to the nurse's office, that they'll think she doesn't want to do work and instead see the nurse "because she can."
"It's something I have to work on, I guess," she said. "I'll try my best."
Having missed quite a bit of school and not wanting to get left behind, Callie and her parents have been discussing academic options. Callie has said she would like a tutor to help her along.
Now, the family is just looking to the future, knowing the road ahead will not be easy but keeping a positive attitude nonetheless.
During a recent talk with Callie, Deputy Taylor said that while no child ever deserves to go through anything like this, he said it was especially true for his daughter, that there's nothing she did in her life to deserve this.
"People, they say everything happens for a reason," Deputy Taylor said. "And for whatever reason this is, I still do not know."
"But for whatever the reason, why are you the child that has this?" he asked his daughter, to which she replied:
"Because I'm the one that can handle it."