GOUVERNEUR — His name is JC. Her name is Ollie.
The 15-year-old tri-colored horse met the 11-year-old Gouverneur cancer survivor for the second time in Sunday afternoon's snow, marking the first time the two met as an official team.
Olivia "Ollie" Bos shared a wish with Make-A-Wish Central New York last year, and after her 21st round of chemotherapy, the subsequent "cancer free" news and a months-long coordinated effort to find the right equine partner, her wish was granted.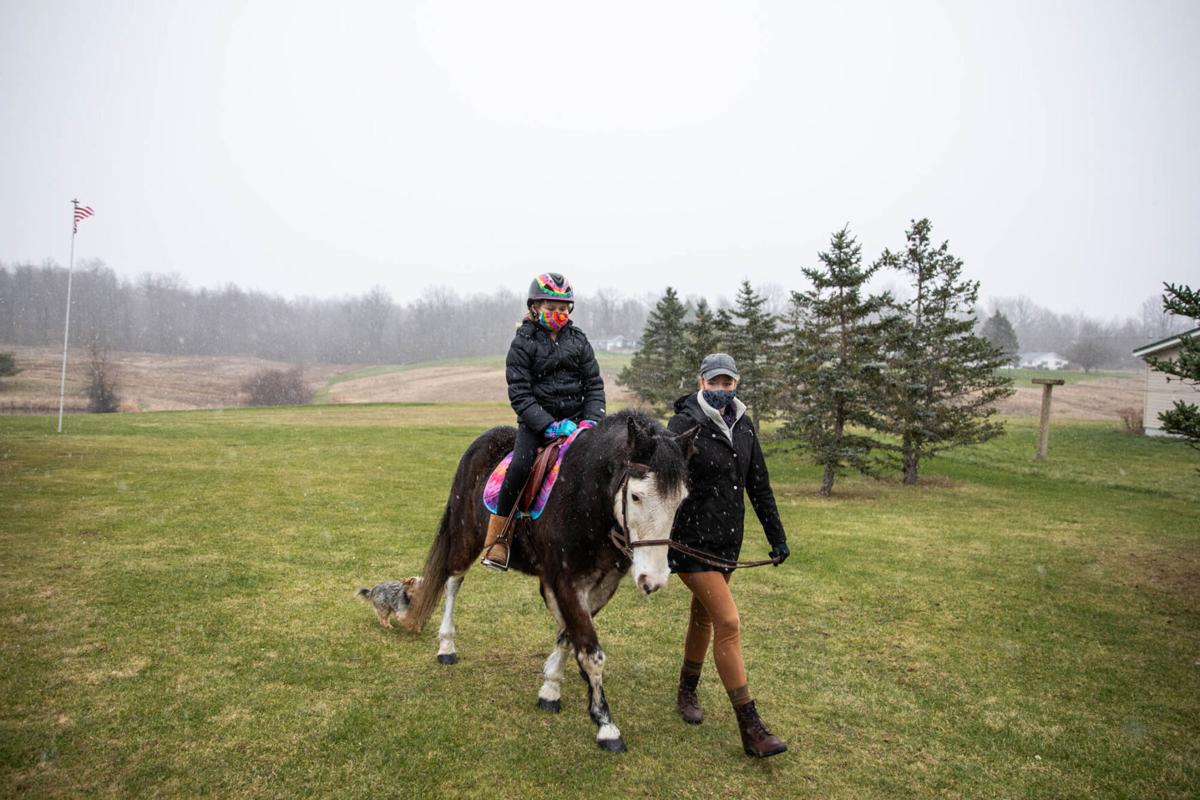 With her parents, two siblings and grandparents outside her Weldon Road home, she settled into an English saddle on the back of JC, a middle-aged gentleman with a mostly black and brown coat, black mane and solid white face.
"She's been through so much," Richard W. Lumley, Ollie's maternal grandfather, said as he and his wife, Joanne "Joey," watched their granddaughter's eyes crease above her tie-dyed mask. "I'm just so happy to see her happy."
Part of the global Make-A-Wish nonprofit network, the Central New York chapter has granted nearly 2,000 wishes, several in the Jefferson, Lewis and St. Lawrence tri-county area, over the last 35 years.
Central New York volunteers Vicki Kipp and Christine Ellis facilitated Ollie's wish with Broken Arrow Ranch, Antwerp, which will provide free boarding and lessons when Ollie feels ready.
Broken Arrow owners Stacey and Ron Albro hauled the "kid-safe" horse to the Bos driveway this weekend after Ollie had chosen JC this fall — or perhaps the other way around — in a playful ploy.
Ollie knew she would be starting lessons for the first time with Stacey at some point, but to ensure the surprise wish-granting would be a success, the Broken Arrow team wanted to confirm the Gouverneur Central middle-schooler paired well with JC.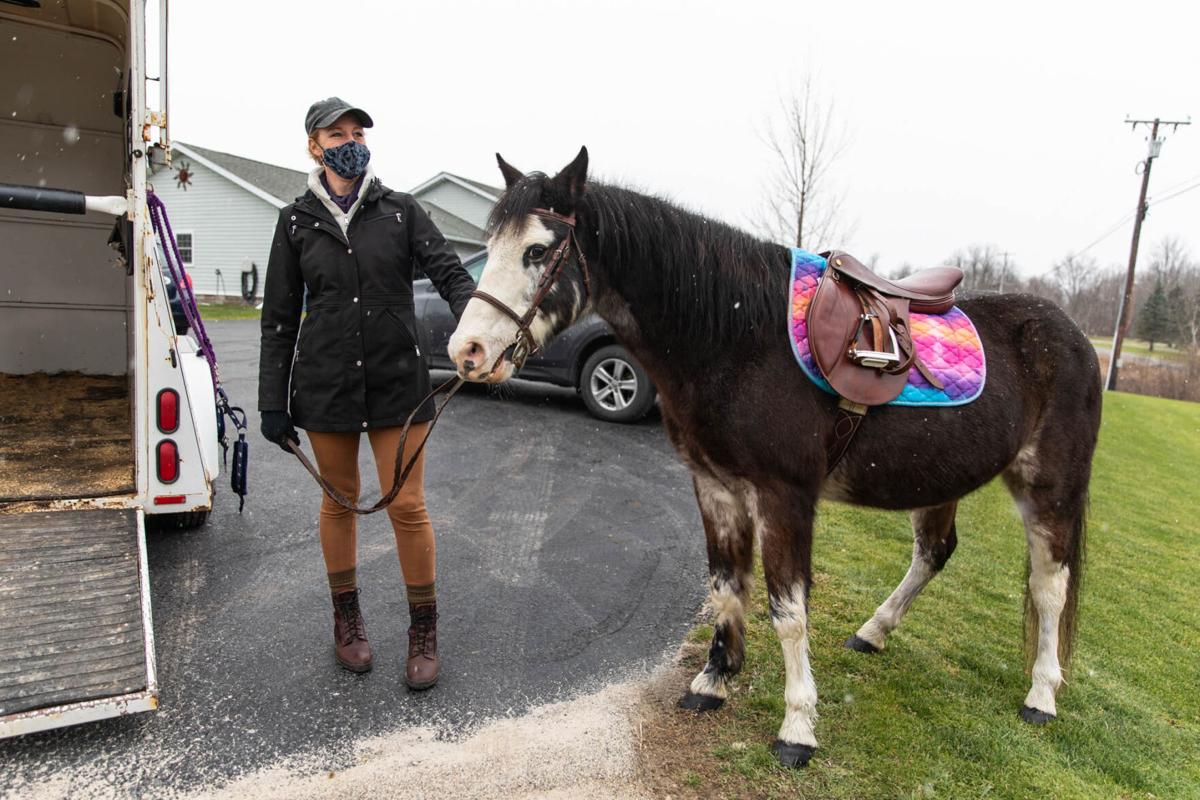 "A lot of great horses are not going to end up being a good match for every kid," Mrs. Albro said, and she told Ollie she was considering an addition to the Broken Arrow herd for kids lessons and needed someone to try out a horse. "She didn't know we were really looking at the horse for her."
The match was natural during a test ride, and with Make-A-Wish funding and parent approval from Leanne E. and Steven R. Bos, JC could go home. Mr. Albro built a lean-to on the Bos property, near their existing small goat pen, where JC will stay when he's not being boarded at Broken Arrow.
The Albros brought a new tie-dyed helmet, full tack, grooming tools and a rainbow saddle pad Mrs. Albro tie-dyed herself.
"We weren't sure we could do it," Ms. Kipp said, adding that the Central New York chapter of Make-A-Wish has never granted a horse to a child before. "This is a first."
Ollie began showing symptoms of a connective tissue cancer, embryonal rhabdomyosarcoma, or ERMS, in June 2019. The cancer formed at Ollie's cervix, Mrs. Bos said, but was detected before it had a chance to spread. For months, the Bos family traveled to Syracuse and Boston for surgeries and treatment, and Ollie was met with a town of supporters lining Weldon Road as a police and fire parade escorted her home after her final round of chemotherapy in February.
Now, Ollie sees her specialists for scans in Syracuse every three months, and in Boston every six.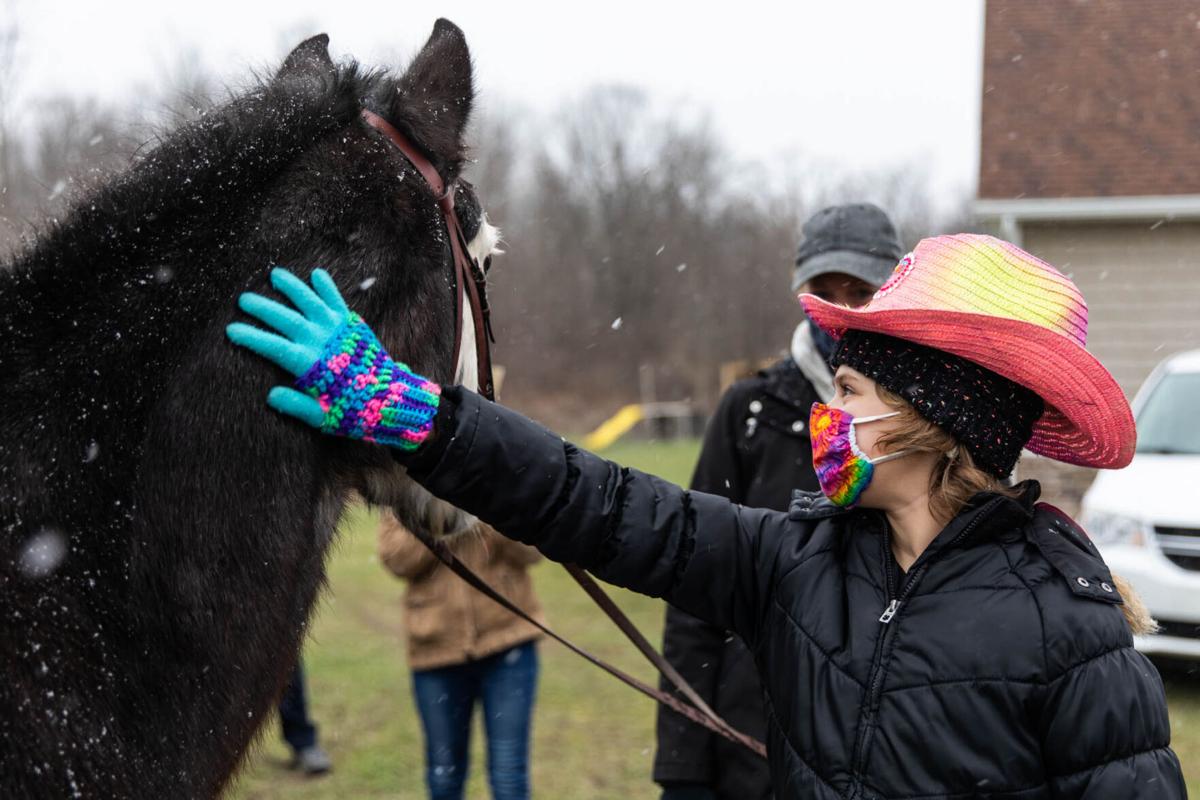 With 5-year-old son Bruno and 14-year-old daughter Mya, Mrs. Bos said Ollie's diagnosis and recovery has been "rough on everybody in their own way."
"It definitely changes you forever," she said.
Mr. Bos, sporting a "Team Ollie" sweatshirt, briefly shifted his mask as he watched Ollie atop JC behind their house. Beneath the COVID-19 guard, a smile as big as Ollie's narrowed his eyes.
A family party in Ollie's honor — complete with a table of cowgirl hats — was set up in the Bos garage, and Mr. Lumley sought warmth from the house as the party itself seemed to be waiting for Ollie's dismount.
"She hasn't quit smiling since she got up there," he said.