WATERTOWN — What started out as an idea for a Saturday craft fair has blossomed into an inclusive arts space and welcoming venue to bring color, music — and whatever else can be dreamed up — to the East Side of the city.
While Watertown already has quite a few markets along its streets, the Troll Market is a unique shopping destination and exhibition hall all its own, complete with a stage for live performances.
Following a soft opening on Oct. 15, the Troll Market is officially open and ready to welcome anyone who happens to pass its doors.
Work from area artists Melissa Cocomello, Taylor Weldon Soderquist, known as Soda, and many more line the walls of the roughly 6,000-square-foot space, welcoming guests with bright colors, bold designs, nature-inspired works and more.
"Originally, this was supposed to be a craft fair on Saturdays with art to kind of supplement what we do, but when we did the opening, it just exploded," said owner Andrew "Andy" F. Rounds. "Over here on the East Side people have mentioned that they really like what we're doing, that this side of town really needs something like this for folks to go to. So instead of just being open on Saturdays as a side project, we decided to be open Tuesday through Saturday."
The market, at 144 Eastern Boulevard, is open from 4 to 9 p.m. Tuesdays through Thursdays, 4 to 10 p.m. Fridays and noon to 10 p.m. Saturdays.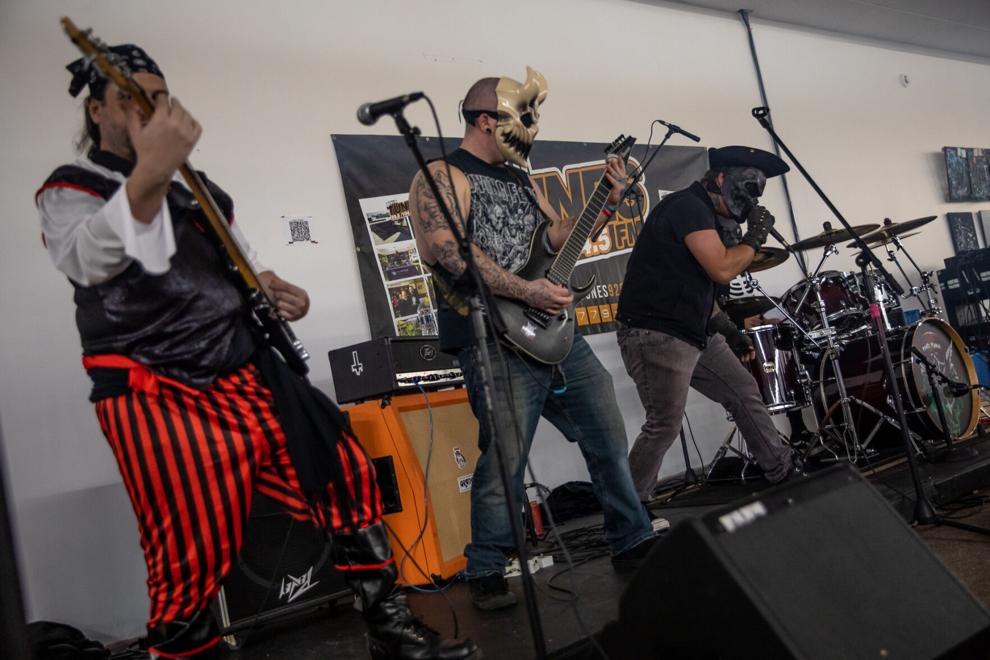 Friday night, the Troll Market hosted a Halloween-themed event called Pit of Zombies, combining heavy metal, art and food for a night of camaraderie open to all. Dozens showed up for the event, with local band Pirate Plague taking the stage for the venue's inaugural live performance. Guests were invited to dress as zombies or whatever else they liked, and some — along with members of the band — delivered just that. After Pirate Plague left the stage, The Illusion Of Burning Stars was up, keeping the energy going until the event ended. A large projector and professional sound booth complete the performance area courtesy of Larry Moore with G.D.L. Productions, who provides the equipment that will be there for anybody who wishes to perform. Always looking to promote local artists, during breaks between bands, Holdown Upstate's Local Legendz segment on Tunes 92.5 played for guests to discover even more local talent. If they liked a song and didn't know the artist's name, they could scan QR codes on the wall that would take them right to the segment to find out.
The space also features some wooden booths spaced around for people to sit on and hang out awhile. City Dawgz was set up outside to feed the crowd and further the collaborative environment that helps feature local businesses.
"If you misbehave or are an elitist, sexist, racist — we're a safe space," Andy said. "If that happens, we may ask you to leave; or we may just feed you to the trolls."
That message will be on a sign at the market eventually, and Andy, who has training as a security guard, said the market may even feature an animatronic troll one day to back it up. He said the Troll Market welcomes folks in any kind of distress, if they need any kind of help or even just to get warm and hang out for a bit while they wait for their bus.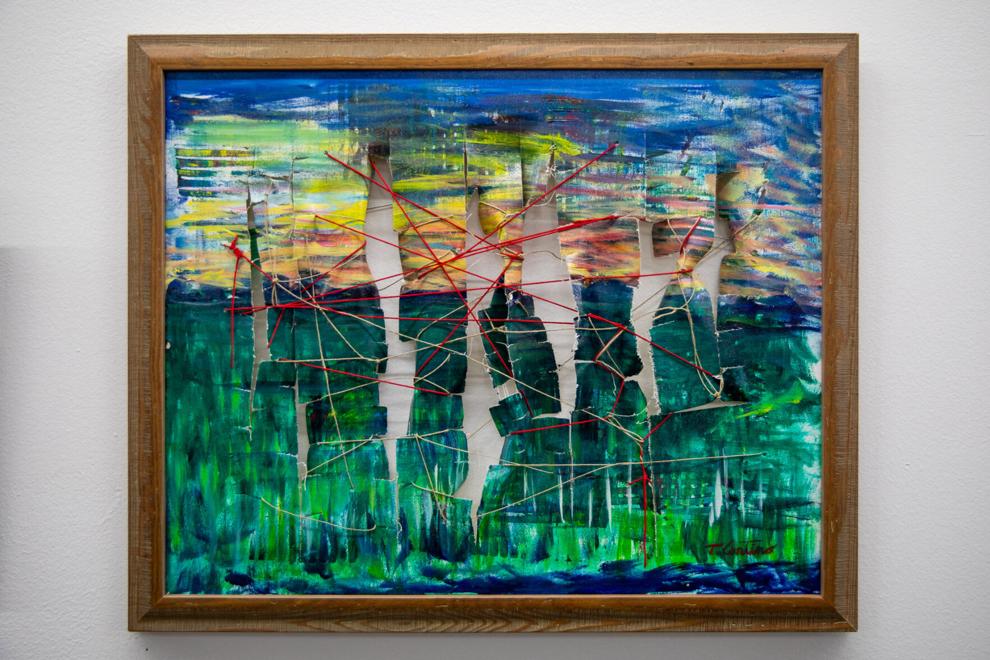 To officially kick the place off, Andy recruited local artist and gallery coordinator for the North Country Arts Council, Dana E. Gillan, as gallery curator for the Troll Market to help bring his vision to life and choose pieces and artists to showcase in the space. For the grand opening, work from six artists line the walls, soon to be bumped up to 10 following the finalization of contractual agreements. Each artist gets a 10-by-10-foot space for their work for $25 per month, and new artists will continue to be cycled in as they come. Dana, a local artist herself, is also on display at the market. Even kids will have the chance to feature their artwork on booths set up through the venue.
"I had a vision for what Andy described here for the Troll Market, this grungy New York City warehouse sort of feel," Dana said. "We're here on the east side of town where there's nothing like this. I picked certain artists that I thought would work great together to bring his vision to life. These guys, everybody is selling left and right. We have a few people who come and they always say it just feels so good here."
From weekend farmers markets and indie craft fairs, movie nights and themed shows, to art exhibits, special pop-ups and shows featuring local musicians, the Troll Market brings a new arts scene promoting individuality and creativity.
As for the name, Andy, a local musician from Carthage, explained the origins of Troll Market.
"We're into art and graphic novels and things like that, and Hellboy has the Troll Market," Andy said. "Troll market basically references a magical place that you have to find and then once you get there, there's all these cool things to look at and activities. And that's kind of what I wanted, a magical place that you could visit."
Incorporated in the logo is a Troll Cross, like the kind carved in the top doors of longhouses for protection from trolls, that resembles a horseshoe with curled ends. Andy also has a small business selling Viking wares imported from Sweden like drinking horns, bone combs, beard balm and more, which can now be found at the market.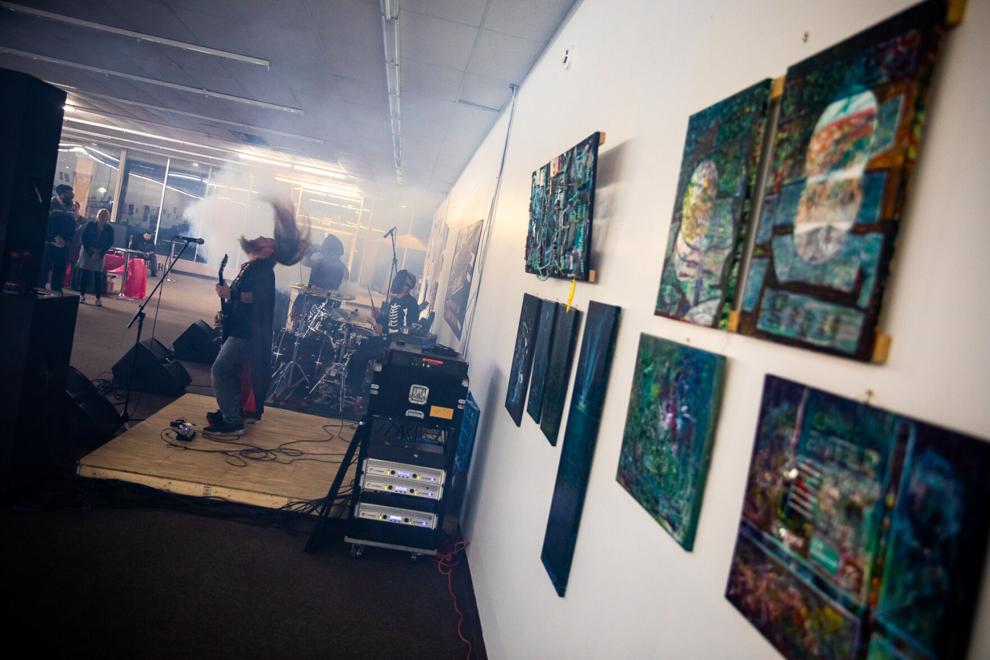 The Troll Market strives to reflect the diversity of the community — both artists and audiences, while providing a welcoming space for creatives to connect with the public. The market can also be found on Facebook at https://www.facebook.com/TrollMarketH2O and Instagram under TrollMarketH2O. According to Andy, those at the market are looking for people who will come down and either show them their stuff or be inspired by what the market has, and vice versa.
"We had an older lady come in yesterday, she'd missed her bus and ended up having to walk, and she was like, 'I know why I missed the bus, I had to walk and come here," Dana said. "It made me cry, this was everything to her to walk in here."
The woman, a photographer who has traveled all over the world, had gone to a couple of galleries but couldn't pay the monthly fees to show her work at them. Becoming sad and defeated again, she was almost ready to walk out of the Troll Market as well, but was surprised to hear that not only would it be just $25 a month to display her art, she would receive a 10-by-10 spot all for herself.
"It's amazing, I want everyone to feel that way," Dana said. "We're so grateful and it just keeps pouring in."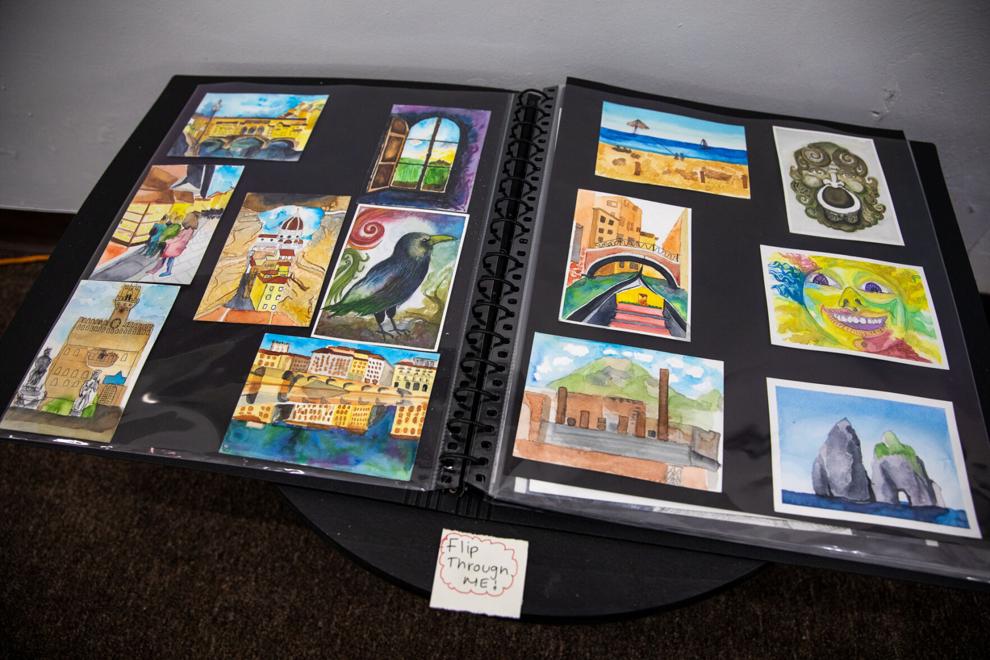 Along with the arts, the Troll Market hopes to showcase things like local produce as well, with farmers market vendors set up and selling vegetables when they have them, and things like breads and jams in the winter months, so families can have access to healthier food options year-round. There are ideas for future events like culinary arts classes, indie film nights, and more, and Andy and Dana are open to suggestions as well for more events, workshops and classes.
The space also hopes to inspire area youths to dream big. According to Dana, the usual response when kids enter the Troll Market is an open-mouthed one when they realize they, too, could do this professionally and have their art displayed one day.
"And we're like, 'yes, you can,'" Dana said. "I don't know if anybody's ever told you that before, or you don't believe that or don't know that, but you can. It's just such a great response; everybody says this is the prescription because the pandemic flattened so many people, and their spirits, too."
Future exhibits will be held at the market, so there will always be new faces or pieces of artwork to see and discover. For a recent artist meet-and-greet, Dana said the artist Soda was floored that people wanted to see and talk to him and curled up in one of the booths sketching. One of his pieces recently sold for $325 right off the wall after a family saw it and said they had to have it in their living room.
"I messaged him and he was exhilarated, he went out and bought more canvases, more paints, and he's been sending me pictures," Dana said. "I'm just like this is what it's about, I want everyone to feel that way."