ALEXANDRIA BAY — Last Thursday afternoon, a dozen third-graders sat six feet apart on the different raised levels of their music teacher's room, reminiscent of a small-scale amphitheater, masked and attentive, ready to learn a new song — as well as its corresponding signs.
When the COVID-19 pandemic hit New York state in March, closing schools statewide, Alexandria Central School music teacher Katie L. Taylor, now in her 24th year of teaching, knew her students wouldn't have the opportunity to be singing when they came back together. She knew she would need to get creative and think of something else for them to do that would also be educational and related to arts.
The solution? Merging songs and signs for a new educational experience for her kindergarten through fourth-grade classes.
"I have instruments in the back, but my classes, one goes out and the next comes in. I don't have time to disinfect everything in between, the time is just so limited," Mrs. Taylor said. "So I (thought,) 'What can I teach them that's creative and something that's still in the family of the fine arts?'"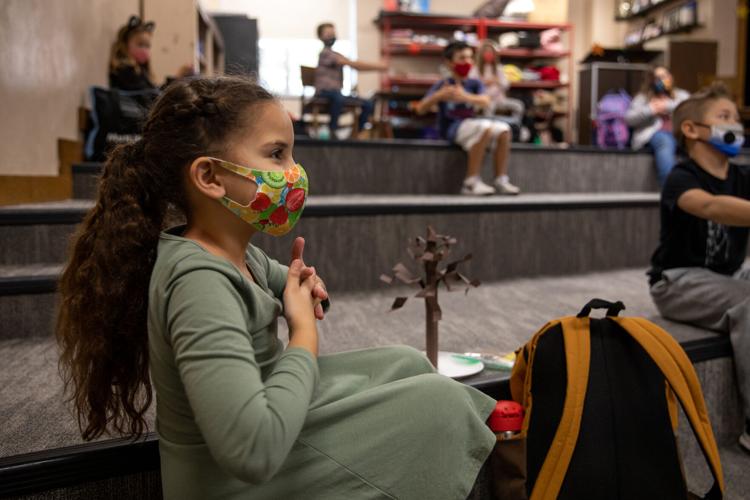 For most, if not all, of Mrs. Taylor's students, this is their first time learning American Sign Language. It's also Mrs. Taylor's first time learning sign language, teaching it to her younger classes as she goes.
Mrs. Taylor's students jumped right in when she told them they would be learning ASL, soaking it all up as its taught to them.
Mrs. Taylor said she looks up most of what she needs to know to teach her students on YouTube, and also references a few ASL dictionaries loaned to her by another teacher. She also posts videos to her site so the kids can go back later at home and practice what they've learned, as well as teach their family members, which many have done.
Joysie L. Velez, 8, said what she likes about learning sign language is getting to learn new things every day and showing her mom and dad.
"It's really fun because you can know words that you don't know in sign language," she said.
Since the school was closed in observation of Veterans Day the day before the class, Mrs. Taylor gave a brief overview of the holiday and its history, then taught the third-graders the song "Red, White and Blue," and signs to go along with it.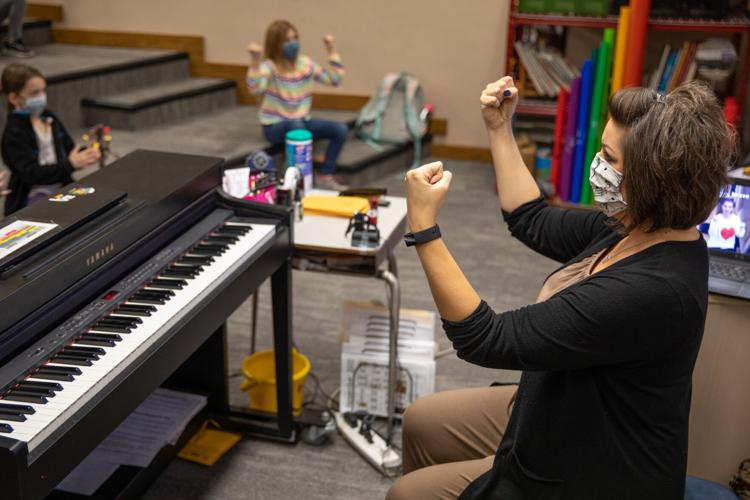 While the kids are allowed to lightly sing along to the songs if they choose to do so, it's nothing like the level they would have before COVID.
Mrs. Taylor described her students as belting out the songs they used to practice, noting she misses their singing voices.
The kids learned new signs like "flag," "America," where they weave their fingers together and circle them around in front of themselves to represent that America is known as a melting pot, "soldier" and more.
"If you were to go back years and years and years, you would find someone way back in your ancestry probably came here from a different country," Mrs. Taylor explained to the class. "Those are called immigrants, and we as Americans welcome immigrants here, so that they have a safe place to come, where they have a better education, a better chance to have a successful life ... this is America the melting pot."
For Kaden E. Beers, 8, every aspect of learning sign language is fun and exciting to him. Currently, his favorite word to sign is "friends."
Mrs. Taylor noted there's a child in the third grade with a cochlear implant, and one of the girls in her class said her neighbor is deaf, so she went home and was showing him some of the signs she learned.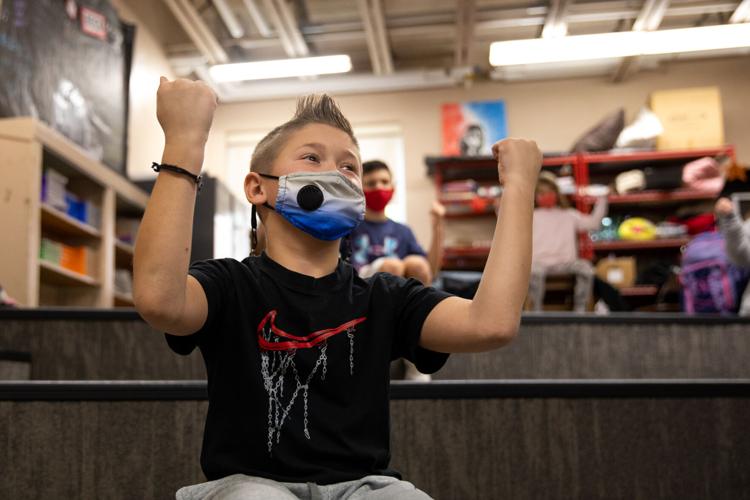 "I tell (the kids) what you experience here in Alex Bay isn't necessarily all you're gonna experience when you go out into the world," Mrs. Taylor said. "Around here, you see people like you, but when you go out into the world, you're going to see people of all different colors, all different backgrounds, people who are deaf, people who are hearing, all different abilities. It's nice to be able to communicate in a different way."
One of Mrs. Taylor's students was telling her that her mother is a waitress and had a deaf family come in, writing everything down to communicate with her, so the student said if her mom knew some ASL, she would have been able to communicate with them better, showing Mrs. Taylor her students are relating what they're learning to how it could potentially be something they use as they get older.
Gabrielle F. McCormick, 8, said she likes learning ASL because "if we meet somebody deaf, we can actually have a conversation with them."
While she hasn't yet met a deaf person, if she does, she said she'll sign "How are you?" to them. Currently, her favorite sign is "Thanksgiving," and she plans to teach her family how to do it for the holiday.
Mrs. Taylor said it's evident her students enjoy learning sign language from the way they use it even outside of the classroom. She said they'll sign to her, not only as they leave her classroom, but if they pass her in the hallway, signing things like "See you later, alligator," or "I love you."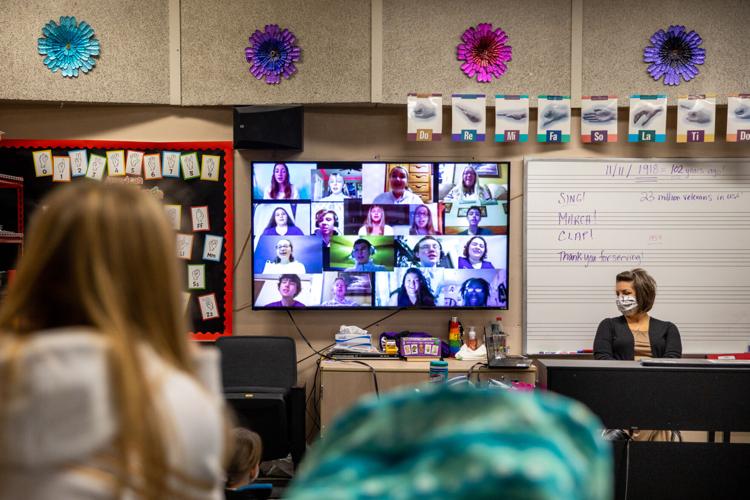 Along with the signs corresponding to Veterans Day, the class is beginning to learn Thanksgiving signs. After the break, they'll continue on to learn Christmas signs.
Mrs. Taylor said she would love to continue teaching ASL once things return to "normal" following the COVID-19 pandemic, she would just merge it with other things.
"I would keep it in my curriculum because I really like it; I'm having fun," Mrs. Taylor said. "I would encourage other music teachers out there to try it too. Because we are artistically inclined, it's almost like choreography ... the kids really like it and they're soaking it up."