OGDENSBURG — Sometimes to make new things, you have to destroy old things.
It's not a motto of Rich Fedorchak, the artist-in-residence at the Frederic Remington Art Museum, but it is certainly an approach to his work.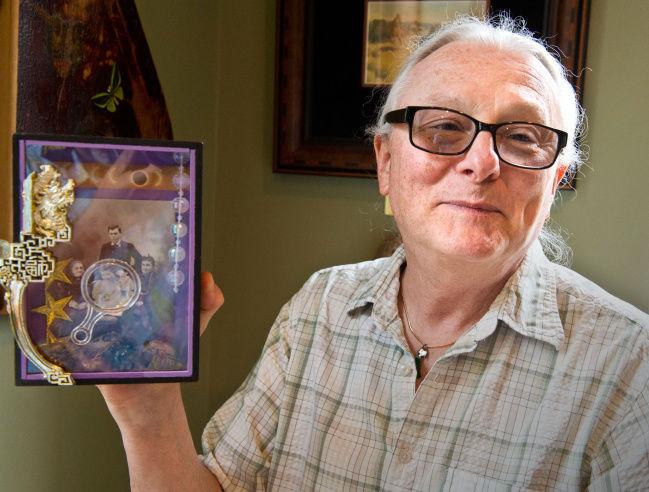 A retired 35-year registered nurse who worked in New Hampshire, primarily in pediatric critical care and pediatric hematology/oncology, is renowned for his avant-garde and experimental short films and his surrealist collages and assemblages, and 3D encased collages.
Mr. Fedorchak uses a variety of objects and old illustrations to create his work, which he has been doing since the 1970s, when he was living in New Jersey, at the Jersey Shore.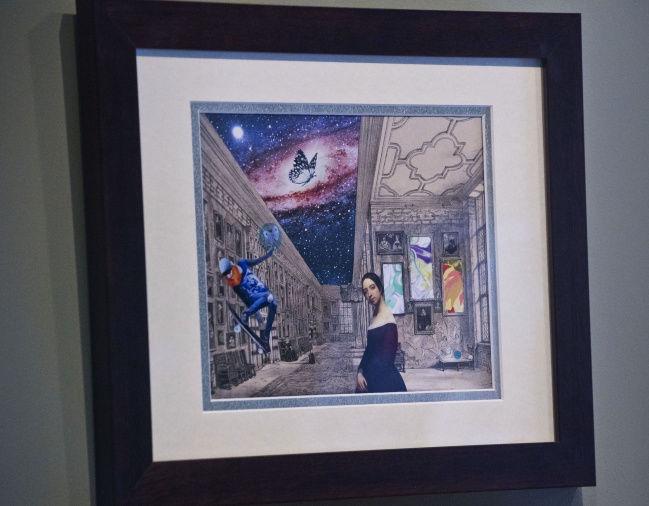 A framed collage hanging in his current exhibit at the museum is a combination of both mediums, with its glass broken and a glass bird glued to it. At the end of a narrowing piece of cracked glass, a marble.
"So it's a collage, it's an assemblage, it's a hybrid of those two," Mr. Fedorchak said. "And I accidentally broke the (glass) but it kind of reminded me of a tail off a comet or something so then I added this ball."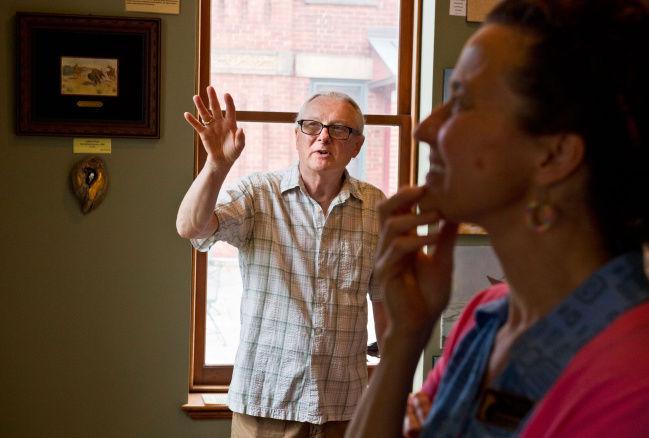 Museum Education Specialist Laura Desmond said there is an overlap between Mr. Fedorchak's work and Remington's work to the extent that Remington would collect artifacts, images of the things that he saw on his trips out West and incorporate them into something that was a new vision.
"His works are not a snapshot of something that he saw," Ms. Desmond said. "They give that appearance because he is always incorporating very specific historical elements, artifactual elements . . . but really he's doing something like bringing in all these different elements and with his imagination, creating this scene out of those elements that is something new and wonderful."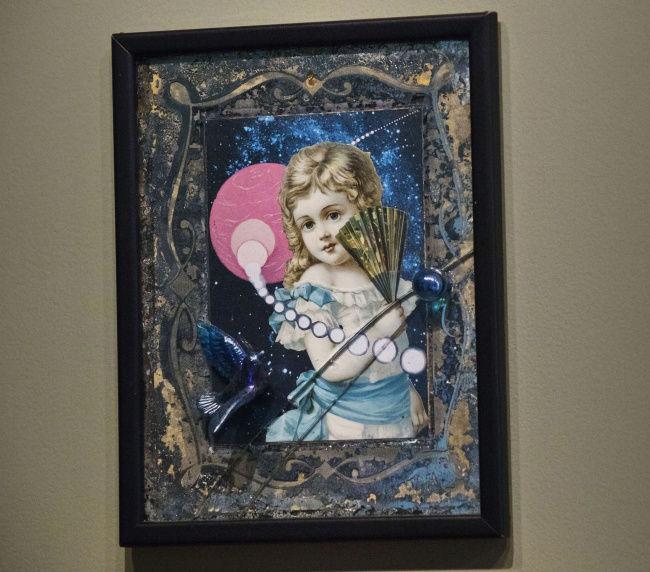 Mr. Fedorchak uses several books published in the 1880s that have illustrations of landscapes which he uses for backdrops to his collages.
He points to one piece hanging where he made the backdrop into an art gallery. In the foreground a woman looks at voyeurs,"she is obviously in charge," he said. "She even kind off looking at you and asking, "and who are you?'"
In the backdrop he included a variety of colorful abstract paintings, cut out the ceiling and put a space sequence and put in a cutout of a skateboarder.
"I went through that difficulty where these things are so nice, I don't want to destroy them," he said, running his fingers over one of the old images in one of his books. "So, for a while I was making photocopies of them but that comes out so black and white and I love how they age over time and become kind of brown, so I stopped using photo copied stuff . . . And now I just cut up the book."
He perceives his cutting up the old pieces and creating his work as a form of preservation, by gluing the images down and using a kind of polymer on the collage.
"You're altering it, but you are preserving it because paper is going to gradually disintegrate, much slower than we do, of course," he said. "I just like the way they look and have and they have all these possibilities."
During his time at the Frederic Remington Art Museum, which will run until July 28, he plans on rotating his art as well as creating new work in the gallery based on the work of Frederic Remington that he found in a book he just picked up in a local used bookstore.
"I have one that is already in the works. I just have to glue it down," he said. "The other is an assemblage that will be built inside the broken body of an old violin and the last is one rooted in the Remington's 'Ordeal of the Sun Dance Among the Blackfeet Indians.'"
Mr. Fedorchak started his creative endeavors in 1975 though not in collage but in film after moving in with friends he had gone to college with who were all art majors.
"So it was a very creative household, everybody was making stuff and it was kind of contagious," he said. "And since I didn't have any skills with drawing or sculpting or anything like that, at the time experimental film was rather prominent in the New York area."
He learned about the American artist Joseph Cornell through a column in the now-defunct Village Voice.
"Once I learned about him there was an explosion in my head and I just went down that deep, never-ending-to-this-day, autodidactic exploration in contemporary art," he said.
On Tuesday night there was a showing of several of Mr. Fedorchak's films, with the last of the series accompanied by the haunting, experimental music of Canton musical duo Claude and Ola.
The duo had never seen the film before and scored it on the spot, creating a multiplicity of sounds, using electronics, piano, synthesizers and other effects.
The current exhibit of his work was hung Monday in the Hirschey Family Gallery during his first day as an artist in residence, and Ms. Desmond said one of the things she loves about having an artist in residence is the way it can connect the museum's collection to art making itself.
"It is really easy for a visitor to the museum to encounter the art works as historical artifacts and not really think about them as an end product but as a whole set of processes and choices . . . made along the way to create one of those things," Ms. Desmond said. "And having an artist here working, talking about his or her artwork and the processes, brings that to life and sort of makes the artworks in our collection come alive as well."
Moreover, Mr. Fedorchak will be curating an exhibit of Remington's work, and while he said he has nothing in mind yet, Ms. Desmond said his talents as a collage artist will bring a new perspective to Remington's work.
"I'm particularly excited to be working on that with somebody who works in collage and assemblage because that's somebody who is already making connections between already existing artworks and other things and so I think it will be really fun to have a collage artist diving into the collection," she said.