HEUVELTON — A thermometer is mounted to the front office desk, bins of cloth masks sit throughout the school and hand sanitizer is at the entrance of every room. Heuvelton Central School looks poised for its first day of classes this week, but looming in the air is a sense of anxiety, one that teachers are preparing to acknowledge and address, both with their students and themselves.
The stressors teachers are facing are both clear and hidden. The process of bringing students back into the classroom is uncharted territory for everyone, leaving even veteran teachers uncertain about what the return brings. Though they're not alone, the stress isn't isolated to math or history, science or literature.
"This is my 28th year of teaching and it's been my first," Scott Sargent, a sixth-grade math and science teacher at Heuvelton said Friday, standing between rows of socially distant desks. "Every single teacher in this building is a first-year teacher this year because there's no handbook on how to teach year-one of the pandemic."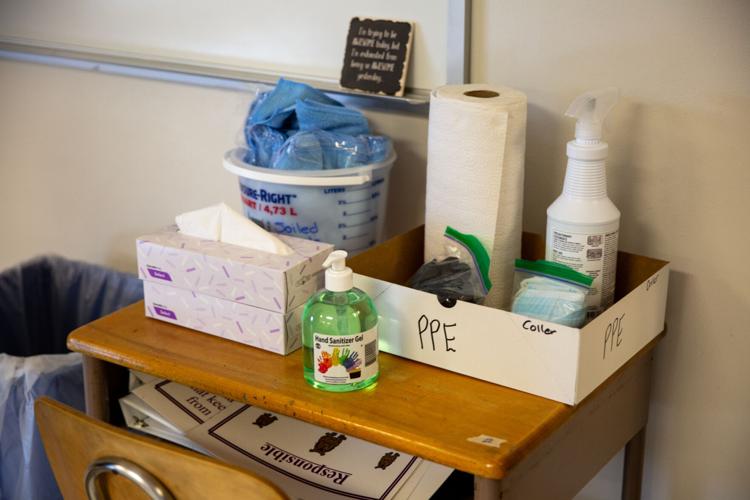 Mr. Sargent shares the sixth-grade students with Erin LaBella. She teaches English and history, and has diligently organized every aspect of her classroom, attempting to retain as much as she can of the original, group-based atmosphere she's tried to teach in for years. It's not simple.
Students at Heuvelton are split into two groups. The first group — "Group A" — students attend class on Mondays and Tuesdays, while "Group B" students attend on Wednesdays and Thursdays. Everyone learns online on Fridays.
In Mrs. LaBella's hands-on classroom, this means quarantining supplies. One group of students gets to keep their supplies in the desks half the time, while the others keep theirs in labeled laundry baskets perched on the windowsill. The hundreds of books in her classroom — Charlotte's Web, Artemis Fowl and Stuart Little, to name a few — will have to be quarantined whenever a student picks one up. Mrs. LaBella will place them in the "Group A" bin, then store them in a closet for five days before returning them to the shelf.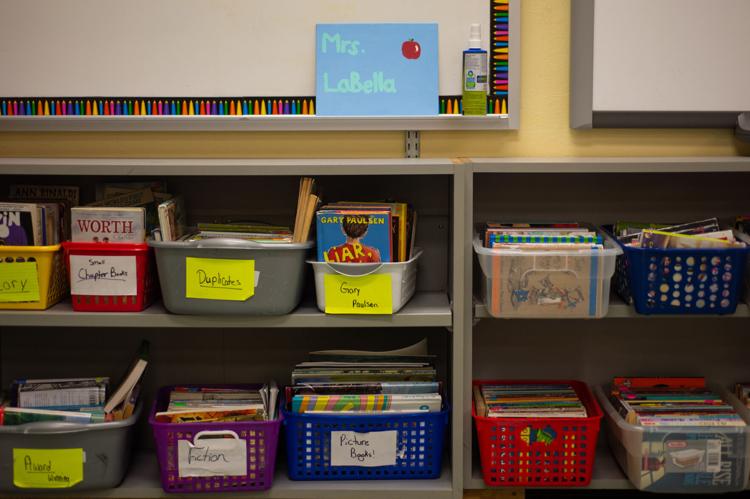 "My classroom before, I tried to make it like home," Mrs. LaBella said. "I had a couch and a coffee table and rocking chairs and lots of flexible seating, and I did very little 'stand in the front of the class.' ... This is a huge change for me. I'm in my forties, so I feel like I'm back to how I was learning."
Ginger E. Coller teaches ninth and 12th grade English and Advanced Placement Literature and Composition. She's also had to transform her classroom. No longer can her students write or think out essays in her "living room" setup in the back of the room, though Ms. Coller still has the bulletin board crammed with photos of some of her previous students. The desks, just like the sixth-grade classrooms, are in grid formation, several feet apart.
Ms. Coller, like really everyone, doesn't know what's going to happen with COVID, and whether the school will be able to stay open. So, she's taking it day by day, week by week, with the goal not of drilling grammar or literature fundamentals, but building relationships with her students. When Gov. Andrew M. Cuomo ordered a halt to in-person instruction and the implementation of remote learning in March, she said trying to keep her students working at a regular pace online with classwork was untenable. Herself and others became deeply concerned as students weren't keeping in touch.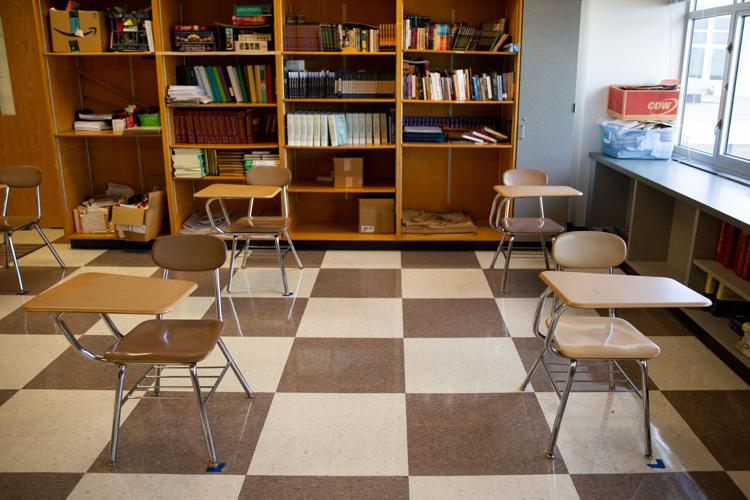 "I remember, that was the biggest struggle when we transitioned before. We were ready to go, go, go, and so we were all trying to teach the same periods and the kids were just dropping left right and center," Ms. Coller said while wearing a mask, sitting behind a long set of tables in the front of her classroom. "They couldn't get up and function, they were completely in traumatic, 'I can't move' state."
This time around, she wants to try and face those issues head-on, by being honest about everyone's state of mind and creating an environment amongst her students that's comfortable and compassionate. Ms. Coller wants to do this, while also dealing with the uncertain hurdles to come and a waterfall of "what ifs."
"I truly believe philosophically that as the adult in the classroom, my job is to be OK with everything no matter what, and I really have to project that for the kids," she said. "If I fall apart when they leave, if I go home at the end of the day and say 'Oh my God, that's the hardest thing I ever did,' they deserve to come in here and feel completely safe and OK."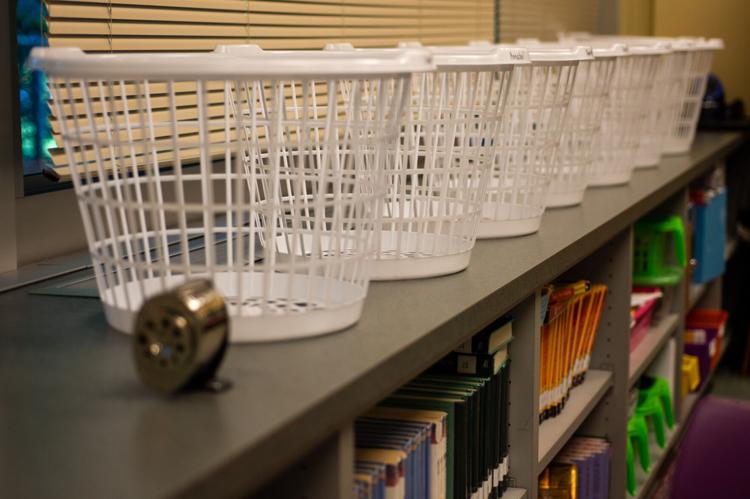 Ms. Coller also serves as the school's union secretary. She said at a recent online meeting, she fielded a constant stream of questions and concerns from her coworkers, many similar to her own.
Mr. Sargent and Mrs. LaBella know that even their sixth-graders are struggling, both with the conflicting feelings of longing to see their peers again, and the anxiety of returning to school.
"They're desperate," Mr. Sargent said. "They're absolutely socially desperate for interaction of any kind."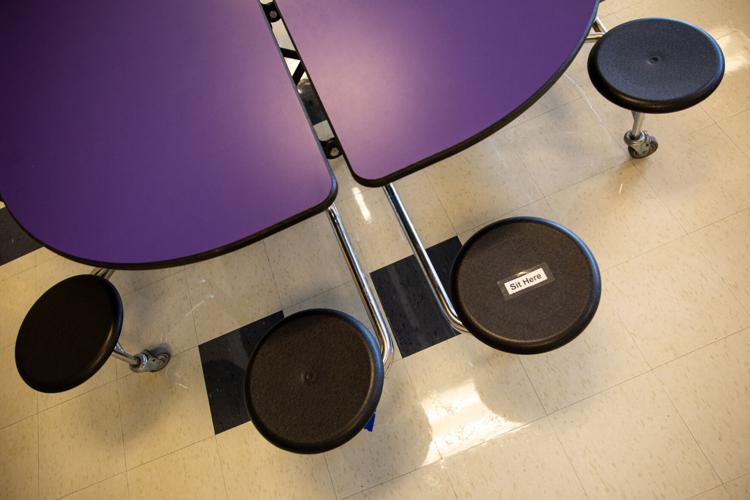 Both of them acknowledge the role they play as educators extends beyond academics. Mr. Sargent said it's paramount that students' emotions are taken care of, or else learning math, science, social studies and the lot isn't possible. Mrs. LaBella said working with students through those times, which are even more frequent now, is nearly impossible online.
"It's different when you have them on a screen," Mrs. LaBella said. "When they're in the school you can see what's going on with them, but you know, even if they're saying they're OK, there's something going on, and you can't do that on the screen. My biggest thing was making sure that our kids were OK. It wasn't an academic thing, it was 'Are you OK?'"
There won't be a pep rally this year, or any high-fives from the principals. Some students will walk through the doors Tuesday morning, others will open their laptop lids. Keeping them safe and secure has always been paramount. While little is certain, Heuvelton's teachers, like every other across the state and nation, know they have a challenge ahead.