DICKINSON CENTER — Peering out from a small hole in a bird box Thursday morning, a weeks-old American kestrel chick greeted Mark A. Manske and a small team of his former students with a tiny chirp.
As far north as the St. Regis Mohawk Reservation, west to Potsdam, east to Dickinson Center and south near the edge of the Adirondacks, 150 bird boxes are spread across 187,000 acres of the north country.
Managed by Mr. Manske, founder and owner of Adirondack Raptors, the numbered bird boxes serve as temporary homes for American kestrel chicks. Mr. Manske, Emily Lennox, Kristen Lee, Caroline Matuck and Brendan McMerriman loaded gear and drove from site to site, collecting data and banding chicks nesting inside the wooden boxes affixed about 15 feet off the ground to utility poles and freestanding posts. Most boxes, Mr. Manske said, feature top hinge-openings to prevent wind and prey from infiltrating side openings.
First checking the inside of the box with a GoPro attached to a pole, Ms. Lee gave a preliminary assessment of Box 90, her favorite box, before Ms. Matuck climbed a ladder to retrieve the chicks, including the female peaking out as the group approached.
As she handled the chicks, Mr. Manske said her handling would not deter the mother, flying nearby, from returning to the nest based on any human scent lingering among the chicks.
"That's an old wives' tale," he said, looking up at Ms. Matuck as she brought five females down from the ladder in a basket. "Birds have a lousy sense of smell."
The data collection and kestrel banding initiative is part of Adirondack Raptors' broader kestrel tracking and rehabilitative missions, which Mr. Manske continued through the organization's founding in 2008, and began nearly two decades ago.
Kestrel is a broad term for a group of birds under the falcon genus, and researchers of the American kestrel, the smallest and most common falcon in North America, have tracked a sharp decline in the continent's American kestrel populations since 1966.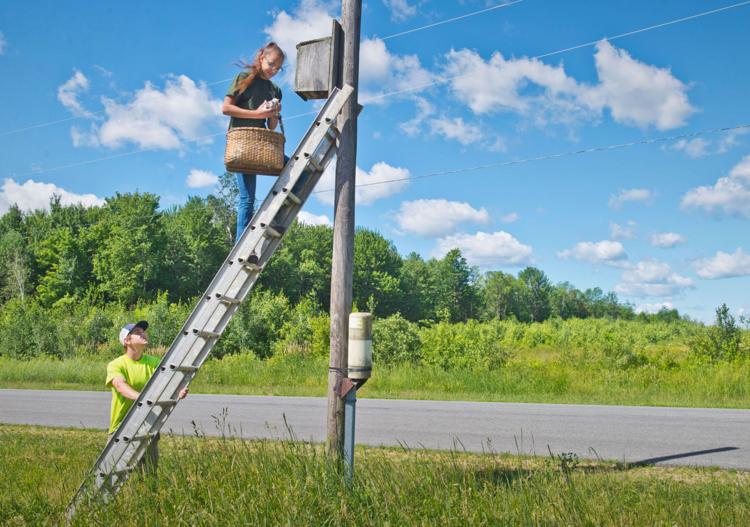 Now, Mr. Manske said the overall population has been cut by about 70 percent, and in some places in North America, the species is more than 90 percent gone.
Since the late 20th century, four theories have developed about why kestrel populations have largely continued to decline, Mr. Manske said.
Tree habitat loss, particularly the loss of trees with natural cavities from woodpeckers and decay, has left kestrels struggling to find nesting places, as kestrels are secondary cavity nesters and do not create their own cavities. With an increased continent-wide footprint of large-scale agriculture operations and increased urban sprawl, Mr. Manske said, natural grass land habitat loss has also increased. Other kestrel population impacts may stem from pesticide use and the rebounding of Cooper's hawk populations after the federal ban of the insecticide DDT in 1972. Kestrels, especially recently-fledged young kestrels are "easy pickings" for Cooper's hawks.
A master falconer since 2003, a master raptor bander since 1988, and a 27-year science teacher, educating students at St. Lawrence Central School and Brushton-Moira Central School, Mr. Manske has continued to teach college-level courses at Paul Smith's College in recent years.
Prior to Thursday, Mr. Manske and banding assistants had banded 153 individual chicks with U.S. Fish and Wildlife Service tracking bands, hoping to end Thursday with a total in the 200s. By the end of the season, he said he hopes to have banded between 250 and 300 chicks, bringing his grand total to about 2,500 banded kestrels since he started the program years ago.
With continued tracking and habitat-building efforts in the north country and with data submitted to the FWS and the Idaho-based Peregrine Fund, Mr. Manske said he has observed bolstered numbers of American kestrels in the region.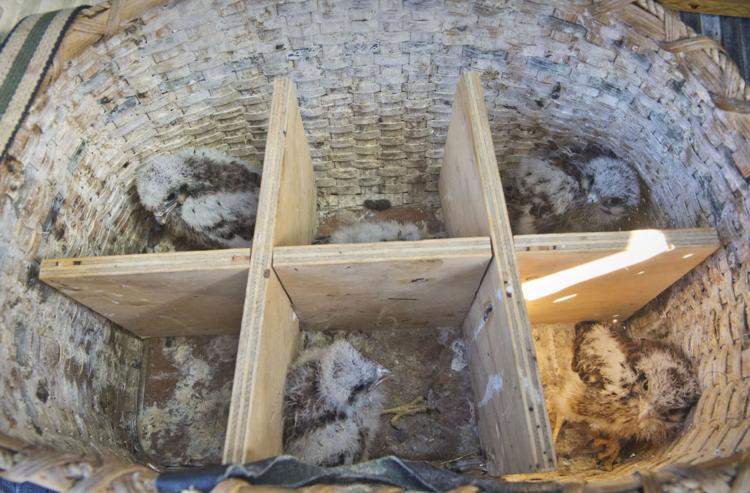 Once chicks are about 10 to 12 days old, an age determined by a photographic guide, they can be banded and become part of a long-term record of migratory patterns and distribution data.
At this point in the nesting season, Mr. Manske said data collection is limited to the sex of the chicks — males are identifiable by gray-blue wing feathers, females by brown feathers — the estimated age and any observed behavior, physical features or presence of potential threats, like mites. Once the chicks are nearly fledged, developed enough to fly, and become adults, his teams photograph the banded individuals and take wing measurements.
The improved regional kestrel population figures Mr. Manske has observed through the monitoring of his 150 boxes, many of which have been built by high school woodworking students over the years, may be the result of the increased boxes themselves, he said.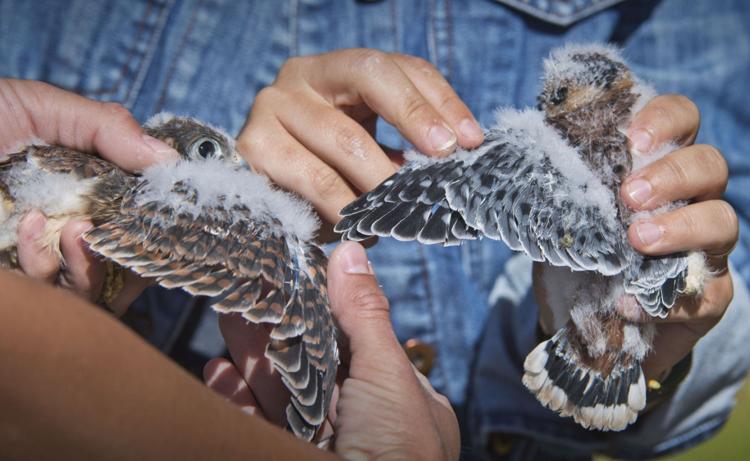 If other north country residents have built bird boxes where kestrels nest, Mr. Manske said he'd like to know about them and potentially add those sites to his monitoring program.
"By increasing the number of boxes, we could increase the success of kestrels," Mr. Manske said. "If we can double or triple our nesting boxes, maybe we can double or triple the output of kestrel adults."
For more information about the kestrel banding initiative or Adirondack Raptors' other programs, call 518-529-6331.