WATERTOWN — With the sun shining and spirits high, Jefferson County SPCA staff and students in the Veterinary Practices program at Jefferson-Lewis BOCES set off on a day full of spaying and neutering a small portion of the area's feral cat population.
This was the second time this year that BOCES has teamed with the SPCA to conduct a Trap Neuter Release clinic on the campus. This also marked about a year since the two organizations first partnered up.
"I feel like giving them this opportunity is going to set them up for success in life because if you can care for, love and want to help animals, you're just going to be a better person," said Heather Spezzano, executive director of the SPCA.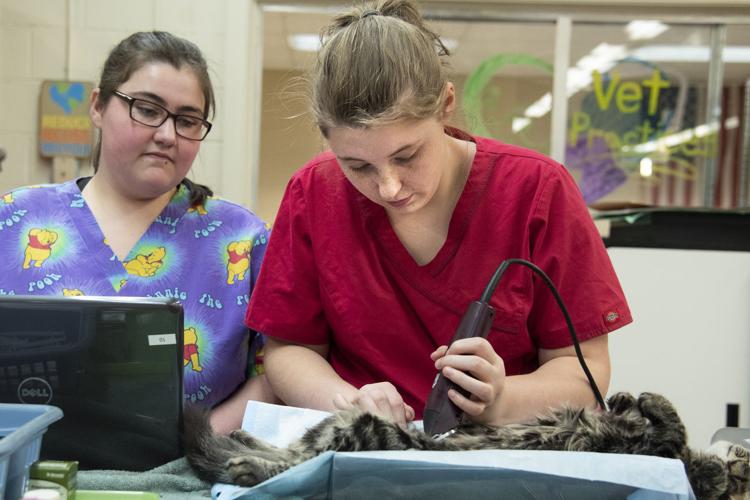 The Veterinary Practices program at BOCES consists of two sections, one for juniors and one for seniors, with a total of 73 students enrolled in the program. The program is led by instructor Justin Hall, who expressed his gratitude for BOCES helping to build the surgical suite off of his classroom that allowed the SPCA to perform procedures on the campus.
"This has elevated us up to a new level," he said. "A lot of the students have never seen surgery before so they've never seen a spay or a neuter or they've never gotten their hands on to give an injection of a vaccine so it's kind of a pivotal point."
Fifteen cats were spayed and neutered on Wednesday, putting a small but significant dent in the future feral cat population. According to Mrs. Spezzano, one unspayed female cat can lead to millions of cats within an eight-year period so just by fixing one cat, it decreases the population by millions over an eight-year span.
In Jefferson County alone, Mrs. Spezzano estimates that there are between 50,000 and 60,000 feral cats wandering around. On any given day, hundreds can be found in barns, near Dumpsters, or anywhere that has the necessary resources for them to stay alive.
"It's bad, it's almost impossible to fix," she said. "It's really going to take not just us, but the community getting behind it for probably a good decade to really get a handle on it."
In 2019, the Jefferson County SPCA spayed and neutered a total of 2,058 cats. With every female cat able to produce roughly 18 kittens a year, these surgeries were able to prevent 37,044 unwanted kittens from coming into the world.
Last year, the Jefferson County SPCA was also able to secure a grant from the ASPCA to hire a full-time vet: Jennifer Risser, DVM. Since becoming a full-time vet with the SPCA, Dr. Risser has put a focus on increasing not only shelter surgeries, but also the shelter's Spay and Neuter Your Pets and TNR programs. Sierra Susice, a senior at Watertown, will go on to Jefferson Community College to study zoology and hopes to eventually move on to Delhi for vet technology to ultimately become a vet tech.
Wednesday was the first time Ms. Susice had touched a cat uterus, which she described as feeling like 'a fake rubber worm.'
"If you're interested in this program definitely go for it," she said. "Even if you don't like it in the first two weeks you can change your mind, but it's definitely a great experience."
Lendsey Rogers, a senior at Carthage, hopes to eventually become a veterinarian for zoo animals. She feels the training at BOCES and clinics with the SPCA help guide students toward deciding what they do or don't want to do.
"If you want to be in the animal field it's definitely something to help you get used to actually working with animals," she said. "It's a big eye opener for the juniors who come in from the other class and don't really understand what they're getting themselves into."
On Wednesday, Dr. Risser was assisted by Kylesha Ferguson, a licensed veterinary technician, while performing the surgical procedures. Though her students were focused on her every move, her four-legged companion Allie, a blind, 12-year-old Boston Terrier she takes with her everywhere, was fast asleep in her bed on the floor to the side of the operating table. Before their procedures, the cats were given sedatives, had their nails clipped, were given lubrication for their eyes, vaccinated against the distemper virus, and were shaved in the areas the procedures were to take place. As these things were happening, staff from the SPCA fielded questions from the BOCES students, who were eager to help when they could and learn as much as possible.
"A lot of people don't realize veterinary medicine isn't just playing with puppies and kittens all day long, you do a lot more," Dr. Risser said. "We're not only exposing the kids but we're providing a community service — it's a win-win situation."
The cats were brought to the back one at a time, their left ears notched after the procedures were finished as a universal sign that the animals had been surgically altered.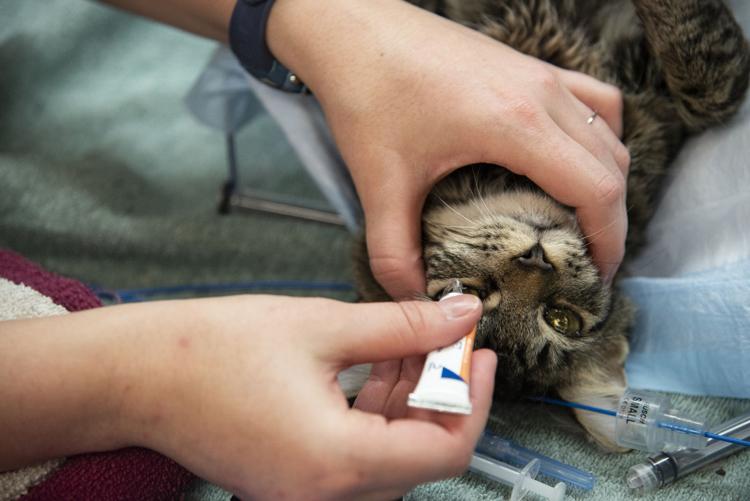 In the background of the surgical suite, Dr. Risser's playlist could be heard, which features a range of music from Jessie J to Lil Wayne and everything in between.
"A lot of these cats are in heat right now, so their uteruses are enlarged and thickened because they're all getting ready to make some babies for the spring," she said. "It's a really good time to do these clinics."
Along with feral cats from the area, a few domestic cats, named Piper, Captain and Wonder, were also spayed as part of Wednesday's TNR clinic.
According to Katelynn Drohan, operations manager at the SPCA, the shelter charges $30 per procedure, though it costs about $50 to $60 per cat, resulting in them losing money, but she said it is worth the loss considering how much of a help it is to the community.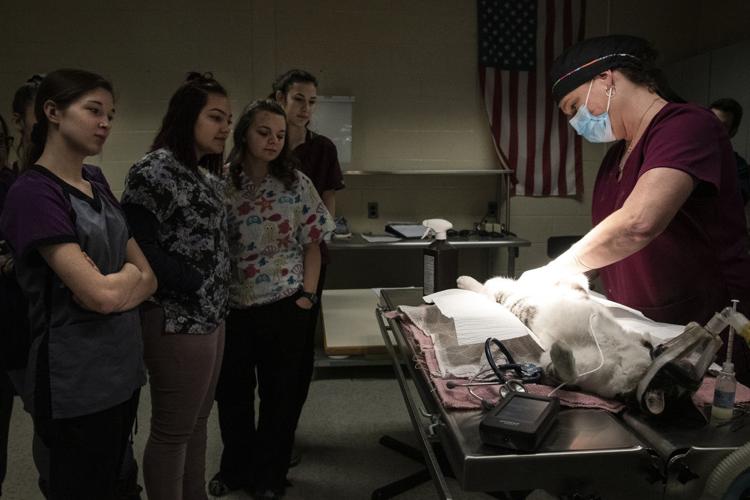 "The TNR clinics in general are just a huge help," she said. "By spaying and neutering these guys, we can slowly diminish the population so one day there's not a huge population and there is actually a home for every cat out there."
Community members can email the SPCA staff at vetstaff.jcspca@gmail.com to receive information of where to drop off feral cats they have trapped and when surgery days will be.