CLAYTON — The Thousand Islands school community came together Tuesday evening with a simple message for those who would listen: "Save our teachers."
The Thousand Islands Central School District's Board of Education meeting Tuesday evening drew a larger crowd than most. Though they weren't allowed inside the library where it was being held due to available space and current health guidelines, an impassioned crowd of protesters stood just outside the door to make their feelings known with regard to eight teaching jobs in jeopardy.
"As a school district, we're different than any other type of business in the sense that there must be a balance between being fiscally responsible and educating and supporting the children of our community," said social studies teacher Ryan Kendall, one of the impacted instructors. "The impact of a school district is more vast than any other type of business because you are helping to mold and shape future generations."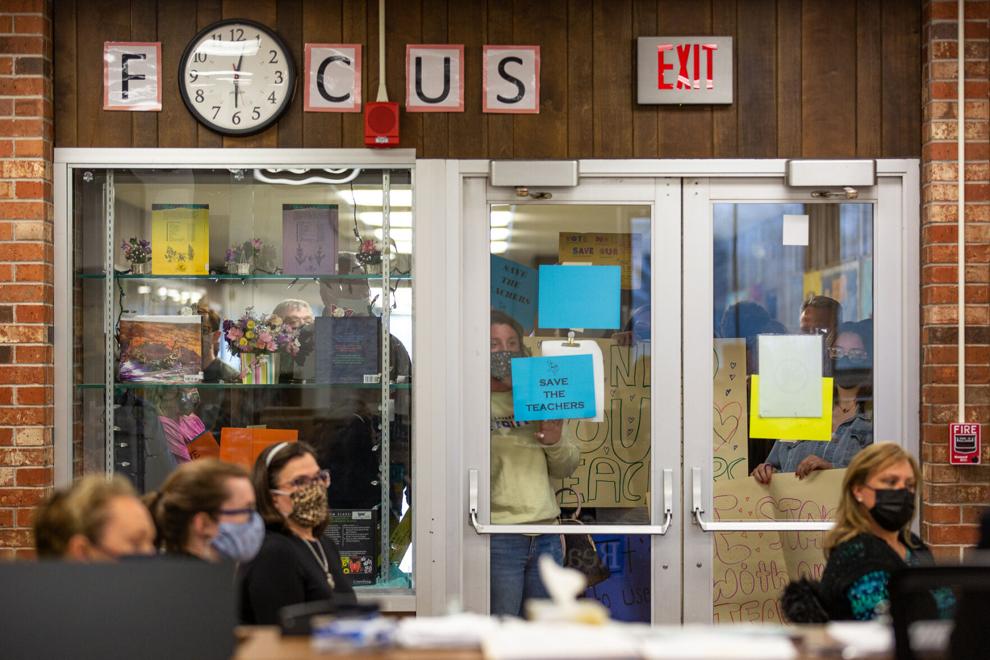 While Superintendent Michael Bashaw gave a presentation he hoped would explain where the district was coming from with the decision to propose the workforce reduction, those gathered did not accept the reasoning. According to Mr. Bashaw, it isn't about the money, consistently declining student annual enrollment was the root cause of making the reduction necessary.
He stated that the district's intention is not to cut people, it's to do what it can through attrition first, needing to right the situation declining enrollment has left it in. For those teachers in limbo, and the students they have taught or currently teach, that reasoning isn't good enough.
"We're still in a pandemic; I do not understand why we are cutting staff in the middle of a pandemic," said Darlene VanWie, a special education teacher. "Stop being complacent. Listen to the kids and listen to the teachers."
Mrs. VanWie has been employed by the district since 1989. Her son-in-law, Ryan Kendall, another teacher in the district, faces the loss of his jobs.
"Teachers are not overpaid, we don't go into teaching to be rich and to be famous," Mrs. VanWie told the board. "We are here for children."
Mr. Kendall graduated from Thousand Islands High School with the dream to come back and teach there. Currently, he's the 11th-grade U.S. History, Advanced Placement U.S. History, AIS History and Modern World teacher. He's even filled in as a math teacher and taken on duties outside of the classroom, such as coaching varsity boys football, chaperoning various events, chairing the history department and more.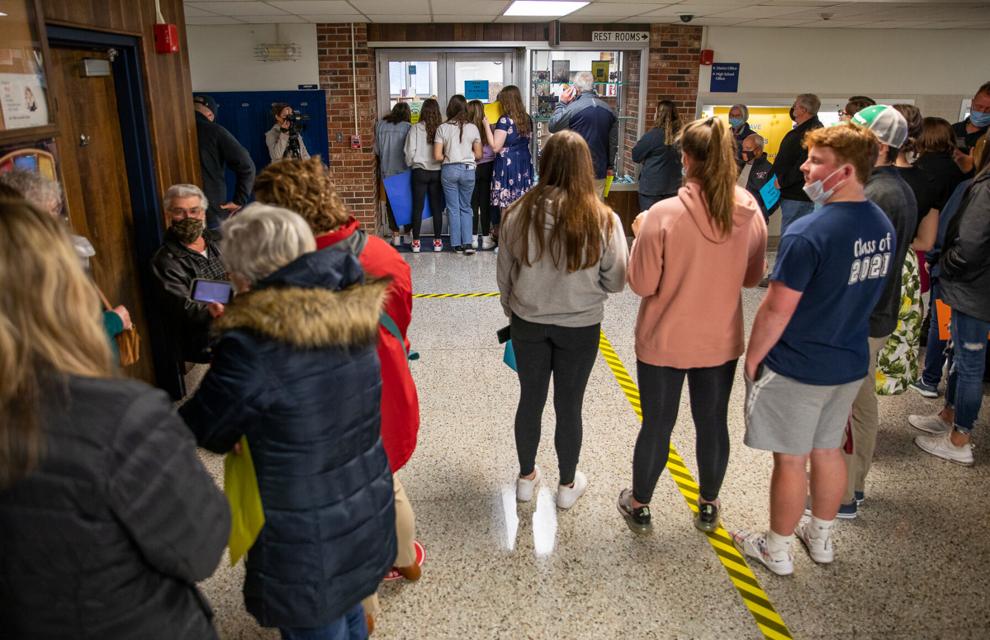 Joining with a few of his colleagues Tuesday evening, Mr. Kendall gave an emotional speech to the board.
"In this case, the cuts are being made during the year of a pandemic, where federal and state governments have provided employers additional funds to keep and maintain current staffing," Mr. Kendall said during his speech. "How can our district justify to the community, the teachers and the students that these cuts are absolutely necessary? Especially during this difficult time where people are doing things above and beyond. If our district is only concerned with fulfilling the minimal obligations and requirements, then are you willing to tell the community and students that their individual success is not of the utmost importance to the district?"
Dozens of students, both past and present, as well as teachers and taxpaying community members, gathered to make their thoughts known, even though they were unable to speak to the board during the meeting. Standing with signs of blue and gold, many of whom urged the board to "save our teachers," they listened intently to the livestream of the meeting taking place just feet from them, separated by glass doors.
Following each speech from a teacher — all of which centered around the themes of loving their jobs, students needing more educational support rather than less and expressing confusion and frustration with the board's decision — the gathered crowd showed them support by clapping, cheering, waving their signs and even banging on the doors of the library.
The cheers only grew louder as the teachers left the library and were embraced by members of the crowd.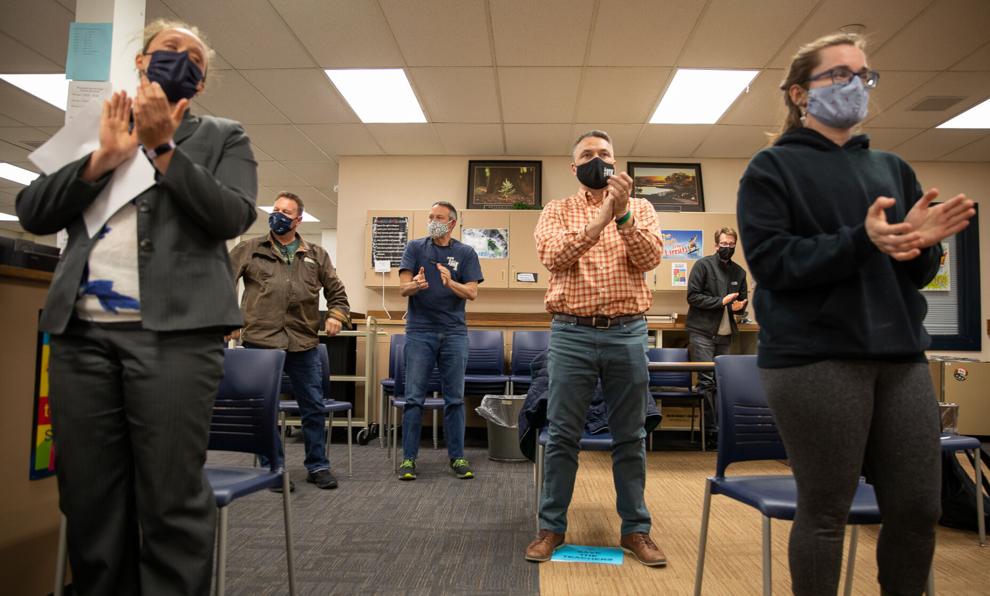 When senior Jayden Maloney heard about the reduction proposal, he said he immediately grabbed a pen and paper and started walking around the school getting names. He now has close to at least a hundred signatures, he said, and gave the petition and a speech he had written to Mr. Kendall to present to the board.
"A lot of those teachers are really good influences on a lot of the kids lives, whether they know it or not; they care more than most teachers nowadays do," he said. "Instead of being that normal teacher and just handing them a packet and saying, 'Hey, go do this or go do that,' they stand up in front of the class and they'll explain everything to students.
"That's the kind of teachers that schools nowadays need to have, we need more of those not less of them," he added.
Junior Lily Gray, accompanied Tuesday evening by her friend Paige Thompson, a 2020 graduate of Thousand Islands, said she's been taught by many of the teachers whose jobs hang in question.
"They are all just really passionate about what we're learning; they're not here for the money, they're here for us," she said of the teachers. "They're here for us to learn and to grow, because they know that we're just like them going out into the community and they want to see us doing good in our community."
CORRECTION: Due to a reporter's error, an earlier version of this story misstated the employment status of Darlene VanWie. She does not face the potential loss of her job.