BLACK RIVER — In the warm autumn air, the sun shining down on them as a slight breeze made the changing leaves of the surrounding trees shake and shiver, students took to their desks on Friday afternoon — or rather their stumps — for a class activity behind Black River Elementary School.
Angela E. Martin's second-grade class, consisting of 10 children for the day, started with a game of "The Warm Wind Blows," where if the category pertained to the students, they could run over to a different stump. After some of their energy was released by the activity, it was time to get to work, filling out worksheets dealing with "Tricky C's," or words that begin with a C that sound like it might begin with another letter such as S, like celery — all while using the stumps as desks.
"It's so nice to work with the kids again; when they're here, I feel like we haven't skipped a beat," Mrs. Martin said. "We eat lunch in our classrooms, we have specials in our classrooms, so this is their only opportunity to actually get out of their room, besides PE and art. We try to visit the outdoor classroom at least once a day."
Friday's class was part of Cohort B at the school, attending in person on Thursdays and Fridays. While the students had only been in school for two days so far this year, they seem to be enjoying their time at Black River Elementary, especially when they get to go outside.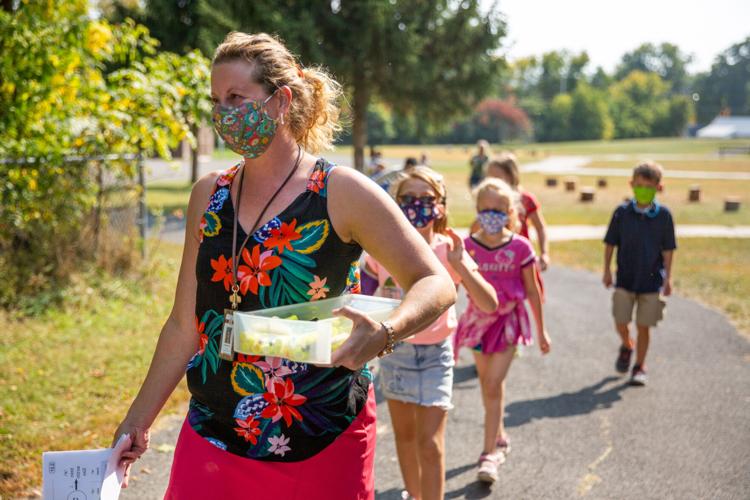 Mirra A. McDonough, 7, said she likes it outside, and that Mrs. Martin showed the class an apple tree nearby with a birds nest in it, though it was too high up to tell if there were eggs in it. She's happy to be back in school, she said, albeit for just two days so far, and that she missed it.
Jake M. Forsythe, 8, said he's also glad to be back, that it's been awhile.
"It's kinda good getting fresh air," he said. "Sometimes we come out and we play duck, duck, goose with the stumps."
The stumps, which can be used as seats, desks or platforms to stand on, are spaced out to comply with COVID-19 safety guidelines in three separate areas around the school. Donated by Black River Tree Removal and Brookfield Renewable Energy, all have been smoothed out with the safety of the young students using them in mind.
All in all, there are about 55 to 60 tree stumps around the property, split into three groups. At first there was just one set in front of the school, but two more were added due to popular demand.
Principal Jared T. Plantz said he got the idea for the stumps from the Alexandria Central School District where his kids go to school. He noticed they posted a video to their school website showing some staff members sitting on stumps outdoors and talking about using them this upcoming school year as an outdoor classroom. Inspired by the neat idea, and knowing Black River had the space to implement something similar, Mr. Plantz set out to make it happen.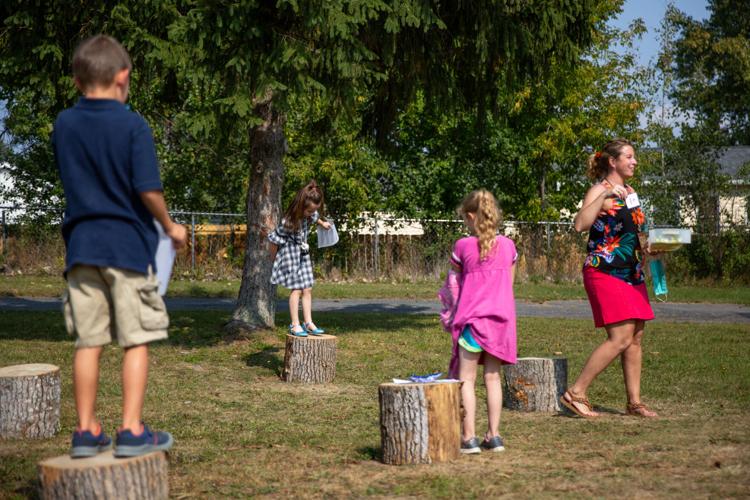 "I think it's important to be outside anytime you can and I think there's something to be said about getting fresh air and kind of allowing yourself to learn outside," he said. "Especially now, all the research shows that being outside is one of the best things we can do during the pandemic. So, knowing that, I think it's great to encourage classes to go out and utilize outdoor space."
Not knowing what to expect with all the new health and safety protocols, and how students and staff would react to them this year, Mr. Plantz, who's in his second year as principal of Black River Elementary, said reopening has gone better than he anticipated.
He said the kids have been fantastic and for the most part don't seem to have an issue wearing their masks throughout the day and keeping their distance in classrooms. He noted the staff have been doing a wonderful job as well.
"The teachers have the flexibility and the option to use them as they wish, whenever they want," Mr. Plantz said. "We had a sign up for the first set outside, but then as we received the two additional sets — we didn't need to sign up anymore — so basically teachers can just go out whenever they find it best in their schedule during the day and obviously depending on what the weather's doing.
"Not every teacher uses them, and that's OK, because every teacher's style is a little different, but I would say a majority of the teachers are using the spaces," he added.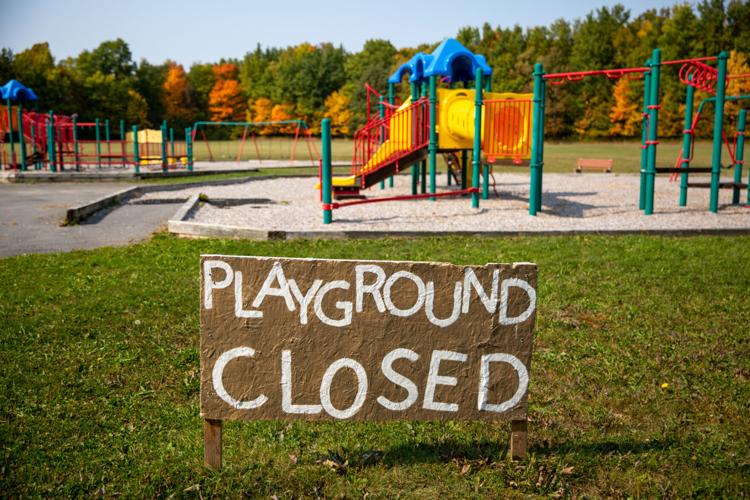 Mr. Plantz said these outdoor learning spaces have encouraged the school to think of more opportunities and how space can be used, prompting people to think of other ways to do things, allowing for different learning opportunities, as well as thinking creatively and outside the box.
"I'm a firm believer of getting outside as much as you can," Mrs. Martin said. "Moving around in a different location makes them happier and gets the wiggles out for sure. They're much more settled when you walk back in. We need these breaks — you need to get them out of the classroom.
"We're pretty blessed for the donations that the community gave us to do this. The support from our principal and the community, that's awesome for the kids," she added.