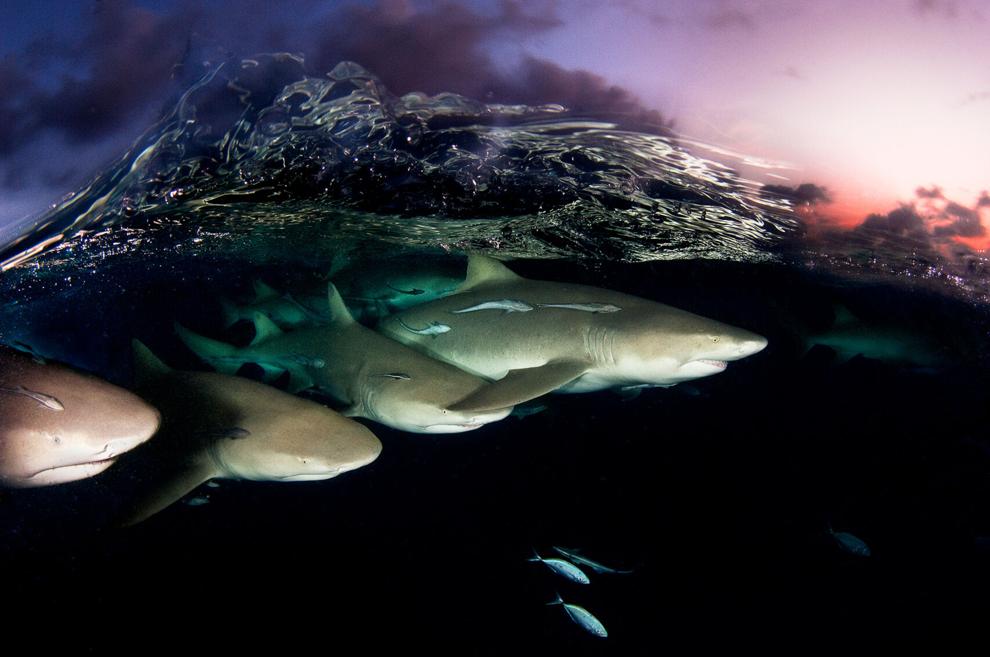 A jaw-dropping report last month in the Journal Nature reported that many species of sharks are at the point of no return.
"We find that, since 1970, the global abundance of oceanic sharks and rays has declined by 71% owing to an 18-fold increase in relative fishing pressure," the report reads. "This depletion has increased the global extinction risk to the point at which three-quarters of the species comprising this functionally important assemblage are threatened with extinction."
For decades, Clayton residents David Doubilet and Jennifer S. Hayes have come face-to-face with sharks all over the world and they have shared shark tales and other stories of their underwater dives and their encounters with various wildlife for National Geographic's "Live" series all over the world, including two at the Clayton Opera House in July of 2018.
"I'm surprised they say only 70% decline," Ms. Hayes said, noting the drop is especially noticeable in Asia-Pacific waters. "I suspected it would be even higher if we could get accurate estimates."
Ms. Hayes and Mr. Doubilet are the authors of the 2009 National Geographic book, "Face to Face with Sharks," which focuses on how our fear and ignorance puts the diverse family of sharks in great danger.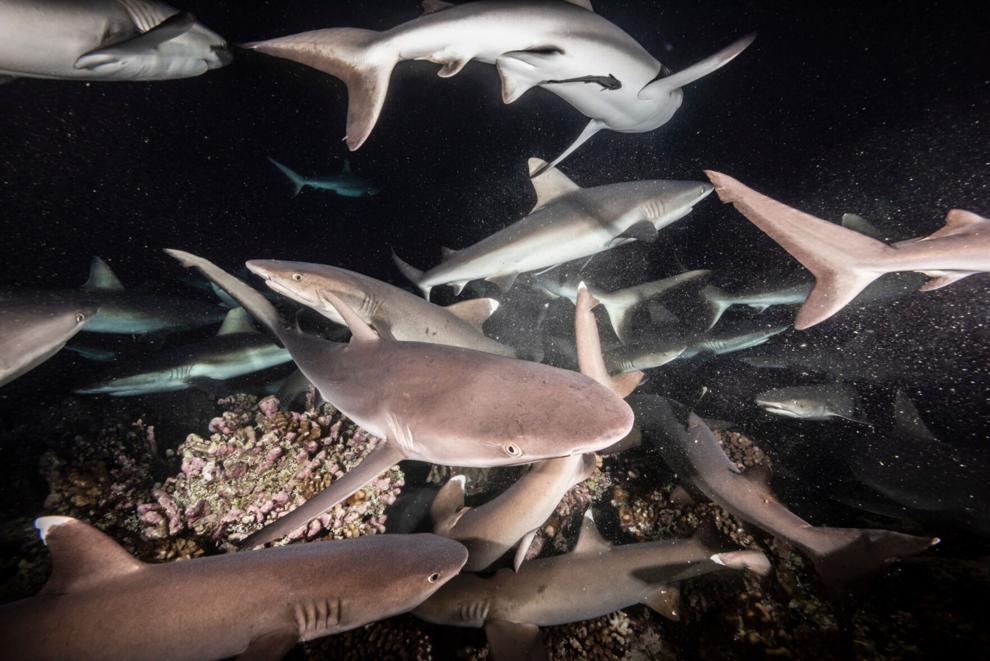 Mr. Doubilet, a native of New Jersey, is one of the most prolific photographers for National Geographic magazine and has been a contract photographer for the magazine since 1976. He has spent more than five decades exploring and documenting the far corners of the world from beneath interior Africa, remote tropical coral reefs, rich temperate seas and recent projects beneath the polar ice. He is an honorary fellow of the Royal Photographic Society of London and has been inducted into the International Diving Hall of Fame.
Ms. Hayes, an aquatic biologist, is a graduate of South Jefferson Central School, Adams. After graduating from SUNY Potsdam with a bachelor's degree in biology, she earned advance degrees in aquatic biology and fisheries at SUNY College of Environmental Science and Forestry and zoology and marine biology at the University of Maryland. She is the author of numerous articles on marine environments.
Ms. Hayes and Mr. Doubilet make routine trips to the Gulf at Quebec's Madeleine Islands as part of their tasks for National Geographic to document harp seal pups. In March of 2020, Ms. Hayes was featured from the Gulf on an ABC "Good Morning America" segment as part of its "Extraordinary Earth" series.
One of Ms. Hayes's graduate degrees' master theses focused on shark finning and commercial landings in the western Atlantic.
"We need sharks," Ms. Hayes said. "People tend not to like them, but we sure need them. It's a case that without them in the ecosystem, the network falls apart a bit."
From their experiences, the married couple has taken to calling sharks "Ghosts of the sea."
"They became rare and now seeing them is a gift," Ms. Hayes said. "You don't say, 'Oh my God, there's a shark in the water. I've got to get out.' Oftentimes now, it's 'Oh my God, there's a shark in the water. I've got to get in.'"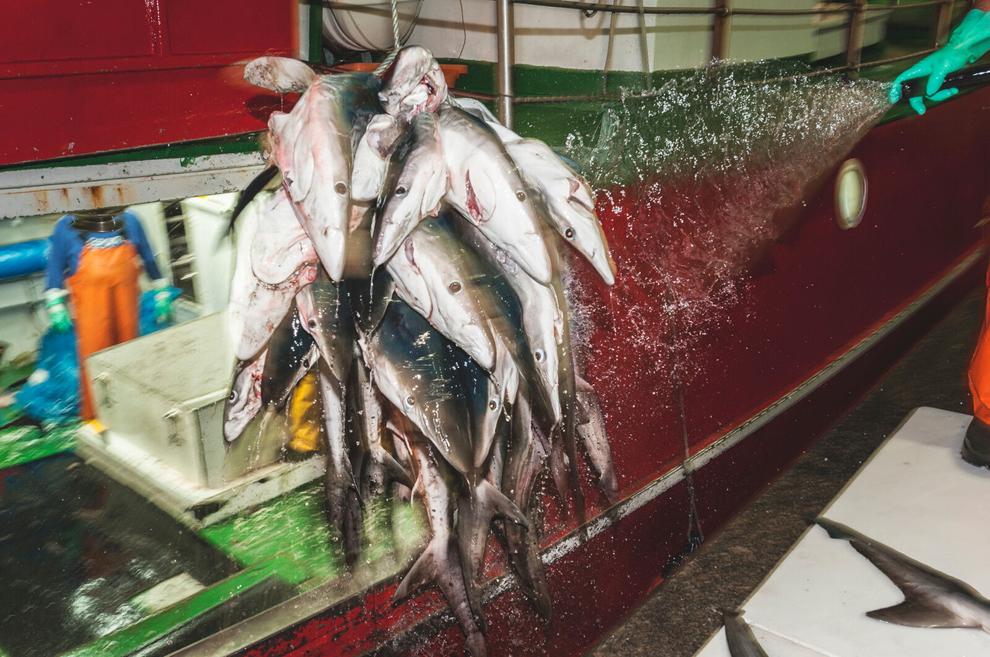 The Journal Nature shark report said that, "Strict prohibitions and precautionary science-based catch limits are urgently needed to avert population collapse, avoid the disruption of ecological functions and promote species recovery."
Shark fin soup, a delicacy in China, especially served at wedding banquets in the country, is one of the main culprits of the decline of shark numbers. The appetite for it was fueled by a rising middle class in the country.
In the U.S., NOAA Fisheries first banned shark finning in the Atlantic Ocean in 1993 because of the role it played in overfishing. Congress extended the ban to any vessel in the U.S. Exclusive Economic Zone with the Shark Finning Prohibition Act of 2000 and Shark Conservation Act of 2010.
Mr. Doubilet and Ms. Hayes have recollections of seeing mounds of shark fins in a warehouse in Hong Kong. They also recall eye-opening scenes about a decade ago involving shark fins in Vigo, Spain, one of the largest fish shipping ports in the world. They were visiting the port with a Spanish-speaking friend.
"David and I were walking around, going, 'Look at all these dead sharks!'"
Their friend, Ms. Hayes explained, said that those numbers were nothing compared to three, four and five years prior to their visit.
"I mistakenly said to Leo, 'That's really good they're not fishing so much for them anymore.' He said, 'No Jennifer, the sharks have disappeared from the sea. They're not there to be caught."
The fewer sharks seen at places like Vigo also relate to a conservation method, Ms. Hayes explained.
"They used to cut the fins off at sea and keep just the fins," Ms. Hayes said. "You can imagine how long it took to fill up the hold with fins. Now, with conservation efforts in place, they say they have to bring the whole shark carcass back, so their holds fill up faster and fewer sharks are caught."
The sharks are often caught as a by-product of swordfish fishing, Ms. Hayes and Mr. Doubilet explained.
"The landings are less, the sizes are less and the sharks become something to pay the gas as they have to go further across the Atlantic," Ms. Hayes said.
Looking back at that trip to Vigo, Mr. Doubilet said, "We saw one longliner, a 68-to-70-foot boat with a crew of about seven, unload 13 tons of blue sharks and 150 to 200 swordfish."
The Animal Welfare Institute reports that 32 countries, including the United States, have enacted full or partial bans on the practice of shark finning. A growing list of companies, ranging from Amazon to Hong Kong Disneyland, have banned shark fin soup. Many airlines have banned the transport of shark fins.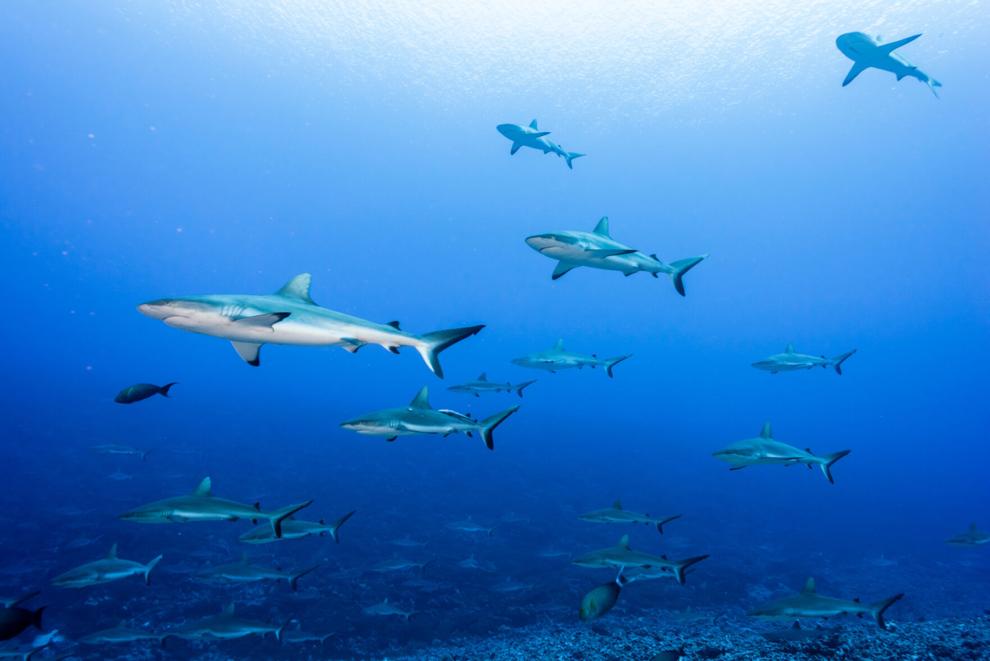 According to the AWI, nearly two dozen countries have full or partial bans on shark fishing. It is allowed in the U.S. where the waters off the East Coast are home to more than 50 shark species, according to the National Oceanic and Atmospheric Administration.
According to NOAA, following significantly lower populations of sharks in the 1980s and 1990s, some species in the Atlantic in coastal U.S. waters have seen a rebound, particularly black tip sharks, sandbar, spiny dogfish and white sharks.
Mr. Doubilet and Ms. Hayes said other areas of the world have seen shark numbers increase because countries have linked the animals to environmental tourism. The couple mentioned their trips to Raja Ampat, Indonesia, as an example as to what can happen when such policies are enacted.
"We spent nearly two years swimming through Indonesia's waters and saw only two species of sharks, tiny walking sharks and the wonderful Wobbegong — a shark that looks more like a bath mat than a shark and it lays about a lot like a bath mat as well," Ms. Hayes said. "The rest of the sharks had disappeared into bowls of shark fin soup."
The Raja Ampat archipelago, known for its coral reefs, is located off the northwest tip of Bird's Head Peninsula on the island of New Guinea.
In 2013, Raja Ampat created a shark and ray sanctuary of 1 million acres.
"For two years, we never saw a shark in Indonesian waters," Ms. Hayes said.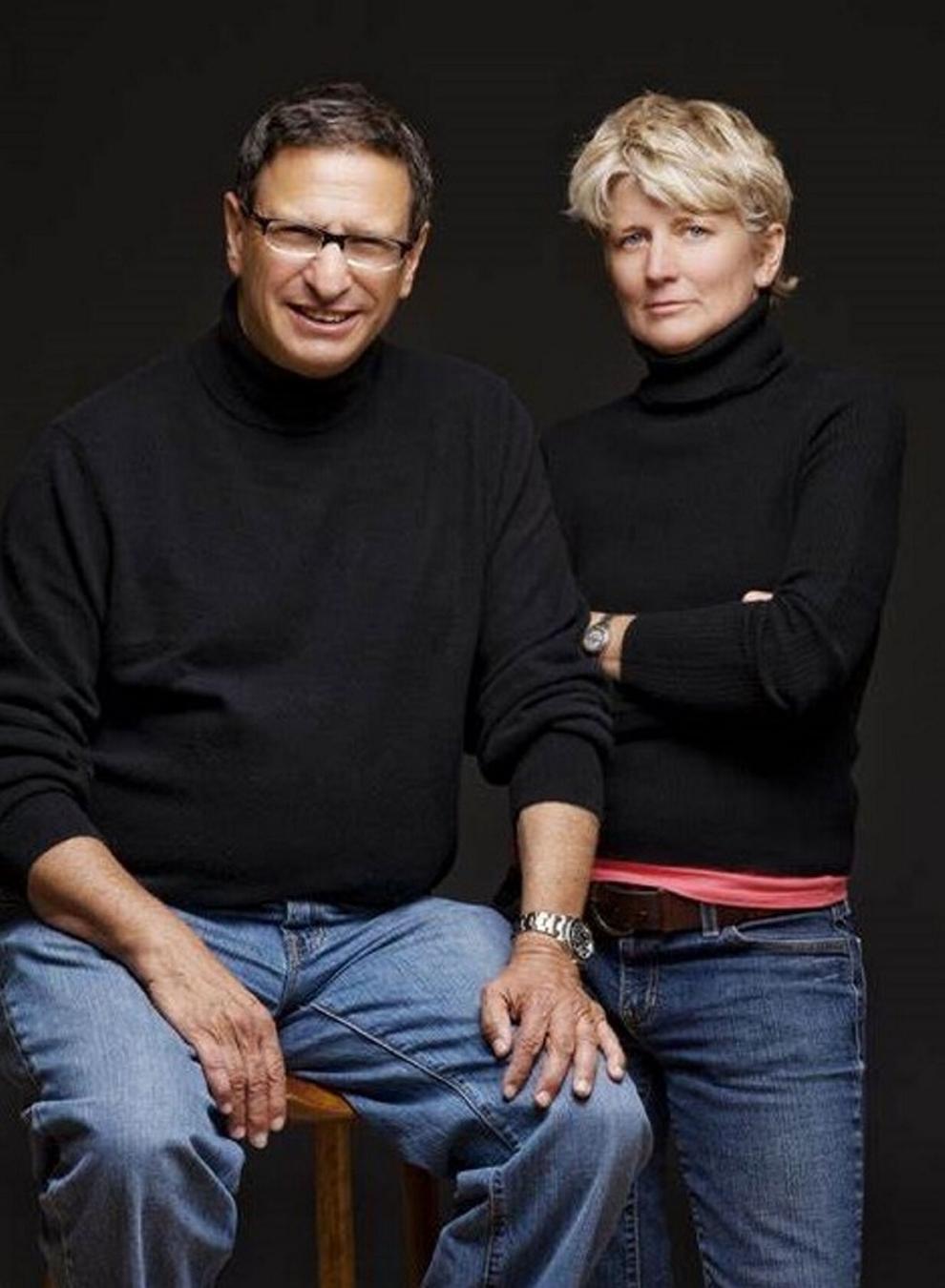 But Ms. Hayes and Mr. Doubilet returned in 2016 through 2018 and they saw the creatures. Popular shark species now at Raja Ampot range from white tip reef sharks to "walking" sharks. Now, tourists can dive in and swim with sharks.
"It's good to see some places like Raja Ampat say, 'Protecting our ecosystem is probably economically, a sound thing to do,'" Ms. Hayes said. "It keeps the ecosystem intact, a lot of eco-tourists come, they leave a lot of money there and the fishermen have turned into environmental tour guides. And instead of pulling fish off the reef, they're sustained by other income."
"You know what happens when you're an eco-tour guide there? Your children go to school," Mr. Doubilet said. "It's that simple."
Sharks are also thriving in Fakarava, part of French Polynesia, Pacific Ocean. They've been protected there since 2006.
"You dive there at night, you have to watch where you put your hands, because you might not come home with them," Ms. Hayes said. "I love that, because that's another symbol of hope. There are places on the planet where they've protected these things and it's incredible to see them."
Mr. Doubilet said there could be hope for regions in the world that have seen declines in shark numbers.
"It was thought that once you fish the shark population out, it would never come back," he said. "In some cases, that might be true. In other cases, we've seen populations begin to come back."
The Shark Conservation Fund estimates that 100 million sharks and rays are killed every year for their "valuable fins, meat, livers and gills and nearly a third of all sharks and rays are threatened with extinction."
One key step to recovery would be reducing the demand for shark fin soup, Ms. Hayes and Mr. Doubilet said. Celebrities like Jackie Chan have begun to highlight the consequences of the delicacy.
The fins aren't designed to add flavor to the soup. Mr. Doubilet said they're used to create the soup's texture. And to create the soup requires a repeated process of boiling and drying the fins.
"That's the amazing thing about it," he said. "To reach that point is an enormous amount of work. But the end point of it is a gluey and thick, just as if you added flour to the stock."
"And that has been responsible for eradicating the shark numbers you see in that report," Ms. Hayes said.
But Ms. Hayes believes the tide may be turning against shark fin soup with it being taken off menus, with celebrities like Mr. Chan raising concern about it and with pledges by youth not to consume it.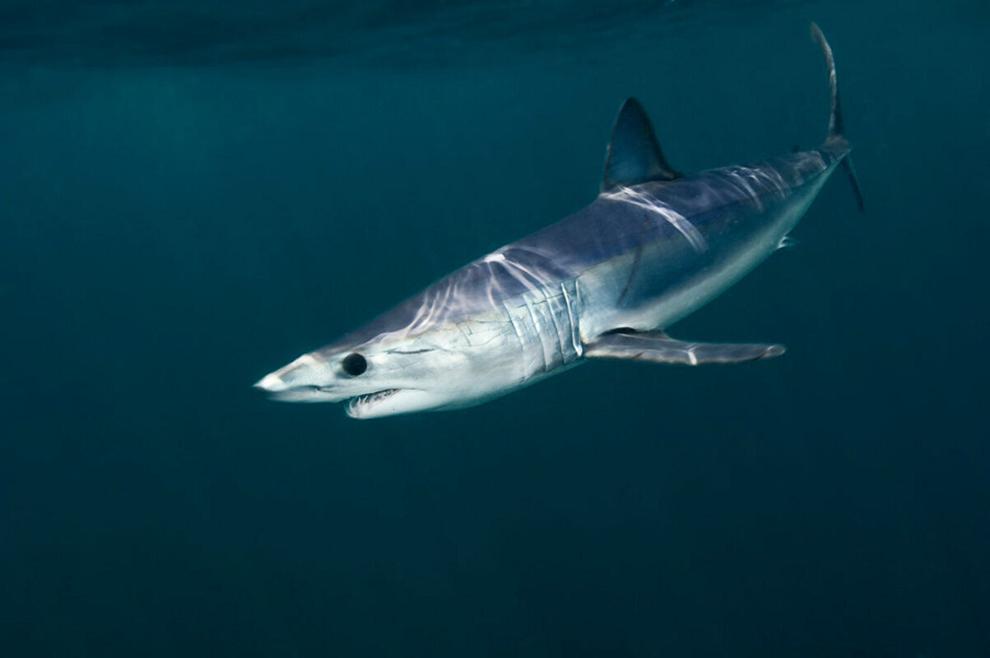 "There's a slow, collective movement to recognize the destructive force of shark finning," she said. "It's slowly making a difference, especially for the next generation, who do not need to have shark fin soup to appear at their tables."
"People build up an enormous case about sharks and how fearsome they are and how incredibly dangerous and everything else that surrounds the folktales and the culture of how we view sharks," Mr. Doubilet said. "They get underwater and they see sharks swimming toward them, back and forth. And they look at this creature and it's incredibly sculptural. It's beautiful, elegant and fascinating. A lot of people who do it will come back."
"Some people are inherently terrified," Ms. Hayes said. "But a lot of people see them and become curious, especially if you want to learn about them. If you get to know them and understand their value in an ecosystem, and the fact that every fish on this planet is a miracle and the law of nature is so harsh."