GOUVERNEUR — In commemoration of a major milestone for young adults, most school districts across the north country are hosting pandemic-style high school graduation ceremonies this weekend.
Donning blue and white regalia, about 115 Gouverneur High School seniors accepted their diplomas during a drive-in ceremony Friday evening.
As Gouverneur schoolmates celebrated years of academic, athletic and personal accomplishments, readying for next steps, a seat was empty.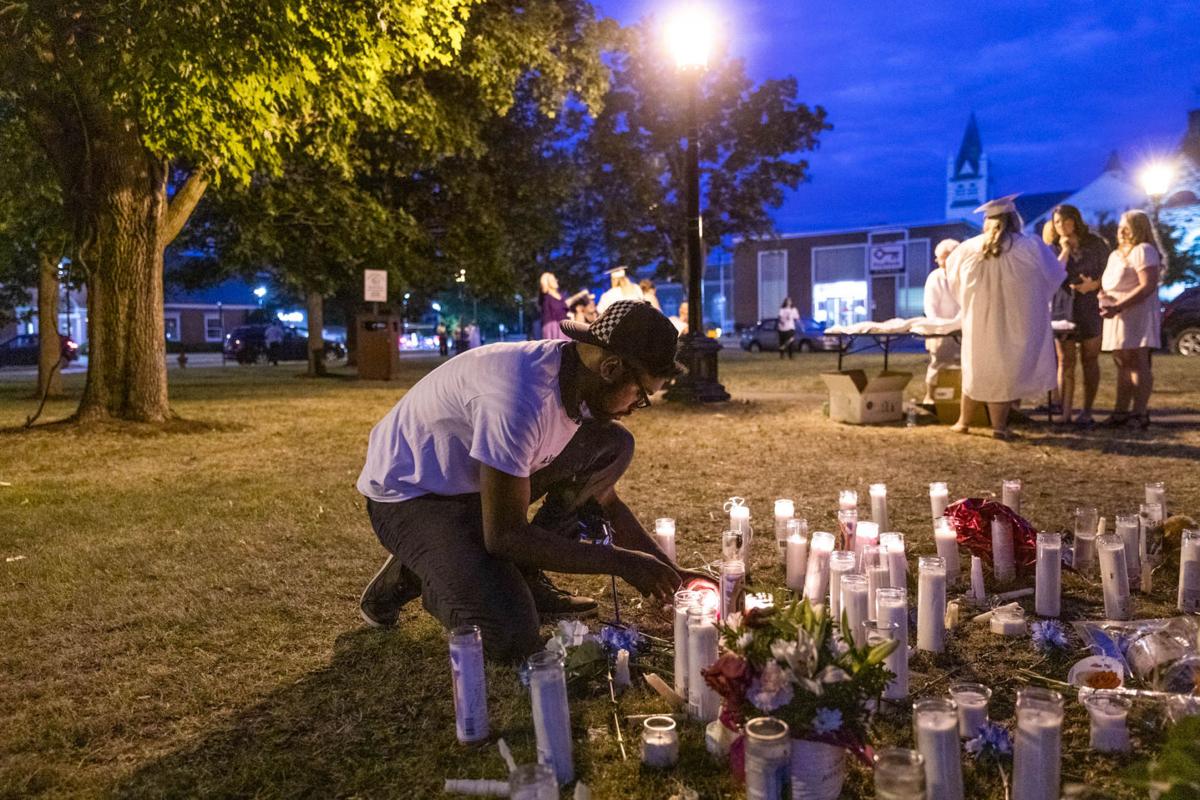 For the Class of 2020, families and the Gouverneur community, the occasion was bittersweet.
Less than a week ago, 18-year-old GHS senior Treyanna Summerville was found dead inside her Rowley Street home.
Her classmates, many of whom have been accepted into online and in-person programs across the region, convened at the village park after the ceremony. They returned to the vigil site where about 300 people gathered Monday night after community members learned of Ms. Summerville's death.
First reigniting one small flame from a vigil candle still resting in the park, classmates relit an entire ring of candles as the sun inched below the horizon.
Ms. Summerville's older stepbrother Isiah Samuels said he arrived in Gouverneur on Friday, wanting to spend time with the community that has rallied around his stepsister and is calling for justice.
Earlier this week, Mr. Samuels said he left his home in Gouverneur in 2015 after being physically and psychologically abused by his stepmother Lashanna N. Charlton, who lived at 135 Rowley St. with Mr. Samuels, Ms. Summerville and a now 13-year-old sister charged with second-degree murder in connection to Ms. Summerville's death. The homicide investigation is ongoing, and St. Lawrence County District Attorney Gary M. Pasqua on Friday afternoon said no additional information about the investigation is available at this time.
Mr. Samuels said he hoped to be allowed to take part in the ceremony in lieu of his stepsister. The Times hoped to cover the ceremony in person and photograph the graduates receiving their diplomas as part of its regional photographic coverage of several ceremonies set to print this weekend.
Access to the ceremony area was denied.
There is no statute currently in place that would allow the barring of press from an event based on pandemic-style regulations, according to the Reporters Committee for Freedom of the Press.
"Emergency responses like 'shelter-in-place' orders or other forms of social distancing are decisions made by state and local governments. In California, for instance, Gov. Gavin Newsom has broad emergency authorities, but the seven Bay Area counties issued their own shelter-in-place orders. Those orders all classify newspapers, television, radio, and other media services as 'essential businesses,' which are exempt from the restrictions but are still strongly urged to comply with social distancing measures such as working six feet apart," the committee's website reads.
Gov. Andrew M. Cuomo's New York State on PAUSE executive order, which went into effect March 22, states that all media is considered an essential business.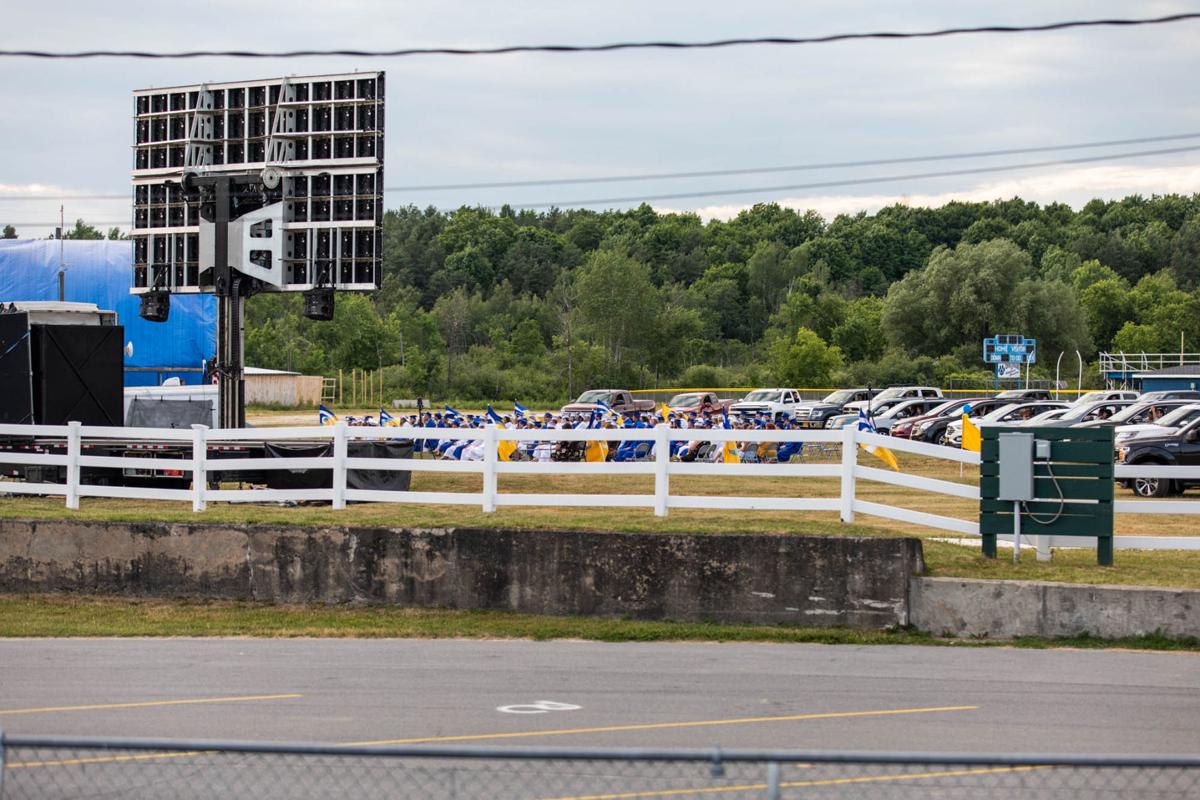 When Times reporters approached the ceremony on foot, after being directed to do so by Gouverneur police assisting with traffic direction, one of three state troopers present at the entrance to the ceremony grounds asked for ID and said he would make a phone call to check if permission would be granted for the Times to enter the ceremony area. Gouverneur School Resource Officer Robert Klimowicz was also present and phone calls were made to high school principal Cory Wood, who told the officers all media that is allowed to be inside the ceremony area is already inside. The officers reported the Gouverneur Tribune Press was covering the ceremony from inside the fenced-in ceremony area.
When Times reporters asked why they were not allowed inside the fenced-in area, but other media was, they were told the district is trying to comply with Gov. Andrew M. Cuomo's executive order mandating socially distant graduation ceremonies. On June 7, the governor announced that beginning June 26, the state will allow socially distant outdoor high school and university graduation ceremonies of up to 150 people including all students, guests, teachers, administrators and staff, according to guidelines updated June 14 by the state Department of Health.
From what Times reporters observed, roughly 15 rows of cars were parked on the field behind chairs where more than 100 students and a few dozen faculty and staff sat.
After conveying Mr. Wood's message to the Times, state police public information officers were contacted. Sgt. Dustin Anderson, a state police officer on duty in the county, responded to a phone call inquiring about media being barred from the ceremony. Sgt. Anderson confirmed the decision was that of Mr. Wood, adding that state troopers were present at the graduation at the request of the Gouverneur Police Department.
Gouverneur PD has not responded to any of the Times' phone or email requests this week for information related to Ms. Summerville and the alleged abuse and distress caused by Mrs. Charlton, as corroborated by multiple classmates and community members this week.
In a handwritten letter she shared with the Times this week, senior Alexis Stevens wrote the following:
"I knew Trey was hurting. Our class has tried multiple times to get Trey peace. This was not the peace we wanted for her. Her story was not supposed to end here."
Both the Times and WWNY-TV were told their reporters were not allowed to walk beyond a grassy corner at the edge of a fenced-in parking lot, roughly 100 to 200 yards from the graduation stage.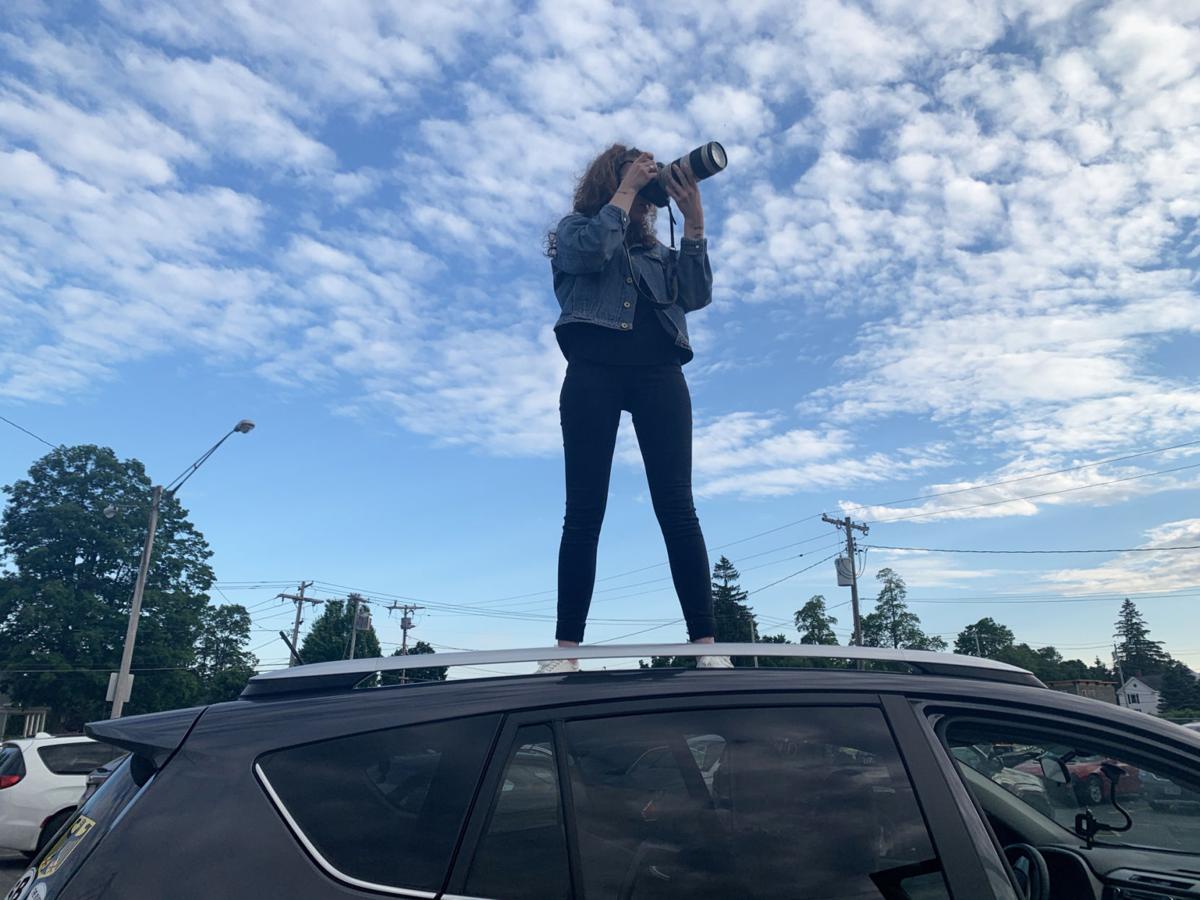 Unable to create a useable photo from eye level, a Times photographer drove her car from in front of the school to the parking lot next to the field where the graduation ceremony was held. She proceeded to climb onto the roof of her car in order to capture the image seen inside Saturday's print edition of the Times.
On Thursday, the Times emailed Gouverneur Central School District Superintendent Lauren French asking to speak with her about Ms. Summerville and inquiring about whether any tribute to her would be incorporated in Friday's ceremony. A phone message to the district office mid-day Thursday inquired, too.
A Facebook message sent to the GCSD official page at 4:37 p.m. Thursday asking about how the Times should enter the ceremony area to cover graduation was seen at 11:43 p.m. The Times has not received any responses, by phone, email or Facebook messenger from the district. No responses to phone inquiries about Ms. Summerville have been received from the high school principal's office or guidance office.
At the beginning of the ceremony, which the Times could see in full after the district's Facebook Live stream had ended, Ms. French offered brief remarks about Ms. Summerville, as did Gouverneur school board president David Fenlong.
"Celebrating graduation does not minimize how much some of you loved Trey," Ms. French told graduates. "You should not feel guilty for celebrating anything, you have spent years getting to this point."
Organized by students and community members, the walk from the ceremony behind the high school to the village park was an important part of the evening. Classmates also asked to meet with Ms. French and Mr. Wood this week to discuss how Ms. Summerville could be celebrated at graduation with them. The student "committee," as Ms. French described it, decided to select a quote and a photograph of Ms. Summerville for a program insert. Students who shared pizza in the park said many programs did not include the insert. The program the Times asked for did not.
A friend of Ms. Summerville's shared an insert she had, with unattributed quotes that read:
"You taught me the courage of stars, before you left. How light carries on endlessly, even after death. She was always so vibrant and happy with us, now that she's gone I want to honestly remember that the courage she went through to shine so bright when her days were secretly dark."