PHILADELPHIA — Days after the Indian River community was rocked by the devastating news that it had lost two of its own, family members, students, staff and more gathered together Thursday evening to remember the young lives that ended far too soon.
A Celebration of Life event for 17-year-old Lexie M. Morgan and 16-year-old Gabriel M. Otero, who were found ejected from the backseat of a Cadillac that struck a tree early Tuesday morning and pronounced dead at the scene, was held from 5:30 until 7:30 p.m. in both the Indian River high school's theater and cafeteria, with the foyer between the two spaces acting as a gathering area for attendees.
"The power of love in this Indian River community is impressive," said Brian Moore, principal of Indian River, as he addressed the gathered crowd in the school's theater. "Ladies and gentlemen, tonight there will be sadness and tears, but later, perhaps, there might be just a few smiles and a little bit of laughter as we share stories and celebrate the lives of two outstanding young people."
In the theater, long, white banners stood on either side of the podium on stage, one that read "In Loving Memory of Gabriel Otero" and the other "In Loving Memory of Lexie Morgan." Both were filled with messages of love and sadness, written in colorful markers.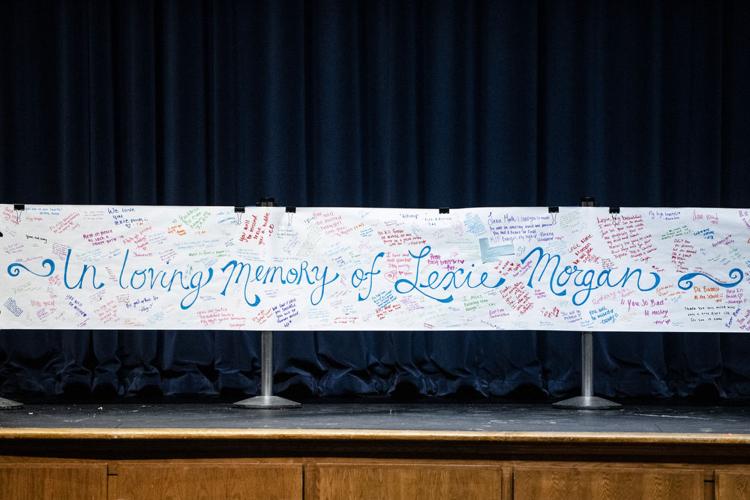 Following the opening remarks from Mr. Moore, Pastor Kirk Gilchrist of New Life Christian Church offered his condolences to family members and others who loved the two students, and joined the theater in prayer by having those in the seats join hands and connect with one another — a physical reminder of the strong connections the community members have to one another.
Thursday's event was organized by Tammi Dindl, president of the Indian River Pop Warner Cheerleading Association, who said the late Miss Morgan was like another daughter to her.
"It's so great to see all these guys come out together because when one of us is hurting, the whole community is hurting," she said.
Originally, the event was scheduled to take place at the Philadelphia Fire Hall, but due to the outpouring of love and support from the Indian River community and beyond, it became clear that a larger venue was needed. The location was changed to the high school to accommodate more guests.
"It is through each other that we gain immeasurable strength," Mr. Moore said. "This mutual strength we will need for the days to come."
Attendees brought dishes to place in the cafeteria for a group meal after the formal portion of the event had ended and tables were set up outside for donations for the students' families, with both monetary and food donations accepted. Blue and white T-shirts and bracelets with the messages "Warrior Strong" and "Warriors Bleed Blue," respectively, were being sold to guests, with portions of the proceeds going to the families of the crash victims.
Those in attendance also had the opportunity to make cards and banners for both families, sharing photos, memories and messages of strength and support. The walls around the school cafeteria were plastered with signs of remembrance and the smiling faces of Gabe and Lexie.
In the foyer outside of the theater, Indian River community members gathered around hugging, crying and talking — interacting with one another and uniting in their grief.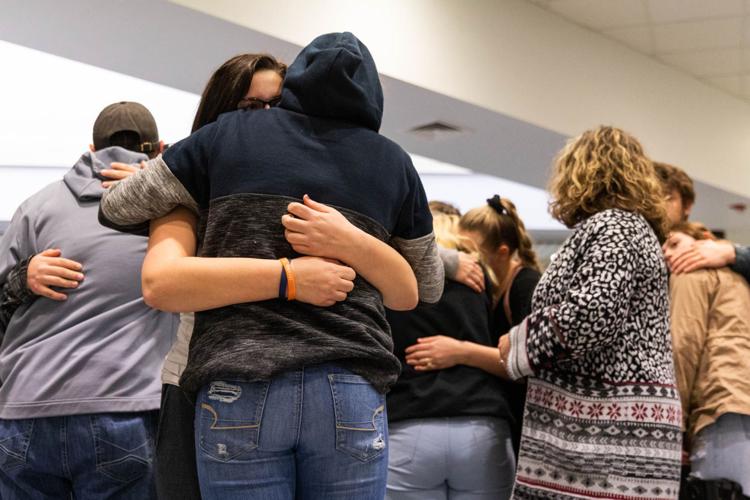 A meal sign-up table to support the families of both Lexie and Gabe was also set up in an effort to lift some of the burden off the shoulders of those hit hardest by the sudden losses.
According to Mrs. Dindl, Lexie was a big role model to the younger cheerleaders, and she was training her to become a coach one day.
"She was a fun, outgoing girl, she had a major impact on these girls," she said. "She's really going to be missed, she was a big inspiration here."
Her daughter, Alexa Solar, met Lexie in the fourth grade and said she was like a sister to her.
"We argued a lot like sisters, but then we'd always make up because we were best friends," she said. "She was one of the kindest people I ever knew, she was hilarious and had the sassiest attitude of anyone."
Because the two were so close, their families often went on trips together, and Miss Solar said she remembered messing around with Lexie on the plane to Disney World once, which led to their parents yelling at them to settle down — a memory that briefly brought a smile to her face.
Sophomore Abigael Foster said she met Gabe last year over the summer, and they quickly became best friends.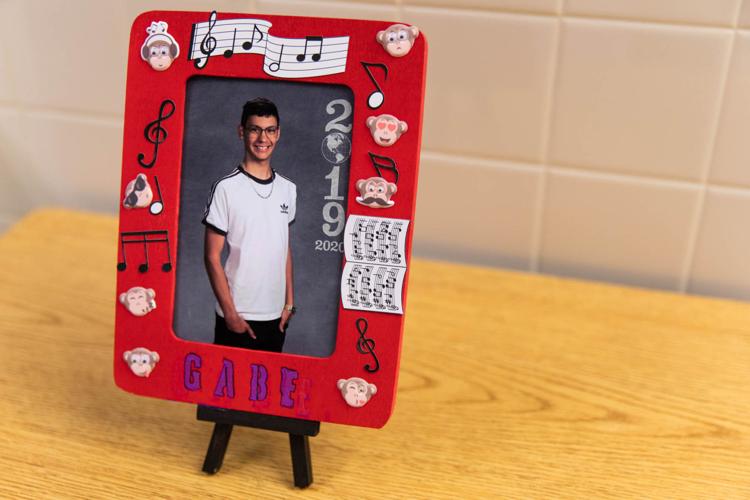 "He was very goofy, he always had funny faces he would make," she said with a smile. "He was always very caring."
One of the memories that stuck out to her was when they went to the beach and Gabe was so cold in the water that he kept leaving. She remembered that as they were swimming at the lake, he was scared of the water because he thought something was going to grab his feet — the image making her smile despite the tears forming in her eyes.
Fredlan Reyes, a junior at the school, knew both Gabe and Lexie well, and said the two shared many similar traits, which was what brought the two together. He remembers them both as being very compassionate and having beautiful smiles.
Having known Lexie since the eighth grade, Mr. Reyes met Gabe when he started at the high school.
"As far as I can remember he was a very happy person, always had a smile on his face, he was very charismatic," he said. "The day before we had third period together and we sat in the library and I remember the teachers telling us to quiet down because we were the loudest people in there."
His favorite memory of the couple was when he was dog-sitting for his aunt in Miami over the Thanksgiving break. When he told Gabe that he was the only person there and the house was creepy, the two, who were already together, FaceTimed him and stayed on the phone for three hours to keep him company.
"I want people to remember them as people who cared not only for themselves, but more for others," Mr. Reyes said. "They lived as if they never lived before, they loved as if they had never loved anybody before, they were all about the current moment in time and knew how to interact with people in a genuine way."