WATERTOWN — As Pomp and Circumstance slowly grew louder, Jefferson Community College student Sarah Wilder cracked a smile as she linked arms with her mother, JCC professor Irene Wilder. Wearing black caps and gowns and donning regalia, the two processed down the middle of their Copenhagen living room Friday evening, toward the television broadcasting JCC's 56th annual commencement ceremony.
How do you feel about virtual graduation ceremonies?
Her mother — an assistant professor of business studies — took the place of a classmate. A classmate Sarah would've walked down the aisle with inside the school's gymnasium to receive her associates degree in business administration had it been any time but now.
Sarah is one of more than 300 students who tuned in for the college's first-ever virtual gradation ceremony.
Friday's ceremony was the first of many local graduations since the coronavirus pandemic shut down public gatherings.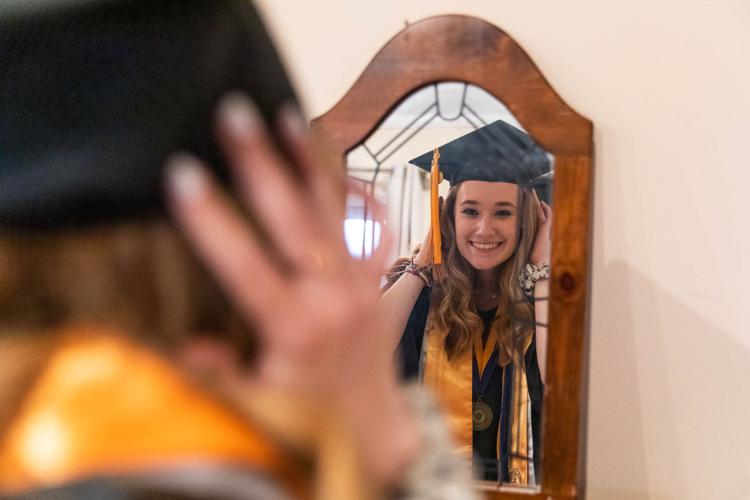 "A virtual ceremony is not what we imagined when we began the spring semester in January," JCC President Ty A. Stone said to students who were watching, one of whom was her son, Nelson. "While I had planned to shake each of your hands as you walked proudly across the stage, this unprecedented time in our history has forced the college to recognize your achievements in a different way."
Five faculty and staff and two students were recognized for SUNY Chancellor's Award honors. Two students were recognized for Phi Theta Kappa All-New York Academic Honors, 24 of the participating students are members of JCC's Tau Xi Chapter of Phi Theta Kappa Honor Society, five participated in JCC's Honors Program and two students graduating from partner SUNY Potsdam also participated.
About 323 students were candidates for May and August graduation, with 10 students receiving two degrees or certificates, bringing the total of certificates and degrees awarded to 333. About 40 percent of the graduating Class of 2020 were military related.
Jonathan Brown, 28, a Missouri native and an Army veteran celebrated an associate in science degree in individual studies. He was student commencement speaker.
"When we face challenging times, we learn a lot about ourselves. For anyone who has ever gone on a difficult hike, I'm sure this will sound familiar," he said. "At some point in life, all we can do is look down and take our next step forward, and at other times, this step may be backwards. We are going to fail, there is no way around this fact of life. In the last few semesters, each and every one of us have made a choice to pursue a degree, a degree that may be used to get into the job that is waiting for us after this, a degree that is acting as a stepping stone to another degree, or, a degree that we have wanted since we were a child so we could be the first college graduate in our family."
While at JCC, Mr. Brown served as vice president of student government. He represented the college at the annual SUNY Assembly meeting held in Albany. He also worked in the college's Veterans Services office and assisted peers with applying for VA benefits.
Earning a 4.0 GPA, he was named to the president's list and is a member of the college's Tau Xi Chapter of Phi Theta Kappa Honor Society and National Society of Leadership and Success. He plans to transfer to SUNY Oswego in the fall to pursue a bachelor's degree in media and business management.
"Not all of us here will face a difficult road ahead," Mr. Brown said. "Some of us will set off with our path already set, some of us are looking to make an impact in our own world, wherever that is, and some of us are just happy that they were able to get to this point. We all have a reason to be proud today regardless of how easy or hard this was for us because whatever is next for us is now one step closer than it was, and that is something to be proud of."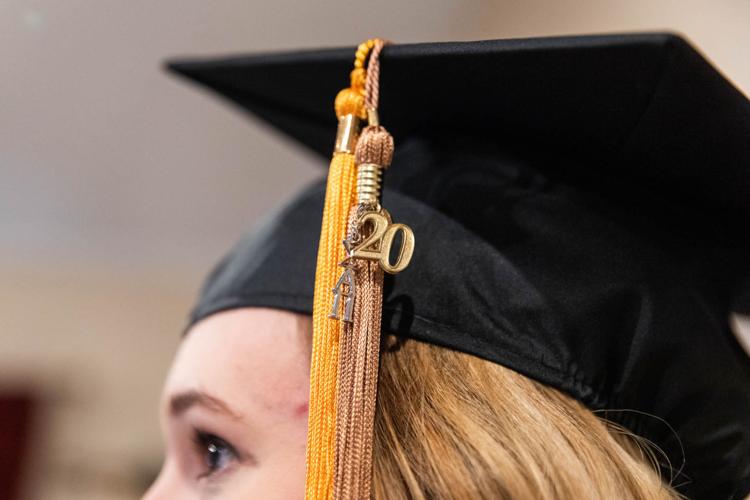 Ms. Wilder, 19, graduated with an associate in science degree in business administration. She was recognized for receiving a SUNY Chancellor's Award for Student Excellence. Last fall, she was one of the first JCC students to study abroad, spending time in Porto, Portugal to study the effects of climate change on grapes used for winemaking.
"It's very bittersweet because the years went by fast, but I'm excited for the next few years to come," she said. "It's sad we have to have a virtual graduation, but it is what it is, we could not help what has happened. I'm still happy the college is recognizing us."
Students Cara Aguirre, of Theresa, and Rebekah Widrick, of Lowville, who also received a SUNY Chancellor's Award for Student Excellence, received Phi Theta Kappa All New York Academic Team awards. To be chosen for the Phi Theta Kappa All-New York Academic Team, students must hold a minimum GPA of 3.25 and have a history of scholarly achievement. In addition to academic achievement, candidates are also evaluated on their leadership and community service involvement.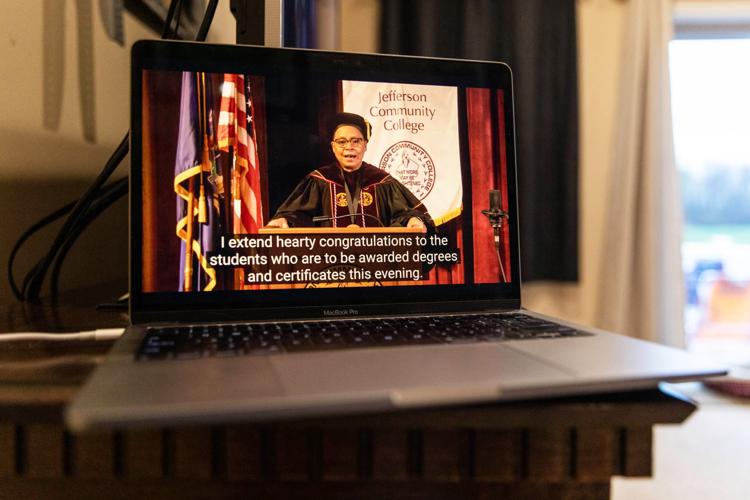 Mrs. Aguirre, 35, received her associate in science degree in business administration. She anticipates graduating from JCC with her associate in applied science degree in accounting in the fall. A member of the Phi Theta Kappa All NY Academic Team, she already holds an associate degree in hospitality and tourism in winery management and marketing from JCC.
Before the college shut down, Mrs. Aguirre was working part-time advising. After she moved to the area with her husband, who is in the Army, she started working in hospitality and wine at Coyote Moon because she and her husband want to open a vineyard. Though her husband is now deployed, Mrs. Aguirre tuned in with her two sons Friday evening.
"This is my second degree so I have walked the stage prior, but knowing that I don't get to shake the president's hand is a bummer," she said. "I've enjoyed the professors; they're really focused on student orientation and they genuinely just care about us."
Jessica Riley, 38, graduated with her certificate and associate degree in early childhood.
Choosing to earn her degree at JCC to advance her career, she had been working at the Child Development Center at Fort Drum and earned college credit for her work experience. She said she chose JCC because of the flexibility of the schedule between online, face to face, and short term classes.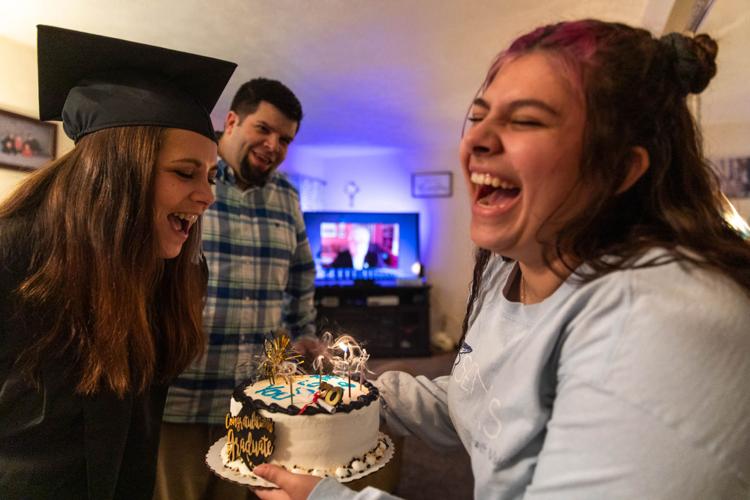 "At my age I was like, 'alright I'm gonna do this and I need to be done by this spring, so JCC allowed me to get in all the classes I needed in a short amount of time to get it all done," she said. "It's like now or never, let's get it done. The flexibility is amazing, I wouldn't have been able to get this done with a different college."
Mrs. Riley said she plans to transfer and continue her education with a bachelors from SUNY Potsdam, though she is taking a few months to catch her breath and spend time with her kids first, intending to start in the spring of 2021. One of her kids is a current senior in high school who will attend JCC in the fall.
While she said there's a small part of her that's disappointed she won't be able to walk the stage and receive her degree because it has taken her so long to accomplish, she mainly feels relieved that she finished her degree since she was worried that the campus shutdown would affect her ability to complete courses and maintain grades.