POTSDAM — Potsdam High School's Positivity Club is set to become the model for the Positivity Project, or P2, nationwide.
On Wednesday, members of the club were filmed delivering groceries to residents of Mayfield Senior Apartments, as part of the club's food market program, so that high schools around the country can learn from their success.
"The Positivity Project started nationally in 2015 with one partner school, and now we partner with over 725 schools across the country," said Jeff Bryan, executive director and co-founder of P2. "But what Potsdam is doing is really unique."
He said that although Potsdam High School is part of the P2 national chapter, it has spearheaded the food market and other community programs like blood drives all on its own.
The P2 Food Market run by the high school Positivity Club helps provide food to students and community members in need. It runs all year and is open to everyone. In addition to eliminating hunger, one of the program's goals is to help eliminate the stigma surrounding hunger by providing food anonymously.
"Because they're becoming a national model, what we want to do today is tell the story of what they're doing, and they're going to do a webinar with high schools across the country in the coming months to show them what they're doing," Mr. Bryan said.
He said the footage, gathered by Doomsday Entertainment, will be used to create a 5- to 10-minute video demonstrating how the students at Potsdam are leading.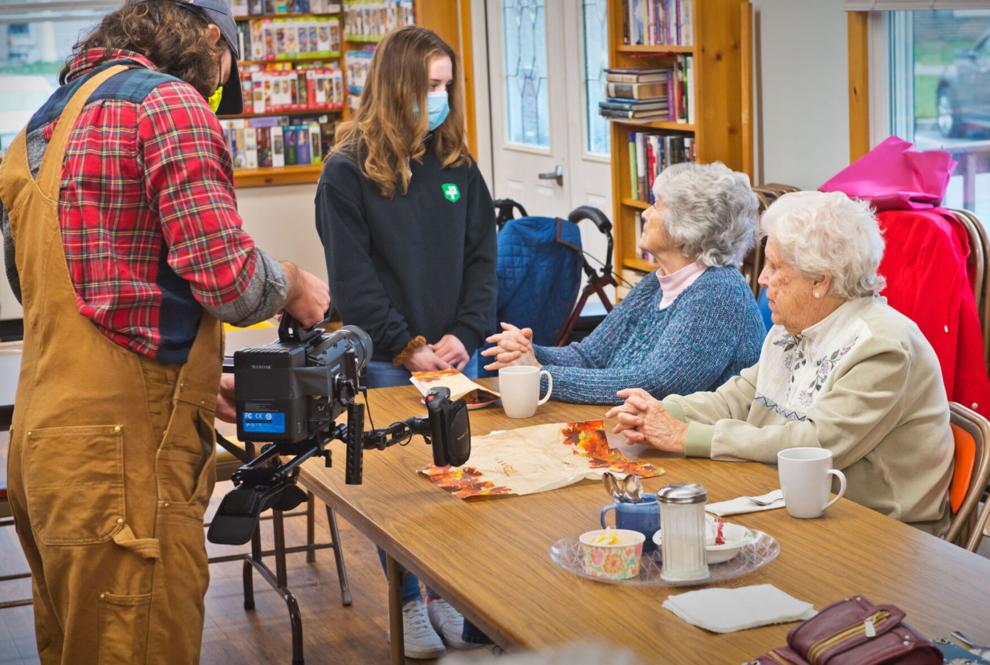 "Our mission through P2 is to empower America's youth and build positive relationships," Mr. Bryan said. "What these students have done is taken this and just ran away with it. They built stuff they saw their high school and larger community needed."
"This way," he said, "they can teach other high schools how to start their own positivity clubs."
At Mayfield, the students were focused on delivering food and groceries to those in need.
"We want to make sure they are enjoying our program and that it's running as efficiently as possible and see what they're feedback is," said student Johannes Richter, who is market manager of the Positivity Club alongside student Kaylee Green. "We wanted to come here to help them get what they need, and we wanted to give them the opportunity to help themselves."
The residents appeared happy with the food program and to see all the kids.
"It's really great to have the Positivity Club here, and it's good for all of us older people to mingle with some of the younger people," Mayfield resident Felicitas Baxter said. "They're bringing good ideas to us, and I'm sure a lot of people will be taking advantage of it. I know I have."
Teaching assistant and Positivity Club faculty adviser Dan Davis reflected on the coming together of old and young.
"The program here at Mayfield gives us the opportunity to tie two generations together," he said. "It gives us the opportunity to bring high school students to meet a generation that has themselves in a position in life where they sometimes get forgotten and basic needs don't get met."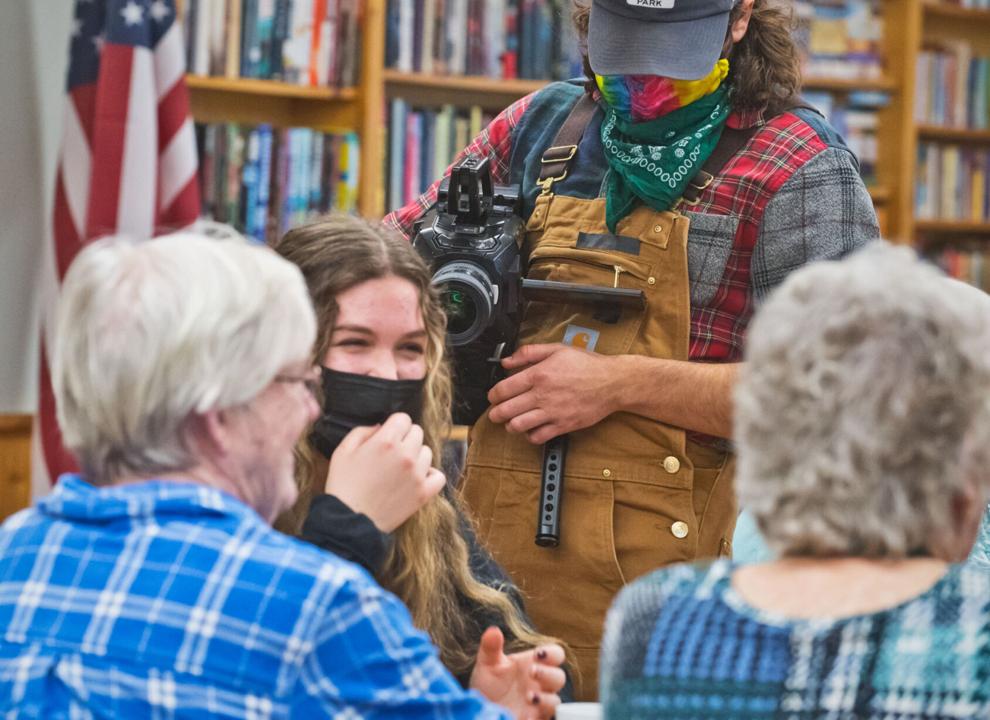 Mr. Davis explained how the older adults can order groceries on a weekly basis using an iPad that the club donated to the residents of Mayfield and Midtown apartments.
"They order the food, and the students in their free time pack the groceries," he said. "We're processing nearly 50 orders per week, so you're talking more than 100 bags of groceries."
Mr. Davis emphasized how the food market has only existed for eight months, and began with a $500 donation.
"We are now serving this many people, and we've raised over $30,000," Mr. Davis said. "And we're not done yet, are we?" he asked the students around him.
They all shook their heads in unison: "No!"