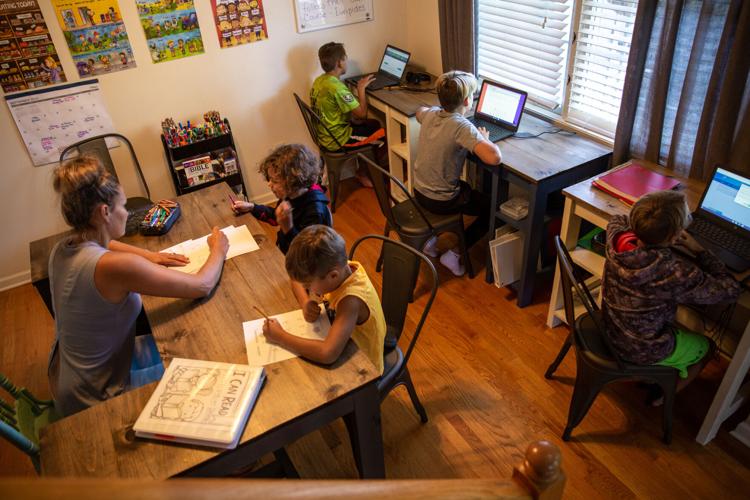 WATERTOWN — On the brink of the new school year, every parent of school-aged children is being put to the test.
In mid-March, the unthinkable happened: schools across the state closed, and last month, nearly six months later, Gov. Andrew M. Cuomo said schools can reopen in the fall for in-person instruction.
With that announcement, parents across the state were faced with one of the most difficult decisions: should they send their children back to school?
Some are sending their kids back, while others fear the virus and are keeping their children home. Others have taken the extra step to pull their children out of traditional school altogether and start their own homeschooling programs. The COVID-19 pandemic has forced the state, school districts and parents to rethink what education looks like. Here are the stories of three north country families all taking different approaches to schooling amid the health crisis.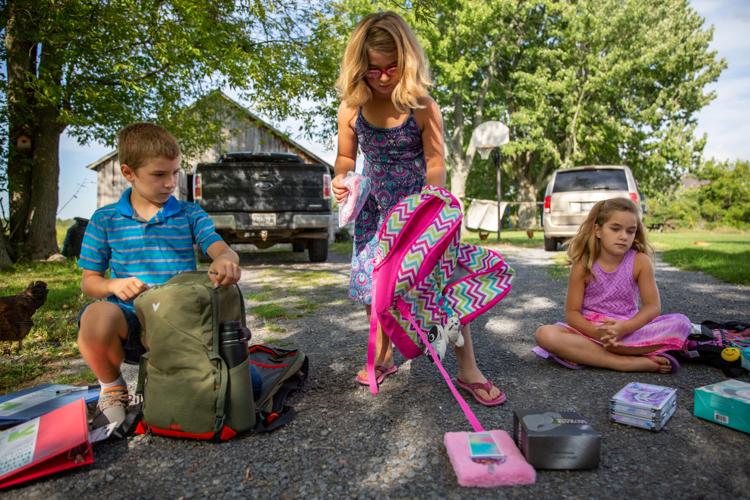 Ashley N. Mason, of Cape Vincent, was temporarily out of work in March as a licensed massage therapist at Tender Touch Massage Therapy, Watertown, when her children's school district, Thousand Islands School District, closed. That's when she, like many other parents, got a first-hand lesson on remote learning.
Even without the distraction of her regular job, it wasn't easy.
Though she said it went well, she believes her kids, Parker J. Mason, 11; Avery E. Mason, 8; and Lila J. Mason, 8, will be more successful with in-person guidance from their professional teachers rather than if she were to try and figure out what they needed to do.
"For instance, their math is completely different than what I learned," Mrs. Mason said. "It was kind of a big learning curve for me."
While Mrs. Mason has always liked the idea of homeschooling, she said traditional school fits her family's needs better — even if it's during a pandemic.
"I think anybody who's not a little bit worried is maybe a little remiss in that thought, but the kids are gonna have to be starting to be exposed to other people at some point," she said.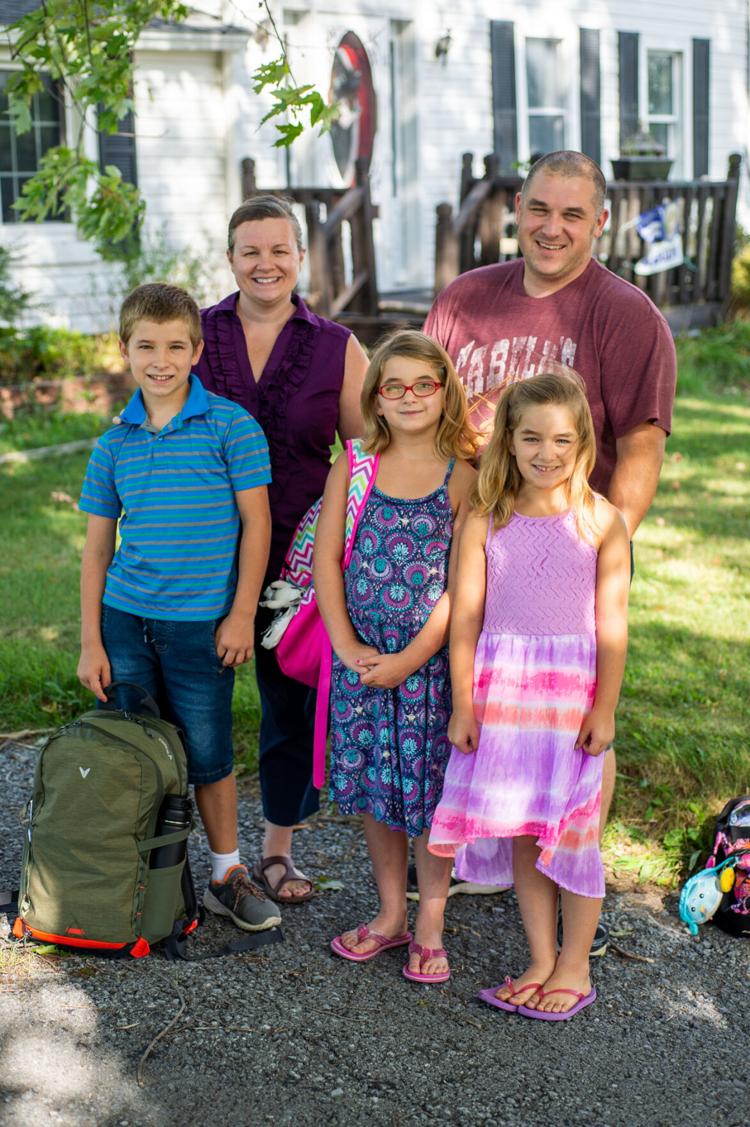 Mrs. Mason wants her children to have access to the extra services they need. For instance, both of her daughters go to a reading teacher.
She said there's a different dynamic when mom and dad step in to become the teachers.
"Being in a traditional school setting where they're actually learning something, I think that's at least something worthwhile as far as a risk," she said.
A mother who is no stranger to stepping in as teacher is Christin A. Streif of Sackets Harbor. She and her husband Maj. Russell M. Streif, have decided to homeschool their five children.
For them, the challenge of virtual learning through the public school system was not an attractive option. Mr. and Mrs. Streif wanted more control over their children's curriculum as well as their academic schedule.
"With the uncertainty of how the school year was gonna look and with five kids trying to do distance learning for five different teachers, it just seemed like a better fit for our family to pick out a curriculum that worked best for us and what was best suited for my kids," she said.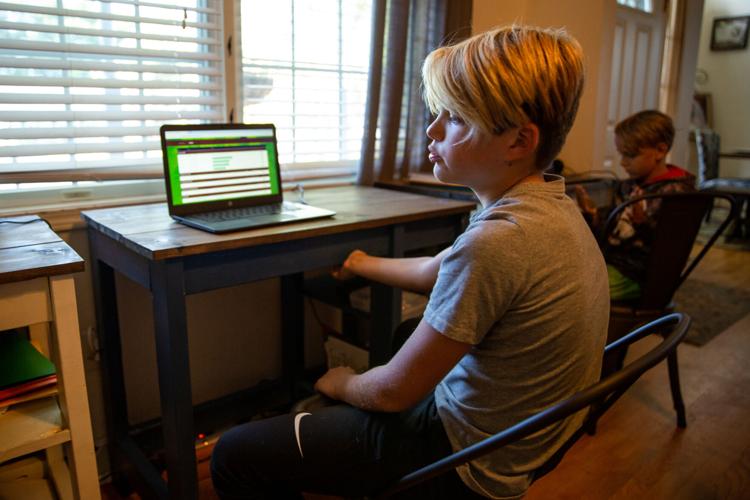 Formerly a nurse, Mrs. Streif worked as a substitute at Sackets Harbor Central School last year. This year, she will instruct her children: Graham J. Streif, 11; Anthony M. Streif, 10; Jameson F. Streif, 9; Shepard G. Streif, 7; and Lincoln M. Streif, 5.
The Streif family started its school year at the beginning of August with three-hour days to work out any kinks ahead of time. Starting on Tuesday, they'll be in the thick of it with six- or seven-hour school days.
It may seem daunting to some, but the experience of helping her children learn remotely during the last school semester gave Mrs. Streif the motivation to take the leap.
"I never thought I would be able to handle homeschooling five kids until kind of being forced into distance learning in the spring," she said. "It made me realize that I could handle it, that we can make it work."
The older three have been studying language arts, math, history and science, along with studying the Bible over the past month. The younger two have mostly been working on number recognition, reading skills and letter recognition.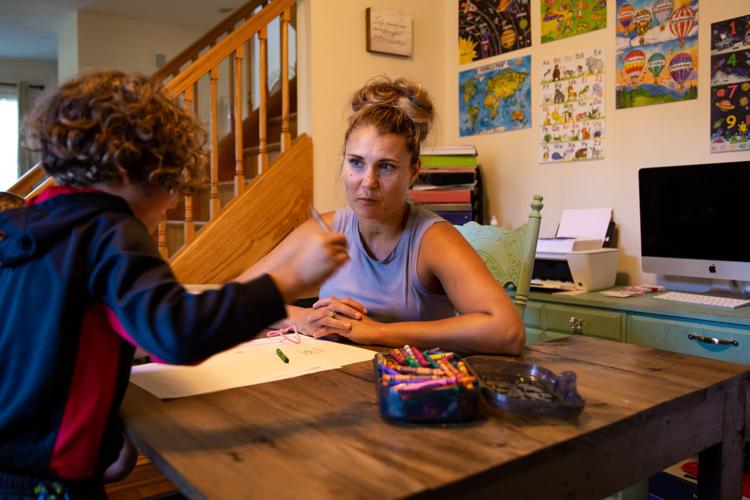 For the older kids, their curriculum is mostly online, but Mrs. Streif will be there to supplement.
"I thought that with having five of them and trying to split my time would be tough, but the older three after a few weeks really seemed to catch a hold of everything and what works best for them, how to use their resources if they need to look something up," Mrs. Streif said.
"My kids pretty much wake up, eat breakfast and get to work. ... Sometimes I'll wake up and my older ones have already woken up and started their schoolwork for the day."
Mrs. Streif researched homeschool options in late spring and early summer. One of the major pros of homeschooling for Mrs. Streif is flexibility to start their school year when its best for their family. With her husband in the military, Mrs. Streif said the family wants the freedom to take a week off during her husband's irregular periods of leave without worrying the kids are going to get behind in their schooling.
To gear up for the homeschool year, they've stocked up on printer paper, ink cartridges and have purchased laptops for their older children. Although expensive, they have saved money on school clothing. Mrs. Streif said she will allow her children the opportunity to socialize with their peers through sports and other activities.
"I'd say the biggest challenge is just myself having patience with them all and understanding that they're all at different levels," she said.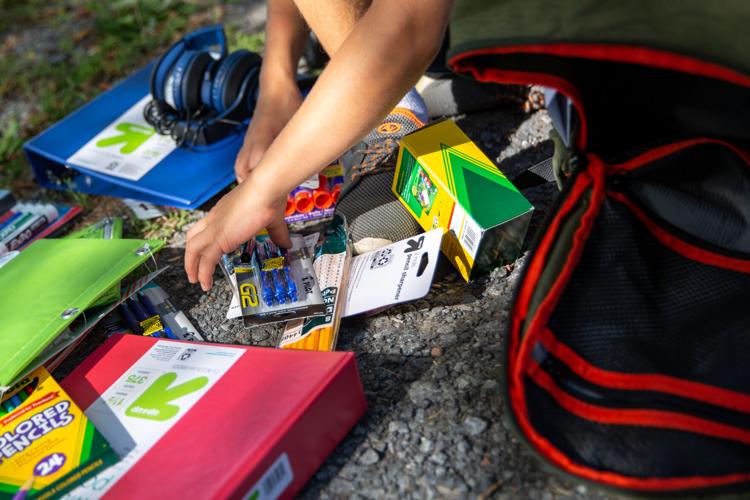 In Watertown, Jennifer L. Pastor and Mark M. Pastor felt fortunate they could allow their children to attend school remotely this year instead of in person.
"We have a lot of family members who are more susceptible to illnesses, and we just didn't want any chance of the children going to school, picking something up and bringing it home," Ms. Pastor said.
Their three children — Camryn G. Pastor, 14; Caden M. Pastor, 12; and London J. Pastor, 7 — will join hundreds of students in the Watertown City School District for online-only instruction. In this district, parents may also choose to send their children to school twice a week, with remote learning the other three days.
Keeping their kids home may not have been an easy choice, but it was the right one for their family, Ms. Pastor said.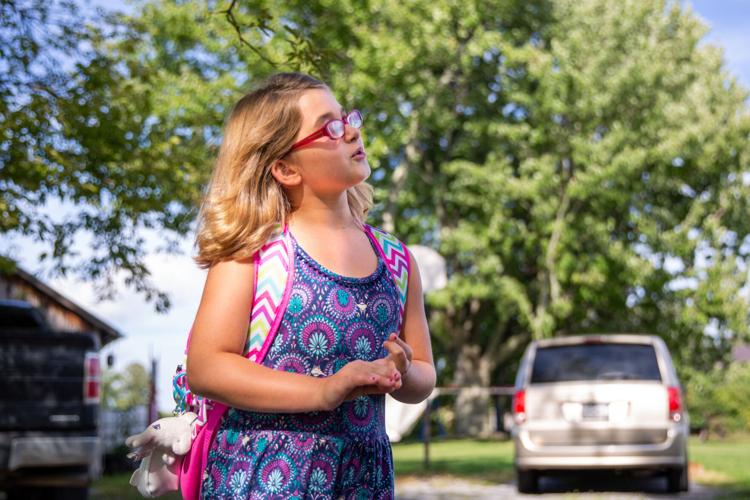 "For the time being, our family's safest bet was just to sit back, kind of see what happens over the months that are coming," she said. "Cold weather is coming, and we want to see what that brings before we just kind of play roulette with the health of our children."
In March, when they began remote learning, Ms. Pastor, along with Mr. Pastor, worked full-time and it was tough to keep the kids on top of assignments. Some days were easier than others, but the family got through it.
Mr. and Ms. Pastor live just one block apart, so the kids can easily go back and forth. They also feel fortunate to take advantage of the district's Chromebook distribution, which provides a computer for each child.
Still, there will be challenges ahead.
"Here in the area, our internet provider can be very spotty sometimes, and with the job loss I worry if I can afford to keep the internet on or if I'm going to lose my power, and if I do, how will that affect the kids' education?" Ms. Pastor said.
One obstacle she expects to face: "There's definitely going to be some motivational challenges," she said.
All three of her children are very social, Camryn and Caden play sports and have large groups of friends, and London is described by his mom as "Ms. Social Butterfly."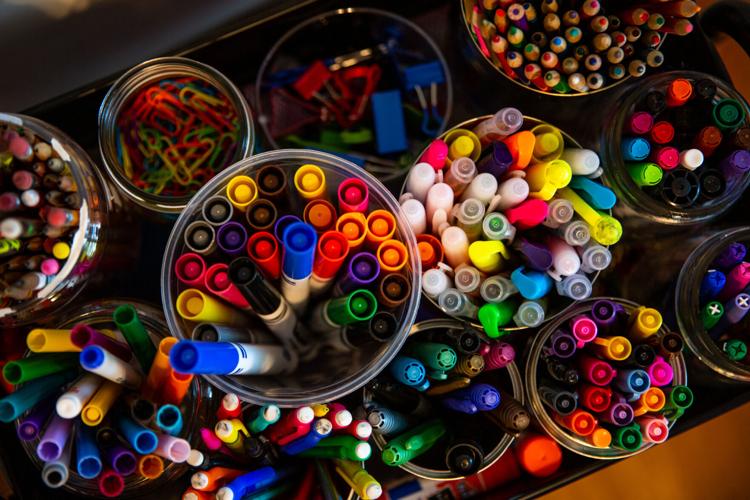 Because of this, Ms. Pastor thinks the biggest challenge ahead will be the mental and social health of her kids. Even with her children at home, Ms. Pastor worries about their wellbeing.
"I think my biggest fear is that this whole thing could fall completely apart. I don't want the kids to suffer education-wise," she said.
Their family, like so many others, will forge ahead on an uncharted path, encountering challenges and figuring out solutions as they go.
"We're all doing the very best we can, certainly our generation has never experienced anything like this," Ms. Pastor said. "I hope that everyone just works together to get these kids the best education that they can during these times."