CANTON — With its final graduation ceremony Thursday evening, St. Mary's School has said farewell.
Farewell to its 52 students and the educators who have mentored them, farewell after a 90-year history.
In a special, pandemic-style drive-in event, a first and simultaneously an emotional last, the nursery-through-sixth-grade elementary school honored the students' adaptability to remote learning and their continued commitment to faith, kindness and compassion.
"I want you to think of this celebration as a beginning," Vice Principal Terry Feuka told families in a few dozen cars parked in the school and parish's side parking lot.
St. Mary's School, Canton, celebrates its final graduates. After 90 years, the school will close this month, students will transition to new districts and teachers will pack up their classrooms for good. The special drive-in event is a first, while also being an emotional last. pic.twitter.com/VQiNvsP5jy

— NNY360 & Watertown Daily Times (@wdtnews) June 18, 2020
Speaking from a small platform set among the playground apparatus and disarrayed bark, Mrs. Feuka faced the parked vehicles and said St. Mary's students and teachers should always take pride in their work and in knowing they helped foster a nearly century-old legacy.
"Life is not just about reading, writing and arithmetic," she said. "The teachers at St. Mary's, the family of St. Mary's, the St. Mary's of 90 years, have always believed that life is about a little bit more."
Following a brief reflection by Father Bryan Stitt, the school's five full-time teachers each spoke, awarding special honors and offering advice to their pupils.
In November, St. Mary's Education Council voted to close the Catholic school as a result of declining enrollment and losses in revenue. The closure announcement, issued Dec. 6, came after nearly a decade of declining enrollment, according to Education Council President Dan Sweeney, who spoke to the Times in December.
After what Father Stitt described as "an incredible initiative" to increase revenue in 2018 — through increased marketing, fundraising, grant writing and the formation of the school's Parent-Teacher Organization — St. Mary's had raised enough funds to support the school for the remainder of the 2018-19 school year.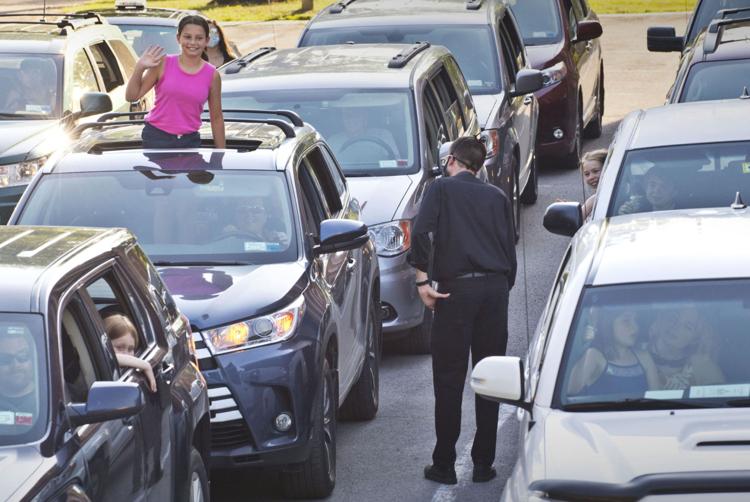 By January 2019, benchmarks had been set to outline how the school must proceed into and after the 2019-20 year, but "despite countless efforts," Father Stitt wrote in a letter to parents and parishioners, on Nov. 14, St. Mary's council unanimously recommended the school be closed in June 2020.
The decision was then finalized with Diocese of Ogdensburg Bishop Terry LaValley's approval.
With the closure, 11 of St. Mary's School employees, including its five full-time teachers, will move on from their positions at the school. For the 52 students enrolled this year — down from 78 last year, and more than 140 in the 1990s — school transfers are imminent.
Originally located farther south on Court Street, St. Mary's School opened in 1930, educating students through eighth grade, and graduated its first class — 54 students — in 1934. At the time, the students were served by the Sisters of Charity of St. Vincent de Paul of Halifax, Nova Scotia.
With growing enrollment, a new building was warranted, and in 1959, St. Mary's School began operations in its current spot, 2 Powers St., adjacent to St. Mary's Catholic Church and its rectory. By the 1960s, the school dropped its seventh- and eighth-grade classes.
While the parish will continue to maintain the school building, Father Stitt said church leaders hope to further integrate education into existing family programs, encouraging continued learning and faith exploration even without a brick-and-mortar station.
"My heart is heavy," Father Stitt said after the ceremony. "This isn't the way anyone would have wanted this to be. But there's so much love between the kids and the teachers, and such love for the faith."
Fifth- and sixth-grade teacher Marianne Augenstein will continue teaching in a fifth-grade classroom at Norwood-Norfolk Elementary this fall, but she won't be far from one of her students, who will enter sixth grade and learn just down the hall.
"This has been a wonderful season of my life," Ms. Augenstein said, adding that St. Mary's was her first teaching post almost 16 years ago. "It's overwhelming."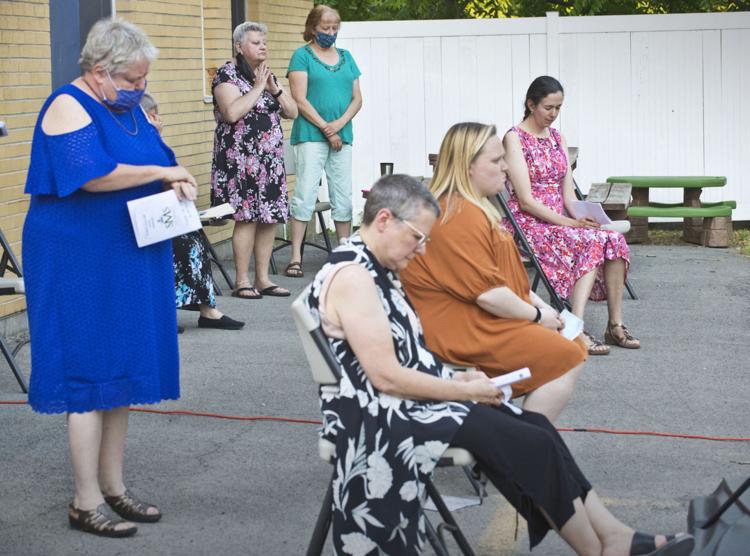 About two weeks ago, the St. Mary's teaching staff spent 10 hours over two days driving to student residences across St. Lawrence County, offering congratulations and well wishes.
"They visited every single family," Mrs. Feuka said.
As the final few vehicles pulled out of the parking lot, toting new St. Mary's alumni and gifts they received from their teachers, Father Stitt summed up the day, the year and St. Mary's closure in one word: bittersweet.
"There's so many smiles on people's faces," he said. "And there's so many tears."