POTSDAM — Minerva Plaza and the Satterlee Hall lawn, where hundreds would have gathered for SUNY Potsdam's 200th commencement ceremony this weekend, were vacant Saturday morning.
Dandelions blew over the campus' patchwork of grass and concrete as the SUNY Potsdam community, like so many college communities across the country, signed on to computers and mobile devices in a virtual graduation gathering.
Streamed online Saturday, a pre-recorded video, featuring remarks from SUNY Potsdam President Kristin G. Esterberg, Student Government Association President and graduate Kalis Nunes and Provost Bette S. Bergeron, recognized nearly 900 graduates, a mix of bachelor's and master's degree recipients.
Though the video ceremony marked the official conferring of degrees, SUNY Potsdam plans to host an in-person celebration once the COVID-19 pandemic subsides.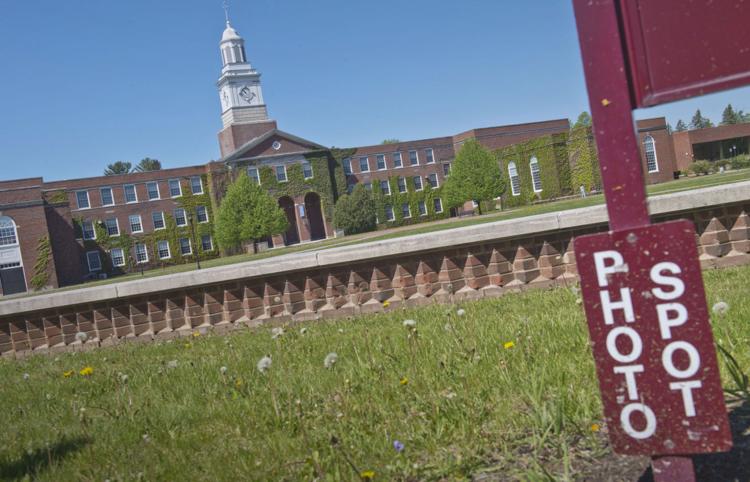 "What I want to focus on today is not our collective losses, though they are significant," Ms. Esterberg told the class of 2020. "What I want to focus on instead is your epicness, your awesomeness, in the true meaning of that word — inspiring awe. You are historic. For even amid adversity, you have found ways to carry on."
Mr. Nunes likened seeing the possibilities of the class of 2020 to having perfect 20/20 vision, telling classmates their futures "are in plain sight and in arm's reach."
"Now, I may not actually have 20/20 vision myself, and can barely read my professors' handwriting on the board, or even the words on the PowerPoint slides, but I can clearly see the vast potential you all hold," Mr. Nunes said. "I can see all of the hard work, dedication, perseverance and hunger you have for success, and I can say with confidence that this is just the tip of the iceberg of what we have in store for the world."
Most graduates, families, faculty and alumni tuned in to the ceremony remotely, but for a few Potsdam residents, Minerva Plaza and the Satterlee Hall lawn still served as this weekend's venue.
Emily Willis and Sheldon Hallock, both residents of the village and earning summa cum laude honors, sat on an outdoor classroom bench in front of Satterlee Hall shortly before playing the commencement video from a laptop. During the hour-long ceremony, 2019 alumna Samantha Dishaw, a friend of the couple, took photographs as the trio shared memories of professors, fellow classmates and campus life.
A history undergraduate major from Long Island, Mr. Hallock said he'll be continuing his studies at the University of Pennsylvania.
Originally from Toms River, N.J., Ms. Willis graduated with a bachelor's degree in archaeological studies and said she'll be moving to Boston later this summer to attend the University of Massachusetts Boston, in pursuit of a master's degree in historical archaeology. Donning a decorated cap, tassels and Potsdam gown, she walked across the platform of the outdoor classroom as her name was announced through the laptop speakers.
A few other graduates meandered through campus in the weekend's sun, pausing at favorite academic buildings and campus signs for cap-and-gown photos.
"I'm still smiling," Ms. Willis said, as she posed for photos with silver, maroon, gold and white honors cords. "You just can't see that behind the mask."