WATERTOWN — Shortly before noon on Tuesday, nine masked Watertown City School District students boarded a First Student bus outside of Harold T. Wiley Intermediate School to simulate what back to school might look like come September.
The students, ranging from third- to ninth-graders, were part of a video series shot by Mike Schanely, district AV tech, showing how students should get on and off buses, enter their respective schools, enter classrooms and behave once in classrooms.
In the classrooms themselves, things will look a bit different, with fewer desks — spread further apart — and fewer students at any given time.
"I think informing the community, parents and students of what the reality will be when they return to school may relieve some of the anxiety that parents and students are experiencing because they just don't know," said Patricia B. LaBarr, district superintendent. "It's good for students to know that when they come to school, we have safety protocols in place, and it's important for them to know what their job is going to be throughout this process as well."
Before loading onto buses and arriving at schools, students will be asked exposure questions at home each morning and have their temperatures checked, which will be logged into an app known as ParentSquare. If they answer "no" to all of the questions and they don't have a temperature 100.0 degrees or above, students will get the "green light" to attend school that day. The app will give the district the information of who was tested and who was not — the same holds true for staff — and a list will be generated for the school nurse, who will be the one taking care of anybody who did not get prescreened before coming from home.
"This is a pandemic, and now more than ever we need to ensure the trust of each other and we all need to step up to the plate," Mrs. LaBarr said of the prescreening.
Siblings Jack and Chloe Elmer, 10 and 13, respectively, were able to stand next to each other at the bus stop and sit together on the bus Tuesday due to the fact that they live in the same household. For students unaccompanied by their siblings, social distancing guidelines of six feet both at bus stops and on buses remain in effect.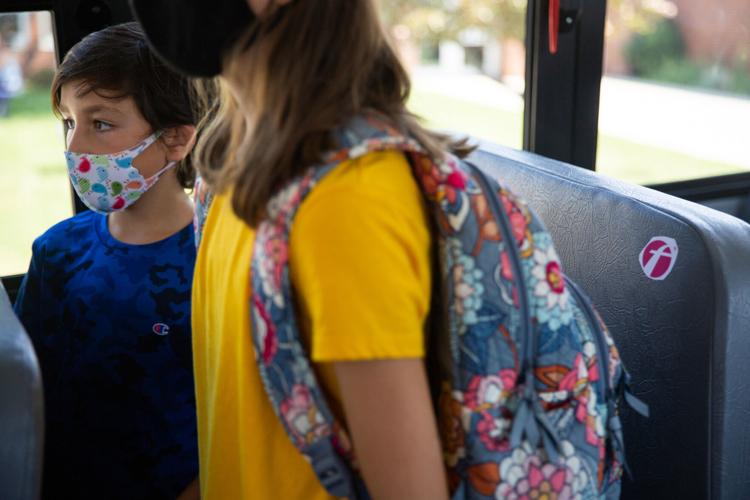 All must continue to wear masks both at stops, on buses, in the halls at school and in classrooms unless otherwise instructed.
Along with backpacks filled with textbooks, papers and pens, masks will be the newest back to school accessories; just as important, if not more so, than other items necessary for the school day. For students social distancing at their desks, they will be allowed mask breaks, but asked to put their masks back on when getting up.
"I think the videos originated with the idea that here we are going back to school, we can't do our typical open house activities, and yet the connections of the school to families is so important, because this definitely doesn't work unless we're all in it together," said Lisa Blank, director of STEM programming for the district. "I think a lot of parents are scared, so we're trying to make sure they know that we're very serious about following all the protocols that have been set forth."
Tara Elmer, technology integration specialist for the district as well as the mother of Jack and Chloe, said she believes it's important for the kids to come back to school and not be scared and to feel like they are doing things the right way.
"I have a really healthy family, my kids don't have any conditions that I worry about and my husband and I don't either," Mrs. Elmer said. "I do understand families that have underlying conditions though. I get it, I would be scared too."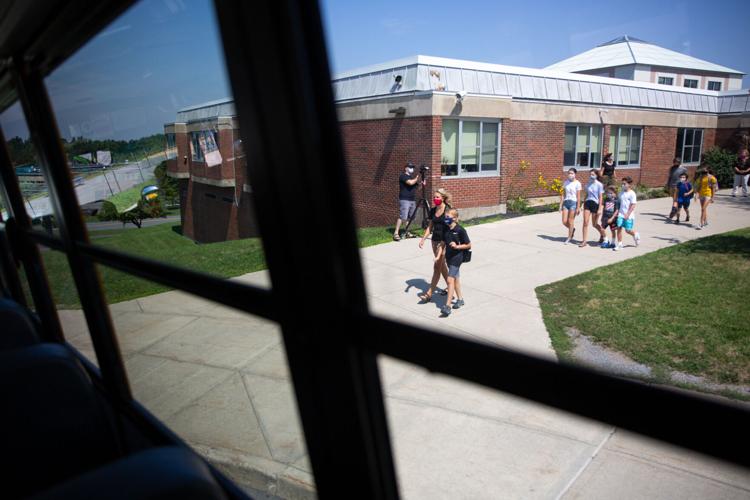 For those who are nervous to send their children back because of the many shared surfaces in schools, deep cleaning of schools will take place each day, according to Mrs. LaBarr.
Jack Elmer, a rising fifth-grader, said he is not nervous about returning to school after helping with the video and learning new health and safety protocols.
"I'm really looking forward to going back to school because I want to go see my friends and my teachers, it's been forever since I've been there," he said. "I would rather go back to school full-time instead of part-time."
Jack's sister Chloe, a rising eighth-grader, echoed her brothers thoughts about not being nervous to return to school and is eagerly looking forward to when sports can start up again as she plays lacrosse, basketball and soccer.
Due to the size of the district and the fact that there is no "one size fits all" model to deal with reopening in the COVID-19 era, the district is offering remote-only commitments for families wishing to have their students learn remotely without coming to the schools. So far, over 700 students have been signed up for remote learning.
Because of the amount of families signing their kids up, the district is extending the deadline to Friday to sign up, and according to Mrs. LaBarr, the district will be able to offer remote-only teachers for those committed to remote learning. For those on the hybrid learning plan — utilizing both in classroom and remote learning — there will be a bigger act to balance, Mrs. LaBarr said.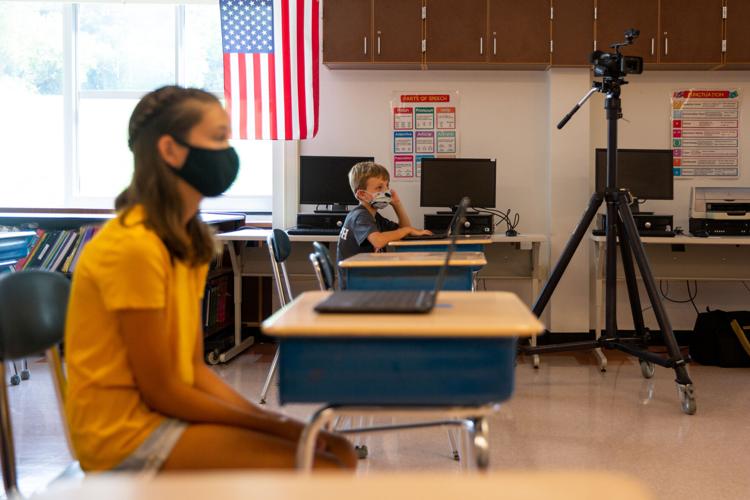 "The district has done some professional development over the summer and will continue to train staff, do professional development, and work with our families because we have to balance that," she said. "It has to be equitable whether you're in person, whether you're on that hybrid approach part of the time, or whether you're remote."
For almost every primary school, there will be one remote teacher per grade level, with the exception of Starbuck Elementary School because Starbuck is a small school, Mrs. LaBarr said, and those students signed up for remote learning will most likely be paired with students from North Elementary School for remote learning.
In a further effort to get information out to students, parents and the community as a whole, the district will hold another meeting at 7 p.m. Wednesday and again at noon on Thursday.
"We want to make sure that parents have all of the information that they need; it's in the plan, but that plan is over 50 pages and for parents to sift through all of that, that's an overwhelming task," Mrs. LaBarr said. "I think the videos will serve as a reminder to all of our students that things won't look the same when you come back to school, but we all need to remain in this process together because at the end, it's really going to take everyone doing their part to ensure the safety of our students, our staff, and our community at large."