WATERTOWN — The heavenly heights of Asbury United Methodist Church have a skeleton-like appearance these days after trustees were forced to go to plan B to buttress a project to repair the roof of the more than a century old building.
The work to replace between 18,000 and 20,000 square feet of roof began in May at the church, 327 Franklin St.
But issues arose early on when it was discovered that a 150-foot lift could not reach the shingles covering the peak.
The structure height from the Parker Street level to the top of the steeple is 165 feet. The lift could only reach 15 feet up to the 65-foot tall belfry.
"If you went straight up, you could go 150 feet," said Dr. Glen D. Snell, president of the church trustees. "But the way our tower and steeple are, you have to reach across roofs before you go up. The safety features on the lift wouldn't allow full extension. So we couldn't use it to get up to the tower."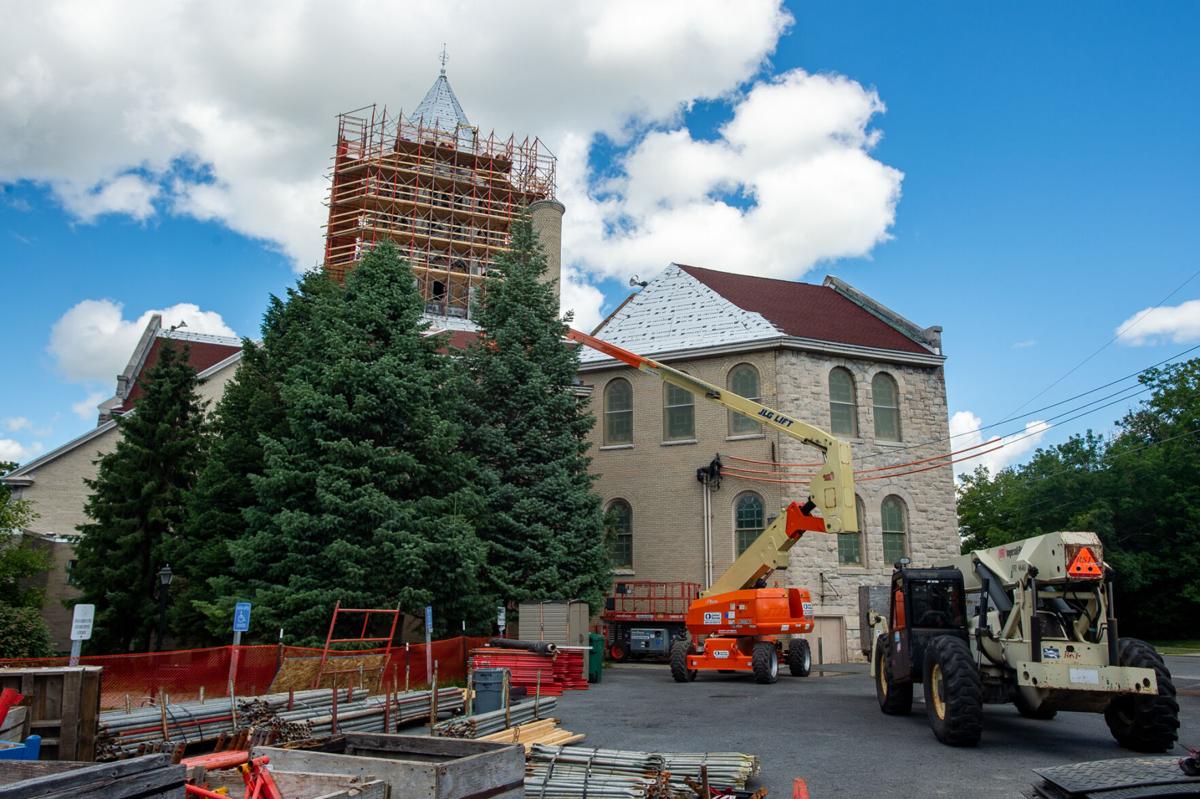 The lift was sent back and hasn't been used. To reach the peak, a scaffolding array was constructed. The weight of the scaffolding, approximately 10 tons, caused its own problems.
"When you put that weight on a 110-or-115-year-old roof, you've got problems," Dr. Snell said. "And we had to solve problems almost daily as we built that scaffolding up. We had to quit, do some more stabilization."
RSI Roofing Inc., Gouverneur, began their work in May. In addition to new shingles and flat roof coverings, RSI has reconstructed some roof deck sections, new aluminum metal caps for several center tower belfry columns, ridges and parapet capstones and made temporary connections at scaffold supports.
"RSI has demonstrated outstanding workmanship and cooperation throughout," said church trustee Mark Robinson.
Meanwhile, Capital Construction, Watertown, was tasked with structural and architectural renovations related to the roof project. Capital's first structural phase began last August.
"The church has got wood and steel beams in it," Dr. Snell said. "Those beams started to move, and they had been moving and we weren't aware of it. We put three new beams inside the tower last fall before we even started to try to stabilize the tower and the structure."
Capital's recent projects, Dr. Snell said, included "cabling and binding things together to stabilize beams so we could continue to build the scaffolding up to the point where we needed it."
The structural design of the scaffolding and for several interior renovations was provided by Tamarack Engineering, Watertown. Scaffolding, provided by Stebbins Engineering, was erected by Capital Construction.
The shingles on the peak of the church, which have now been removed, were asbestos-based. Green 2 Green Consulting LLC, Watertown, oversaw certification and compliance of that project.
Asbestos materials become a health issue when the material is damaged and its fibers become airborne. The Environmental Protection Agency in 1989 issued a rule banning most asbestos-containing products.
"The asbestos shingles have been removed and they're going to be starting this week putting the shingles on," Dr. Snell said on Tuesday.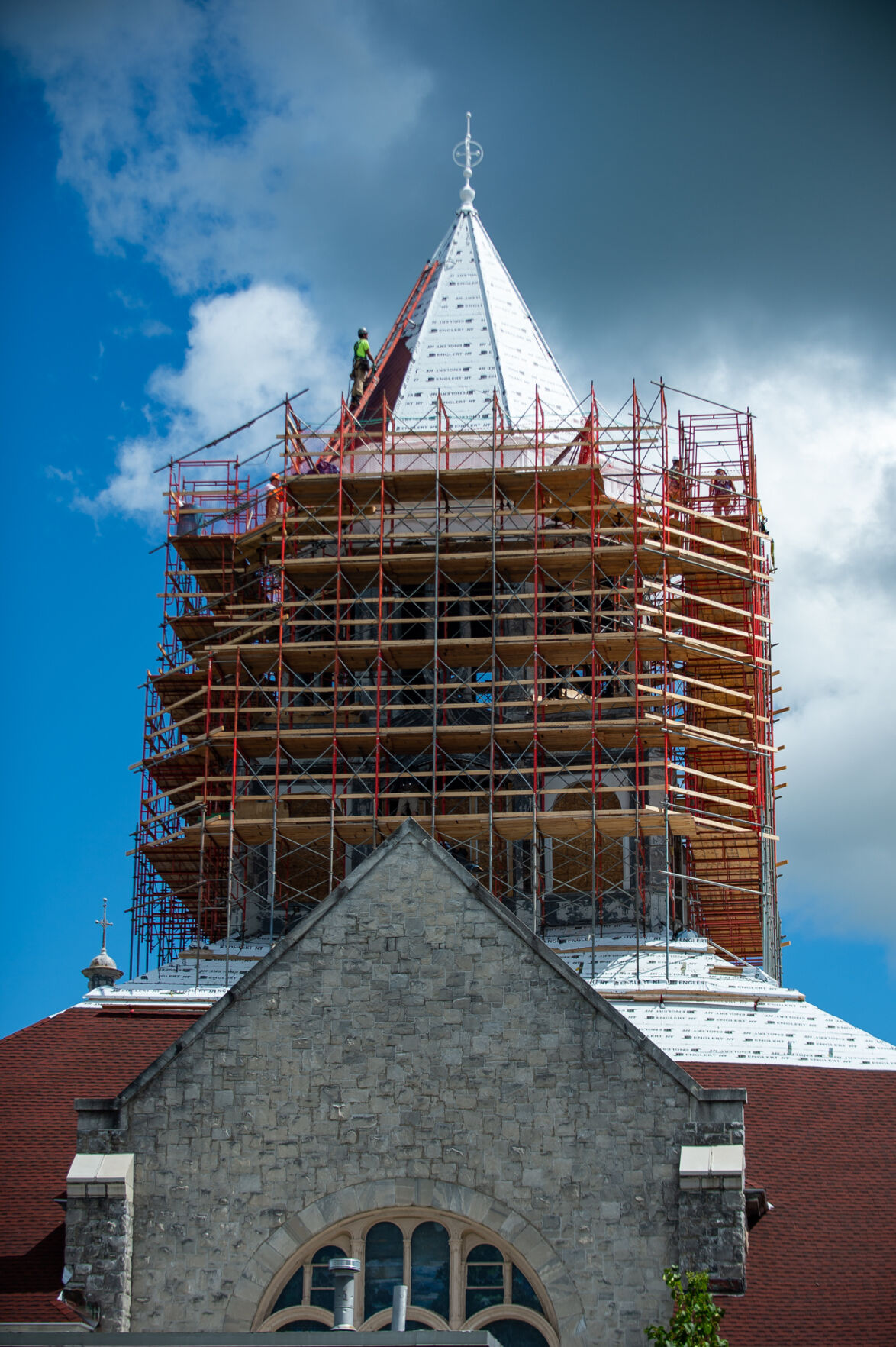 In addition to painting, KL Painting, Watertown, has been tasked with other projects at the church for the project, including repairs for the original tin siding of the belfry and mortar repairs.
The church is topped with an adornment that one trustee described as a "hood ornament" — its significance lost to history. The base of the ornament has been primed.
"Somehow, they were able to get up there and paint that. Don't ask me how," Dr. Snell said.
The windows in the tower will be closed in and replaced with louvers.
"There will be no windows in the tower when we finish," Dr. Snell said. "They've been a constant source of problems and leaks and being blown out for years. We're going to replace them with a solid piece of wood behind it either covered with aluminum or vinyl. The louvers won't be open. They'll be there for a visual break and they'll be gray in color."
The original cost of the project when started in May had been around $500,000.
"We're in the $580,000 to $600,000 range now," Dr. Snell said.
The church itself was built of Pennsylvania marble at a cost of $125,000. Work began in 1907 and was finished in 1914. An education wing was added in 1965. Its 1914 price tag, with inflation, would be $3.2 million today.
Funding sources for the current project included earnings from a church endowment fund and dozens of area benefactors and insured losses covered by Church Mutual Insurance Co. The balance is still being assembled from the church's capital campaign fund fueled by donations of current and former parishioners and community members motivated to donate because of the steady role in the community the church has played over the years.
Dr. Snell said trustees knew that issues could arise when the roof project was started. The contract for the project was first sought in 2017 when a violent windstorm damaged the roof.
"You don't rip off a roof of this nature and not find something that you have to repair," he said.
But in a bright spot, Dr. Snell said there was little wood that needed to be repaired/replaced under the shingles, which hadn't been replaced for at least 40 years.
"It was amazing that it was in as good a shape as it was," he said. "But water had gotten into some cement work that we had to repair and various other things."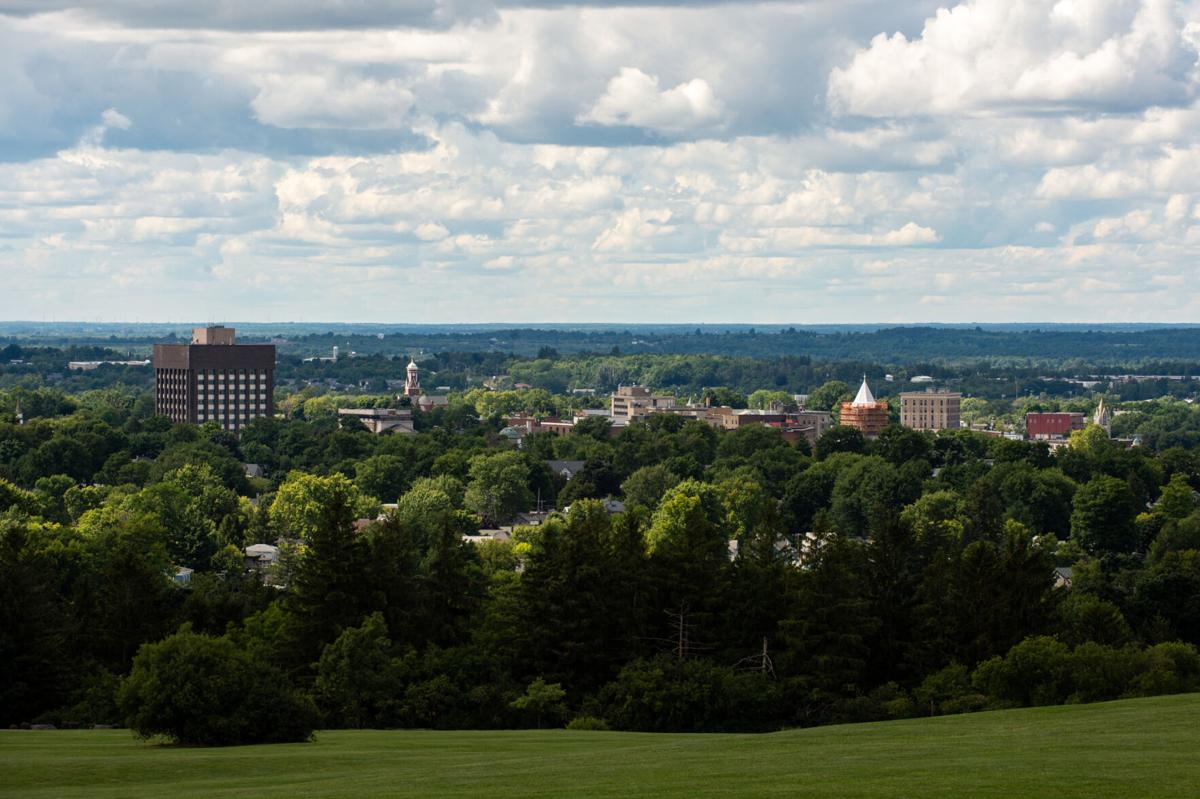 Dr. Snell estimated there's about a month remaining for the roof work.
"Once we determine there are no leaks from this new roof, then we've got to start repairing and repainting structural damage and damage in the sanctuary where water has entered and caused problems on our ceiling and so forth," he said. "But we can't start that until we get the roof completed."
Anyone interested in making a contribution to the project may send it to the church at 327 Franklin St., Watertown, N.Y., 13601. Please indicate that the contribution is for the capital campaign.