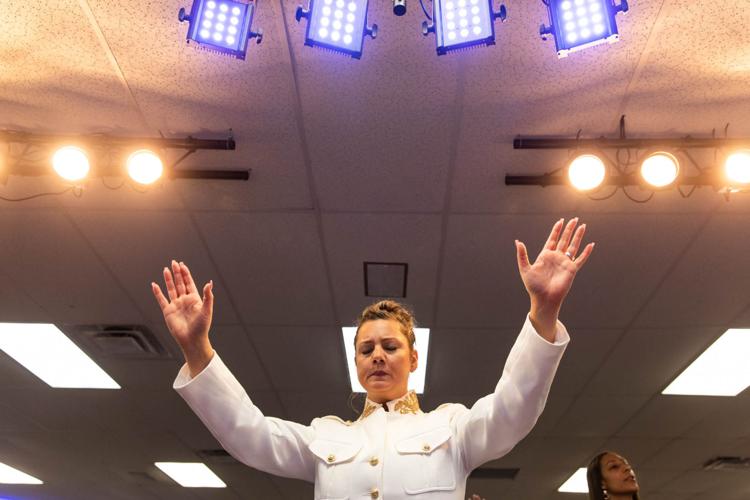 WATERTOWN — At the end of a service a few weeks ago, Pastor Myron K. Jamerson of The Rock Church was pulled aside by a congregant. His sermon of the past week, he was told, made a big difference for someone approximately 8,000 miles away.
That member of The Rock, Timothy Bernard, gave Pastor Jamerson a hug. Tears were also shed as Mr. Bernard thanked the pastor for the sermon and what it meant for him and his wife.
"It was about letting God do what he needs to do and not worry too much about it," Mr. Bernard said. "Sometimes we just have to do that and trust in God that everything will be all right."
Mr. Bernard has been worrying that things would be all right for his wife, Spc. Yesenia Bernard, who has been in Afghanistan since October, serving with Fort Drum's D Co. 2-10 Assault Helicopter Battalion. He recorded the sermon, which Pastor Jamerson titled, "Resting in 2020," and sent it to his wife via the WhatsApp messaging app.
"I was talking about how we don't need to bring all of our garbage from 2019 into 2020," Pastor Jamerson said. "There are some things we need to let go as we go forward in 2020."
The message, Mr. Bernard said, also boosted his wife's spirit at a time when she particularly needed it.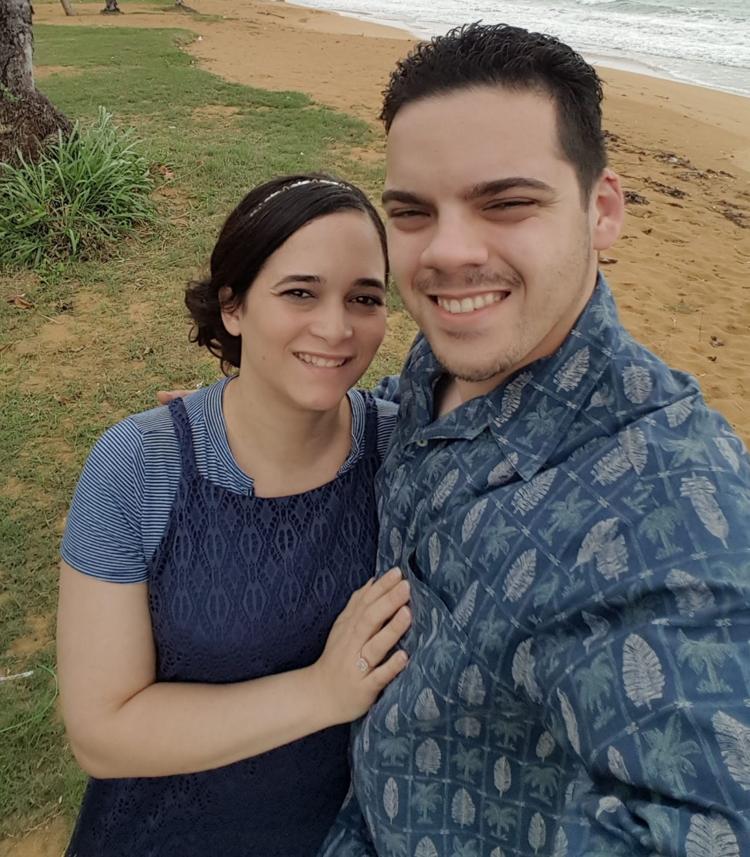 "She said it was just what she needed at the time because she was going through some stuff," Mr. Bernard said. "For me, I was just worried. You know how stuff happens all the time over there. That (the sermon) just keyed me in on it. Just let stuff happen. Why are you worried if it hasn't happened yet and stuff like that."
On any given Sunday, words of wisdom, advice and encouragement can be found in places of worship, written and delivered by people with years of study and divine inspiration who spend hours crafting their words. Figures show church attendance is down, but people like Mr. Bernard show that the messages in sermons and homilies still matter.
In an October report, Pew Research Center said that "the share of Americans who say they attend religious services at least once or twice a month (in the last decade) dropped by 7 percentage points, while the share who say they attend religious services less often (if at all) has risen by the same degree."
The figures reversed data from 2009, when Pew Research reported, "regular worship attenders outnumbered those who attend services only occasionally or not at all by a 52%-to-47% margin."
More recently, Pew Research Center, in a report released in December, analyzed nearly 49,719 sermons shared online by 6,431 churches and delivered between April 7 and June 1, 2019.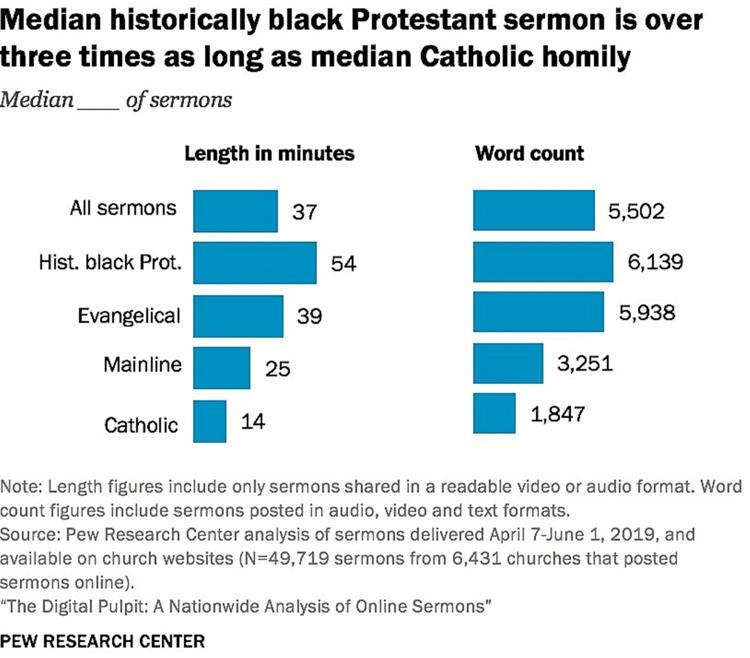 "These churches are not representative of all houses of worship or even of all Christian churches in the U.S.," the "Digital Pulpit" report notes. "They make up just a small percentage of the estimated 350,000-plus religious congregations nationwide."
Pew Research found differences in the typical length of a sermon in each of the four major Christian traditions: Catholic, evangelical Protestant, mainline Protestant and historically black Protestant.
Catholic sermons are the shortest, Pew found, at a median of just 14 minutes, compared with 25 minutes for sermons in mainline Protestant congregations and 39 minutes in evangelical Protestant congregations. Historically black Protestant churches have the longest sermons: a median of 54 minutes."
A Watertown pastor said the Pew study, admittedly "not representative of all houses of worship" is detailed, but warned against jumping to conclusions.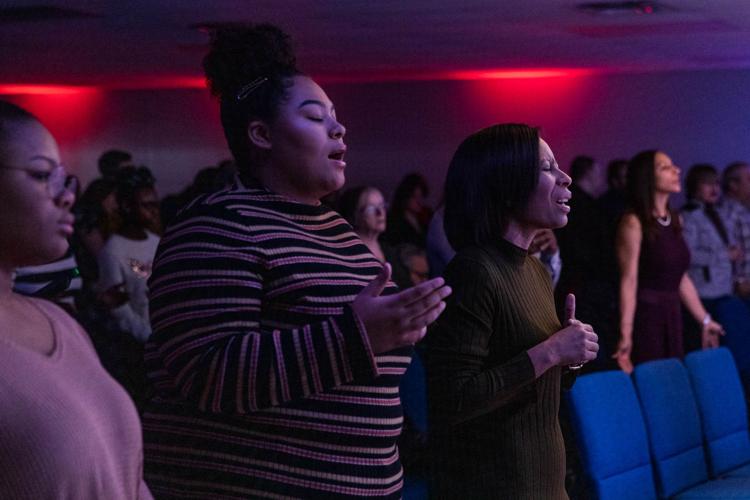 "I was glad they went into detail about the methodology because it was based on what they could find online that certainly makes it very non-representative," said Pastor Marty Pelham, Unitarian Universalist Ministerial Candidate who serves part-time at Watertown's All Souls Unitarian Universalist Church, 1330 Gotham St. "We have thousands and thousands of small churches and maybe some big ones that either don't have an online presence or they don't have an extensive online presence."
Regardless, the Pew Research Center study of online sermons can act as a springboard for a discussion on the crafting of sermons/homilies, their impact and their inspiration in a country where fewer people are heading to church to listen.
The Rock, 22088 Seaway Plaza, is a nondenominational church founded in 2011 by Pastor Jamerson and his wife, Sabrina Jamerson. Its first service was held in their dining room. Pastor Myron Jamerson retired from the U.S. Army in 2014 after serving more than 22 years.
Pastor Jamerson grew up in Memphis, Tenn., and was raised as a member of the African Methodist Episcopal Church. Church services, he said, could last three hours.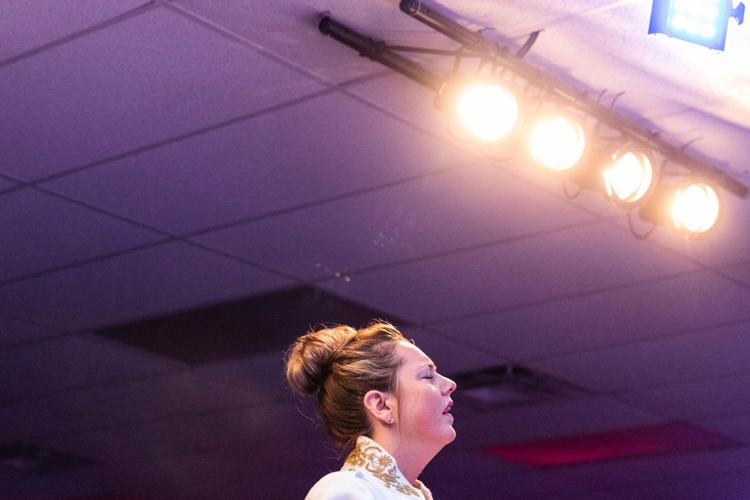 "I've noticed over the years that a lot of churches are shortening their service times due to the fact that this new generation not wanting to be in church all day long," he said.
Pastor Jamerson's sermons can last up to 40 minutes. That may be on the long end of the length of the typical sermon, but the pastor said it's all in the approach.
"If it's a good message, you can sit there and listen to it all day long with no issue," he said. "If it's boring, it's totally different. But me — I'm a very hyper preacher and very excited."
At times, Pastor Jamerson will have a prepared sermon on hand but he will be inspired "by the Holy Spirit, by God" to ad-lib and deviate from those words.
"Sometimes I may have eight pages of notes," he said. "I may only get to two pages in 30 to 40 minutes."
Dry messages, the pastor said, may be one reason why people aren't going to church as often.
"You have a lot of preachers that preach dry messages that don't do anything for the person," he said. "It's a story versus something challenging you and making you want to change — making you want to do better in life; giving you encouragement to let you know that you can go forward even when you're going through something."
The Rev. Dr. Nancy Hale, pastor of Canton United Methodist Church, said she hasn't noticed a decrease in attention spans of church-goers.
"But I do know that when I keep my message concise and accessible, people respond well," the Rev. Dr. Hale said.
Being accessible, she said is not using too much "churchy" or theological language.
Do you attend church services?
"I'm not much of a story-teller, but I do believe in giving people concrete examples of how to take that day's lesson and apply it to their faith and their lives," the Rev. Dr. Hale said. "Above all, my sermons are designed to teach people something new or different or to help people think about things in a different way."
Thinking about "things in a different way" served as the foundation for Father Christopher J. Looby and how he was taught the art of crafting a sermon. It all began with a lump of clay.
Father Looby, a native of Harrisville, in 2018 became pastor of St. Patrick's and St. Anthony's churches in Watertown. Previously, he served as pastor of St. Mary's Church in Evans Mills, St. Joseph's Church in Philadelphia and St. Theresa's Church in Theresa. He also served as parochial vicar at Holy Family Church in Watertown from 2004 to 2006.
Father Looby studied philosophy at Wadhams Hall Seminary-College in Ogdensburg and theology at St. Mary's Seminary and University in Baltimore. He began his training in homiletics at St. Mary's.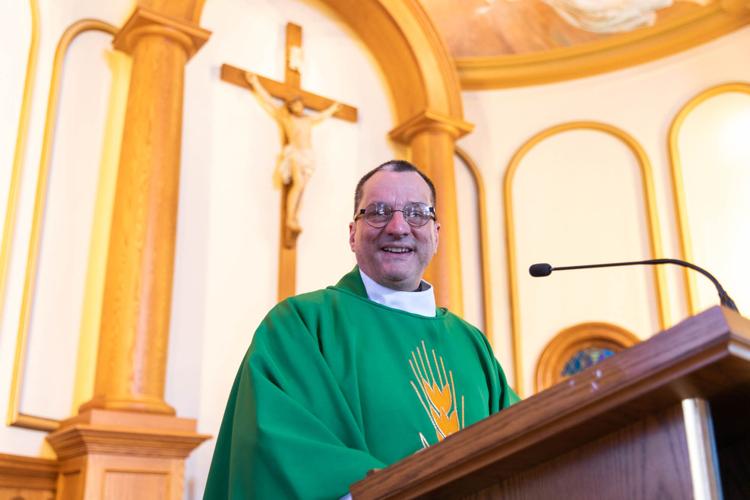 "I remember at the beginning of the course, my classmates and I were given lumps of clay," Father Looby said.
Students were given a week to create something out of the lump and then, in class, to tell a story about its creation.
Father Looby didn't do anything with his lump of clay. It dried out, resembling a stone.
"It came time for me to write my story for class and it dawned on me that that's what happens when we forget to pray and ignore our relationship with God," Father Looby said. "Our hearts become stone."
Father Looby said the lesson was a connection to a couple of Bible passages, one of them Ezekiel 36:26: "I will give you a new heart and put a new spirit in you; I will remove from you your heart of stone and give you a heart of flesh."
Mondays are days off for Father Looby, but that's when he begins to think about his sermons, both his daily ones and the one for weekends.
"Weekend sermons are usually between 5 and 10 minutes," Father Looby said. "Weekday sermons are between 2 and 3 minutes."
Those times have changed over the years, he said.
"In the beginning of my ministry, I tended to go a little longer, but I learned over the years that people prefer a sermon that's between 5 and 10 minutes," he said. "Attention spans of most people prefer that. They like sermons that begin with a good 'hook' or story that explains the Scripture readings and teaches us how to be better disciples of Jesus."
On Mondays, after pondering sermon ideas, Father Looby adds another ingredient to the crafting of his sermons. He begins praying.
"I do a lot of praying," he said. "I pray over them the rest of the week, asking God to inspire me to find a message to share with the people this weekend."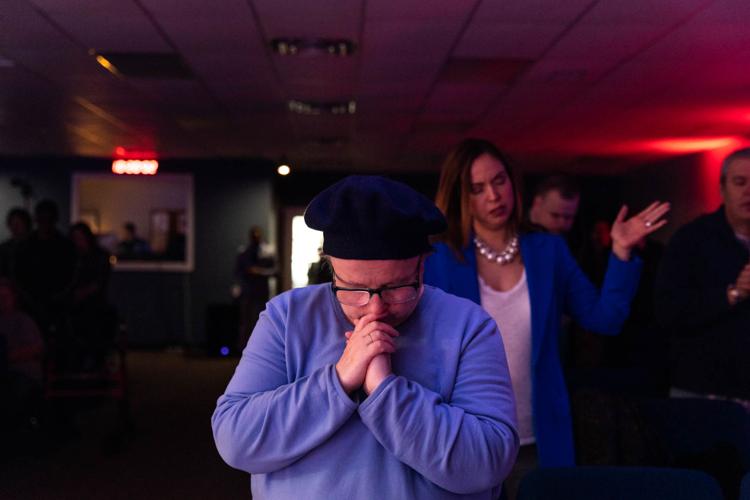 Father Looby said he's always been a last-minute person and he begins his weekend sermon on Saturday mornings, just hours before his first Mass at 4 p.m. at St. Patrick's Church.
"Early Saturday morning, I sit down at my desk and pull together everything that I learned and prayed about during the week into what I hope will be an interesting homily," he said.
Prayer in developing sermons is also key for the Rev. Penni Farrington, pastor of Asbury United Methodist Church, Watertown. "Start with prayer" is one of the takeaways she learned at United Theological Seminary in Dayton, Ohio.
The Rev. Farrington reads passages of scripture suggested by the Revised Common Lectionary, a collection of readings from the Bible for use in Protestant Christian worship. Then, she prays for guidance.
"Which passage speaks to an aspect of the human condition that might be relevant to the local community or to a national or global issue?" the Rev. Farrington said.
After prayer, the Rev. Farrington reads commentaries about the passages until an idea is formed. But her work is not done there.
"I then read the passage I chose from several different translations of the Bible and continue to read commentaries throughout the week," she said.
She writes her sermon no later than Friday and continues to "tweak" it Saturday and Sunday mornings before service at Asbury.
She keeps her sermons at about 20 minutes with one or two "takeaways" the congregation can think about throughout the week.
"I believe the sermon needs to explain what was happening in the time in which the passage of Scripture was written," the Rev. Farrington said. "Then, the sermon needs to relate that passage to our lives in the 21st century. What was learned when it was first written? What can we learn today?"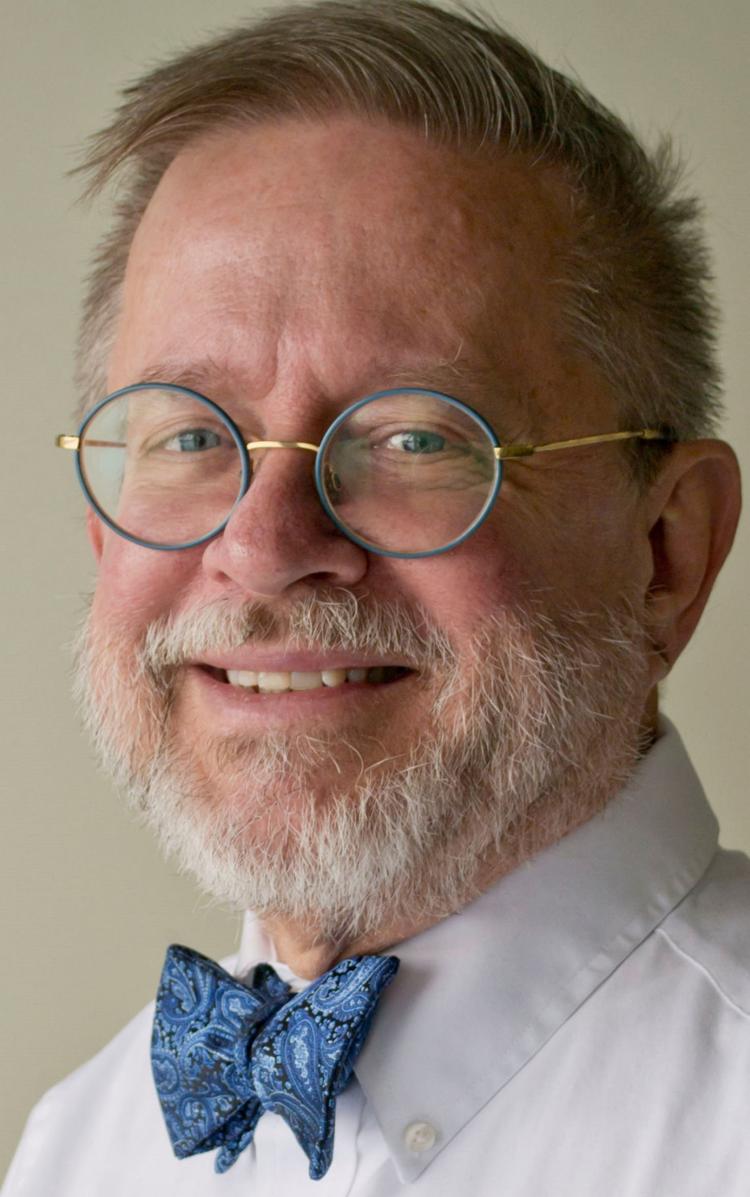 Pastor Pelham said that as a Universalist Unitarian, which he said has one of the most rigorous processes for becoming a minister, he has an advantage when it comes to sermon topics. The UU website says the church's spirituality draws from "scripture and science, nature and philosophy, personal experience and ancient tradition."
"The beauty of writing sermons as a Universalist Unitarian minister is that we preach about absolutely anything and the hardest part for me is that we can preach on absolutely anything," Pastor Pelham said.
Pastor Pelham grew up in southern Florida and attended a First Southern Baptist church. He said sermons there were 20 minutes or less, and that's what he aims for now.
He writes about 2,000 words for his sermons, which usually come in at about 17 or 18 minutes, he said.
He then records himself reading them.
"I find there's enough difference between speaking and writing that especially, if I'm being too heady or going in details that won't have any impact on the message, that's when I really hear it," Pastor Pelham said. "Sometimes it's just a matter of carving out and polishing things up."
Pastor Pelham's faith may give him options for selection of sermon topics, but the life of a pastor offers its own variety and potential sources for subjects.
"Every week in the life of a pastor is different," the Rev. Ms. Farrington said. "No two are alike."
Reactions to sermons are inspirational, the pastors interviewed for this story said, but those reactions don't have to be positive.
"Ideally, I would want a person to think about my sermon all week, and sometimes that's not only because they liked it," Pastor Pelham said. "It's because I poked them in some way. Maybe I poked them where they needed to be poked and maybe I was off base. But if I don't have people reacting, then I'm not doing a good job. Negative is fine as long as I know something is happening between us."
Father Looby has discovered that sharing an experience from his own life, or sharing in the struggle of what it means to be a disciple of Jesus, is an excellent way to connect with parishioners in his sermons.
Recently, at a Monday morning Mass, the Gospel reading was Mark 1:14-20, he said. It's the story of how Jesus called the four fishermen to be his disciples on the shore of the Sea of Galilee. The four immediately dropped what they were doing — their nets — and followed Jesus.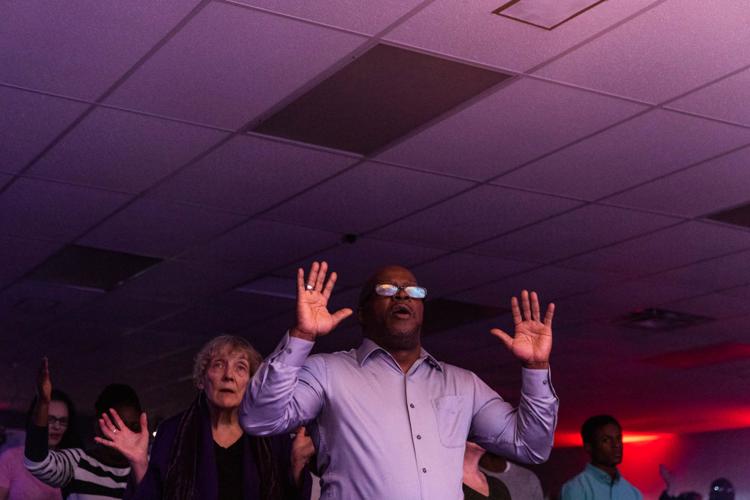 "I mentioned at the beginning of the sermon that I wished that I had their faith to immediately drop what I was doing to follow Jesus, because for me, personally, that was a difficult thing to do," said Father Looby, who began pondering the vocation of priesthood while in high school and college.
It wasn't until after college, while working at a Watertown radio station, that he decided to enter seminary.
"Answering the call to discipleship and dropping the nets of (what's) holding us back is a daily struggle for all of us," Father Looby said.
He said that for a two-minute Monday sermon, he was surprised at how many congregants appreciated it.
"One gentleman remarked to me a few days later, 'I'm happy to know that I'm not alone in being afraid to drop my nets.'"