OXBOW — The committee that oversees Presbyterian churches in Northern New York didn't know about the behavior and language of Pastor Keith E. Kilgore until three members of his congregation decided to speak up this week. The committee says it wouldn't have allowed him to preach had they known the pastor recently referred to Chinese people as "Chinks," wrote "Allah sucks" and claimed during a sermon that the greatest beneficiaries of slavery are descendants of it.
Three women aren't picking a fight with the Oxbow Presbyterian Church, a place that shaped their childhoods. They're blowing a whistle on sermons they believe are counter to what that church has always stood for.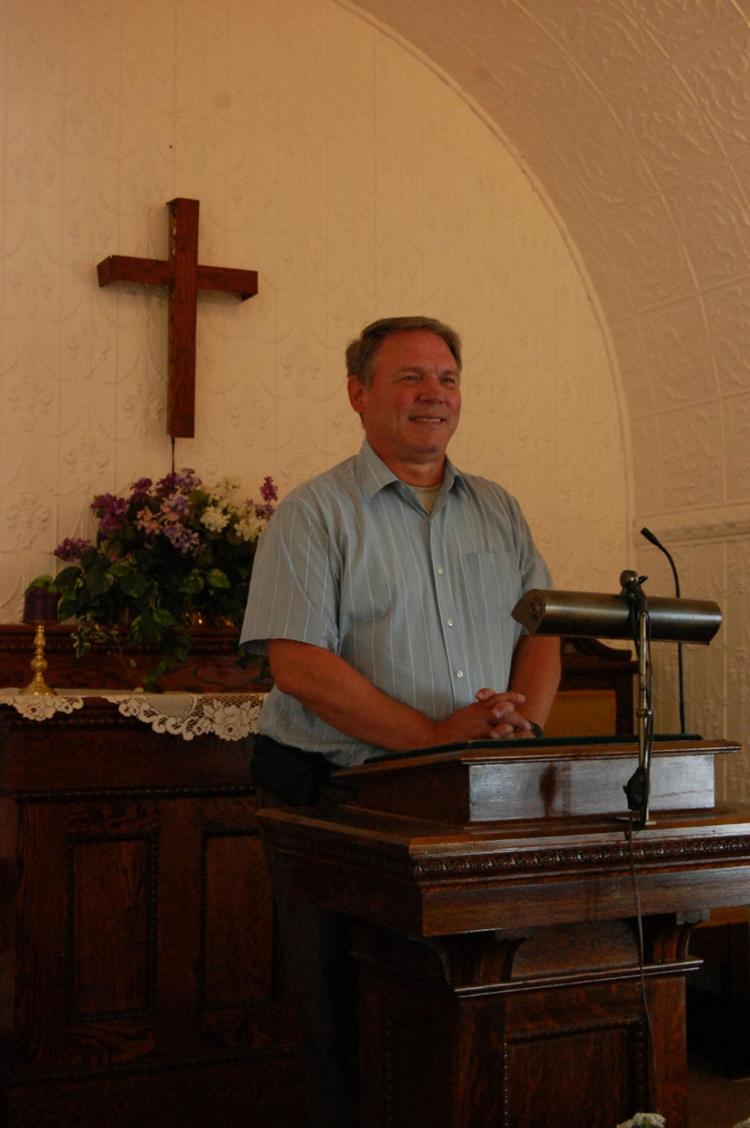 When they were kids they taught Sunday school at the church, spent entire Sundays there, volunteered and went on mission trips to New York and New Orleans. But over the years they have seen the church lose members and sermons become increasingly political. They love the church, continue their faith today and want to see the 200-year tradition continue — but they believe a pastor there is undermining that vision. It's a small town, but their goal is to highlight an issue that's not exclusive to the Oxbow church, and they hope the outcome makes it more inclusive.
Hannah Stowell, Wegatchie, was sitting in the middle of a group at the Oxbow Presbyterian Church on June 14, a Sunday, her hands shaking.
Mr. Kilgore, who has for at least five years been somewhat of an alternate pastor at the church during the winter months, was giving a sermon. Ms. Stowell anticipated it would get political as it has in the past — that's why she glanced at her boyfriend when the title of the sermon, "Christian Living in a Wicked World," came across a drop-down screen — but she didn't expect what was about to happen or what she would find afterward.
The sermon appeared to be rather standard for the first 20 minutes, but then Mr. Kilgore brought up George Floyd, a black man who was killed after he was allegedly suffocated to death by now former Minneapolis police officer Derek Chauvin.
"If officer Derek Chauvin had been living for Jesus, if George Floyd had been living for Jesus," he began. "... If (Floyd) had never spent 15 years of his life in a penitentiary for robbery, armed robbery and attempted murder. If he had never done that — if Officer Chauvin had never done that, and they were living for Christ, we would not have the mess we are in right now."
Confused at the sudden turn to politics, Ms. Stowell continued listening, now staring intently at the pastor's face.
He continued, saying if Chinese people had followed biblical principles and not have eaten things like bats, there would not have been a pandemic. Understanding it's his right to say these things, Ms. Stowell was still shocked at his decision to turn that political. It's been political before, but this crossed a line, she said.
Ms. Stowell said she remembers almost laughing as she stared at the pastor, angered, wondering why and what was happening. She said she thinks he knows her stance on social issues, like how she is pro choice. She shook and stared before he returned the favor.
"And then he looks me dead in the eye and says 'It's a toss up to me which is worse of American sins. Is it abortion or slavery?'" Ms. Stowell said. "I could feel him looking at me as he said that."
A video recording of Mr. Kilgore's sermon that was posted on Facebook confirms what Ms. Stowell remembers the pastor saying. It's unclear who he was looking at when he said it, and the video has since been taken down.
Mr. Kilgore, who also preaches at Deferiet Union Church, went on to say slavery is not unique to the United States, referencing other countries that inflicted it on its people. He said the United States is unique in that its people fought to end it.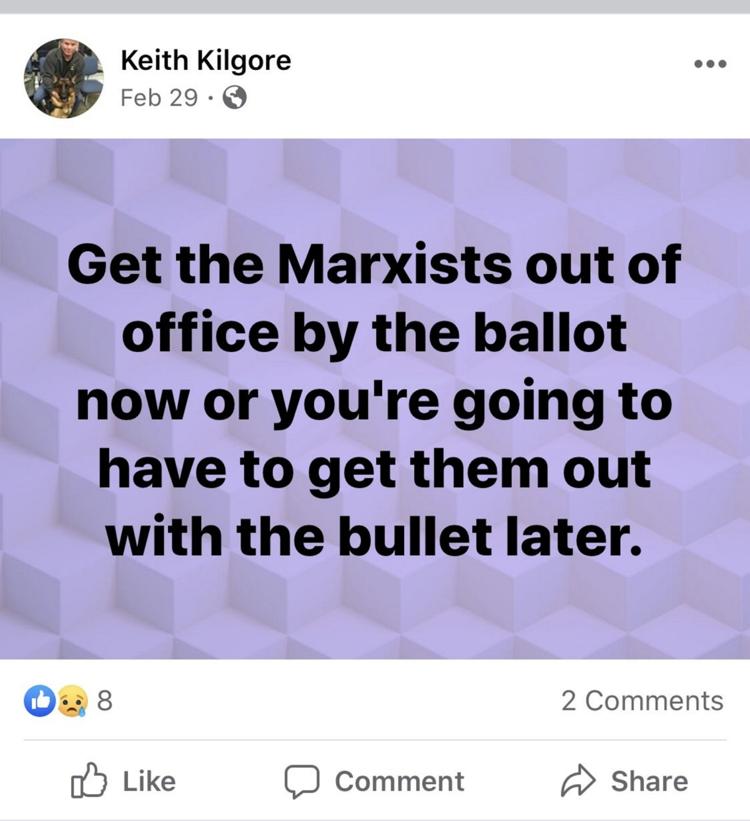 "And if someone wants reparations," he said, "let them go to the nearest Union cemetery."
Mr. Kilgore went on to say the descendants of slaves benefit the most from slavery, a sentiment which marked the breaking point for Ms. Stowell.
She went home that day and thought about who she should talk to about this. She loves that church. Her grandmother loves that church. It's a delicate topic to broach.
She reached out to her childhood friend, Nicole Richards, who, too, was devoted to that church as a kid. That's when they found the Facebook posts.
On May 8, Mr. Kilgore posted on his Facebook page, "We wouldn't be in this mess if the Chinks would have kept Kosher." On May 19, commenting on a report that said Nigerians were being killed by "Muslim Militants, he posted "The Prophet Muhammad SUCKS and so does his mood god Allah. Pray for our Brothers and Sisters in Nigeria."
On Feb. 29, Mr. Kilgore either posted or shared a post that reads "Get the Marxists out of office by the ballot now or you're going to have to get them out with the bullet later." He also posted about how he was calling the coronavirus "Kung Flu." In another post in March he wrote "We're just not ready..." over a photo of Elizabeth Warren that appears to be manipulated to show her wearing a Native American headdress. Within the photo is a caption that reads "I am suspending my campaign because America is not ready for a Native American President."
The Committee on Ministry at the Northern New York Presbytery, which oversees Presbyterian churches, was recently made aware of the Facebook posts and the sermon Mr. Kilgore delivered a few weeks ago. Rev. David Bennett, a resource presbyter with the presbytery, said Mr. Kilgore was authorized to preach at the Oxbow church, but now his authorization is "being dealt with" as the commission is in the process of giving a response.
"If we had known what was going on, if we had known this type of language or behavior was part of his preaching, we would have never authorized him to serve," Mr. Bennett said. "We take all allegations of such behavior, which is not consistent with what we expect from a minister from a Presbyterian church, very seriously."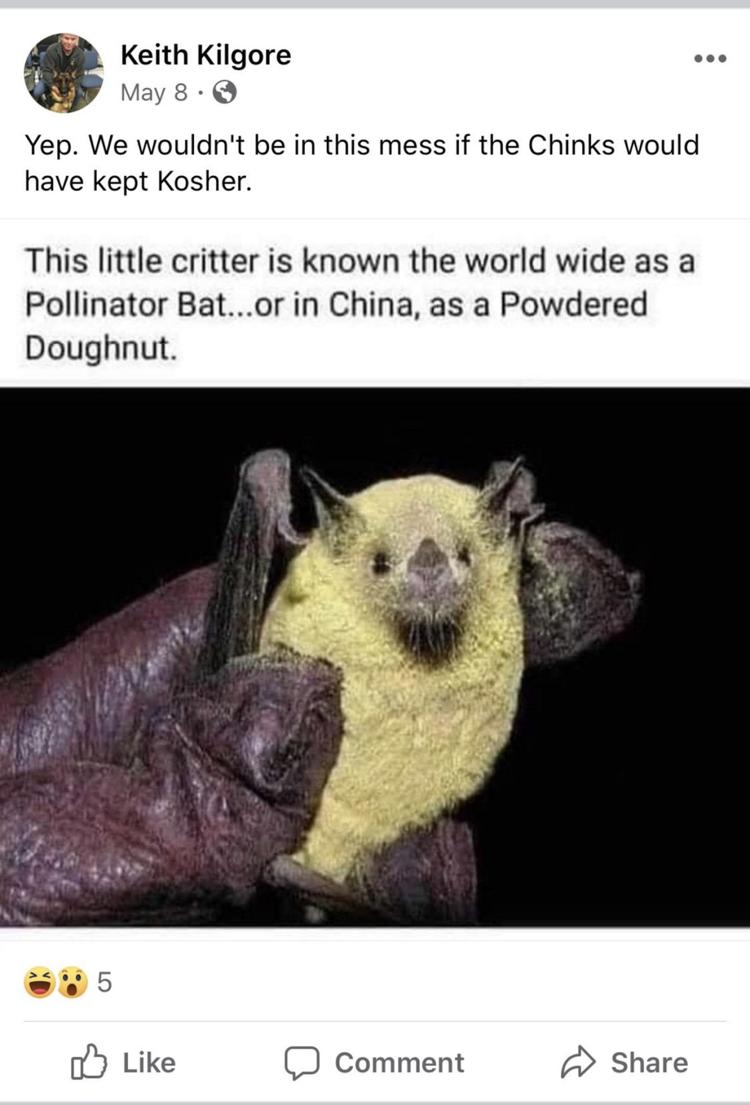 As for the three women who decided to speak up about Mr. Kilgore, the reverend said their actions are not vindictive.
"It is truly out of concern for the church of Jesus Christ, of which this church is a beautiful expression," Mr. Bennett said. "It is a wonderful church. We want what is best for them and we do not believe this is anywhere near what's best for them."
Ms. Richards said her decision to speak publicly about Mr. Kilgore was difficult. Her Scottish ancestors built the Oxbow Presbyterian Church 200 years ago and the values she learned at the church as a kid were integral to the person she is today. Growing up in a small village called Wegatchie, the Oxbow church was like a second home for Ms. Richards. She had friends there, spent entire Sundays there, practiced choir and treated it as a sanctuary where she could sing and play piano in an empty church. The church was planning a bicentennial celebration and Ms. Richards was asked to speak, but it had to be canceled due to COVID-19. And, by speaking out, she hopes it doesn't hurt her grandmother, who she said has devoted her life to keeping the church alive.
"But the messages that Keith is sending are just not in Jesus's name," Ms. Richards said. "I feel the aggression and the content of his sermon are disgraceful to the church, to the Presbytery and to Christianity as a whole."
And like many Christians, Ms. Richards said, her grandmother is a very trustworthy person. In the nature of her kindness, she is at risk of becoming malleable — especially when she's listening to something through the lens of her faith.
It became more clear last Christmas Eve. Ms. Richards had returned from college to attend a holiday service like she often has done over the years, and she was having a conversation with an elderly member of the church after a sermon by Mr. Kilgore. Ms. Richards remembers the member telling her that she loved the pastor's services because she is learning so much about Christianity that she never knew before.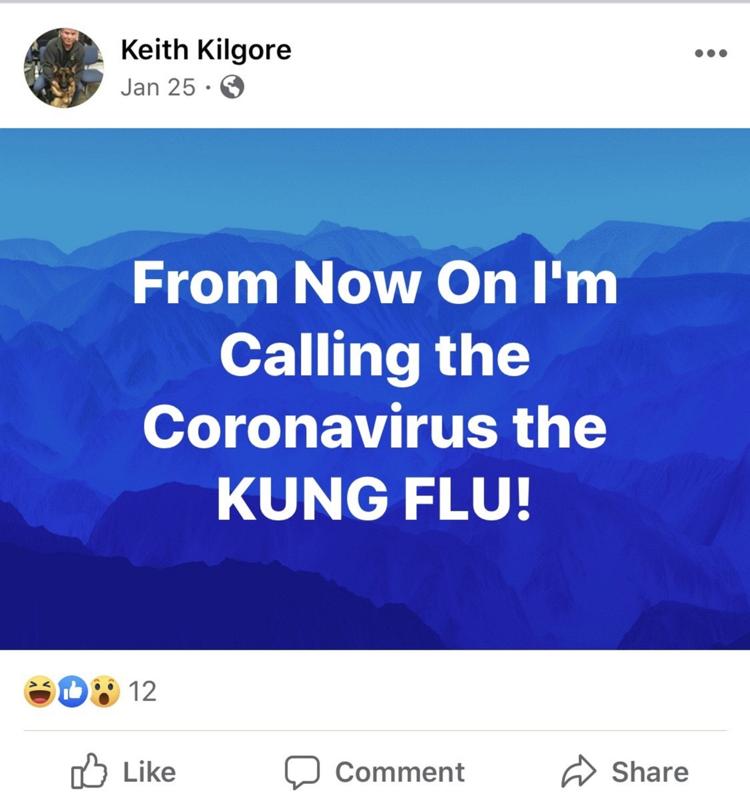 "This elderly woman who has been Christian most if not all of her life shouldn't be learning anything radically new about her role as a Christian," Ms. Richards said. "And I'm really not trying to say all elderly people are dumb, because they are not."
Ms. Richards said she doesn't mean to harm Mr. Kilgore by speaking about him, but if she is practicing the word of Jesus, she's standing with the oppressed. That means more to her than protecting him, she said.
"I see cancel culture as being both positive and negative," she said, "and sometimes it's just calling out anyone who has ever done anything politically incorrect."
She said cancel culture sometimes, unfortunately, means attacking people without even having a dialogue with whomever is in question.
"I thought a lot about how I would approach this situation over the years," Ms. Richards said. "Sometimes you just know that a constructive conversation with somebody who has such aggression toward social tolerance won't be possible."
Now, Ms. Richards' relationship with Christianity is a loaded concept. She struggled for a long time with the hostility brought forth by Christians like Mr. Kilgore, she said. She considers herself today to be an agnostic cultural Christian, which to her means she believes in acting in a way that she believes to be Christian, and she is tolerant and accepting of all other religions.
"I believe in Jesus's way of life," she said. "I still read the Bible. I love celebrating biblical holidays with family and friends. Christianity has taught me so many morals like honesty, humility, service and respect."
In an interview with the Times, Mr. Kilgore said he wished the three members would have come to him first and settled it that way. He said he would have likely deleted the posts and attempted to change.
"I'm sorry if anybody was offended," Mr. Kilgore said. "I thought my settings on Facebook were set to private. If they had come to me first, or if I had known, I would have made it right. I would have taken down the posts."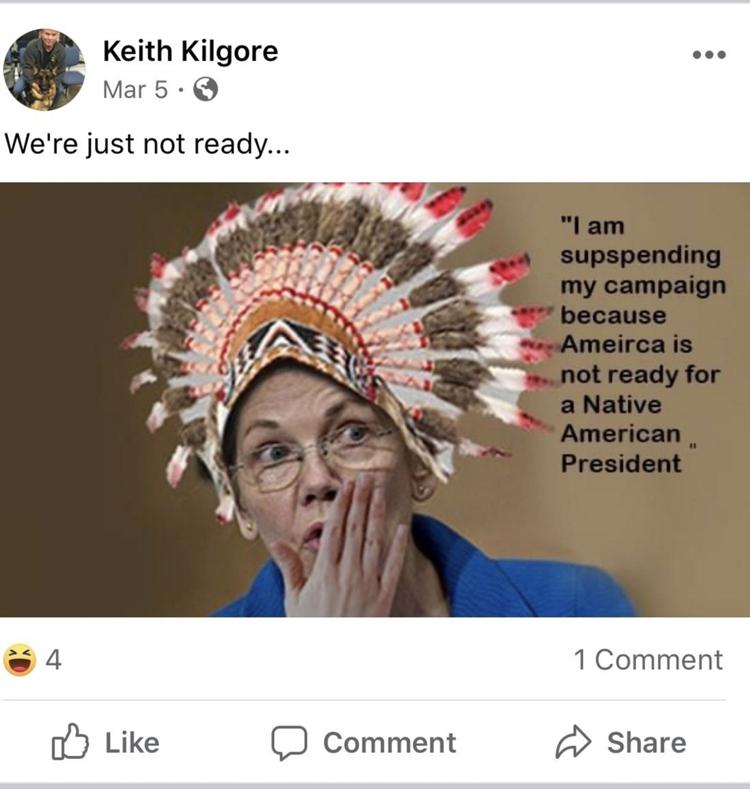 Mr. Kilgore's Facebook posts were deleted shortly after speaking with the Times.
When asked about the reasoning behind his comments on slavery, Mr. Kilgore answered with a question.
"Do African Americans in America live better than their ancestors that were never taken into slavery and still live in Africa?" Mr. Kilgore said.
He was asked about a particular Facebook post on his page that reads "Get the Marxists out of office by the ballot now or you're going to have to get them out with the bullet later." He interpreted that as, if there are politicians who are planning a "Marxist revolution," then he would rather defeat them peacefully than with violence.
In general, he said he likes playing "devil's advocate" on Facebook.
"No I don't want to take anyone out with a bullet," Mr. Kilgore said. "If I see something on Facebook I think is interesting or absurd, I will repost it to get a conversation going with my friends."
When asked about his posts on China, he said he believed communism is one of the biggest enemies to the United States. He did note that in his sermon on June 14 he said there is no place for racism in the United States, and he further said he thought his Facebook posts were private.
As for the religion of Islam — which has historically focused on peace and compassion — Mr. Kilgore said he has "real disagreements with that faith. I have made my decision on it. I believe that faith is not the way to go."
Mr. Kilgore said he has served the Oxbow church at the pleasure of the congregation.
"If they tell me they no longer want my services I will be properly relieved," he said.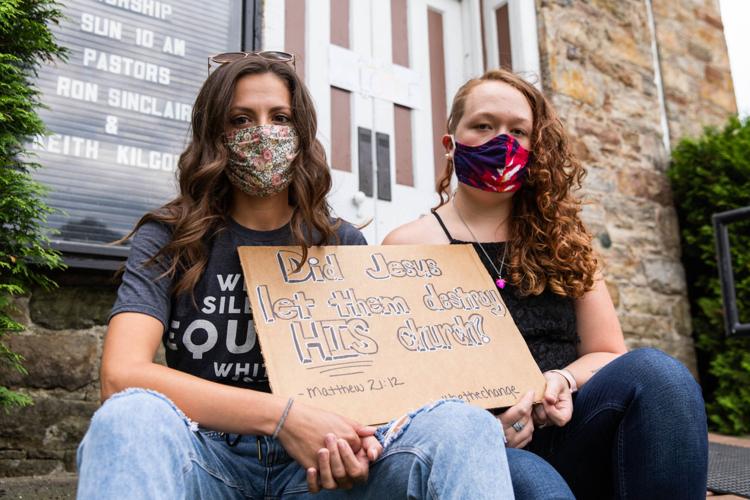 The third woman to speak up about Mr. Kilgore is Amanda Falcione, who is from Gouverneur and grew up in the Oxbow church.
"Growing up church was pretty much all I did," Ms. Falcione said. "When I got grounded I got grounded from church."
Ms. Falcione said she would go to vacation Bible schools and on mission trips to New Orleans and New York City. As she got older she would end up moving out of state and only coming back to attend services to support her grandmother, Candy Henderson, who was a longtime member of the Oxbow church.
Ms. Henderson became ill around three years ago with a sister disease to Parkinson's, Ms. Falcione said. She died of complications from the illness and didn't get to go to church as much toward the end. It bothered Ms. Falcione that her grandmother couldn't be at the place she loved, but after seeing Mr. Kilgore's service, she's glad Ms. Henderson didn't go.
"My grandma is one of the most pure people I've ever met, and to think that could have gotten into her scares me," Ms. Falcione said. "That he could have possibly changed her heart. My grandma loved everybody, and everybody loved my grandma."
Ms. Falcione lives in Watertown now where faith carries with her to this day, but she hasn't been to church in some time.
"I'm trying to find a church that doesn't have these sorts of preaching and I'm scared," Ms. Falcione said. "God is part of my everyday life but I'm scared to go to church and be judged."
But above all, the decision to speak up was for her late grandmother, who she said gave her entire life serving that church.
"My daughter is African American," she said. "My grandma didn't get to meet her, but she would have loved her just the same. I don't believe she would have sat in the pew and heard him say that and had been OK with it, knowing her granddaughter is one of those descendants of slaves."