WATERTOWN — A multitude of local churches and community leaders came together to raise their voices and pray for unity in support of the Black Lives Matter movement on Sunday at Thompson Park.
The "Everyone is Created Equal" prayer vigil, organized by Pastor Myron Jamerson of The Rock Church in Watertown, brought together congregants and leadership from eight other local churches, to worship and pray together for healing and a solution to what they called "the sin of racism."
"Now it is time to stand together and say that black lives do matter," Mr. Jamerson said.
Everyone singing together at the end of today's "Everyone is Created Equal" prayer vigil held in Watertown's Thompson Park. pic.twitter.com/RAd91RV8oS

— NNY360 & Watertown Daily Times (@wdtnews) June 7, 2020
He said that he believes faith should be central in addressing racism and inequality in the United States.
"Faith is love, and if we're walking in love there is no reason for hate," Mr. Jamerson said.
Pastors from the other local churches in attendance spoke or led the group with worship music, and speakers who have seen racism firsthand shared their experiences as black men and women.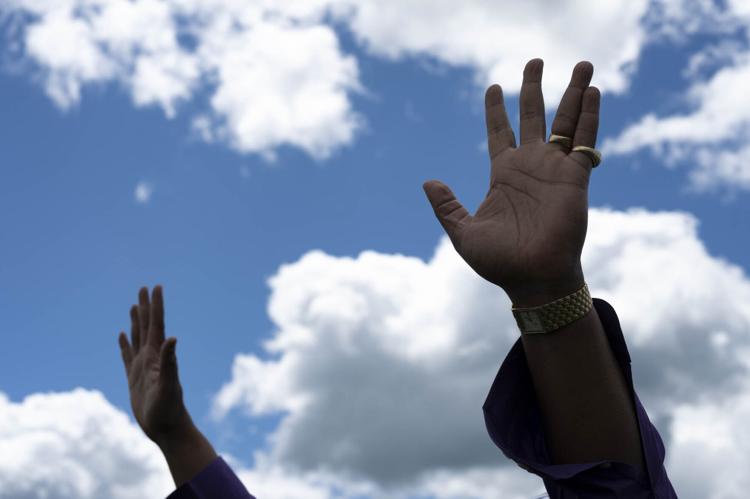 Pastor Jeffrey E. Smith, of Watertown's First Baptist Church, spoke about his experiences growing up as a black man in the Midwest and South in the 1950s and 1960s. He shared how, as a child, he was told that there were certain towns he was not permitted in after sunset, otherwise known as sundown towns.
"A good friend of mine, he was selling encyclopedias in a neighborhood when the sun went down on him," Mr. Smith said. "They lynched him, right here in America. That was what I grew up with."
He said that while the black experience has improved since those days, more improvement is needed.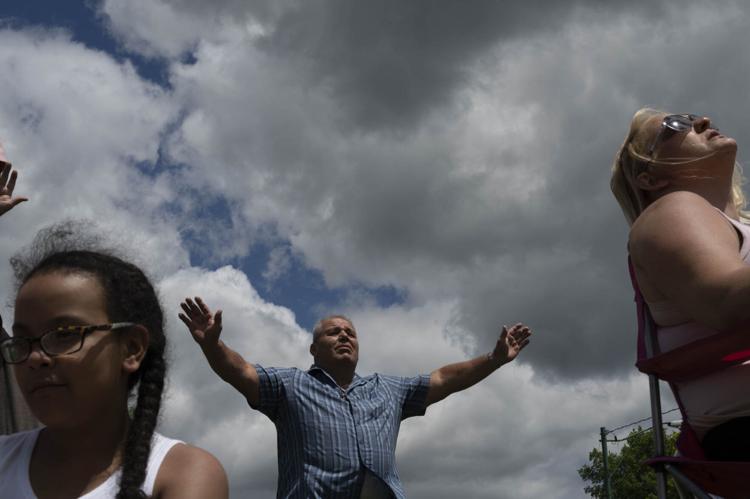 Dominic Hodges was asked to speak at the vigil by Mr. Jamerson because of his own experiences with systemic racism and police profiling.
Mr. Hodges spoke about how, when he was younger, he was stopped by a white police officer while driving just because of the color of his skin and the fact that his hair was in dreadlocks. He said that the officer called him a racial slur and accused him of doing drugs, selling drugs or participating in some other crime. He said he believes that the issue of racism in the U.S. must be solved through a faith-centered approach.
"We need a renewing of the mind, and that only comes through the heart of Jesus," he said.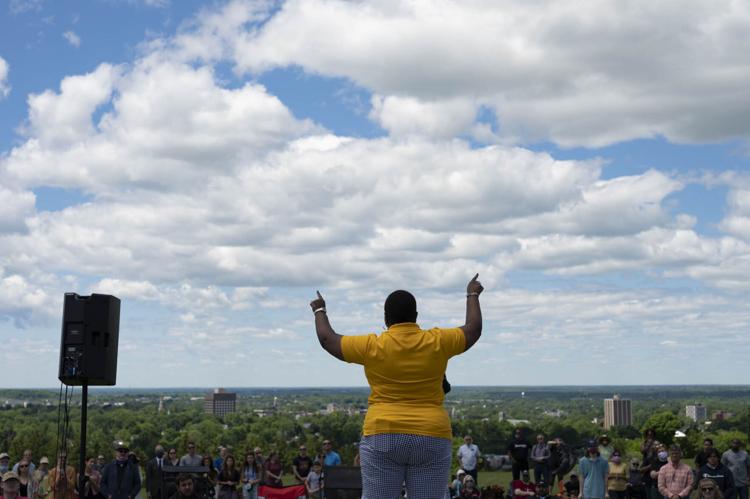 Pastor Olanda S. Brown of the City of Refuge Church in Great Bend called for a "suddenly" great change in the minds of Americans everywhere, and said that such a change could only happen once people are unified.
Attendees said that the message shared was impactful and made them feel empowered to stand against racism from a faith-based perspective.
"Every word that was spoken today was fitting, and as a believer in Christ, it was God that came through today," said Melissa Narinesingh-Perez. "We stand together, we stand united."