WATERTOWN — Glaucoma, known as a gradual "thief" of eyesight, is the leading cause of blindness and visual impairment in the United States. It can affect patients of all ages, many who don't experience any symptoms and may not be aware they have it.
Glaucoma refers to a group of diseases that cause damage to the optic nerve as a result of increased pressure within the eye, but can also be caused by a severe eye infection, injury, blocked blood vessel or inflammatory conditions of the eye.
It's been estimated that up to 3 million Americans have glaucoma.
Friday morning at the Center for Sight, 1815 State St., glaucoma patients were offered a new treatment: DURYSTA. DURYSTA is a dissolvable implant used to reduce eye pressure in patients with open angle glaucoma or high eye pressure. As it dissolves, it automatically releases medicine to help reduce eye pressure.
The DURYSTA implant is cylindrical in shape and smaller than the 'I' in 'LIBERTY' on a dime. After eye drops are administered, patients don't feel the insertion of the implant.
"It's the very first glaucoma implant in the world to be released," said Andrea Smith, a technician at Watertown Center for Sight. "It's kind of the wave of the future."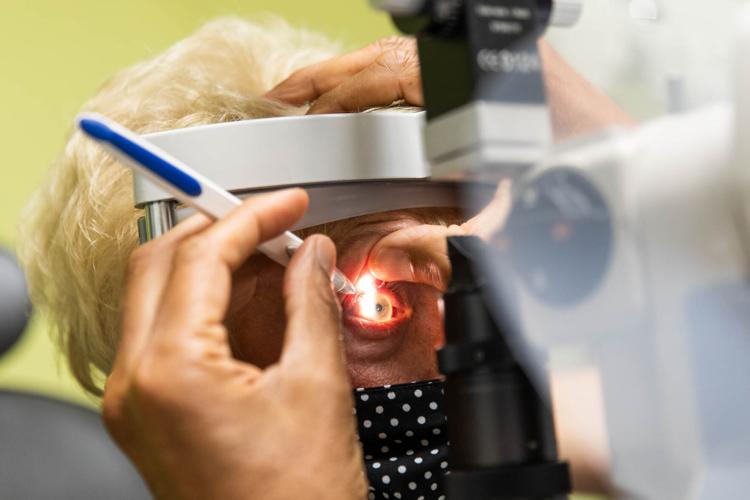 In Watertown, Dr. Noaman Sanni and Dr. Debra A. Koloms performed the procedures. They were also offered at Center for Sight's location in Ogdensburg beginning Friday. With DURYSTA having been approved by the FDA in March, Dr. Sanni became the first in Upstate New York to perform the procedure Friday.
"I think that glaucoma is a condition that has to be treated very aggressively," Dr. Sanni said. "We have one of the largest glaucoma practices in the state of New York. This is the only place where we do everything under one roof from front of the eye, to the back of the eye, from cosmetics to corneal transplants."
Dr. Sanni was one of the first surgeons performing Lasik and Intacs in the Syracuse and Watertown areas and is on staff at Samaritan Medical Center, Carthage Area, Claxton Hepburn and River hospitals. Because the implantation process for DURYSTA takes less than a minute, Dr. Sanni treated patients within a short amount of time Friday.
A total of seven patients received DURYSTA implants in Watertown on Friday.
"It's good that we're bringing all of this latest technology to Watertown," Dr. Sanni said. "It makes you feel good that you can do something for the patients."
For Rosalyn Goutremout, 75, who has been dealing with glaucoma for the past few months after previous doctors failed to diagnose it, the thought of the procedure was much worse than the actual implantation.
"I was scared to death, thought it was going to hurt," she said. "I didn't feel a thing, it's better than putting the drops in my eyes. I was really skeptical, but I'm very impressed."
According to Dr. Sanni, DURYSTA can last anywhere from six months to a year, saving patients from having to put drops in their own eyes daily, which becomes more difficult with age. Typically, what glaucoma patients use are drops on their eyes, and the drops can be very irritating to the eyes and even toxic to the surfaces of eyes, so DURYSTA helps to prevent that.
Patient Cathy N. Lawlee, 68, said her vision went blurry for a second as the implant was inserted, but felt no pain whatsoever. Having dealt with glaucoma for the past year and using many different treatment options, she said she would recommend others get the DURYSTA implant.
Already pre-loaded in a device resembling a thick pen, DURYSTA is implanted with a needle in the lower part of the eye at an angle, then the implantation device is quickly withdrawn, leaving the small cylindrical implant behind.
According to Dr. Sanni, DURYSTA is covered by most insurers, but if one were to pay out of pocket the short procedure would cost about $2,500. He also noted that one needs a lot of dexterity to insert DURYSTA into the eye, so many doctors find it difficult.
"The future is very bright because we are driven by innovation," Dr. Sanni said of Center for Sight. "Medical knowledge is doubling every two years, so if you don't stay on top of it, you're falling behind."