WATERTOWN — On any given year, ghosts, goblins and ghouls interact with princesses, superheroes and rock stars for one night only: Halloween.
This year, the regular frights and delights of the season have given way to very real concerns over the threat of a pandemic and the questions over what precautions parents should take.
Trick-or-treating may continue as Jefferson, Lewis, and St. Lawrence counties leave the practice up to the discretion of individual families. Whether families participate or not, one thing is sure. This holiday season this year will look different, with many social distancing and other safety measures firmly in place.
"We don't have any plans for Halloween, the city has never gotten involved in how Halloween is celebrated or trick-or-treating or any of that sort," said Watertown City Manager Kenneth A. Mix. "Every individual person and family is going to have to make their own determination of whether they feel it's safe to do or how they want to celebrate it."
According to the Centers for Disease Control and Prevention, trick-or-treating is a "high-risk" activity. Steps to take this year when trick-or-treating include avoiding direct contact with trick-or-treaters; giving out treats outdoors, if possible; setting up a station with individually bagged treats for kids to take; washing hands before handling treats; staying at least six feet away from others who don't live with you; and wearing a mask.
Masks should not be worn by children under the age of 2 or anyone who has trouble breathing. Costume masks are not substitutes for cloth masks and should not be used unless they're made of two or more layers of breathable fabric that cover the mouth and nose.
The CDC recommends trick-or-treaters, or their parents, bring hand sanitizer with them to use after touching any objects or people. Once home, before eating any collected treats, trick-or-treaters should wash hands with soap and water for at least 20 seconds.
The guidelines also recommend trick-or-treating only with those who live in your household to reduce the risk of infection.
As far as trick-or-treating in Lewis County, County Manager Ryan M. Piche said the decision needs to be local, with each town and village considering what to do. Though trick-or-treating is not a government sponsored activity, Mr. Piche noted the stance in Lewis County is people should be following the guidance that's been made available by the CDC and the state.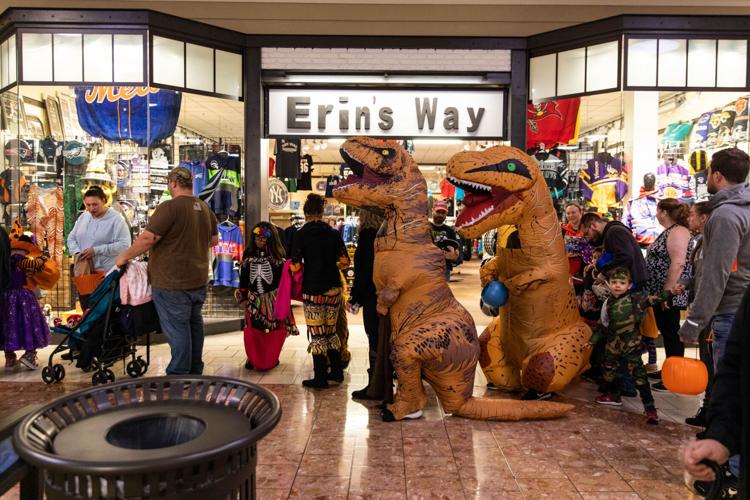 "I'm not gonna stand up and say the county is canceling trick-or-treat. I think what we need to do is make sure that the state guidance gets distributed, make sure that people are aware of it and make sure that people are behaving safely on Halloween," he said. "A lot of the more organizational things have been canceled, but trick-or-treating is a little bit informal, it's gonna be a case-by-case, house-by-house basis I imagine."
In St. Lawrence County, the village of Gouverneur has announced trick-or-treating hours will be from 5 to 7 p.m. on Oct. 31. No trick-or-treating should occur before 5 or after 7 p.m. All those passing out candy are encouraged to indicate their status by turning on their porch light, and all are encouraged to wear masks and social distance in adherence to the CDC guidelines.
Also in St. Lawrence County, Parkstead Gouverneur's Halloween Trunk N Treat will be held from 4 to 6 p.m. on Oct. 31 at its 500 Sleepy Hollow location. This event is open to the public and parents must stay with their children throughout the complex. Everyone must wear a mask and all families must be six feet apart.
With a warning that it's "not for the faint of heart," visitors will be able to walk through the woods along the Devil's Cove Trail of Doom on Oct. 30 and 31 in Norwood. The trail will be open from 6 to 9:30 p.m. and tickets are $10 per person. Face masks and social distancing will be required at the event.
The haunted walk, at Fine Time Family Fun Center, 530 Austin Ridge Road, will be filled with special effects and actors scaring visitors passing through the wooded trail. As this is a fundraiser for the Potsdam High School Drama Club, many of the actors are drama club members.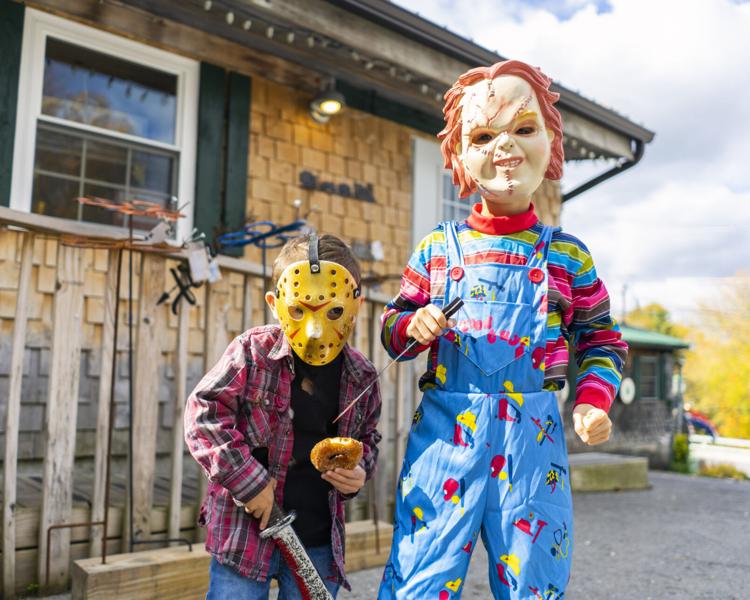 After Gov. Andrew M. Cuomo released Halloween guidance last week, in keeping with previous guidance from the CDC, the St. Lawrence County Public Health Department dispersed the guidance through the county, indicating the county expects residents will adhere to the recommended safety practices.
In a message from Massena Mayor Timmy J. Currier, it was stated the town has received many inquiries regarding Halloween. Most ask if it will be allowed, and if so, what will the rules be. Citing the CDC's safety guidelines, as well as later guidance from Gov. Cuomo, he recommended people check the guidance and develop their own plans for Halloween.
"If you can find an alternative to door-to-door trick-or-treating, that's the safest and most ideal way," he said.
Along with traditional trick-or-treating, with children visiting various houses in search of sweet confections, there will also be alternative events for kids during this time, such as Trunk or Treats and haunted walks through spooky forests. Lowville's Halloween Towne event was canceled earlier in the month due to COVID-19 concerns. The CDC does recommend to avoid such events to limit the risk of infection or spreading the virus.
In Jefferson County, the Henderson Harbor Performing Arts Association, 12469 County Route 123, will host a Harbor Halloween Trick or Treat Drive-Thru on Oct. 31, beginning at 4:30 p.m. This will be a COVID compliant event where masks and gloves, as well as costumes, will be worn as goodie bags are handed out.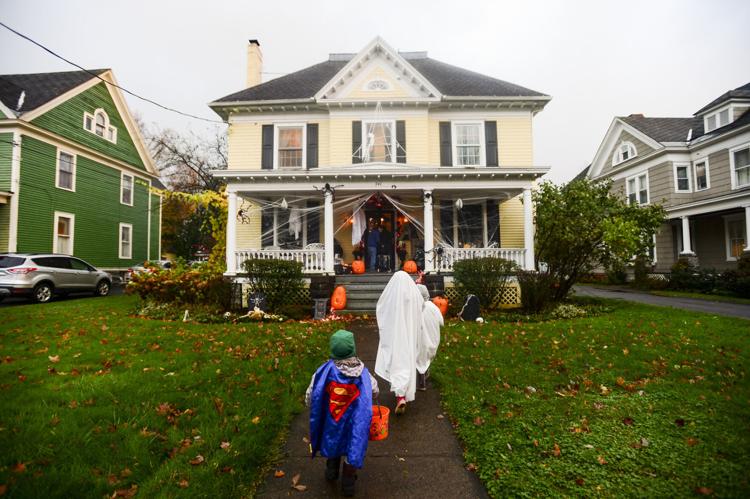 Sackets Harbor will host a Sackets Spooktacular from 11 a.m. to 2 p.m. Oct. 31 featuring a Trunk or Treat in the Visitor's Center parking lot. It's a free family event open to children of all ages to wear their favorite costumes, enjoy decorated vehicles and safely trick-or-treat. The Spooktacular will also feature a scavenger hunt where participants will be able to stop into any of the following businesses for a goodie bag: Chrissy Beanz, The Handmaiden's Garden, Tea Thyme, Calla Lillies, The Paisley Lily, The Sandwich Bar and Junk in the Trunk. The first 200 trick-or-treaters will receive an extra surprise in their bags.
At Watertown's Salmon Run Mall, the annual Malloween Trick or Treat event has been canceled this year. In its place, guests are invited to take advantage of the following on Halloween: The Detail Shop, located in the former Sears Auto garage, will be hosting a drive-thru, touch-free trick or treat event from 5 to 8 p.m.; during mall hours, 10 a.m. to 9 p.m., the following stores will have goodies for customers and families as they visit stores during their shopping trip to the mall: Around the World, Charlotte Russe, Claire's, FYE, Harris Jewelry, JuJu 66 Smoothies, Kay Jewelers, North Country Curiosities and Sarah's Hair Salon; customers can stop by Auntie Anne's and take part in their costume contest anytime throughout the day.
Winners will be chosen by the Auntie Anne's staff at the end of the day; those who shop at Maurice's in costume can take 15% off of their total purchase that day; the Children's Place will be handing out waterless tattoos to little ghosts and goblins coming in; and the Piercing Pagoda will offer 10% off one item to any customers shopping in costume during the day.