WATERTOWN — Cortney L. Tanner met Lisha M. Skeldon when she was 14 years old, and the two st…
WATERTOWN — Lisa Jones always told her daughter, Lisha May Skeldon, that if she were to write her obituary, she wasn't going to sugarcoat anything.
When Lisha wasn't in prison or a rehabilitation center, Lisa's mind was in a constant state of worry, going to places she didn't want it to go. Her worst fear was the day the call would come that Lisha was no longer alive.
A few weeks ago, what she always feared would happen came true: her daughter died of an apparent drug overdose, just days after being released from Albion Correctional Facility. She was 28.
For a long time, Lisa thought her daughter's continued drug use was a choice, wondering why she wouldn't "just put the damn needle down." One day, Lisha asked to go to the emergency room, something she never did. When Lisa took her daughter home, she fed and showered her until she left again for the needle. Before she left, Lisa held her as she cried and wished she was dead.
"It was that day I realized it was a choice — that first time at 17 when we all think we are invincible — but it's truly a demon that grabs hold of you stronger than anything can compare and does not let go," Lisa said, "it's no longer a choice."
After providing raw and honest notes for her eldest daughter, Ashley Miller, to write in the obituary, she delivered on what she told her daughter. The obituary stated that some might have described Lisha as "intimidating, crazy, sneaky, selfish, or even a thief," but the Lisha her family and friends knew and loved was smart, sharp-tongued, funny and loyal. She was characterized multiple times as a "true wild child."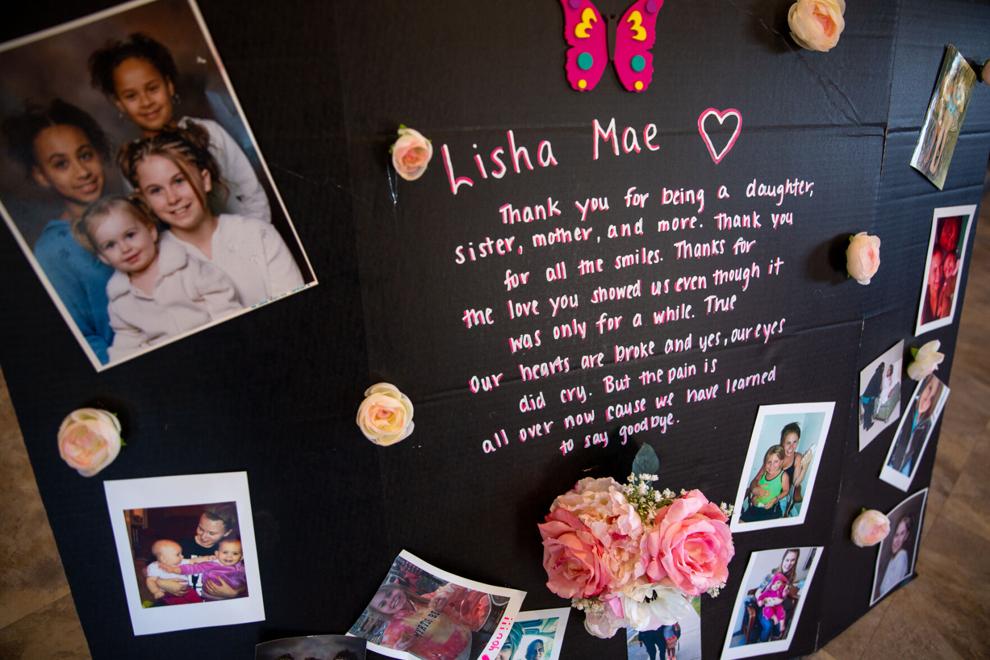 From age 15, Lisha was in and out of juvenile detention, prison and drug rehabilitation facilities. She became addicted to opioids and with that came lying, stealing and more, her mother said. After a certain point, Lisa began calling the police on her daughter when needed.
Born on Nov. 18, 1992, Lisha was released from prison on March 8 and died two days later on March 10 after being found unconscious in her room at a friend's house. She was rushed to the hospital, but to no avail.
The 28-year-old left behind three children, Aleigha, Aliisah and Alijah; her mother and stepfather; four step-siblings; her father; and three siblings. Lisha also left behind many friends whom she loved as if they were family.
Due to Lisha's continued drug use over the years, Lisa has been the full-time caregiver of all three of her grandchildren.
Lisha's children were more used to hearing her voice over the phone than having their mother with them for very long.
"She would always get other prisoners to make them stuffed animals; they just got a mermaid, unicorn and a dinosaur in the mail; they're used to all that stuff," Lisa said of her grandkids. "Once they don't get that phone call, that jail mail, it's gonna hit them like a ton of bricks, I feel."
To remind them that their mother was so much more than just her addiction, Lisha's family held a celebration of life on March 20 at Meme's Diner in Felts Mills. In honor of Lisha, many of those in attendance, both family and friends, wore pink — her favorite color. Her mother, stepfather Michael Lemon, and the children wore crisp, white Nike shoes with pink swooshes. Written on one of Lisa's shoes was, "My baby girl."
There were photos displayed all over the diner where the celebration of life was held, with pink balloons and flowers surrounding the urn containing Lisha's ashes. On one table sat a memory box, along with photos of Lisha for guests to take as keepsakes.
Alexis Weaver, the friend Lisha was staying with when she overdosed, shared that her favorite memory of Lisha was when she was listening to rap music in rain boots, shorts, a tank top and rubber gloves, nonchalantly washing her dishes.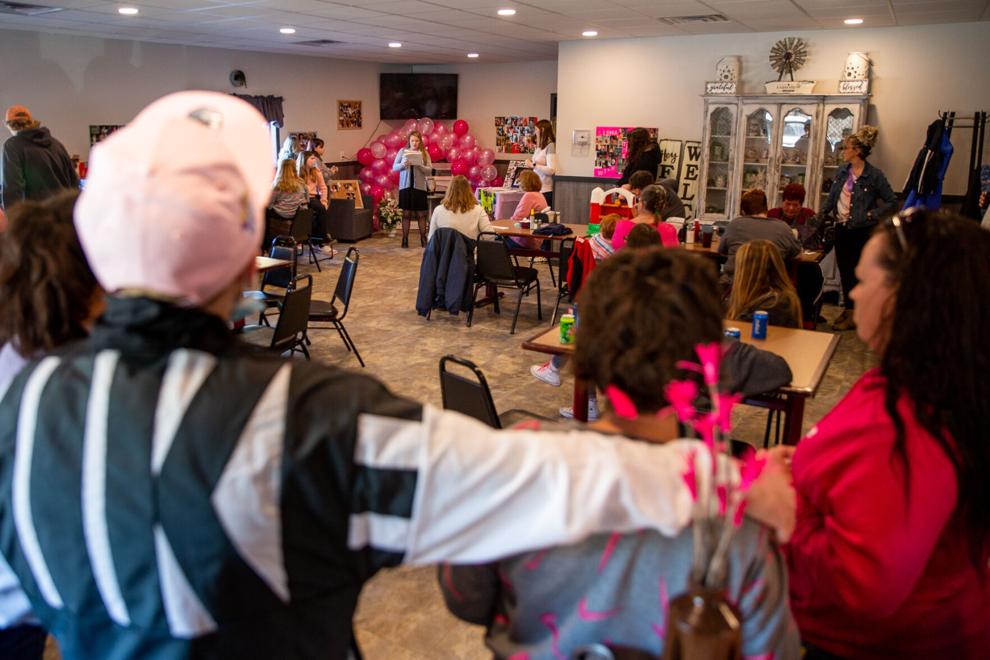 Guests at the celebration of life were invited to read letters they had written, with Lisha's best friend Julia Parker starting out reading aloud letters by both Lisa and Lisha's aunt, Betty Mullaney. Julia and Lisha became friends when they were 11.
"When we had children, I chose a different path than her, but we still remained good friends," Julia said. "We had a lot of hope to hold on to that she would come home and get better and now she's gone. My favorite memory is going to the park with the girls, it was when she was her happiest."
Bobby Champion, father to Lisha's two girls, has been clean for about five months. He said her death drove home how important it was for him to remain sober.
"I've had people around me in the drug life that have passed, but nobody like this," he said. "Sobriety is something to strive for, especially now that the girls need me more than ever."
He and Lisha were together for eight years.
Toxicology has not yet come back from Lisha's death, but Lisa said she knows her daughter and is sure it was an overdose. Lisa said she doesn't blame anyone for Lisha's death and she hopes to help save others, even just one, from ending up how Lisha did.
Lisha's brother, Trevor Skeldon, said in losing Lisha he lost a piece of himself. He said he was struggling with the knowledge that the phone is never going to ring again, that he'll never get another letter from his sister. Lisha was described by her older sister Ashley as naturally smart, having a lot of love and being fiercely loyal to those close to her.
"We couldn't save her from herself," said her aunt Betty. "If you could bring somebody back from drugs by loving them alone, she'd be here today."
In lieu of flowers, Lisha's family asked that donations be made in her memory to the Watertown Urban Mission's Bridge Program, which is aimed at helping people recover from addiction and be productive members of the community. Clients are sentenced to the Bridge Program by a court to help them restore and rebuild their lives. Lisa said it's important the money stays local and goes toward helping those struggling with addiction in the community.
Lisa said the point in writing such an honest obituary for Lisha was for other people battling drug addiction to see how deeply families are affected by their addiction, and that it might pursuade them to seek help.
"I'm not gonna stop fighting," Lisa said. "It's harder now, but my main thing was hopefully somebody else would listen to that obit and maybe see the light."
Lisa's message to families is simple.
"Educate your children the best you can," she said. "Had I known, I sure as hell would have worked my ass off on that as I do now with my grandchildren."
For the past few years, the family has participated in the Urban Mission's Run for Recovery, usually held in September in Watertown to raise funds for the Bridge Program.
Lisa, along with her three grandchildren and other members of her family, participate each year and make T-shirts to wear for the event and paint -RecoveryRocks to line the run/walk path with painted messages like "Believe in yourself" and "Sober since ..." to encourage those on the path to sobriety.
Though they weren't able to participate last year, due to the COVID-19 pandemic, they still raised money and look forward to being able to participate again this year.
"I never shied away from the fact Lisha was my daughter," Lisa said. "I didn't condone what she did with her lifestyle, but I was also her biggest cheerleader. As someone recently said, she was a beautiful mess. He hit the nail right on the head, she was my beautiful mess."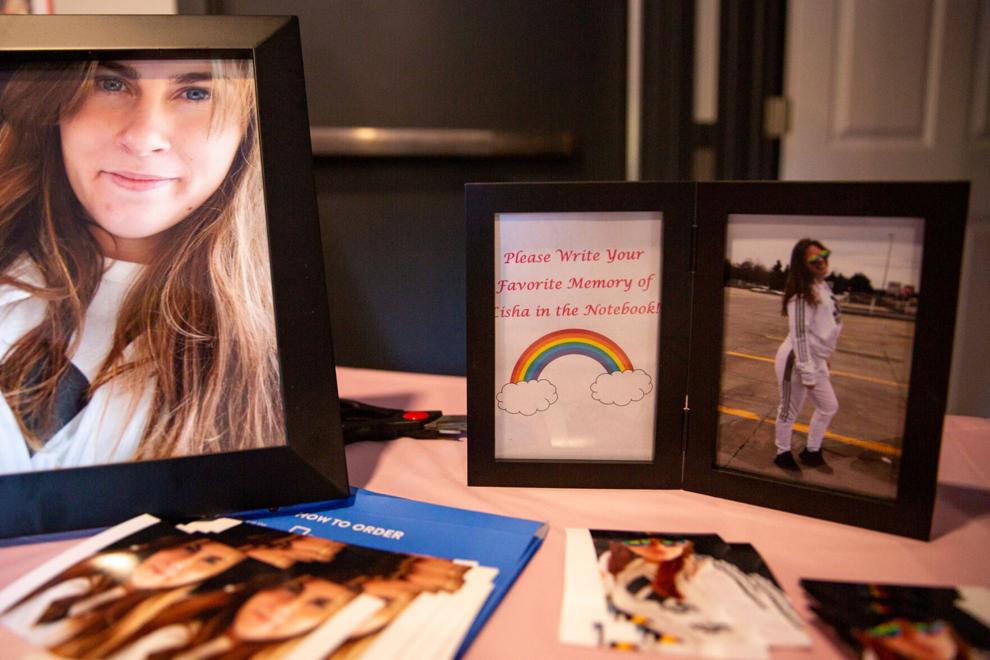 The Jefferson County Public Health Service, Jefferson County Department of Community Services, and the Alliance for Better Communities want to remind people that a number of community resources have been established and expanded to help people who have substance use disorders, and for people to access these resources to receive assistance and treatment:
Anchor Recovery Center of NNY: 315-836-3460
Credo Community Center for Treatment of Addictions: 315-788-1530
Samaritan Addiction Services: 315-779-5060
Samaritan Medical Center — Social Worker on Call: 315-785-4516
Suicide Prevention Hotline: 1-800-273-8255
Northern Regional Center for Independent Living: 315-785-8703 during business hours and 315-785-8708 on nights and weekends
Mobile Crisis Jefferson County: 315-782-2327 or 315-777-9681
n Hope Line: 1-877-8-HOPENY or text 46736
To receive Naloxone training and free kits, members of the public can contact Credo, ACR Health or the Anchor Recovery Center of NNY. The public is also reminded of New York State's 911 Good Samaritan Law, which allows people to call 911 without fear of arrest due to drug possession if they are having a drug or alcohol overdose that requires emergency medical care or if they witness someone overdosing.