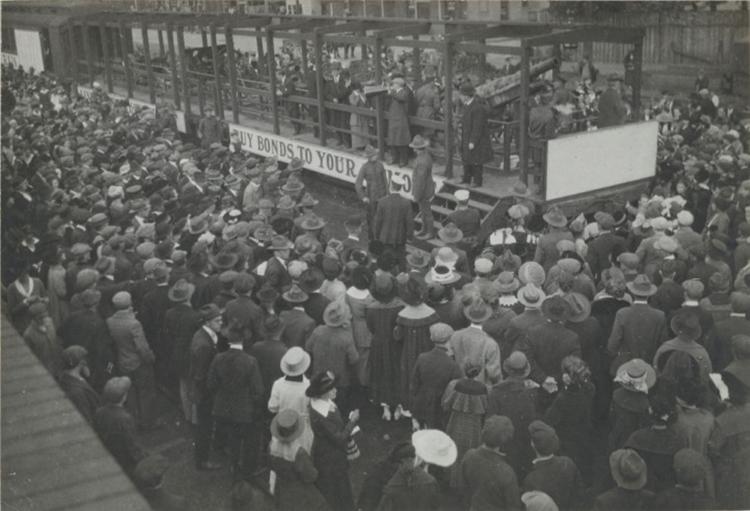 POTSDAM — Tucked in a closet at Potsdam's First Presbyterian Church, detailed records of north country life have been kept for more than two centuries.
First Presbyterian,  in varying locations since 1811 and at 42 Elm St. since 1868, has stood through the Civil War, two world wars, economic booms and busts and public health crises. And the church's people, too, have stood with it.
"In times of struggle, it is helpful to recollect when we've already persevered through crisis," the Rev. Katrina G. Hebb said. "That our church community survived the influenza epidemic of 1918-1919, and served the community in the midst of it, reminds us today that we are capable of living through this current pandemic."
When Rev. Hebb opened First Presbyterian's "history closet" on May 3, she had been leading the church for less than two months, after previously serving congregations in Rochester and working as a commissioned lay pastor for Lisbon United Presbyterian Church, St. Lawrence County.
Her first official act as Potsdam's pastor was calling an emergency session with church officials to decide that March 9 services would be the last in-person church events until further notice, as the COVID-19 pandemic was just gaining traction in the north country.
"Most of my congregants haven't even met me in person yet," she said.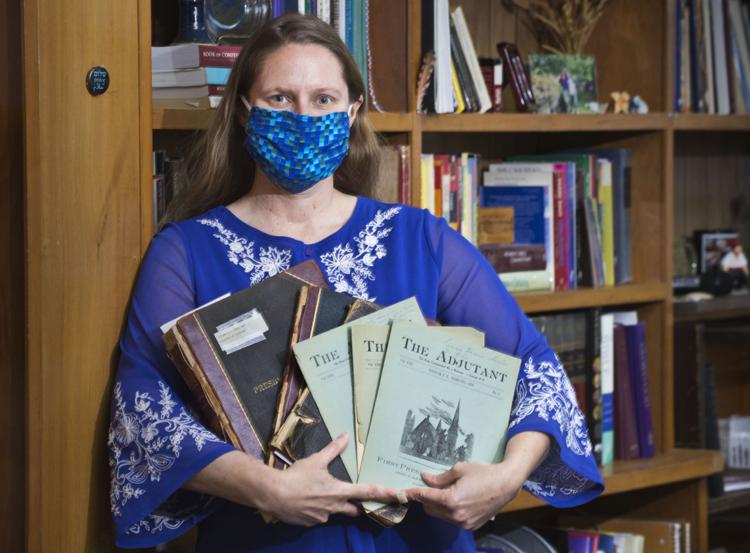 Donning masks, Rev. Hebb, church session member Renee Stauffer and Ms. Stauffer's three children, Isaiah, Lydia and Levi, began sifting through history closet materials in early May.
They found meeting minutes, annual reports, pastors' notes, newsletters, and reviewed an incredibly detailed account of the church's history in St. Lawrence County, hoping to dig up information about the 1918 flu.
Presbyterian churches, Rev. Hebb said, are "sticklers" about maintaining historical records and are expected to keep reports, publications, meeting minutes and other church documents in fire-proof storage and recorded on acid-free paper.
The majority of the history closet's materials are kept in a fire-proof, two-drawer filing cabinet, and some records date back to 1811, the Potsdam congregation's first year of existence.
Eerily similar to the ongoing COVID-19 pandemic, the global health crisis caused by the spread of the novel coronavirus, the 1918 flu pandemic — and the dutifully collected records of it — can be a sort of teacher, Rev. Hebb said.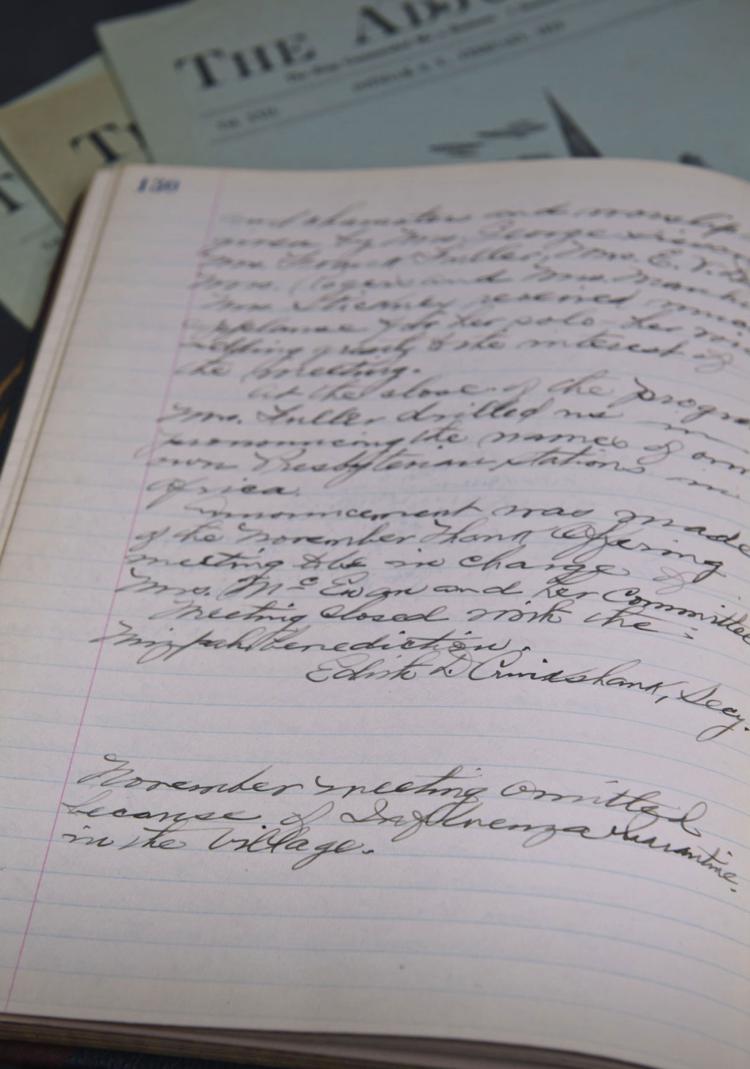 "Our stories of the past shape who we are in the present moment," she said. "Resilience as a community lives in our collective muscle memory; we just have to be reminded sometimes that the memory is there."
Just five months after Armistice Day ended World War I on Nov. 11, 1918, Potsdam Presbyterian's Rev. H. Victor Frelick delivered a report at Potsdam's annual congregational meeting.
"During the fall preceding the Armistice, the churches of the village were closed four Sundays on account of the influenza epidemic," Rev. Frelick wrote on March 25, 1919. "The year now closing has been one of deep anxiety, of sadness, and sorrow. Yet there have been many bright places as well, for it as been a time of burden bearing and service; and we have known God."
Over the four-year Great War, more American military service members died of the flu and other diseases than in combat, about 63,000 and 53,000, respectively, totaling some 116,500 deaths. Worldwide, the war led to about 20 million total military and civilian deaths.
The Centers for Disease Control and Prevention describes the 1918 influenza pandemic as "the most severe pandemic in recent history," which was caused by an H1N1 avian virus and infected 500 million people, about one-third of the world's population at the time.
From 1918 to 1919, the virus led to at least 50 million deaths globally and 675,000 deaths in the United States, according to the CDC.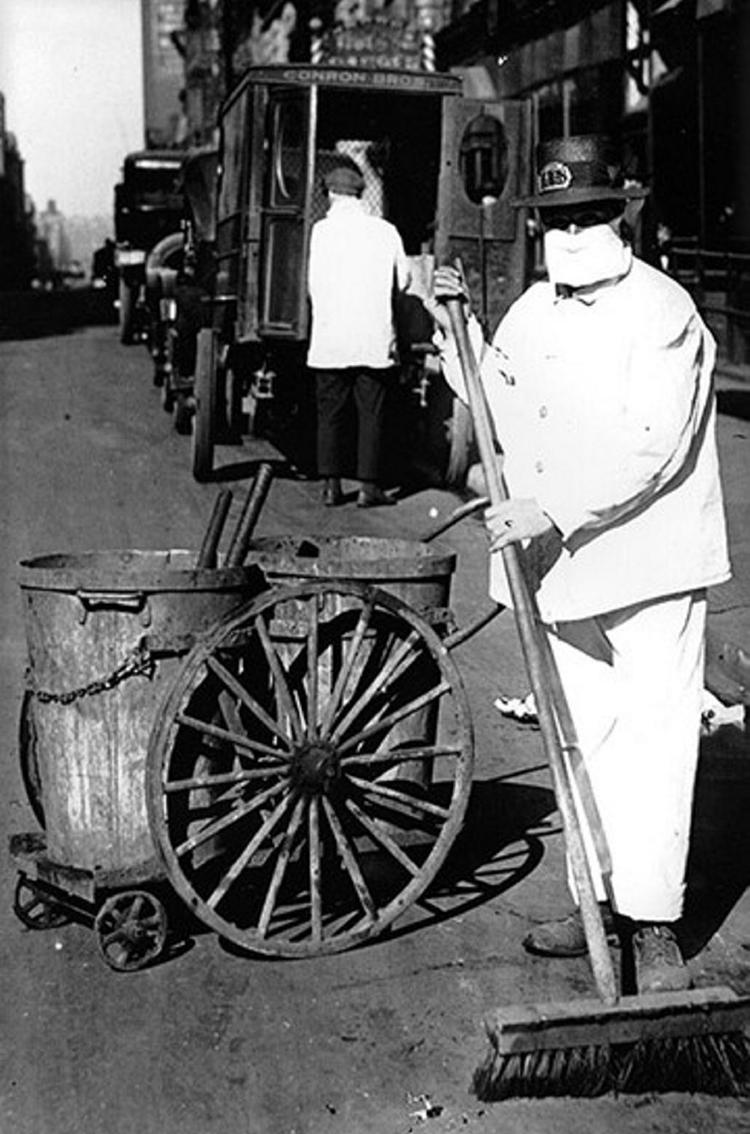 At least two of Potsdam Presbyterian's 25 men who served in the war died — Howard Foote of influenza, and George Bonney "as a result of war injuries," Rev. Frelick wrote in a 1950s reflection.
And the flu "cut through every class and education level," Rev. Hebb said.
In a January 1919 excerpt from The Adjutant, Potsdam Presbyterian's monthly newsletter prepared by the church's men's league, a flu death notice sparked "shock beyond measure" in the congregation.
Jeremiah M. Thompson, principal of the State Normal School — previously St. Lawrence Academy and now SUNY Potsdam — reportedly died of the flu after being "under the doctor's care only one week."
"His case was desperate from the first," The Adjutant reads. "Daily we sought to know his condition, and though we knew it was serious, we were hardly prepared for the final issue."
At nearby Clarkson University, founded in 1896 as the Thomas S. Clarkson Memorial School of Technology, "the influenza epidemic raged" as hundreds of young service men received special military training at the school before and during the war.
"The epidemic took a fearful toll, partly because of the crowding of the sick with the well," Rev. Frelick wrote in the 1950s. "It required drastic measures to make the military command in Potsdam see the tragic folly of doing this."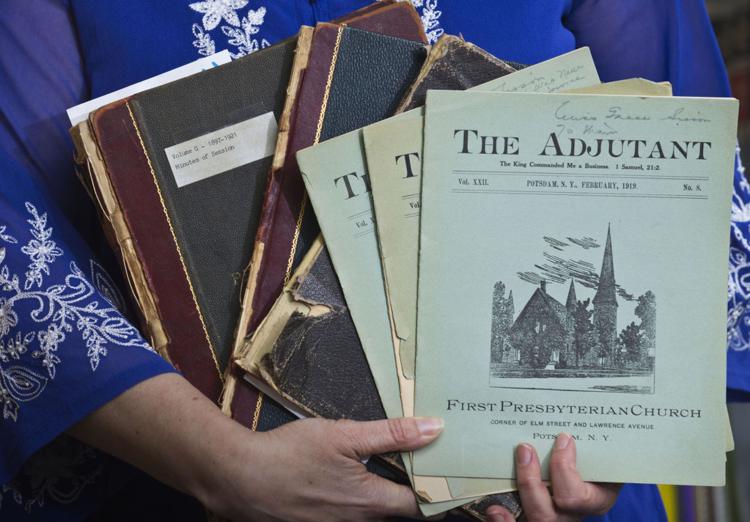 Rev. Hebb said based on the "history adventure" she took with the Stauffer family, "it was pretty clear that they weren't quarantining sick soldiers, and Frelick was trying to get people to listen."
At the urging of Rev. Frelick, who was also instrumental in establishing the St. Lawrence County chapter of the American Red Cross and chaired its Military Services Committee, army officers at Clarkson agreed to separate soldiers and set up two field hospitals.
About 70 miles southwest of Potsdam in Watertown, former Watertown Deputy Fire Chief Russell J. Randall never knew that his great-grandparents died of the 1918 flu until he did some research on his family's genealogy.
During the 1919 wave of the deadly pandemic, his great-grandmother, Elise Young Randall, 38, died first, on Jan. 18. Her husband, Herbert G. Randall, 37, passed away just hours later on Jan. 19, after contracting the influenza virus, according to a Watertown Daily Times obituary Mr. Randall has kept.
The funeral was held at their home, the couple buried in the same casket, he said.
For years, it was family lore that his great-grandfather died of a broken heart at the loss of his wife.
"We thought it was romantic," Mr. Randall said. "It wasn't a broken heart. No, it wasn't romantic. It was from the influenza."
At the time, it wasn't known where the couple contracted the virus, which started presenting as a mild cough and developed into pneumonia a few days later. They were ill for about a week.
Other family members, including three of the children, also became sick but survived.
And to the north in DeKalb, Bryan S. Thompson, DeKalb town historian and a local farmer, has heard stories that his great-grandparents died of the 1918 flu. Intrigued, Mr. Thompson has researched newspaper archives and other sources for years, learning more about how the flu pandemic impacted north country communities.
His great-grandparents, David and Minnie Hurlbut, who were local farmers, died in January 1919, and a great uncle, Stanley Hurlbut, contracted influenza but recovered.
Archived newspaper articles detail life during the pandemic — panic-buying eggs, fearful quarantining, canceled meetings and continued national travel.
Potsdam Presbyterian records indicate congregants and community members vacationed in 1918 and 1919.
"Mr. and Mrs. F.L. Cubley will leave shortly on a vacation in Cuba and Florida, we wish them a happy trip," reads one newsletter entry in February 1919.
"Mr. and Mrs. W.A. Blackmon are home after a most enjoyable visit in Washington D.C.," another reads.
And as residents traveled in and out of the north country, a crowd-drawing train passed through New York, fueling local outbreaks.
As part of the Liberty Bond program established by the U.S. Treasury to support Allied forces during World War I, trains rolled through towns nationwide, toting war materials recovered from captured Central power soldiers and promoting the bond program, which issued billions of dollars in Liberty Bonds in 1917 and 1918.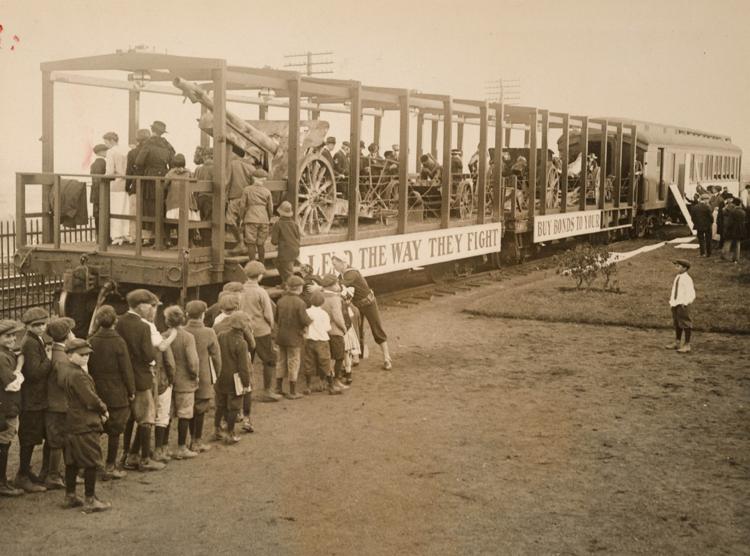 The mostly open-car trains were set up with an enclosed war museum in one car, with a choir of injured war veterans greeting crowds at each stop. Volunteers walked door-to-door in communities, selling bonds and marketing federal food programs.
In New York, trains made their way to the north country from New York City or Syracuse, stopping in counties across the state and in Watertown, Gouverneur, Canton, Potsdam and Massena.
A parade was initially planned in Gouverneur to mark the arrival of the "Victory Special" train on Oct. 12, 1918, but shortly before the train's scheduled arrival, the local Gouverneur health board canceled the event, and the enclosed coach was closed to visitors. The veterans choir, according to Mr. Thompson, still performed for an outdoor crowd. When the train arrived in Canton the next day, some 2,000 people gathered to see its artifacts.
Health officials in some towns ordered the train to shut down, Mr. Thompson said, though the museum car remained open as it passed through most areas. Noticeable flu outbreaks spread in communities within days of the train's departure.
On Oct. 11, 1918, as the train moved through St. Lawrence County, the Associated Press reported the New York Public Health Council, with state Commissioner of Health Hermon M. Biggs, adopted a judicial policy that made it a misdemeanor for a person to "cough or sneeze in a public place anywhere in the state without covering their mouth or nose." The misdemeanor carried a $500 fine, one year in jail, or both. Schools, churches and theaters closed. Most saloons remained open.
Though experts have not definitively identified the source location of the influenza pandemic, the first recorded cases in the United States were noted in March 1918 at Fort Riley military base in Kansas.
The "Spanish flu" misnomer stems from global military censorship and wartime suppression of news — press limitations not experienced in Spain due to the nation's wartime neutrality. Spanish journalists could freely report on the pandemic, which didn't take hold in Spain until late May 1918, when the first recorded outbreaks were identified in Madrid. Because Spain published information about the pandemic months before most other countries, "Spanish flu" became the go-to label across Europe, Asia and the Americas.
While American press coverage in 1918 and 1919 focused on the final months and immediate aftermath of the four-year global war, headlines about the influenza pandemic peppered front pages across the country, with flu information placed among war updates in some north country publications as early as 1917.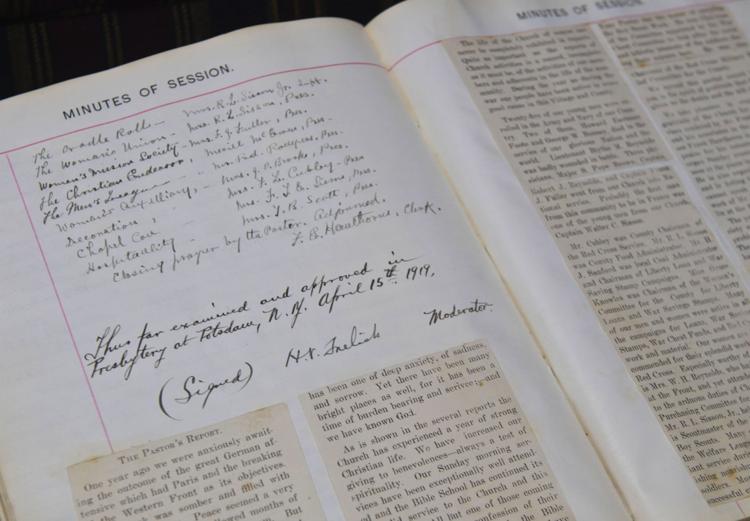 New York State Library records indicate at least 15 local papers in Jefferson, Lewis and St. Lawrence counties were active during World War I and the flu pandemic, all relaying influenza news to the public. Most of those local newspapers, the Ogdensburg Advance and St. Lawrence Weekly Democrat, Ogdensburg Republican Journal, Gouverneur's Northern Tribune, Potsdam's Courier and Freeman and the Massena Observer, have since folded or have been absorbed by other publications. Few from that era remain, including the Thousand Islands Sun, the Watertown Daily Times and a later iteration of the 1909 Lowville Journal and Republican.
In an Oct. 10, 1918, issue of the Watertown Daily Times, a report detailed the apparent circulation of a rumor about an influenza "cure" requiring lemons and honey.
The following day, the Ogdensburg Republican Journal printed a similar story, reporting that the rumor may have originated in St. Lawrence County, "no one seems to know just how, and, as far as is known, the recipe was brought to Watertown by a railroad brakeman running out of Ogdensburg."
Attributed to a local doctor, Ogdensburg's Grant C. Madill, the lemon-and-honey recipe impelled residents to stockpile the goods.
"This morning it was practically impossible to get any of these two articles in the city," the Times reported in 1918. "Incidentally, the price of lemons went up $3 a box shortly after the rumor was in circulation."
At the time, Dr. Madill was stationed as a captain in the Medical Reserve Corps in Virginia, and family members told reporters he had "made no reference to the alleged 'cure' in any of his letters and that nothing was known of it there."
With no lemon-and-honey "cure," and influenza widely thought to be caused by bacteria until the 1930s, health officials had little to offer the public in terms of recommended treatment. Recommended preventative measures, however, were widely communicated in the United States, and mask wearing became commonplace.
Chapters of the American Red Cross produced thousands of gauze masks for medical workers and troops, and newspapers printed instructions for people to make masks of their own, though the thin gauze material was much less effective than standard, 21st century surgical and N95 mask designs.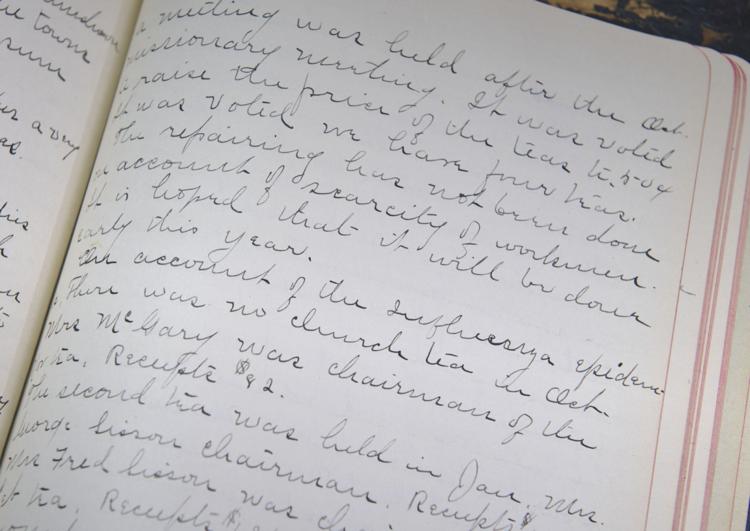 Influenza editorial cartoons were reproduced in American newspapers, too, including in the St. Lawrence Plaindealer — an October 1918 image of a man sneezing appeared with a soldier and sailor in the background.
"Coughs and sneezes spread diseases as dangerous as poison gas shells," the caption reads.
Now, 102 years after the 1918 flu pandemic began, COVID-19 cases have surpassed a global total of 5 million, the World Health Organization reports, with about 350,000 confirmed deaths related to the virus since it was first reported in Wuhan, China, on Dec. 31, in the United States on Jan. 21, and in New York on March 1.
The United States alone has lost more than 100,000 people to the deadly respiratory disease.
"We have to learn from the past," Ms. Stauffer said. "It's important to know how things were handled, how people got through, learn what we can and not forget."
Times staff writer Craig Fox contributed to this story.