THERESA — Collin Garceau grew up wanting to be like his older brother, Steven, perhaps driven by years of brawling and needing backup. Whether it was fighting fires, joining a motorcycle club, settling fights or loving his family — Collin did what Steven did. So when Steven's kidneys started to fail, it was his little brother's turn to stand up for him.
Friends, co-workers and relatives describe Steven Garceau as someone who stands up for what he believes, someone who is there when they need to talk, a lover but not afraid to bully a bully, and the firefighter with his nails painted occasionally — devoted to his daughter, family and community.
In March of this year, Mr. Garceau came down with the same chest cold he gets most winters, so he decided he would push through like normal.
Co-workers started noticing his face becoming more pale every day. He experienced serious stomach pain and it was difficult for him to breathe. Louie Shaw works at the highway department. He was there when Mr. Garceau was getting sicker.
"I told the boss, 'you either got to send him to the hospital or he's got to go to Frederick's,'" Mr. Shaw said. "Frederick's is the funeral home."
Mr. Shaw said Mr. Garceau finally had enough.
"He got in the truck and drove out himself," Mr. Shaw said. "He's a good kid."
Days later, Mr. Garceau was diagnosed with end stage renal disease, a chronic medical condition in which kidneys cease functioning on a permanent basis. The disease leads to a need for a regular course of long-term dialysis or a kidney transparent to stay alive. According to a report by End-Stage Renal Disease Network of New York, there were 7,312 ESRD patients in 2014. The number of deaths that year among ESRD patients in New York was 4,643.
There were 1,221 kidney transplants in 2014, an 8.7 percent increase compared to the previous year. Among the 13 transplant centers in New York, the SUNY Health Science Center at Syracuse University Hospital is the closest.
The leading cause of ESRD continues to be diabetes, followed by high blood pressure. Mr. Garceau hasn't been diagnosed with either, or any others that might indicate a cause. Doctors told him he won the lottery in a bad way, and they said it's possible he would have been dead if he had waited one more week to go to the hospital.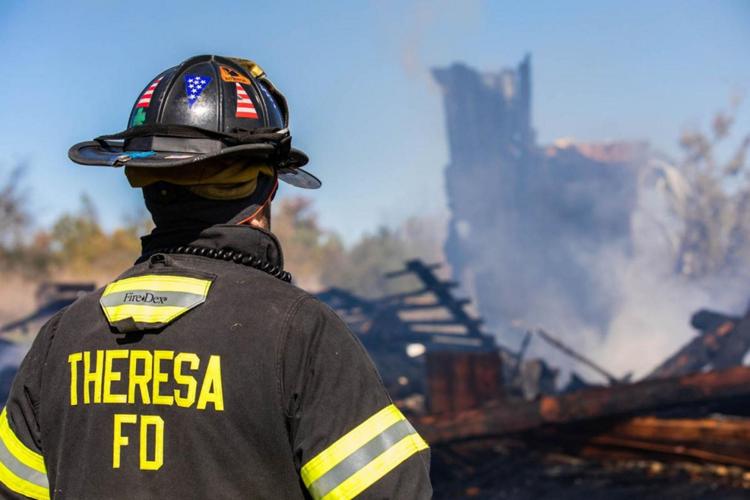 Zac Cullen, the current fire chief of the Redwood department, where Mr. Garceau was a firefighter and later chief, lived just down the road from Mr. Garceau when they were young. They grew up together, trained together to become firefighters and later worked together on the department.
"With my career in the fire service, I see a lot," Mr. Cullen said. "People dying before the age they should, people getting sick. He's too young for this."
It especially bothers Mr. Cullen because Steven Garceau is so active — in the community and in the outdoors.
"It makes you think about things," Mr. Cullen said. "Just like seeing someone the same age as you in the obituaries. You don't really expect the worst out of it but you feel bad for him for having to go through it. You keep your hopes up. A lot of people go through it every year and they're perfectly fine."
Shortly after his diagnosis, Steven Garceau's family and the fire department organized a benefit to raise money for his medical expenses. Mr. Garceau, driving to a Watertown clinic for dialysis three times a week, didn't want to ask for help. He had to be convinced to show up.
"In his mind," Collin said, "other people needed stuff more than he did."
Growing up together, Collin said his brother whooped his butt most days until he was 14 years old.
"And then when I was 14, we were camping at Crystal Lake when I finally stood up and whooped his ass and he went to the hospital with something broken," Collin said. "He told me 'you see, I knew beating on you all those years would toughen you up. Now I don't have to worry about you defending yourself.'"
Steven Garceau joined a motorcycle club, and then his brother did. Steven became a firefighter, and then Collin did, for the Air Force.
"I always looked up to him growing up," Collin said. "I always tried to do everything that my brother did."
When Steven was diagnosed, there was no doubt in Collin's mind who would be donating his kidney, even when it took months of paperwork, physicals and waiting to make it a reality.
"It was right from the get-go that I was going to be the one giving my brother his kidney," Collin said. "I just knew."
Indeed, it took six months to confirm Collin was a match. There were times when their mother, Sandy, lost hope.
"I was doubting he would get a donor," said Sandy Garceau. "Everything was falling into place too easily. I told him I didn't think his brother would be a match. I just didn't think he would be. It was like 'Thank you, God, I was wrong.'"
Steven and Collin Garceau fight like brothers do. But they're always there for one another when push comes to shove.
"Even back in high school," Steven Garceau said, "I spent more time on suspension because of him. He'd get into a fight or something and big brother would have to finish it for him."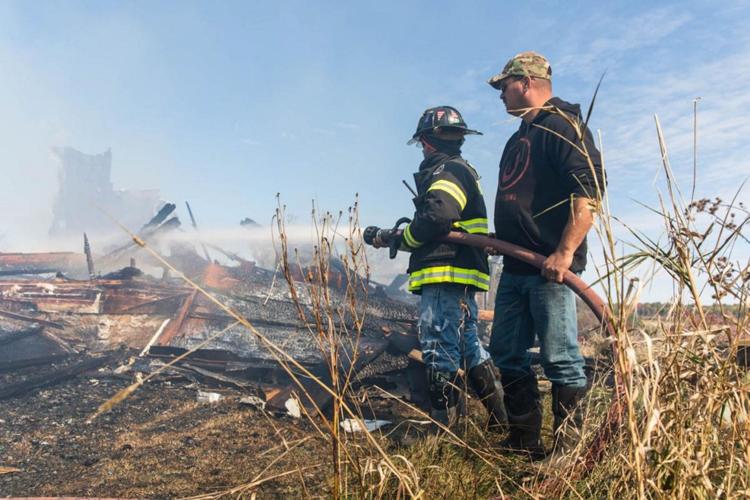 Steven Garceau, 34, is a father to his 5-year-old daughter, Addison. He's a son to Larry and Sandy and a brother to Collin, where they all grew up in Theresa. At 18, he started working his way up in the ranks of the Redwood Fire Department until he became chief. At 20, he accepted an award for pulling a trapped man from a burning vehicle he saw while driving by. Then he climbed the ranks again with the Theresa Fire Department, starting at the bottom and working over the past seven years on his way to second assistant chief. He's an equipment operator for the Town of LeRay Highway Department, fixing drainage pipes, black topping, driving a dump truck, operating a loader and plowing snow in the winter time. Last year, the department's supervisor asked if he would run to replace his seat, so he did with a shoe-string budget, and he lost. Mr. Garceau is an outdoorsman, a man of faith, "the type to give you the shirt off his back," and he won't stop fighting fires even if a few organs are failing.
"I told the doctors, I said 'I'm not giving that up,'" Mr. Garceau said. "I have dedicated my life to the fire service and that's what I'm going to do. So we brokered a deal."
The deal was Mr. Garceau would only be in a command role as assistant chief — not kicking down doors — rather coordinating from outside like most of his job description entailed in the first place. It's the most he could negotiate for the field he's loved since he can remember.
"I'm OK with calling it my career," he said. "What's that old country song? 'That's something you can hang your hat on if you're proud of it.'"
As a live donor, Collin was able to choose when the operation would be. They were considering sometime around Thanksgiving, but that wouldn't work because it's Steven Garceau's favorite holiday.
"So we got talking," Steven said, "and my brother said how about December third? Well, my birthday is December fifth. And we all got joking afterward, we were like 'wow look at that, God gave you a birthday kidney.'"
It's possible he's only in the hospital for three days after the operation, followed by a few months of recovery at home.
"I'm gonna be in one hospital room, and my brother is going to be in another," he said, beginning to laugh, "and I'm praying the guy who's carrying the kidney across the hall won't trip or something."
Mr. Garceau hardly enjoys being the center of attention, and he surged into it when he was diagnosed. He nearly didn't participate in this article.
"I realized you can make it so it's not about you," Mr. Garceau said. "I'm a firm believer in Jesus Christ, and there's not a doubt in my mind that it was his voice that told me to go to the hospital that day. And I know for a fact that it was him that's allowing this stuff to line up."
Timothy Karg is the current chief of the Theresa Fire Department.
"I kind of wish I had six more of him on the roster," Mr. Karg said. "He's well trained, an asset, and whenever someone needs someone to talk to, he's there for the members of our department."
Roger Duvall, a retired judge and volunteer firefighter in Theresa, remembers when Steven Garceau walked into a department meeting with his fingernails painted bright purple.
"People were looking at him," Mr. Duvall said, "and he said 'I spend time with my daughter, and if she wants to paint my fingernails then big deal.' I was so impressed. He didn't not come to the fire meeting. He came, and he was proud he was spending time with his daughter and that's what she wanted to do. To me, that took a real love of his daughter and a real love of people."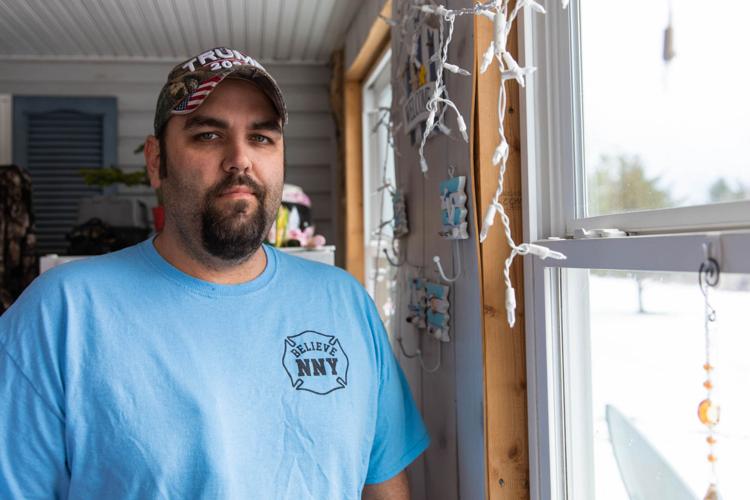 Steven Garceau's nails have been painted several colors. At that meeting he didn't even remember they were purple until the group of firefighters started asking. It's become routine — like his daughter going with him to the fire department just like he did with his dad when he was a kid.
"She likes to paint her nails," Steven Garceau said. "So, a 'real man' will let his nails get painted."
The Garceau family has created a Go Fund Me page to help raise money for medical expenses and gas to and from his dialysis treatment he does three times a week.