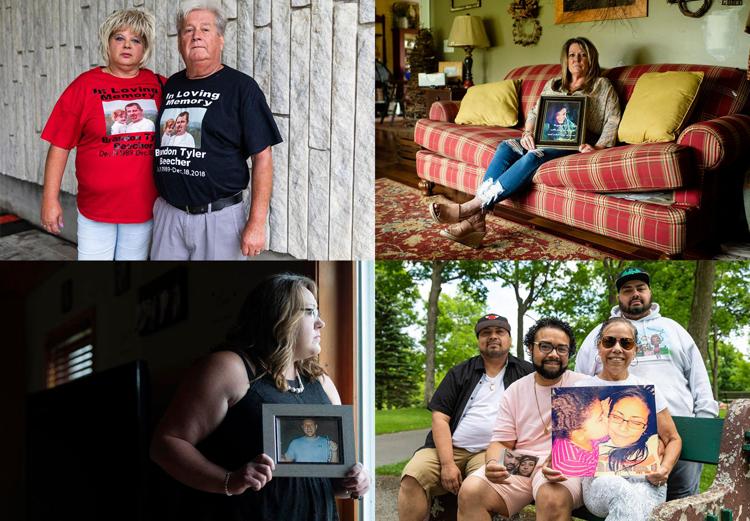 WATERTOWN — In 2018, a week before Christmas, Tina Beecher went to wake her 28-year-old son, wondering why he hadn't yet joined the family for breakfast. But Brandon T. Beecher wasn't sleeping in that day; he had overdosed on heroin and died in his bed. Asleep next to him at the time, his daughter Stella, age 2, was blissfully unaware.
While stories of addiction recoveries abound, not every ending is a happy one. For many, the pain of addiction ends only with their death; while for their loved ones left behind, the pain never really goes away.
Opioid deaths in New York surged 71 percent between 2010 and 2015, according to the Rockefeller Institute of Government, with upstate and suburban counties being hit harder than New York City. By 2017, public health officials, treatment providers and law enforcement in Jefferson, Lewis and St. Lawrence counties were referring to the rise in deaths as an epidemic, hosting multiple public forums in an attempt to quell the escalation.
The people behind those numbers include Elizabeth "Lizzie" Munoz, who died of a heroin overdose on Mother's Day in 2018, leaving behind her own mother, Maria P. Brandle, as well as her three brothers. Also included are Ashley Grant and Shane Cole, who died of overdoses in 2015 and 2018, respectively, leaving behind their families as well as Alayna, the child they had together.
Still alive and clean for the time being, Lisha Skeldon's children have never known her as a mother due to the fact that she has never consistently been in their lives. Currently incarcerated, she is away from her family and her mother, Lisa Jones, worries what her fate will be when she gets out.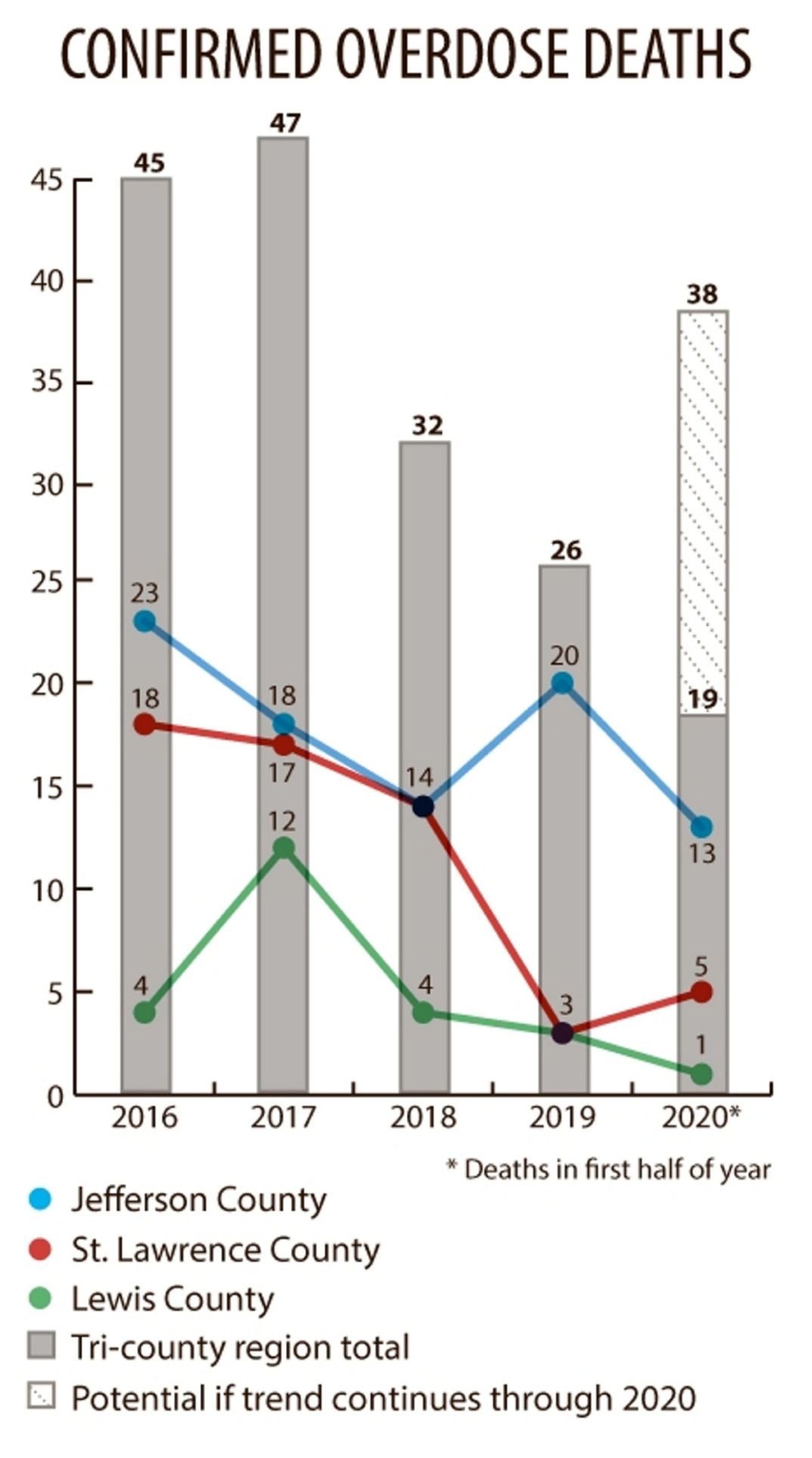 By last August, overdose statistics were encouraging. In Jefferson County, opioid-related overdose deaths had dropped from 13 in 2017 to nine in 2018, with just two being reported by mid-August 2019. The number of deaths starting climbing in October, followed by eight deaths in November, and by year's end the total number of deaths had reached 15. It hasn't slowed since.
Though it's only July, Jefferson County has already had 13 confirmed overdose deaths this year, with another nine cases pending. If confirmed, the county's total will rise to 22. Ten of the deaths are attributed to fentanyl, with seven of them also showing the presence of heroin. Stephen Jennings, county health planner, said if the county keeps up at this rate, it is on track to hit 33 overdose deaths by the end of the year — the highest since he's been on the job.
The cause of the uptick in heroin overdoses is unknown. Health officials are considering that the COVID-19 outbreak — along with accompanying stimulus payments and enhanced unemployment benefits that have supplied cash to many — may have contributed.
"We're talking about that," Mr. Jennings said. "There's thought that it could be related. It's a high anxiety time for everybody."
The predominant drug in the overdose cases is fentanyl, which is generally mixed with heroin, amounting for about 75 percent of the deaths. Fentanyl, a synthetic opiate, is at least 100 times stronger than morphine and is highly addictive.
When opioid medications, often prescribed legally, are harder or impossible to obtain, people may turn to the black market. This is where many are first introduced to fentanyl. Dealers use it to cut product and save money, even though the result is an even more dangerous drug.
"We are also seeing cocaine and marijuana and other drugs in decedents' toxicologies," said Mr. Jennings. "Which is why, in our public warnings, we are stressing strongly that fentanyl may be cut into any substance obtained on the street."
For the families left behind after fatal overdoses, the constant worry is replaced by grief, questions over whether they did enough and a deep void that time can never truly fill. Read each family's story by following the links below: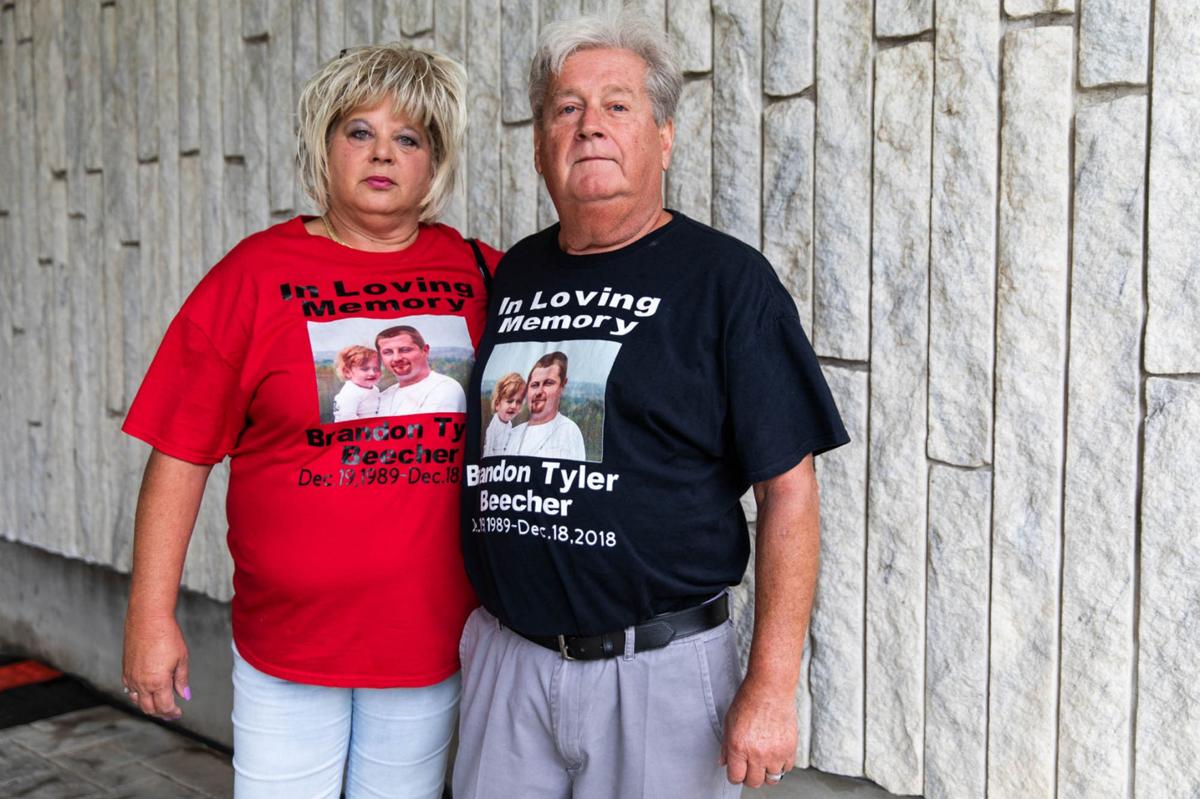 In December 2018, a week before Christmas, Brandon T. Beecher laid down next to his sleeping daughter after using heroin, his drug of choice. He was unaware that it was laced with fentanyl. After getting his last fix, the drug quickly killed him. ...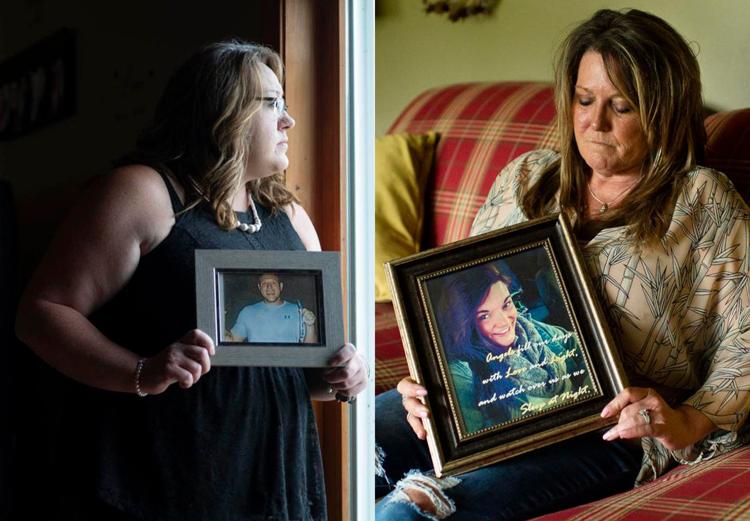 Kasey Stevens lost three family members to overdose deaths over the last three years. In 2018, her brother died. When she saw Shane lying overdosed on a hotel bed, as traumatizing as it was, she felt instant relief. ...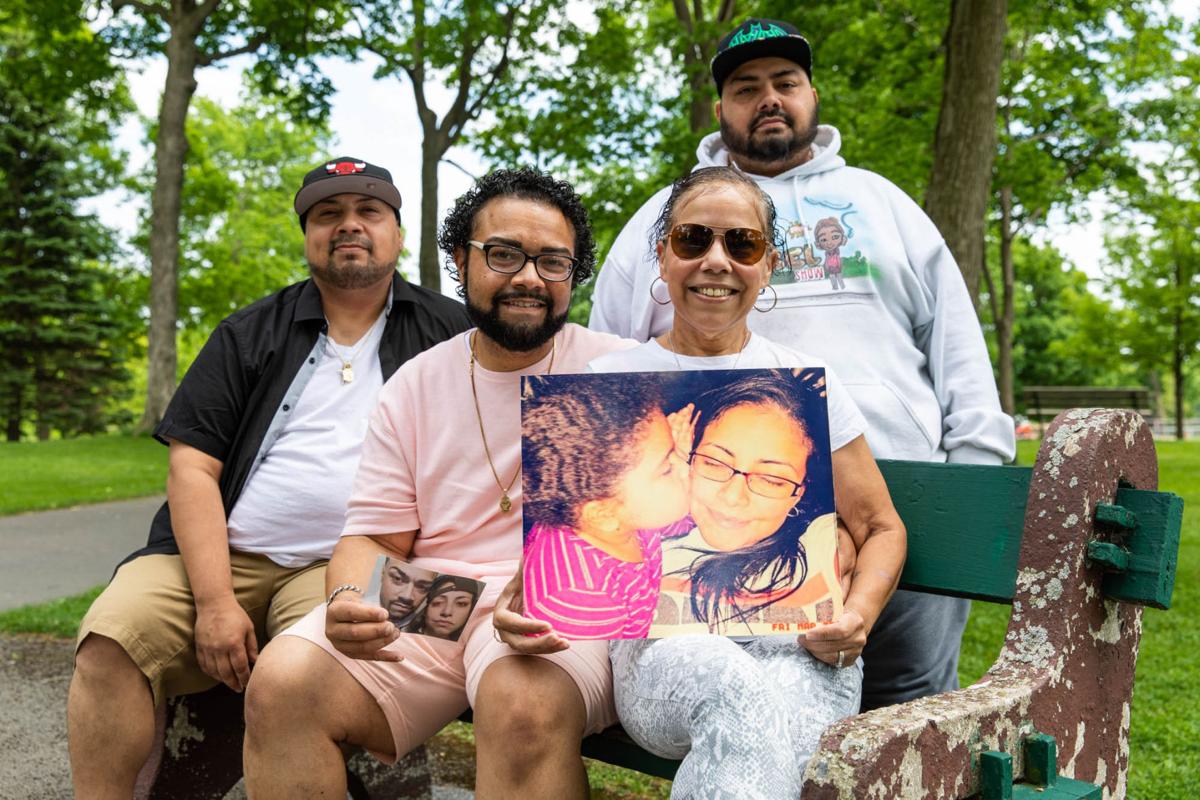 Parents aren't supposed to watch their children die. That's the rule. But as Maria P. Brandle knows all too well, that isn't always the way it turns out. ...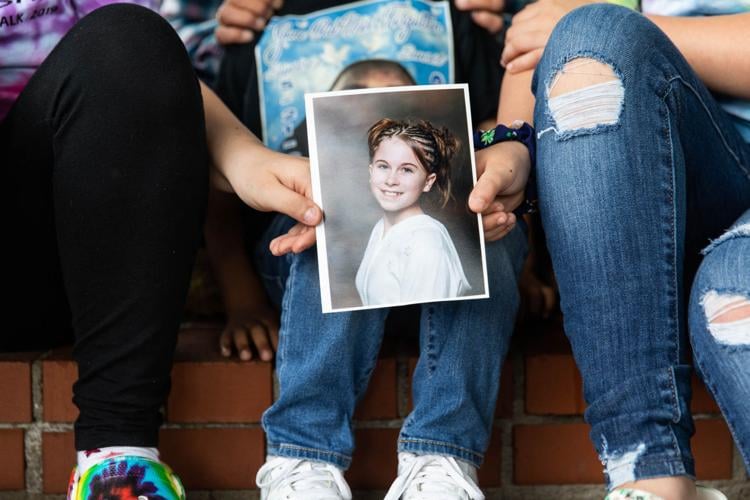 Lisa Jones is sick of the stigmas surrounding addiction. Her daughter, Lisha Skeldon, 27, has been using for about 10 years now, though Lisa isn't exactly sure when the addiction started or how it progressed. She assumes Lisha will use whatever she can get her hands on at this point, but Lisa said her daughter's drug of choice is heroin. ...
Resources for help
The Jefferson County Public Health Service, Jefferson County Department of Community Services, and the Alliance for Better Communities want to remind people that a number of community resources have been established and expanded to help people who have substance use disorders, and for people to access these resources to receive assistance and treatment:
Anchor Recovery Center of NNY: 315-836-3460
Credo Community Center for Treatment of Addictions: 315-788-1530
Samaritan Addiction Services: 315-779-5060
Samaritan Medical Center — Social Worker on Call: 315-785-4516
Suicide Prevention Hotline: 1-800-273-8255
Northern Regional Center for Independent Living: 315-785-8703 during business hours and 315-785-8708 on nights and weekends
Mobile Crisis Jefferson County: 315-782-2327 or 315-777-9681
Hope Line: 1-877-8-HOPENY or text 46736
To receive Naloxone training and free kits, members of the public can contact Credo, ACR Health, or the Anchor Recovery Center of NNY. The public is also reminded of New York State's 911 Good Samaritan Law, which allows people to call 911 without fear of arrest due to drug possession if they are having a drug or alcohol overdose that requires emergency medical care or if they witness someone overdosing.