LOWVILLE — Amber Yancey and her husband were getting ready to set sail on their very first cruise when she received a call from her son's girlfriend that no parent wishes to receive. She was told her son, Keegan C. Willis, had died.
Knowing her son had a past with drugs and alcohol, Mrs. Yancey originally thought Keegan's heart might have given out from all his years of using, but didn't think it could've been an overdose. He overdosed in May 2019, but was steering clear of his old vices leading up to his death on Sept. 22, 2019.
Keegan, 25 at the time of his death, was using drugs on and off recreationally since he was a teen, according to Mrs. Yancey. She believes her divorce from his father might have been a catalyst for Keegan's using.
"That's usually what happens, there's something that makes them feel depressed or something like that and then they seek that out for relief. You can equate it the same as people drinking," she said. "There's people that drink socially and then there's people that use that on a regular basis to get through the day, to feel better. And that's just such a dangerous place to be."
Last Monday, Aug. 24, Keegan's family celebrated what would've been his 26th birthday.
Mrs. Yancey shared her son's story Monday in front of the Town Hall Theatre in the village during an event marking International Overdose Awareness Day — a global event held each year on Aug. 31, to raise awareness of overdoses, reduce the stigma of drug-related deaths and acknowledge the grief felt by families and friends. A group of community members listened, all wearing purple to show their support for the cause.
To combat stigma and bring awareness to drug overdoses happening in Lewis County, various county agencies, including the Northern Regional Center for Independent Living, Credo Community Center for Addiction, Mountain View Prevention Services, Inc. and the United Prevention Coalition of Lewis County, formed the Overdose Awareness Alliance of Lewis County.
"With all the agencies we have here today, it's been amazing — all of us coming together to be a part of this event, to help bring awareness to the community, bring awareness to everyone how big of an issue this is," said Kyle Chartrand, prevention coordinator for Mountain View Prevention Services, Inc.
The agencies wanted to "paint" the town, themselves and community members purple with a social media awareness campaign encouraging people to wear purple on Monday and post their pictures using the hash tags #endoverdoses or #overdoseaware.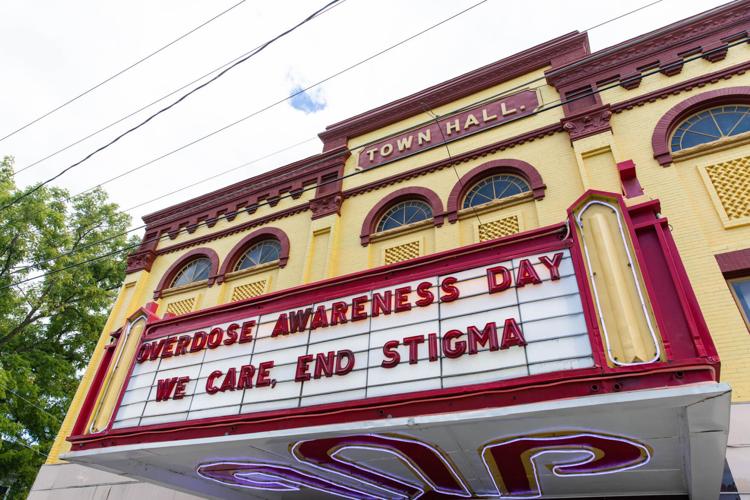 Members of the community joined in front of the theatre to pose for pictures in front of the marquee, which commemorated the day with a message of support: "Overdose Awareness Day: We care, end stigma"
The event consisted of welcoming remarks, a moment of silence for those lost to overdoses and an invitation to those assembled to come up and speak. There was also a table set up in front of the theatre with information from the organizations making up the Overdose Awareness Alliance of Lewis County, purple pin-on ribbons and bags to put prescription drugs in, along with water to dissolve them and get rid of them safely.
"We really want to be sure that we let people know that they're not alone, that people do care, and that we need to end the stigma," said Cassie Forbus of the United Prevention Coalition of Lewis County. "If we lose one person here out of 27,000, that's a significant loss for our area. While I haven't personally lost someone to overdose, it still affects all of us."
Prior to his death, Keegan worked as a forklift operator at Slack Chemical in Carthage. His girlfriend was pregnant with their child at the time of his death, so Keegan never got to meet his daughter. She was born a few months later in February and named after the father she'll never know.
Mrs. Yancey wears a small heart pendant around her neck with her son's initials engraved on it, a way of keeping him close to her wherever she goes. Baby Keegan also has one she can wear when she's older.
"It just, it rips my heart out that he never got to see her or anything, that's just what you're losing out on," Mrs. Yancey said. "I think a lot of people view people with addiction as 'those druggies.' I probably had a different view before, but I want to tell you about my son, I want to tell you he was a person, and not only was he a person, he was super talented in everything he did."
In May of last year, when Keegan overdosed, it was reversed with the use of Narcan, giving him a second chance. Just months later, in September, Mrs. Yancey said there was no one around to offer him Narcan a second time. Following Monday's overdose awareness event, a Narcan training was given to those in attendance.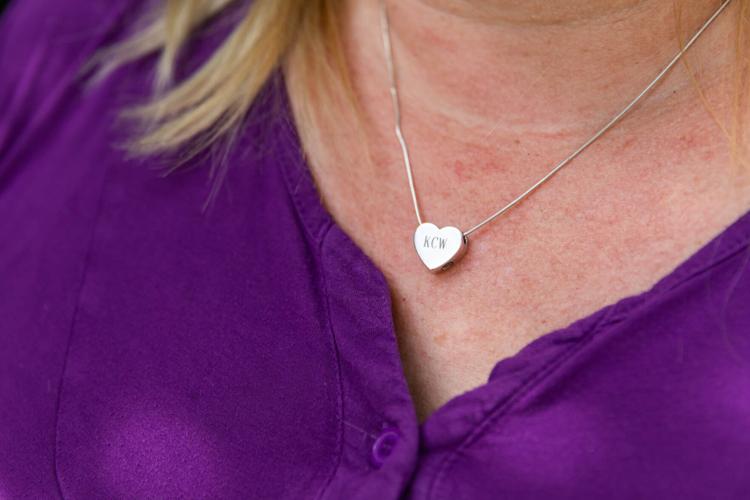 Monday's event was the first overdose awareness event Mrs. Yancey attended, and it was the first time she spoke publicly about her son's death. She said she would be interested in one day sharing her story with various groups to spread the message of awareness.
Reeling from her loss, Mrs. Yancey recalls Keegan's funeral and the large number of people in attendance who shared stories with her that brought some comfort in her time of need.
"Hundreds of people came through at his funeral and expressed how much Keegan had touched their lives, how caring he was, how much he reached out to everybody to make sure that everybody was OK; but everybody was OK but him," Mrs. Yancey said. "That was something that definitely made me feel so much better, to just see how many people he touched."
Sept. 22 marks the first anniversary of Keegan's death. Mrs. Yancey organized a 5k run/walk on that day both in honor of her son, and as a way to raise awareness. She believes it will become an annual event.