WATERTOWN — On Monday, wheeled along the halls of Samaritan Medical Center and trailing an oxygen tank, Joseph "Joe" Smith waved along to the raucous applause of gathered staff members. "Here Comes the Sun" by The Beatles played over the loudspeaker.
After being hospitalized for weeks due to COVID-19 — three weeks and two days, to be exact — Mr. Smith was finally on his way home.
As of Tuesday, Jefferson County officials reported only one person was hospitalized due to the disease caused by the novel coronavirus.
The 73-year-old retiree and Navy veteran grew up in Gouverneur and has lived all over the United States while in the service, finally settling in Adams. On April 7, he said he felt terrible and lost his sense of taste. Knowing the symptoms of COVID-19, he decided to isolate from his wife, Heidi Smith, just in case. He was tested on April 9.
Two days later, on April 11, Mr. Smith got the call that he had tested positive for COVID-19. The symptoms quickly progressed from there.
"I started running a fever and the fever kept jumping anywhere from 101 to 102 (degrees) and finally I just said I can't, it was too much for my wife," Mr. Smith said. "I called the South Jeff Rescue Squad, which was excellent, and they took me to the emergency room and that's where it all started."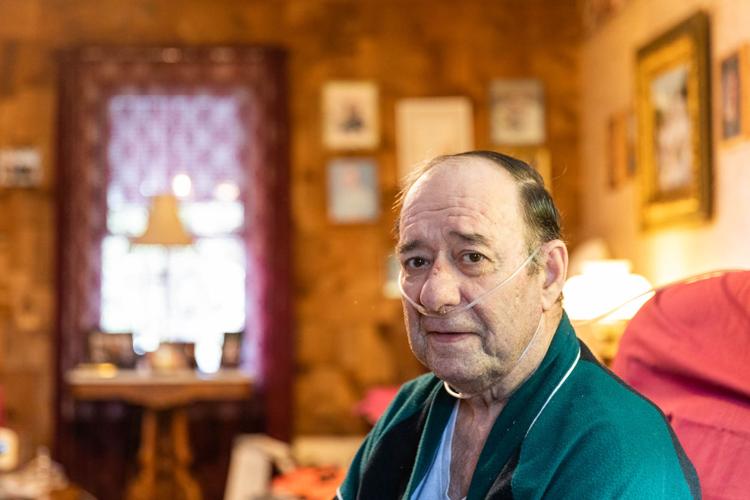 Admitted to Samaritan on April 14, Mr. Smith was adamant about not being hooked up to a ventilator if at all possible because of what he had seen on TV and statistics about people going on ventilators and not coming off of them. Instead, he was hooked up to a BiPAP machine to help with his breathing.
Mr. Smith had chronic obstructive pulmonary disease (COPD) prior to his COVID-19 diagnosis. COPD is defined by the Mayo Clinic as a "chronic inflammatory lung disease that causes obstructed airflow from the lungs." After his diagnosis, Mr. Smith developed congestive heart failure, which the Mayo Clinic says "occurs when your heart muscle doesn't pump blood as well as it should."
"The first couple of days it was iffy, but they pulled me through it. I was lucky," Mr. Smith said of his days in the hospital. "It was a struggle, but I did it. If anybody gets it, they'll know what I'm talking about."
While in the hospital, Mr. Smith left behind his wife, who was unable to visit him due to safety measures. Eager for any information she could get, she kept in contact via telephone when Mr. Smith was able to talk. She spoke to his nurses for updates when he was too out of it to speak for himself.
Mrs. Smith said she and her husband were high school sweethearts, king and queen at their senior prom, and married when he was 18 and she was 19. When he was admitted to the hospital and she was unable to see the man she had spent so much of her life with, she said it was absolutely horrible.
"I could cry now just talking about it," she said. "He was really bad and it was just me alone in the house for three weeks and two days."
Mr. Smith said his respiratory care team at the hospital was excellent, as was the physical therapy. The respiratory team treated him to rid his lungs of fluid and buildup, and the physical therapists helped to get him up and moving around, both of which he said "helped a lot as far as getting recovered."
For the first week of his hospital stay, Mr. Smith said he was on 10 liters of oxygen and was slowly weaned down so by the time he left he was, and still is, on two liters.
Mr. Smith said that he has overcome almost all of his symptoms and is just dealing with some breathing problems at this point. He is continuing with lung exercises and hopes to be weaned off of oxygen completely in the near future.
"I never had any sickness before, I went once a year for a physical for the last eight, nine years," he said. "That's the only time I went to the doctor pretty much. Then this hit and I wasn't used to this at all."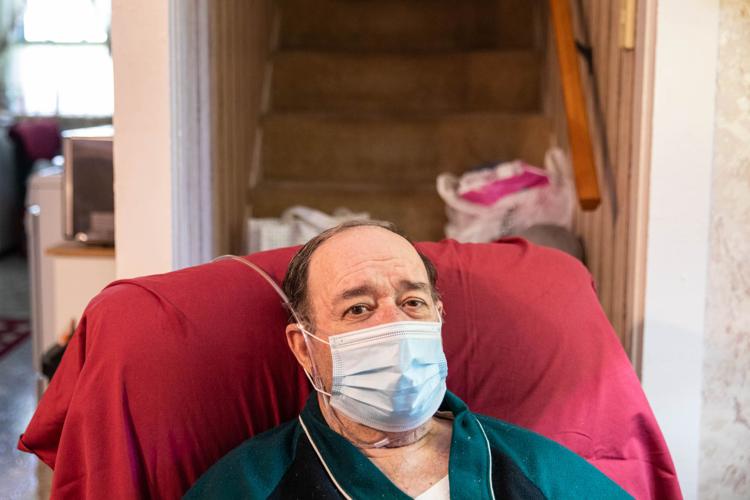 According to the Smiths' daughter Jody Kennedy, 50, he was in the hospital with breathing issues a few weeks prior to being admitted for COVID-19. He was told it was probably just anxiety or stress and was sent home. When he was later admitted with the disease, she remembers feeling shocked.
"It was hard because you couldn't go see him," she said. "For three days we didn't hear from him so we communicated with nurses, they communicated for him because he couldn't, and then when I spoke to him, he couldn't really breathe."
She and her sister Tammy Thomas, 52, drop groceries at the Smith house so their parents are able to stay indoors and self-quarantine.
Continuing the isolation at home as much as possible, Mrs. Smith said she is relieved to have her husband back home with her, even if they try to keep six feet apart, use different bathrooms and sleep in separate rooms.
"Everybody was praying for us from West Coast to East Coast from South to North," she said. "We had so many people praying for us and I think it helped and the phone calls I had — I have such wonderful friends, relatives and neighbors, I really didn't have time to do much, only answer the phone. Now that Joe is back it's his job to answer the phone."
Grateful for the level of professionalism and pleasantry he was treated with throughout his stay at Samaritan, Mr. Smith was blown away by the sendoff he received when he was discharged Monday. Clapping, cheering and holding signs, one of which read: "We are so proud of you! — The ICU staff," the staff at Samaritan celebrated his victory with him before he returned to Adams.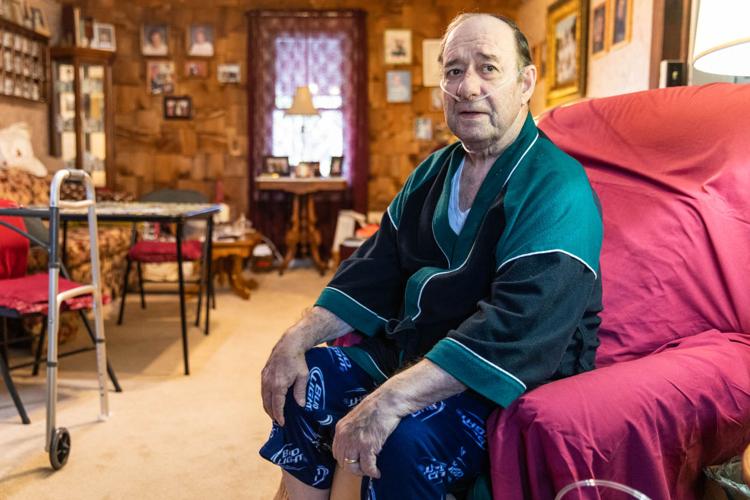 "That was a real tearjerker, I couldn't believe it," he said. "They must have set it all up ahead of time, 'cause every hallway was lines on both sides. I kind of kidded with them when I thanked them all for their help 'cause I told them I'd be back later to do autographs."
Back at home to finish out his recovery, Mr. Smith is looking forward to spending time with his wife and eventually his daughters, grandkids and great grandkids. A nurse came by the house Tuesday afternoon and will return each day to check up on Mr. Smith and monitor his progress. When the hospital nurse isn't around, he said his wife fills the role.
"My wife Heidi, she's my home nurse and a real good one," he said. "It's real nice to be home."