WATERTOWN — For those without vision insurance who may be struggling to get proper eye care, a new solution on Arsenal Street will be opening to the public Tuesday.
At Eye Dance + Screen, 1218 Arsenal St., complete packages with screening, refraction, lenses, and frames included will start as low as $40 with no insurance necessary. Those who do have insurance will be provided with the necessary paperwork for reimbursement from their insurance providers.
"I'm from the area and everyone else here is from the area, and we understand that there's so much need for affordable eye wear and that people just don't have insurances," Mr. Westlake said. "We provide affordable eye wear at really discounted prices, but we're also screening for diseases with the top testing that we have here."
Exam and glasses packages include testing, screening, lenses, and frames start at just $39.99 for single vision. For bifocals, pricing starts at $69.99 and digital progressives at $99.99.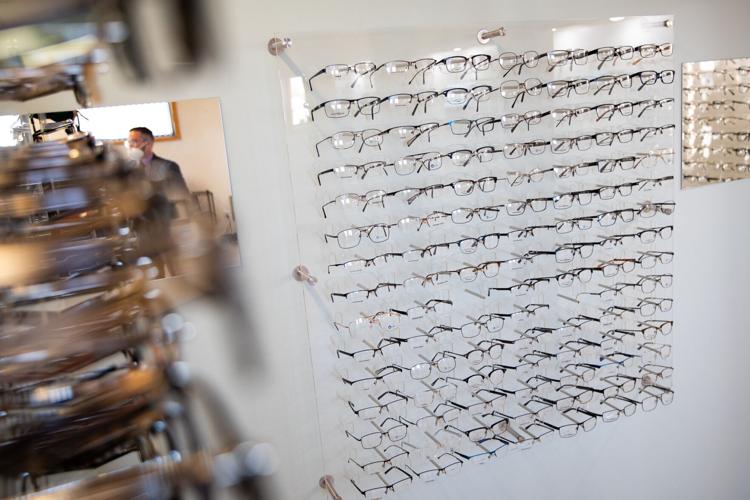 Eye Dance + Screen will also offer premium packages that include transition and glare free lenses. Prices are as follows:
— Bifocal lenses: $209.99
— Digital progressive: $239.99
Patients will be screened and tested for low vision, cataracts, glaucoma, macular degeneration, ocular surface disease and diabetic retinopathy, as well as given solutions for their ocular health moving forward. Along with a machine that does regular refractions, one specifically tests a person's Meibomian glands, the little glands in eyelids that, over time, deteriorate and dry out eyes, creating dry eye or ocular surface disease problems.
"These diseases are vision threatening, and it's something that you just don't think about, but vision is important," said project director Kyle M. Westlake. "People say that with your teeth, but your eyes are to that next level — I can only imagine people out there that don't have insurance and haven't taken care of their eyes."
Depending on a person's results, staff will continue the screening and the patient will see one of the center's counsellors for further examination and communication, or will be shown the center's range of affordable glasses.
In a unique twist, there will be no doctors on site at Eye Dance + Screen. Instead, the eye care center will be utilizing a completely telemedicine approach with doctors seeing everything and reviewing it all remotely. Licensed optician Tanya S. Parker-Fleming will be on premises to assist in person.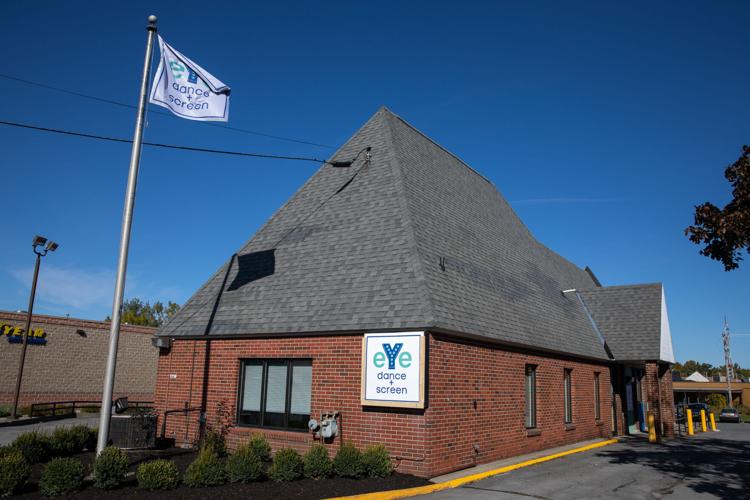 On Thursday, the center had a test run of sorts, treating friends and family. Mr. Westlake noted that they saw a gentleman who hadn't had his eyes taken care of and had a dense cataract which needed to be looked at right away.
The space now housing Eye Dance + Screen on Arsenal Street was last used as an HSBC bank.
"We ripped out the old teller stands and the fun part of this is our optical lab is actually still the bank vault, so it's a really cool spot for us," Mr. Westlake said. "It's a really tight office space, so trying to move it around where it's an optimal flow, that was something that's very difficult and we're working every day to kind of fine tune it."
Along with walls of glasses, a few exam rooms sit just beyond a small waiting area with a screen that would normally show informational videos on various eye diseases. Friday morning, the screen was showing Back to the Future after staff members had been watching Dennis the Menace.
Eye Dance + Screen will accept both walk-ins and appointments, with masking required of all who enter the space.
Mr. Westlake said he opened the building Sept. 15 and has launched it quickly, getting it ready to greet anyone who walks through the doors. Innovative and fun, he said it's not like the normal bogged down eye practice. In a review a patient sent to him yesterday, the center was described as "easy, quick and very affordable."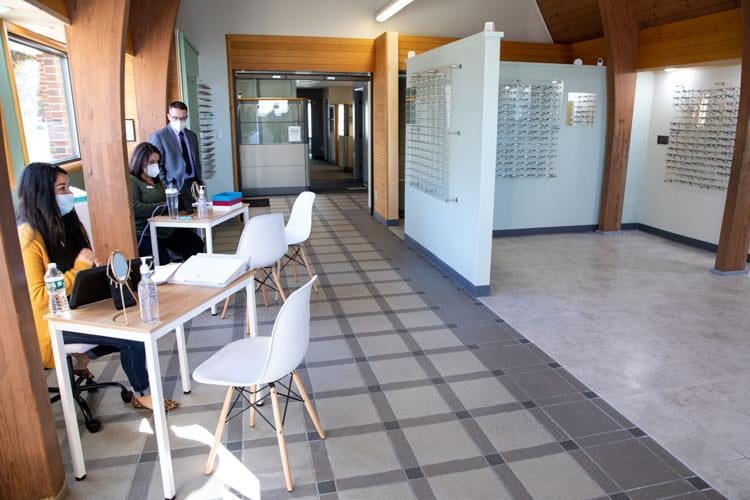 "It's all about just getting people excited about eye wear and that they can afford it, it's been really a dark time, there's not been a lot to look forward to and people are losing stuff, the economy is crashing," Mr. Westlake said. "This area just needed something to get people back I think, and I think this can make people dance again and actually be confident in their looks."
Eye Dance + Screen will be closed Sundays and Mondays, and open from 9 a.m. to 6 p.m. Tuesday through Friday and 8 a.m. to 2 p.m. on Saturdays.