ROCHESTER — After Franz Matthew Heldwein was sexually assaulted his freshman year of college…
WATERTOWN — Seeking to give back to his community after returning to Watertown in 2019, Grant D. Robinson has embarked on a new journey to help those in recovery.
In the new office space they've occupied for the past few weeks at 120 Washington St., Suite 306, Mr. Robinson and his business partner Leo A. Gilbert III recently launched their joint effort, the Northern Recovery Initiative LLC.
Mr. Robinson will be the chief executive officer of the initiative and Mr. Gilbert the manager, with both offering recovery coaching and years of experience in the field between the two of them.
They are working on sending out referrals to agencies in the city and the county.
"We're just adding more and something different," Mr. Robinson said. "We like to be very clear that what we're offering is not clinical. It's not therapy, not life coaching. It's recovery, purely."
For Mr. Robinson, a certified addiction recovery coach, recovery peer advocate and nationally certified peer recovery support specialist, recovery is personal as he himself has been in recovery for the past few years.
Formerly the community liaison for ESPRI-SOR through Pivot, Mr. Robinson has a private practice and officially launched the Northern Recovery Initiative with Mr. Gilbert on Oct. 31 — his recovery anniversary.
He wanted to come back to his hometown and bring cost-effective, professional recovery coaching — outside of agencies — to the north country.
His experience provides him with insight into the local community, as well as the needs of the area. While working at community agencies, people presented problems to him often, saying they wanted to go into treatment but didn't know who would take care of their pets or that their leases would end while they were away receiving treatment. Some people would not have transportation to probation, social services or the recovery center itself as Medicaid transport only covers medical appointments.
He began offering service-by-service property transfer from halfway houses or treatment centers, helping clients' family members pack bags, letting people know what they would need for treatment, and getting people to various forms of aftercare. He decided to maintain his practice for professionals as well as offer another set of services for anybody in need of them.
The way those services were designed was to be like a gym membership in which anyone in recovery can say what various appointments they have, whatever they may need, and it all goes into their individual plan, which they can pay for with a monthly fee based on need and income. Northern Recovery Initiative will formulate a recovery plan and measure the costs, and the clients provide a monthly fee out of pocket.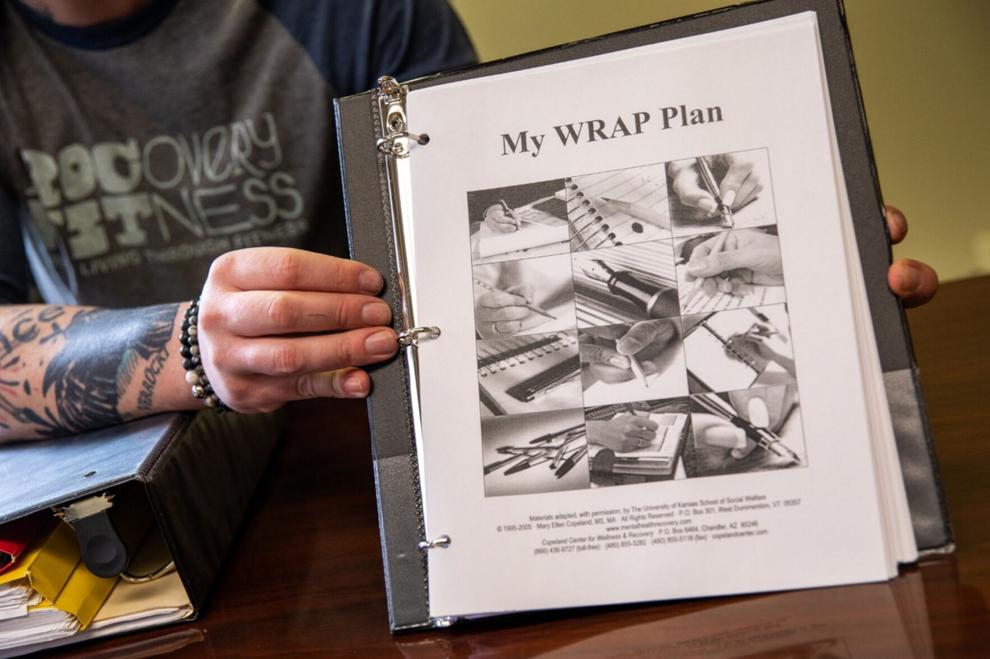 "It's hard to convey to really get people to understand what we're up against," Mr. Gilbert said. "People are dying, and that's the bottom line. During COVID-19 the number of overdose deaths and people presenting to treatment centers and hospitals have gone up exponentially, they're out there and suffering. We're not looking to take over, we're just looking to do our piece."
Northern Recovery Initiative is set up for a co-coaching approach. Having two recovery coaches allows for either Mr. Robinson or Mr. Gilbert to physically go into places with people if needed.
Perhaps somebody is nervous to go to an Alcoholics Anonymous meeting for the first time, so they could sit with them. They could go to court with somebody, go to their social services appointments and provide on-site advocacy. This is person-centered care. People decide what they need to be successful and the Northern Recovery Initiative will help make it happen.
Offering many services now, the initiative is waiting for a bit of extra insurance clearance on sober transport and the pet piece, but everything else is ready to go. In the near future, there will be a website with more information available.
With Mr. Gilbert a veteran of the clinical side of things, having worked at St. Lawrence Addiction Treatment Center, CREDO and other facilities, and Mr. Robinson trained and coming from the recovery side, their idea is twofold. They want to keep providing special services to professionals, but also help when it comes to serving others recovering in the community.
The Northern Recovery Initiative works closely with the Victims Assistance Center and Planned Parenthood to interrupt the process of intimate partner violence and domestic violence by providing safe places to hang out.
"If somebody doesn't really want to stop using drugs or get out of that bad relationship, we're still going to help them to an extent we can, still provide harm reduction education to them and their family," Mr. Robinson said. "You might not be appropriate for the majority of our services because of your use, but let's teach you how to use the fentanyl testing strips. It's not an endorsement or an encouragement to continue using, it's just I can't help them if they're dead."
Anchor Recovery Center of Northern New York already offers recovery services, but the Northern Recovery Initiative will be offering different groups than Anchor does, so some of their members are likely to come back and forth just like some of the initiative's clients will probably go to Anchor groups. The initiative has clients that at times might have a reoccurrence of use. In that case, they can quickly get the client back into treatment by assisting with the referral process.
"We're a small community, we all have to work together and share our resources because we don't have much," Mr. Robinson said. "When we meet the Community Services Board in December, it will be our job to help educate them about what we have to offer. We're local people in recovery or professionally trained and experienced coaches who have clinical supervision, who are insured, who are members of NAADAC."
A common misconception about the initiative is that it is unregulated. Northern Recovery Initiative is regulated by the National Association for Alcoholism and Drug Abuse Counselors.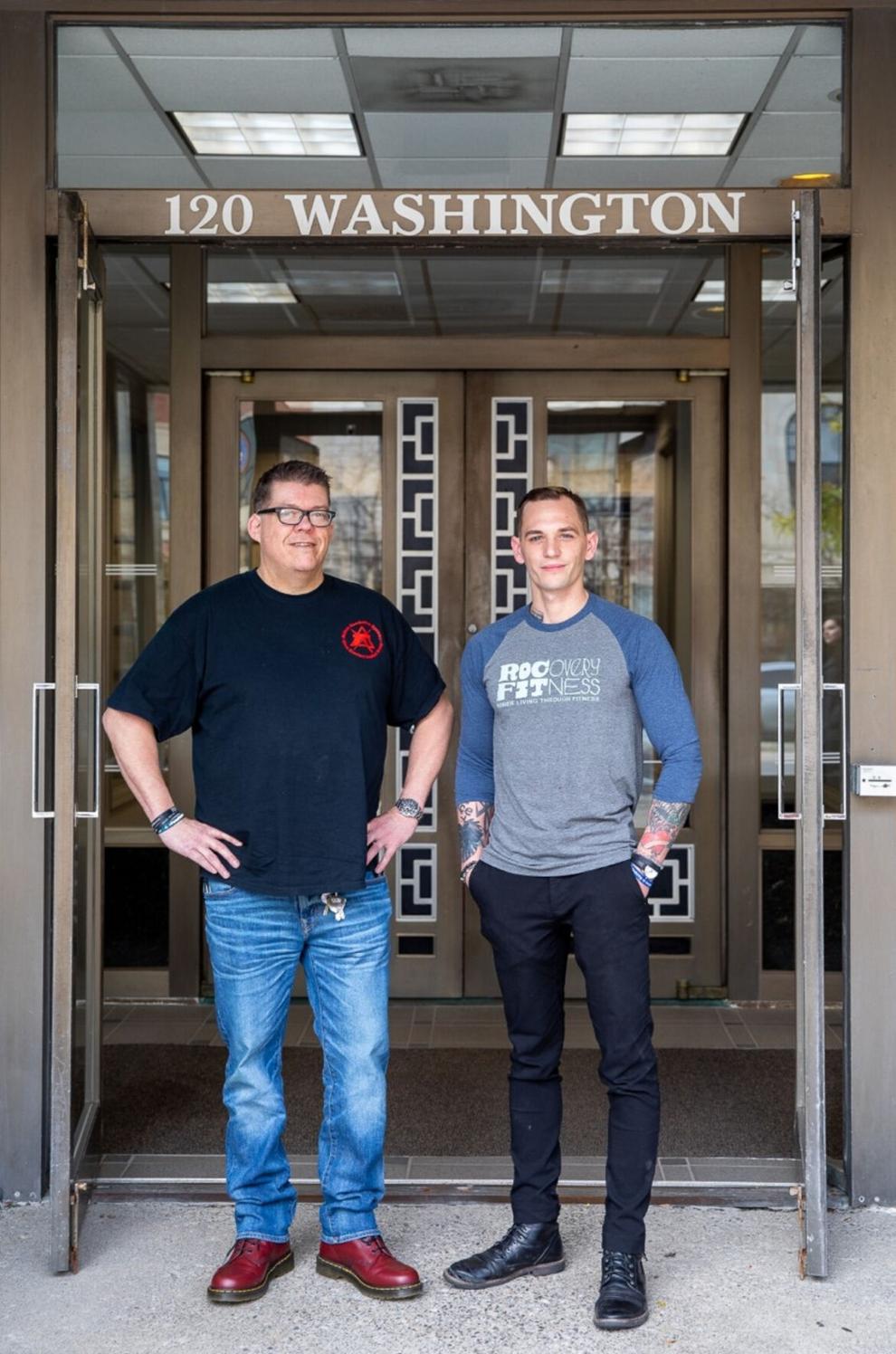 While going to outpatient treatment a few times a week is beneficial, there are inevitable gaps in between, like the outpatient clinic being closed on weekends or not available late at night, as well as the issue of how clients get from point A to point B. The most difficult piece for a lot of the people is transitioning, Mr. Gilbert said. They go from a structured, 24-hours-a-day environment, and they get sent back to their hometown without a concrete plan.
The initiative's primary tool is WRAP, Wellness Recovery Action Plan, which is nationally recognized. They do this in conjunction with a standard CCAR recovery plan. Mr. Robinson teaches ethics for CCAR, one of his favorite topics to instruct. The initiative follows the NAADAC code of ethics, a set of ethical, moral and legal guidelines.
The initiative has clinical supervision that has guided it through the process to make sure that it is doing everything within its scope of practice while offering safe, confidential and equal recovery services to people. The initiative is 100% patient-centered, but it doesn't call those who utilize the services patients — they are recoverees or clients.
While the initiative is a for-profit agency, it's not necessarily a money-seeking program. It will run like a monthly membership in which clients will pay a monthly fee for recovery services.
"Sometimes it's better to get them where they want to be and help them break their own shame or stigma than it is to force them into a situation where they're uncomfortable and don't seek treatment," Mr. Robinson said.
The initiative's recovery plans are designed to be very specific and person-centered, and those at the initiative will use motivational interviewing in which clients will essentially make their own plans based on what they believe they want and need. This is different from the traditional approach of those in recovery sometimes being told what they need to do.
"You are the expert on your life; you've lived it," Mr. Gilbert said. "We can change the plan later on if something is no longer a priority, but you are here, so tell us what you want to work on and we're going to help you achieve those goals."
Not only will the initiative hold closed AA for professionals meetings, it has also developed a professionals group — a non-clinical, peer-run group that uses evidence-based techniques from a clinician and coach to provide support for other professionals in the community.
The initiative's "professionals" are separated into two categories: the legal side, with corrections officers, military members, law enforcement and attorneys; and fellow professionals, brothers and sisters in the recovery field. It is in Mr. Robinson's experience as a person in recovery and professional, that when you work in this field, when somebody starts to slip up in recovery, it's very hard to say they need help.
"If I'm a case manager somewhere and I'm in recovery, and I'm having trouble, who helps me in my recovery?" Mr. Robinson said. "Can I go to AA meetings openly and see all my clients? Absolutely not, so where do they go?"
Noting that recovery is long-term, the rest of someone's life, Mr. Robinson likened it to physical therapy after surgery and setting long-term goals. In the case of recovery, long-term goals can include going back to college, working on strained family relationships, getting into shape and setting boundaries. These are all things that those at the initiative will work on with clients.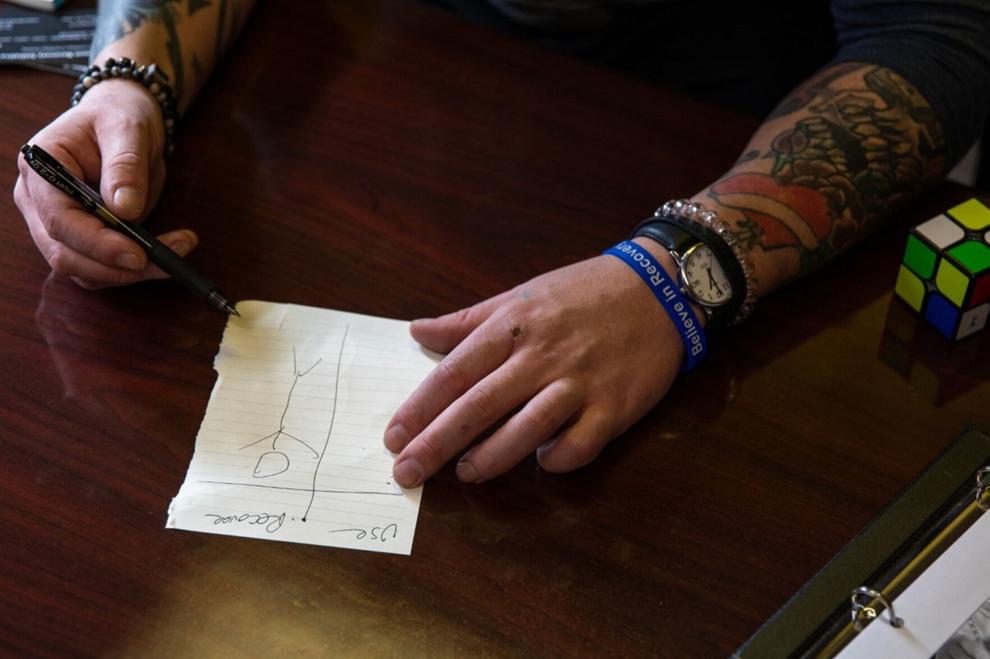 The initiative will work with anyone interested in employing their services — it's not strictly for professionals — but there will be different times for different groups. The initiative will soon launch its medication-assisted treatment adherence group, a safe place for people who are engaged in methadone- or buprenorphine-supported recovery.
The initiative will be offering a women's empowerment group and is working with Planned Parenthood on an LGBTQ+ group, which Mr. Robinson will be heading up.
The initiative also will be offering separate forms of reentry programs for corrections, like a nationally recognized evidence-based program, a version of the SMART recovery correctional program called InsideOut, also known as Courts and Corrections, aimed at reducing the rate of recidivism.
There is a personal excellence and knowledge group, which is a reentry program. It's about 16 weeks and covers everything from how an individual should be reintegrating into society and effective communication or supervision via parole or probation, to drug court and how to rebuild family ties, among other things.
The group will benefit from various tools, including Logotherapy, which was developed by neurologist and psychiatrist Viktor Frankl. The goal is to help people start to relearn how to live and discover who they are without the uniform or the number.
"When we're out in public, the recovery coaching session, since it's non-clinical, should look no different than two friends having a cup of coffee," Mr. Robinson said. "If we were to be overheard talking, that's how it should sound and that's according to CCAR, right out of the manual for recovery coaching. It's how's your day going? What would your recovery look like if we added this?"
With physical fitness-based recovery being a passion of Mr. Robinson's, he recently had a meeting with the Watertown Boxing Club, so part of the membership with the initiative, if clients so wish, is an option to join their recovery coach to work out. This is a way to introduce people to healthy, community-based activities that will boost their self-esteem, as well as allow them to have some fun.
Those at the Northern Recovery Initiative want to be clear that all the services in the city are important, that treatment and prevention are needed and places like the Anchor Recovery Center are essential.
Recovery is long and vast and covers so many areas that the initiative is trying to fit needs as best it can. It is not saying that other area agencies are failing or the voids that need to be filled exist because agencies have left big gaps. The initiative is just seeking to offer different services.
"We want to be very clear that we're not trying to be the 'be all, end all,'" Mr. Gilbert said. "As a recovery coach, I'm not a friend, I'm not a sponsor, but I'm not as tied down as I was when I was a counselor. I have a lot more flexibility of the tools I can use to try and help the person."
As recovery coaches, Mr. Robinson and Mr. Gilbert offer evidence-based tools, but do not offer clinical services — they don't diagnose or assess or tell people what to do, they ask their clients what they need that they think will aid in their recovery. They talk with clients about what they do, who they are in their active addiction, and about the person they're going to be in recovery. The clients say who they want to be, what kind of health they would like, and from there, Mr. Robinson and Mr. Gilbert can work with them on their recovery plan.
As professional recovery coaches, what Mr. Robinson and Mr. Gilbert do is very different from what a peer advocate in an agency setting will do. Mr. Robinson said his credentials are not really relevant. When he's in the office, he's Grant Robinson, recovery coach and CEO of Northern Recovery Initiative LLC.
If the clients are in early recovery, Mr. Robinson and Mr. Gilbert can stay right with them — not physically, but if they say they'd like a daily phone call, ongoing texting, or to come hang out and they have time, they'll play games, watch a movie or have a talk with the client.
"There's a lot of things that we can do with people when they don't want to be alone by themselves, and with the groups, it gives them an opportunity to be in a safe quiet place with very specific focus in a non-treatment setting on certain issues," Mr. Robinson said. "We have the ability to truly meet people where they are and get them where they need to be."