WATERTOWN — Amid the ongoing COVID-19 pandemic, now more than ever before, school nurses are being looked to for guidance in keeping students and staff safe and healthy. In turn, the role of school nurses has expanded to include more responsibility than ever before.
In addition to things like making sure students are up to date with immunizations, keeping track of mountains of paperwork, administering medications when needed and treating injuries, school nurses are now closely following changing guidelines for the latest health and safety updates, screening students daily for symptoms related to COVID-19, assessing those who come into their offices and isolating those with worrying symptoms consistent with the coronavirus.
"When students come in here, they may have something wrong mentally, physically, emotionally or spiritually; we have to deal with everything," said Peggy L. Marshall, a licensed practical nurse at Watertown High School. "We also have to make sure that we're documenting when students come in for visits, because we have to keep track of when they're in the office for school purposes — and that's without COVID."
At Watertown High School, a three-nurse team made up of registered nurse Sonya L. Otis, licensed practical nurse Dawn M. Angello and Ms. Marshall have been navigating the new school nursing landscape.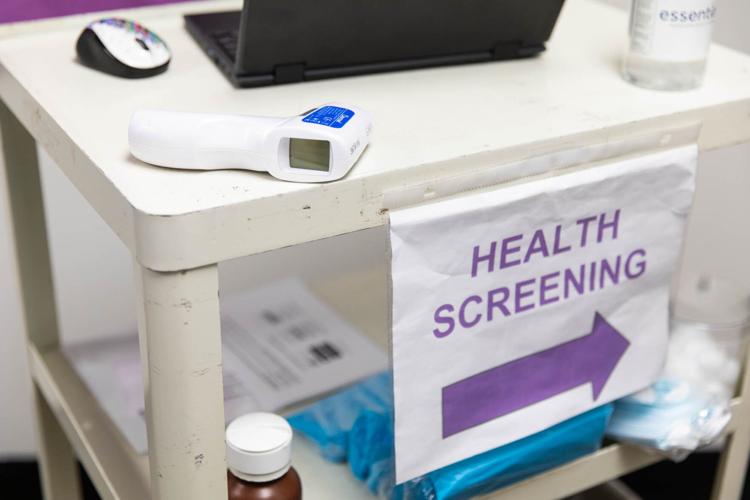 With a combined total of about 40 years in school nursing between the three of them, they have remained unwavering in their dedication to keeping both students and fellow staff members safe and healthy amid the pandemic.
According to Tina M. Lane, assistant superintendent for personnel and student services with the Watertown City School District, the three are part of a total of 19 nurses district-wide, dispersed among the various school buildings.
"This is a very effective group, a group who, if they don't know the answer to a question, they're going to find out — we have a nice system of communication," she said. "I really have to give kudos to our nurses because they have been an integral part in the planning of the reopening and also in keeping our students and staff safe every day; they're very vigilant in what they do."
In the city's school district, students are screened daily prior to entering their buildings and asked whether their parents screened them at home on ParentSquare before they came to school. Those that answer yes are able to pass into their building, those that don't are asked the standard screening questions and have their temperatures taken. The goal in screening the hundreds of students daily is to catch those who may have COVID-related symptoms before they go in and interact with their classmates.
"There's always a few that get through; we'll run a screening report later and call them out of class. But our ultimate goal is to catch them before they enter the building to prevent a kid slipping by with symptoms or a fever so we can get them home if they need to be," Ms. Otis said.
If students have worrying symptoms on the school district's list of COVID symptoms — which include, among others, cough, shortness of breath and a temperature of or above 100 — they must be isolated in a separate area. Ms. Otis said once a student is placed in the isolation room, she and her colleagues try to limit their contact with that student. If the student needs to be assessed further, the nurses don full personal protective equipment, including gowns, gloves, masks and face shields. They then call home and request a parent come to pick the student up and bring them home.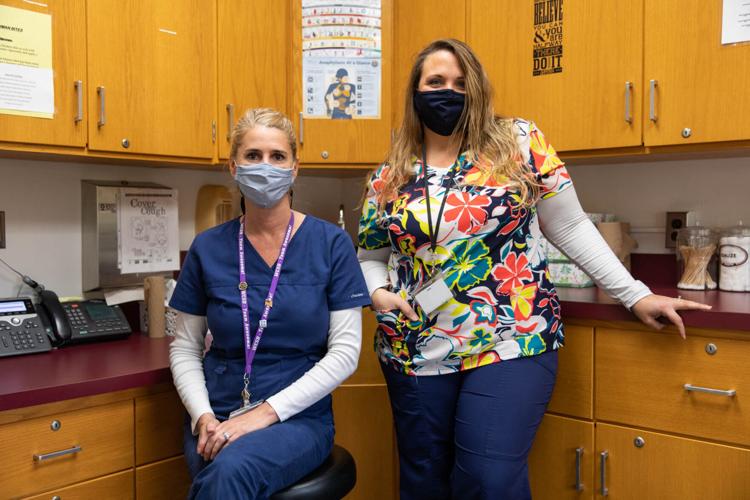 Following a recent change in guidelines, now students may return to school when the following are true: their medical provider supplies a written medical note explaining alternative diagnosis clearing them to return and they've been fever-free for 24 hours without the use of medication, or they have proof of a negative COVID-19 test result and have been fever-free for 24 hours without the use of medication.
"I feel that we are busier than usual just because basically every kid that walks through with a symptom has to go home now; once they enter here and tell us that symptom, we now can't even use nursing judgment, they have to go home," Ms. Otis said. "That's not our rule, we just have to follow the state guidelines, and we always explain that every time we call home to a parent. I think it's harder for the parents that have students that have chronic conditions like allergies or asthma."
Regardless of known conditions that may account for symptoms consistent with some listed on COVID fact sheets, students must be sent home anyway in accordance with state mandates. Ms. Otis said she sympathizes with parents and understands their frustration, noting it's hard on the nursing end as well, but they must do their jobs and closely follow guidelines.
In Ms. Angello's opinion, one of the hardest parts of the job this year is keeping up with the constant changes and trying to make sure students are screened in the mornings each day, as well as following up with any student who has been tested for COVID.
"We don't do the contact tracing like (Jefferson County) Public Health (Service) does, but we kind of have to do our own contact tracing in school," Ms. Angello said. "I definitely sympathize with parents and what they're going through, too, and I can understand why the guidelines are in place; it's kind of like a Catch-22."
She noted the phone rings a lot more these days with parents asking questions relating to the virus and trying to make sure they're doing what they can with regards to their children.
Though some students slip through the cracks when it comes to daily screenings and must be caught up with later in the day, they all consistently wear their masks, according to Ms. Marshall. She expressed her shock and pleasure at seeing the students doing what needs to be done to help protect others in the school community, noting she's "very proud" of them.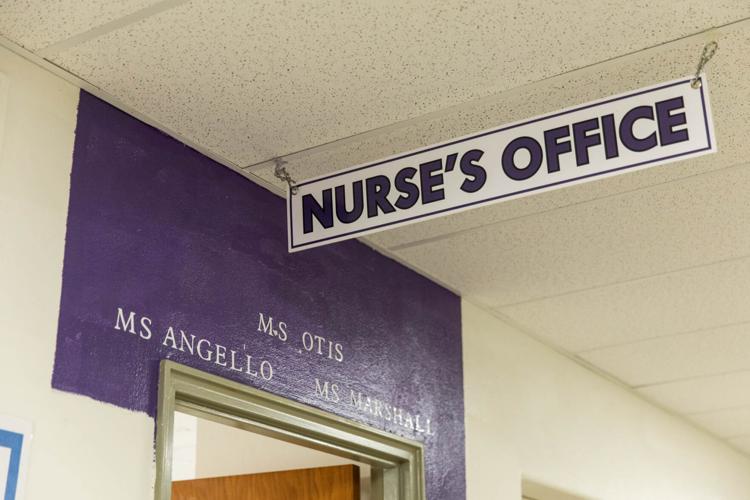 Aside from screenings and assessing students who display symptoms linked to COVID, the nurses are doing their part to help keep surfaces clean to slow any spread of the virus. They regularly clean the office space, as well as the bathroom after every use, with a cleaning solution provided by the district. If a student comes in with an injury, they're put on a cot that must also be cleaned after the student leaves.
In addition, the nurses keep track of anyone who enters the office, even if it's just to work on the computer, requiring everyone to sign in to keep track of who has spent time in the room.
"Ultimately, our goal is just to keep the students safe when they're here and to make sure that we're following everything that we need to be so that they're safe," Ms. Angello said. "(The) local public health (service) said that children that are getting the positive results with COVID have very mild symptoms, so you never know when it could just be a runny nose
"We have to be very cautious," she added.