WATERTOWN — Thompson Park's playground was full of life again Monday morning as children ran around from one piece of equipment to another. Parents and guardians follow after them to make sure they stay safe.
Do you believe restaurants at the mall should be allowed to open under Phase III?
Thompson Park's playground was just one of many across the city to reopen Monday — symbolizing another step toward normalcy amid the coronavirus pandemic.
On Thursday, Gov. Andrew M. Cuomo announced that recreational areas such as playgrounds could reopen at the discretion of local governments under Phase III. Following the announcement, Mayor Jeffery M. Smith announced via the city's coronavirus resources and response website that the city's playgrounds would reopen by Monday after having been closed for months due to the pandemic.
Along with the new playground, which was unveiled last October, the Splash Pad at Thompson Park will also reopen this week on Friday.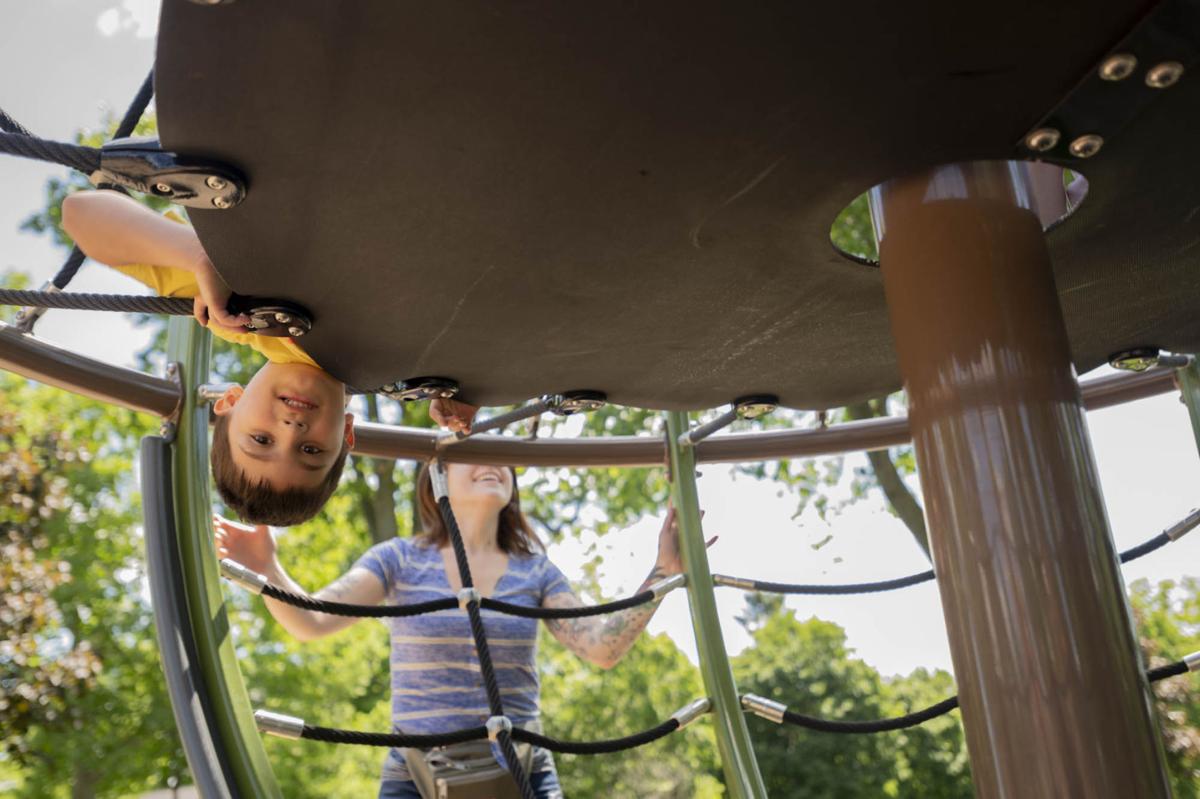 Dawn Nellenbach, with grandson Declan, 5, in tow, said she was happy for him to have an energy release Monday morning and that it had been a long spring with him cooped up inside.
At home, Declan did crafts and went on lots of walks, going to the beach when it was nice, but he loves the Thompson Park playground.
"He's been asking to go to the playground the whole time it's been closed," Mrs. Nellenbach said. "This whole thing has been too much; the kids need to be out playing and with no school they need the socialization."
Another young Declan, 3, accompanied by his father Evan Heck, also loves the park and was excited to return, though he's had a large yard at home to play in during the meantime. Mr. Heck said he brought his son to the park Sunday as well and is happy he's back at it and socializing, which he said is important for the kids.
As the morning continued, more parents and guardians started arriving with their kids and the joyous shouts and laughter of children could be heard across the playground — even the occasional bout of crying quickly turned back to fun. One young girl, swinging with a few other children, proudly proclaimed for all to hear: "I'm swinging!"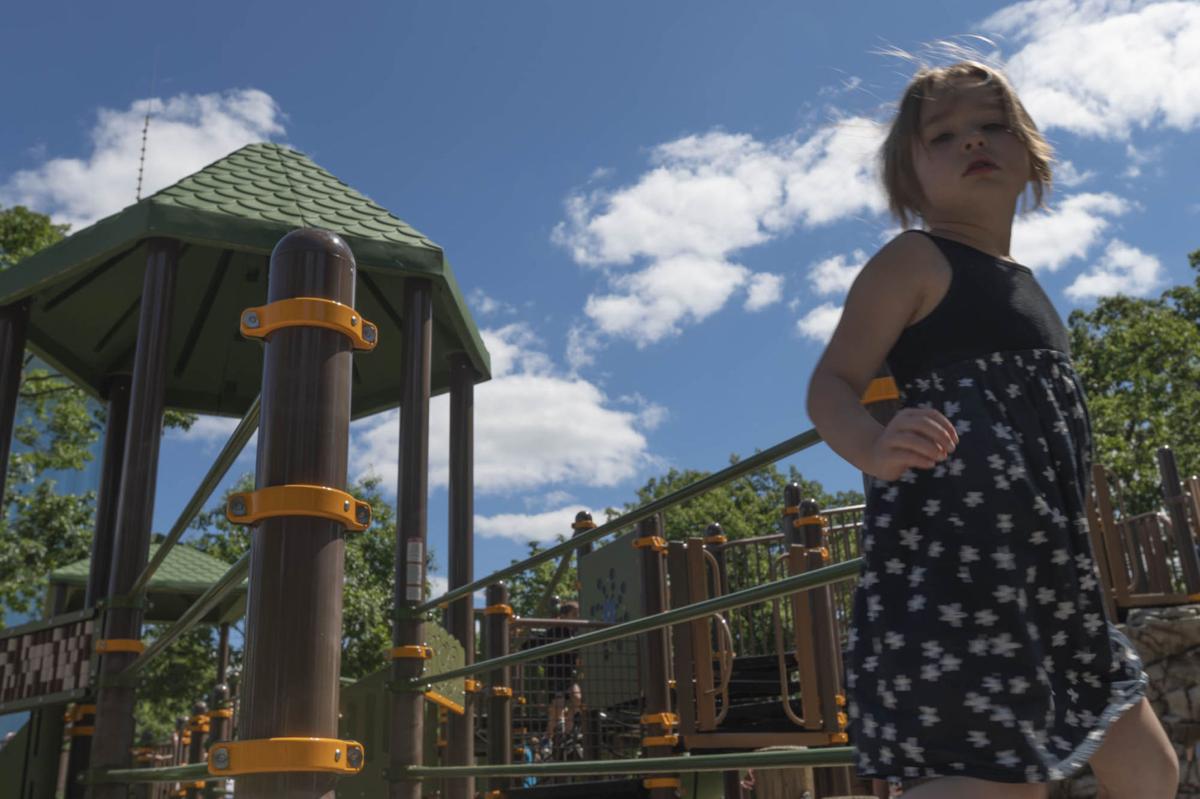 With kids running across the woodchips, excited to be out and playing again somewhere other than home, on Monday morning the most popular pieces of equipment were the swings, climbing contraptions, a rotating spherical piece of equipment and the slides, though they grew warmer and warmer as the sun rose in the sky.
Kristan Donoghue, along with son Joseph, 6, and daughter Grace, 2, enjoyed the sunshine at the playground — unbothered by the concern of others over the novel coronavirus — instead excited her kids had something to do after being "cooped up like crazy."
"We're just excited that more things are starting to open up, especially for the kids," she said. "I'm really excited that they have something else to do and they have a place to go and kind of socialize because they've been isolated from other children."
Before the playground reopened, the family would come to Thompson Park to walk around, as well as make crafts and plant.
Anna Kay King-Alerte, with daughter Annaya, 2, echoed Mrs. Donoghue's sentiments, just wanting to be outside after quarantining like most.
"It's been months since we've been inside and it's just good to finally go outside now that the playgrounds are open," she said. "Annaya has a lot of energy at home, but more outside. It's just good to be out here."
A family of four, made up of parents Kaitlyn and Derrick Shoup and daughters Coraline, 4, and Bexley, 2, made the most out of their time, traveling to all the important pieces of equipment to play. According to their mother, the girls love the park and played there nearly every day last summer.
At home, the two played with toys and watched their favorite TV shows, occasionally fighting because they were stuck inside all day, tensions high.
A little worried about the virus, the Shoups made sure to stay socially distant from others, wearing masks if proximity could not be avoided.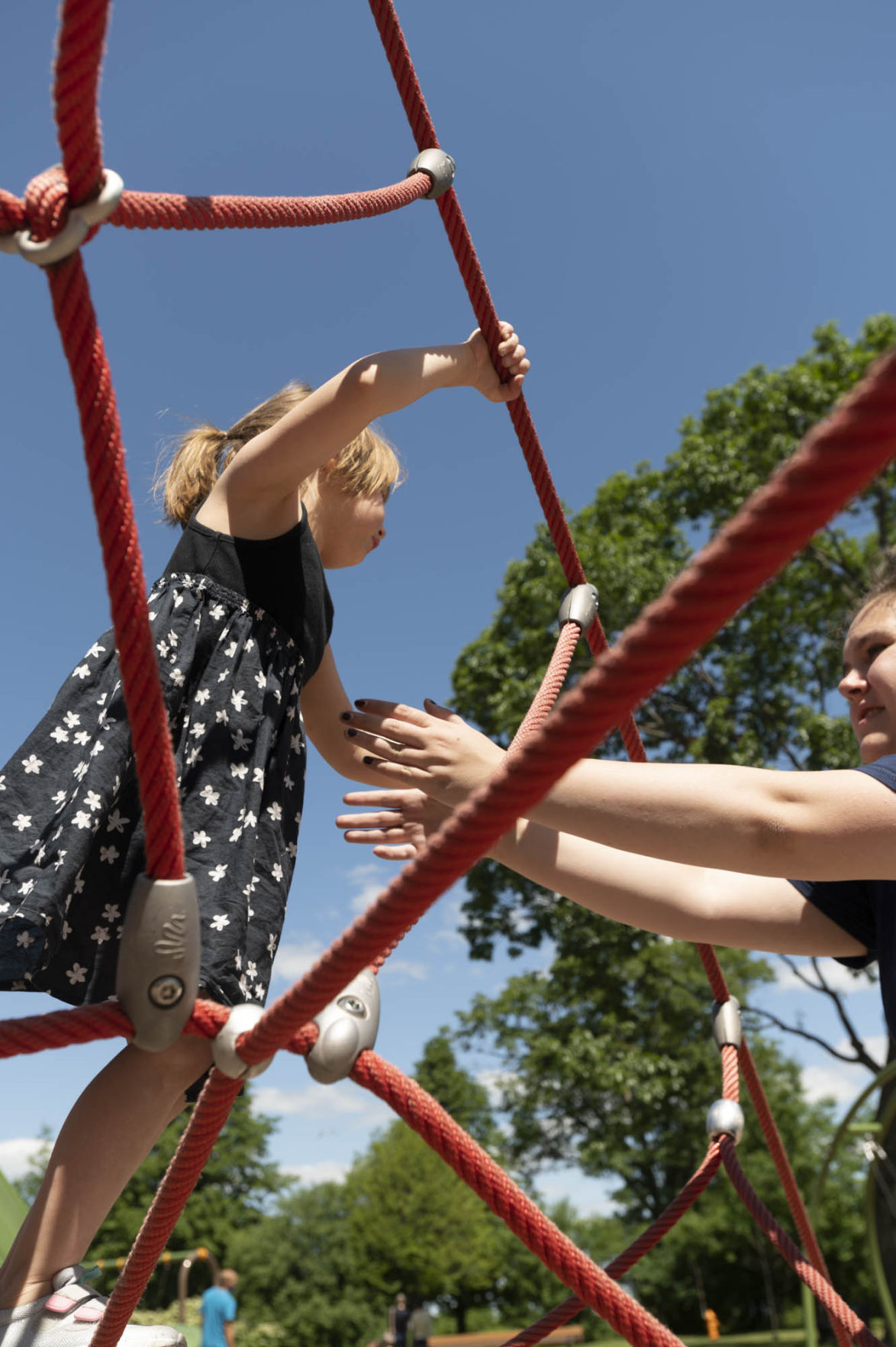 Arms full of a hoodie, a small white heart handbag and a colorful stuffed animal toy, which he insisted belonged to his grandchildren and not him, George Briggs watched granddaughter Johnna Deccico, 6, play on some equipment after helping her down from the fireman's pole.
Johnna is one of Mr. Briggs' six grandchildren, all under the age of 10. Joined by his daughter and wife, the rest of his family was set to join later in the morning. With such low numbers in Jefferson County as compared with other areas, Mr. Briggs said he was not worried about the virus at all.
"It's a beautiful day, the kids have been wanting to come up here for the last month, but it's been closed," Mr. Briggs said. "We have out-of-town relatives also here today so it's a nice place for all the children to come and get together."