WATERTOWN — Laying in a hospital bed at Claxton-Hepburn Medical Center in 2017, dying of liver failure with a septic knife wound in his hip, Grant D. Robinson was confronted with his mortality. Still, he wanted to leave to go get high.
The doctor finally said he would give Mr. Robinson, now 31, methadone, a powerful drug used for pain relief and treatment of drug addiction, if he stayed on IV antibiotics, so he remained in the hospital and was basically comatose for five days.
When he was discharged, he went back to rehab with a renewed commitment to it.
"The Narcan, all the times that I had to be revived, that didn't do it; going to prison, the awful things I had to do and see, people I hurt — that didn't bother me," he said. "But the idea that I was gonna die and I had been nothing but a bad person scared the sh-- out of me."
From rehab and a halfway house, he started training to become a recovery coach in Ogdensburg.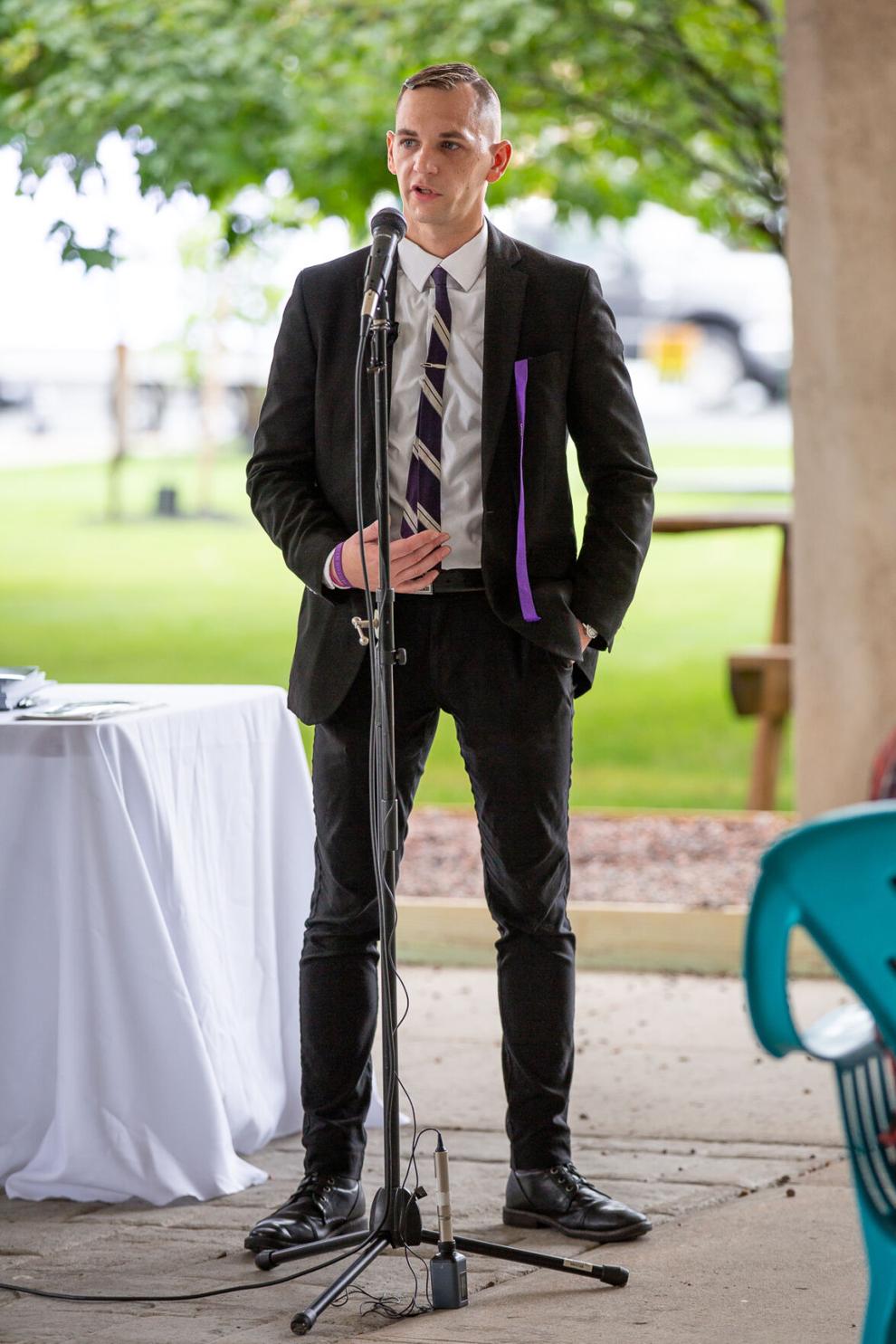 On Wednesday, Mr. Robinson shared his story of recovery.
Undeterred by the rain from the morning and gray skies threatening more precipitation Wednesday afternoon, community members gathered under the canopy of Watertown City Hall to observe the Alliance for Better Communities' annual event in conjunction with International Overdose Awareness and Remembrance Day.
In 2020, amid the COVID-19 pandemic, Jefferson County experienced the consequences of an unprecedented heroin and fentanyl crisis which claimed the lives of 34 people. Due to the recent deaths and those that came before them, many families have been struggling with unimaginable losses. Too often, still, substance use disorders are perceived as deserved and shameful, leaving families and friends to grieve in silence or people with substance use disorders alone on the road to recovery.
Mr. Robinson, currently the community liaison for ESPRI-SOR through Pivot, said he grew up in a rough environment that made him into the type of person that internalized a lot of things. At the age of 18, he enlisted in the Marine Corps to escape his drug use from high school, which had gotten to the point of using cocaine every day, as well as drinking. At one point when he came home for training, he said he drank himself into a blackout and ended up shooting his older sister Carol and a friend accidentally. That was just the beginning.
Over many years, his use eventually morphed from cocaine, drinking and violence to full-on heroin addiction where he was injecting substances like cocaine, morphine and heroin daily.
"Eventually I ended up in prison in 2014; Kristyna Mills sending me into prison was the best thing that could have happened to me," Mr. Robinson said. "It was there that I took the state training and I became a peer for the first time, I taught other inmates how to read, get their GED high school equivalency, and I started working in an alcohol and substance abuse program."
Though he'd like to say that when he came home from prison in 2017 that all was well, that wasn't the case. Instead, he relapsed once he returned, resulting in his nearly life-ending, but ultimately life-saving, hospital experience.
Mr. Robinson moved back to Watertown with his father in 2019, the man who brought him back to life once with Narcan after finding him lifeless in the bathtub, and is now making "living amends."
"Really what it boils down to is I lied to that man, stole from him; ... that trauma, all the hell I showed him, every day I come home from work and I tell him the stuff I'm doing," Mr. Robinson said. "He gets to see me healthy, to see me happy. It's how I'm paying back, because there's no sorry. Sorrys are gone, I used them all up."
While the work he does gives him purpose, Mr. Robinson said it doesn't keep him sober. His recovery pathways, involving a range of things from physical fitness to spirituality, along with the service he provides is how he has survived the pandemic.
"What I'd really like to stress to people is that recovery is not a linear process from start to end," Mr. Robinson said. "It requires constant growth and exploration of new ways to get that purpose, to fill that hole."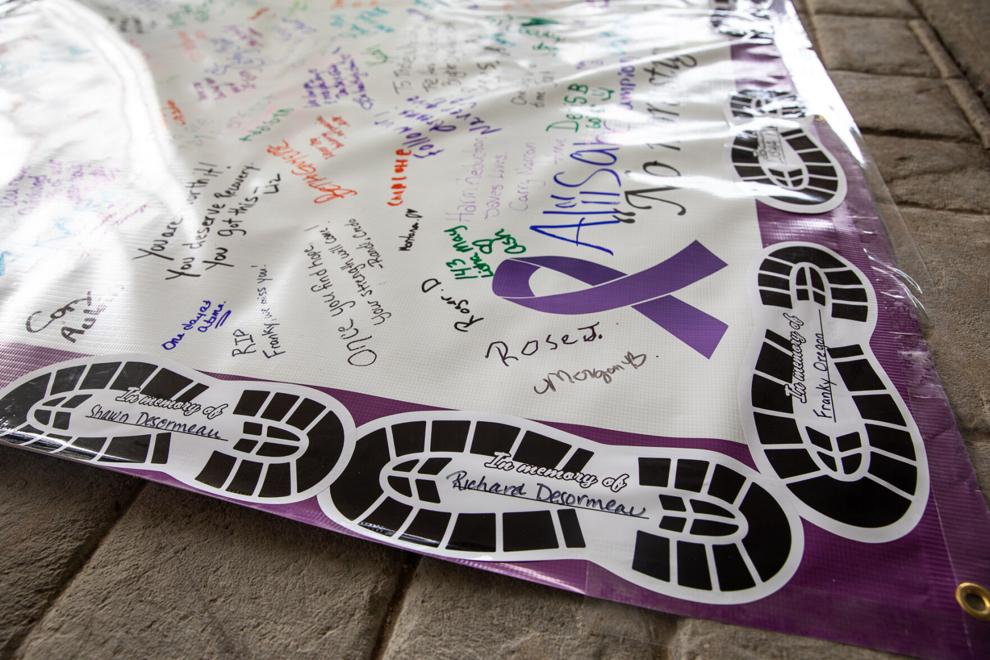 Elected officials, community leaders and representatives from the recovering community addressed event attendees to share information and personal stories Wednesday. Community members were encouraged to sign footprints in memory of their deceased loved ones and affix them to a remembrance banner, and musical interludes were provided by local artist Fyne Print Williams.
Those in attendance and speaking Wednesday included Stephen A. Jennings, chairman of the Alliance for Better Communities; District Attorney Kristyna S. Mills; Sheriff Colleen O'Neill; and Chief Charles Donoghue of the Watertown Police Department.
"This past Saturday, I walked in the Run for Recovery and it was pointed out to me by an individual that was carrying weights on his back that we have lost fifty people in the last year and a half," DA Mills said. "That is a sobering number."
Acknowledging that one life is too many to have lost, let alone 50, she told the gathered crowd that she's had her staff trained in Narcan use and is working on plans to get fentanyl test strips out to the community, along with working with the Alliance to get information out that no drugs are safe.
Knowing that dangerous substances continue to severely impact many, if not all, facets of life in Jefferson County, Wednesday was a day to gather as a community to provide education about substance use to help reduce stigma to support those who are still using to advocate on behalf of those seeking treatment, and to celebrate those living their recovery.
Scott A. Gray, chairman of the Jefferson County Board of Legislators, proclaimed Sept. 15, 2021, Overdose Awareness and Remembrance Day in Jefferson County. Family members and people in recovery were invited to speak about their personal journeys and offer support and encouragement to those still struggling.
One such family member who shared part of her story Wednesday was Lori E. Porter, whose son Blake D. Porter, 31, has been in recovery for the past few years following 17 years of active addiction.
"One of the most important things that I've learned during recovery is that the shame and the stigma that come with addiction is absolutely crippling," she said. "When our son's addiction became more obvious, we just couldn't imagine anything like this ever happening to us. But I can tell you that it did. So after we decided to stop being ashamed and afraid, to speak up and ask for help, it made all the difference."
Mrs. Porter encouraged those in attendance to stand up for their loved ones and speak out against the faulty thinking of today's society, to not be afraid to save a life because you never know, the life you save may be your own child.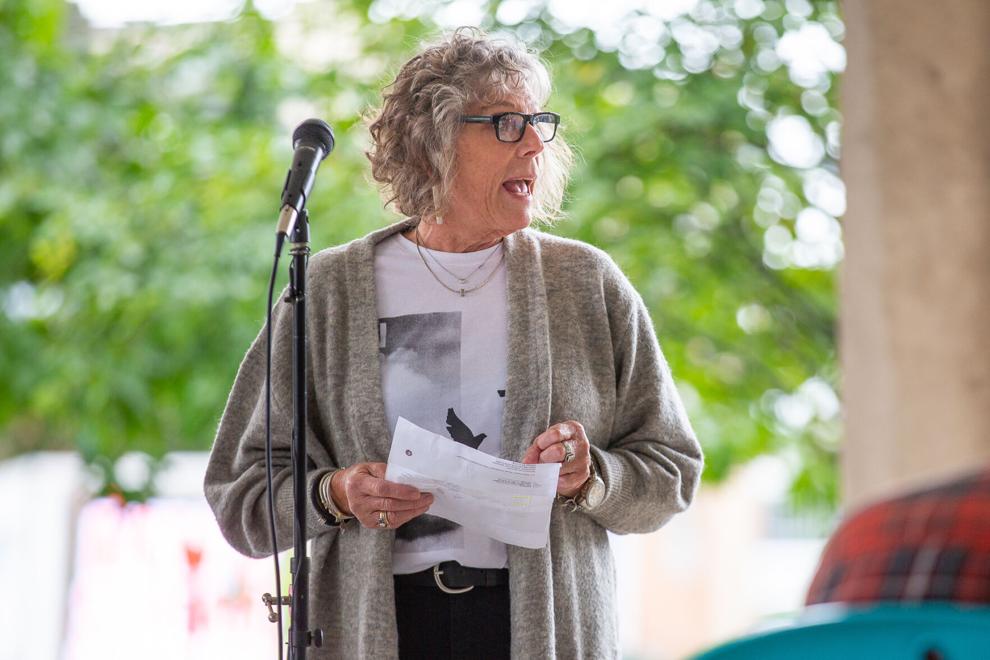 When her son began speaking to the family about his addiction, Mrs. Porter said he started telling them he had never felt normal, never felt the same as other kids.
A gifted athlete that could have gone to school to be a pro, or done a number of other things if addiction hadn't gotten in the way, Blake's addiction began in school with marijuana.
"When he tells his story, he'll tell you that marijuana made him feel really good, and then alcohol coupled with the marijuana made him feel really good — except for when he woke up in the morning," Mrs. Porter said. "And then when he started on opioids that really made him feel good,and finally he hit the heroin stage — that's what really took all the pain away."
Now, Blake is doing well, working for Release Recovery outside of New York City and working on his certification to become a substance abuse counselor, but it was a long road to get there.
Mrs. Porter encourages families to not be afraid to talk to their children and pay attention to signs, noting that if you think there's something wrong, there is definitely something wrong.
A mother who would do anything to still have her daughter with her, Roxanne M. George wants to see more abilities for families to intervene when it comes to family members in addiction, more ability to get them the help they need.
Mrs. George lost her daughter TiaJonte "Tia" M. Sargent, 32, on Sept. 1. She described Tia as always set against the use of heroin, going so far as to "scream at people she knew that were into the heroin scene" and helping people get clean from heroin in the past.
One day, she said her daughter changed her whole demeanor and started isolating herself from family and friends and hanging out with a bunch of new people.
Tia had been to rehab a few times and had managed to stay clean, but would end up having instances of renewed use later on.
"People would get out of rehab or jail needing a place to stay and she'd let them come back in," Mrs. George said. "Not that it was the other person's fault, but when you're around that kind of person, you get sucked back in."
She had called the police for her daughter and tried to get her help, but to no avail, noting that, because Tia was deemed competent, there wasn't much she could do.
A friend of Tia's who tried to help before having to step away to protect her own recovery, Doreen M. Salerno agreed with Mrs. George that family members should be allowed more power to intervene.
"This is why now what I fight for is any drug addict is not competent," she said. "Let the parents have more say in an addict that is severely addicted and getting them help. I wanted to put her in the hospital and I couldn't do anything."
The memorial service for Tia was last Friday at the Reed & Benoit Funeral Home. A celebration of life was held following the service, with the public encouraged to wear the color blue, which was Tia's favorite color.
Although her family is awaiting toxicology results and the autopsy report, they are quite certain her addiction played a crucial role in her untimely death.
"Heroin promised Tia the world. It told her she would feel accepted, loved, and normal like everyone else. It promised to take away her pain and made her believe everything would be OK," her obituary reads. "What it didn't tell her is how it would devastate her family and tear them apart, or how it would destroy her entire existence ... ultimately dimming her light and taking all of her until there was nothing left to take."
Though Tia had been fighting addiction for quite a few years, her mother said that in the last six months it got more severe.Tia didn't want to be alone, but also didn't want Mrs. George to see her like that. Tia couldn't push her mother away because she would go right to her home to find her.
Mrs. George wants others dealing with addiction to know that people love them and they're worth so much more than the drugs they take.
Mr. Robinson wants to diminish the stigma surrounding addiction. Then, people might feel open to be honest in the obituaries of their loved ones — like Tia's family was — instead of writing a loved one "passed suddenly."
"None of us picked it," Mr. Robinson said. "I didn't just wake up one day and say, 'Hey, I want to be physically dependent on heroin and I want to have to steal and lie and cheat and hurt people so I don't get so sick that I feel like I'm going to die every day.'"
"It's hell," he added. "It's a living hell."
— Anchor Recovery Center of NNY: 315-836-3460
— Credo Community Center for Treatment of Addictions: 315-788-1530
— ACR Health: 315-785-8222
— Samaritan Addiction Services: 315-779-5060
— Samaritan Medical Center — Social Worker on Call: 315-785-4516
— Suicide Prevention Hotline: 1-800-273-8255
— Northern Regional Center for Independent Living: 315-785-8703 during business hours and 315-785-8708 on nights and weekends
— Mobile Crisis Jefferson County: 315-782-2327 or 315-777-9681
— Hope Line: 1-877-8-HOPENY or text 46736
To receive Naloxone training and free kits, members of the public can contact Credo, ACR Health or the Anchor Recovery Center of NNY. The public is also reminded of New York State's 911 Good Samaritan Law, which allows people to call 911 without fear of arrest due to drug possession if they are having a drug or alcohol overdose that requires emergency medical care or if they witness someone overdosing.