WATERTOWN — Donations have been rolling in as more people hear about what Mike Manning, a retired Vietnam War veteran, has been doing for more than 20 years to feed and protect a colony of cats on Burlington Street.
But his message of population control and owning a pet responsibly might be more important, coming after years of caring for feral cats or those domesticated that people apparently drop off.
Without favor, Mr. Manning, 72, has trekked food and bedding out to his colony of cats every morning for two decades. At this point, the cats know his car, but especially his whistle, and all he has to do is tweet out once and they'll come running. The lot where the cats stay on Burlington Street is empty, other than a chicken coop left behind after the building there was demolished.
Over the years, there have been two huts and individual cages for each cat, but they would all be destroyed, resulting in the most recent chicken coop.
Mr. Manning and his wife, Sylvia, are both retired. He was in the Navy and was injured in Vietnam. She's had pneumonia three times and shouldn't necessarily be around cats too much, but she knows how much her husband loves them.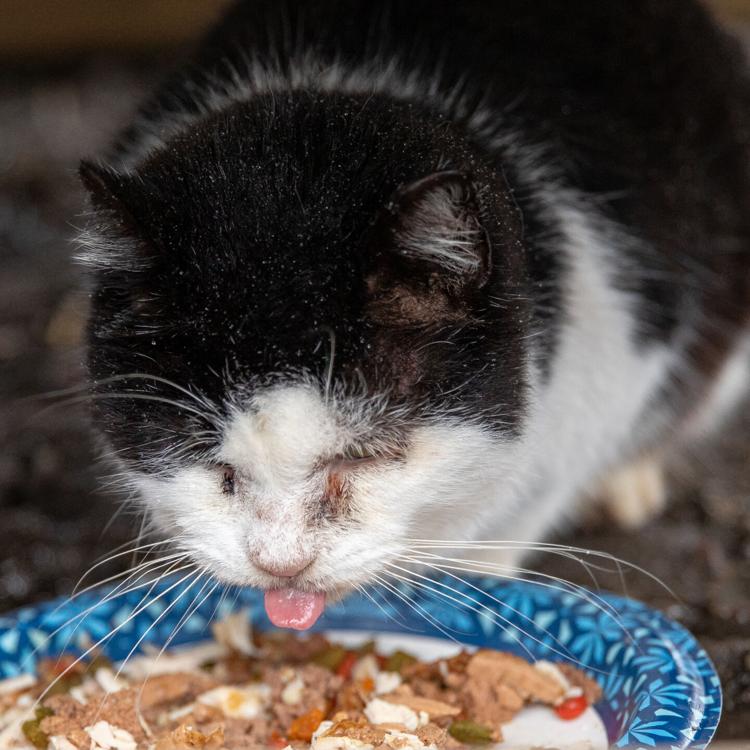 "It keeps the old man going," Mrs. Manning said, "and whatever keeps the old man going, I'm OK with it."
Their daughter, Kathy Black, agrees.
"My dad has had four back surgeries. He's disabled, and he is just somewhat frail," Ms. Black said. "But he's still dedicated to them not suffering."
He's not alone. His wife of course helps, and a woman named Toni Soluri has also been feeding the colony every day for nearly 20 years. She has the night shift, while Mr. Manning does the day shift.
"I do it every night unless I'm in the hospital," Ms. Soluri said. "I've had a heart transplant."
Ms. Soluri's daughter lives across the street from the colony, she said, which tipped her off to the cats after one of them had a litter on her porch.
"I love my cats," Ms. Soluri said. "I hate when people are cruel. They drop them off. They can't fend for themselves. They need somebody to care for them."
Mr. Manning has trapped and fixed at least a dozen cats in recent years, costing $85 each. They spend $5 every three days on a rotisserie chicken, more on bedding and far more on wet food. The colony has gotten larger in recent years, which they suspect to be a result of people dropping off their unwanted cats.
They've never asked for help, but they recently ended up conceding to the idea of accepting donations of cat food or bedding.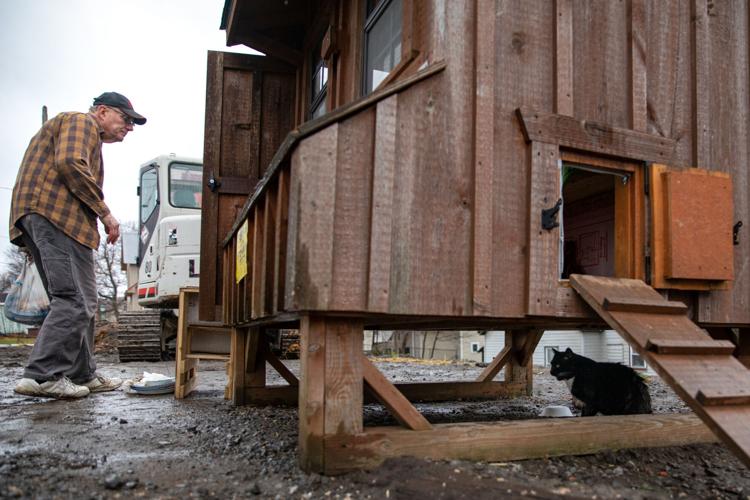 That's where Alicia Hinkal comes in. Ms. Hinkal is the Mannings' former daughter-in-law, but still considers them to be family. She posted on her Facebook page recently asking the public to donate whatever they could to help the Mannings, as she knew they wouldn't ask themselves.
The post caught traction and was shared more than 600 times. Ms. Hinkal said she's gotten messages from people in Alabama, Illinois and Malone, Franklin County, all saying they sent food to the Mannings. Already, at least 30 donors have dropped off food at the Mannings' doorstep.
"The credit goes to my parents for taking on the responsibility of these cats that others threw away," Ms. Hinkal said. "I only made a simple plea, and the turnout has been amazing."
It has provided the Mannings and Ms. Soluri with more food stockpiled than they've ever had by far.
"We appreciate everything that everyone has done for us, but I've had people come to the house and try to give us money and I said, 'Absolutely not,'" Mrs. Manning said. "We do accept canned cat food. I just don't like to take money from people."
For her husband, Mr. Manning has continued to do it because if not him, who? These are defenseless animals, he said, that didn't ask to be outside all winter. He does it out of respect for life and a desire to protect them. They take many into their own home, but not all make it inside as the colony reaches nearly 20.
As some cats are dropped off and left there, Mr. Manning wants to remind people of how much of a commitment pets are.
"If you are going to get a pet," he said, "a dog, cat, mouse or snake, you've got to remember that this animal is going to be in your life for approximately 20 years. Are you ready for this?"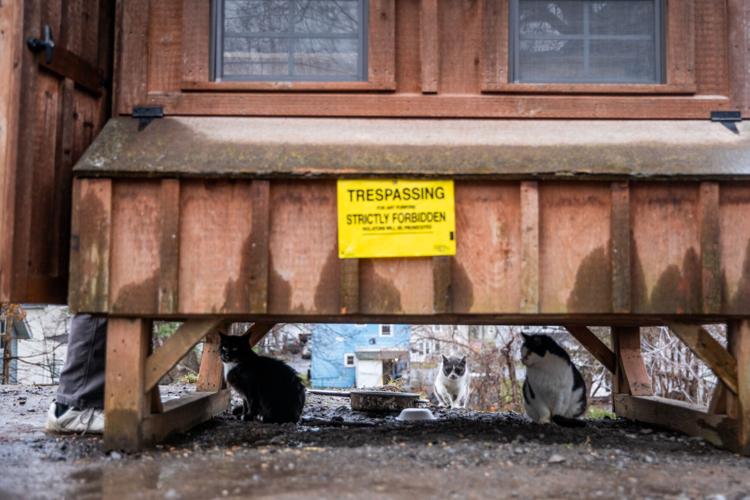 He's felt far more kindness since the support from mainly total strangers is coming in the form of cat food, not money.
"We're so appreciative of those people and a lot of them are people we don't even know," he said. "You just get so fuzzy inside when people do that."
He's had some go to the animal shelter for adoption, but he would like to see more of it, especially ahead of the winter. But either way, Mr. Manning is going to continue as the colony's protector. It's given him a purpose, and in being involved with them, he said he actually sees the appreciation they have for him.
"The ones that can be adopted, that would be great. The ones that can't? Well, I'll feed them every day," he said. "That's the root of the whole thing. We're just trying to take care of the little critters who can't take care of themselves and have had no choice what happened to them."